These Easy Upgrades Make The IKEA BILLY Bookcases Look So Expensive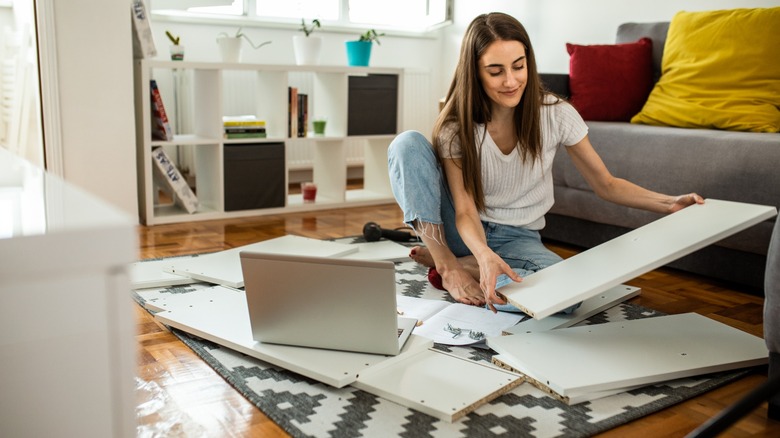 Andrija Nikolic/Getty
We may receive a commission on purchases made from links.
At this point, most seasoned DIYers are familiar with numerous IKEA Billy bookcase DIY hacks, from creating a woven cane cabinet to built-in home bars. But as cool as these furniture ideas are, many of them are high-maintenance projects that involve a lot of time and effort. If you want to upgrade your Billy bookcase without spending a fortune or giving up your entire weekend, there's an easy way to pull it off. As demonstrated by TikTok user @whatjoknows, you can enhance a plain Billy bookcase with two simple actions: switch out the door pulls and add window film on the glass. These superficial changes might sound unimpressive, but they can completely transform a basic bookcase into a luxurious-looking decorative cabinet. Moreover, this straightforward project uses inexpensive materials and requires no technical skills, making it an accessible DIY hack for all.
In the demonstration, @whatjoknows uses the black-brown Billy bookcase with panel/glass doors from IKEA, adding modern brass handles and a vertical stripe window film to the glass. The black and brass color scheme combined with the simple window detailing evokes a decadent Art Deco vibe, which is a bold departure from the original plain Billy bookcase style and significantly elevates the piece's impact on the overall space. Per @whatjoknows, the entire upgrade cost only £43, which is equivalent to about $52. If you want to try this low-budget Billy bookcase makeover for yourself, the style options are virtually endless. 
The simple way to upgrade a Billy bookcase
Upgrading your Billy bookcase doesn't get much easier than this hack. The Billy bookcase has door knobs, so if you want to switch to handles, you'll need to drill additional holes into the doors to attach them. If you choose to stick to knob designs only, you still have some beautiful options. For a glamorous or ethereal aesthetic, check out the Wugebud Natural Crystal Light Luxury Brass Knobs from Amazon. If floral details and antique vibes are more your speed, consider the Ruzioon "Imagination at Work" Vintage knobs. On the other hand, you can always stick to the classics with the Franklin Brass Fulton Cabinet Knob, which is available in six metallic finishes. 
As for the window film, there are really no limitations for what would work on the Billy bookcase glass doors, so this is a great opportunity to let your creativity run wild. If you like a colorful, stained glass-inspired look, you'll enjoy the Artscape Spanish Garden Window Film, which features a beautiful stained glass floral design. A simpler but equally attractive option is the Velimax Reeded Glass Window Film, which has a classic pinstripe pattern. Installing the film is as easy as measuring the window panes, cutting out the vinyl, and applying the adhesive side to the glass. You can smooth out bubbles and wrinkles with an old credit card or hotel room key. And there you have it: a beautifully upgraded Billy bookcase in less than an hour.