Joanna Gaines Reveals A Genius Paint Trick That You'll Wish You Thought Of Sooner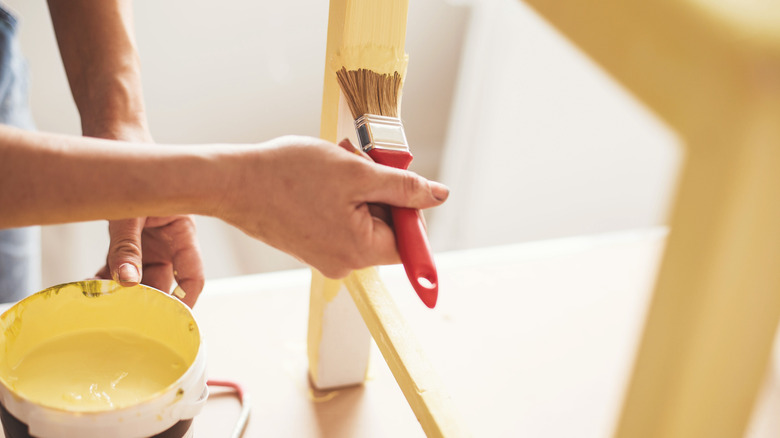 Fotostorm/Getty Images
If you haven't noticed by now, we're obsessed with Joanna Gaines' modern farmhouse design hacks and really everything else she does. As always, the queen of HGTV and Magnolia has figured out a solution to a common problem that many DIYers have, and we absolutely love the idea. This tip will help you paint legged furniture with ease. It's so effortless, you may be shocked that you didn't think of it yourself. The best part is that it involves a simple home improvement item you likely have hundreds of already in your home: a nail. Propping up the legs of furniture (like a chair) on the head of nails allows for ease in painting and getting even strokes.
"I really love to refinish chairs, but the trickiest part is the leg — especially the bottom of the leg," Gaines says (via KILZ YouTube channel). "Sometimes the paint doesn't get evenly distributed. It gets too clumpy down there." To complete this hack, Gaines hammers in a nail at the base of each leg to prop it up on the table she's prepped for painting furniture. She says that this simple trick can make refinishing pieces so simple.
Does this work on all furniture?
This furniture painting tip is excellent for all common chairs — think dining chairs, sitting chairs, or accent chairs — and for other small pieces of furniture. Sadly, though, the nails might not hold up for heavier items. However, that does not mean this hack doesn't work. For larger and heavier pieces like sofas, couches, and coffee tables, Joanna Gaines knows what to do. She says that, instead of using nails, you could place the furniture on paper plates or old bricks. Basically, anything you have on hand that you don't mind getting ruined could work perfectly.
Propping the ends of furniture legs up to where they aren't sitting flat on a table helps the paint to apply evenly to the surface. The upward position allows excess paint to dribble off the edges and makes it easier to reach the bottom part of the legs that might be hiding when they're sitting flat on a surface. This way, you're able to reach every part of the legs for a fully-painted surface that looks professional.