How To Bring Bold Color Trends Into The Kitchen For A Look That Won't Ever Go Out Of Style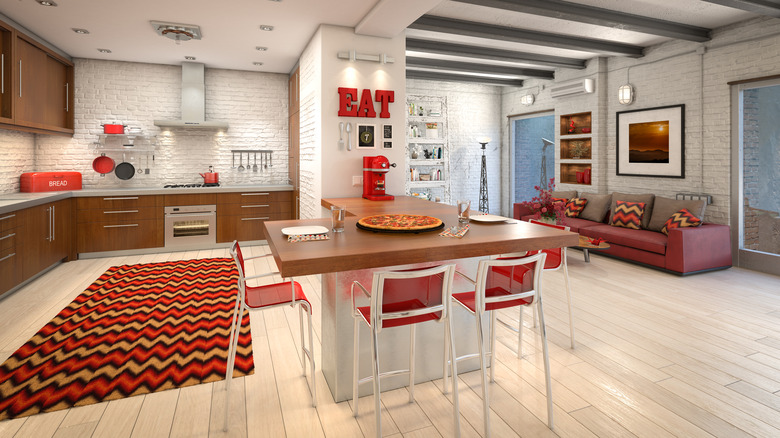 Bulgac/Getty Images
When you're tired of cooking in the same mundane kitchen every day, you might consider giving your space a facelift. A splash of color can make a significant difference, but going overboard with trendy, bold color options you see on Pinterest can go out of style fast. Everything in the kitchen should complement each other to create a cohesive, welcoming space. Vibrant colors can overwhelm an interior when there are too of the same color or many colors. Our kitchen is the place where we cook, clean, study, and gather around. Instead of replicating the kitchen interiors you see on Instagram, incorporate bright colors through accessories. They are effortless to style, budget-friendly, and replaceable.
Think about how you want your kitchen to look in 20 or 50 years. If the idea of a lime green kitchen still excites you, go ahead and drench your kitchen in green, but if it doesn't, opt for hints of lime green throughout the kitchen. Only include long-term designs in your kitchen that match your style, and avoid everything else. Incorporating reversible, timeless pieces in your kitchen will prevent you from making drastic changes when there's a new trend going around. Here's how.
Display décor and furniture in trendy colors
Mixetto/Getty Images
Rather than painting your kitchen cabinets yellow because your explore page on Instagram displayed multiple kitchen interiors with yellow cabinets and matching countertops, buy yellow accessories you can use for a pop of color. For example, yellow kitchen window curtains or tea towels are much easier to swap out for a different color than repainting your cabinets. You'll still get to include a trendy color in your kitchen without worrying about renovating the interior when yellow goes out of style.
Another way to accessorize your kitchen with colors is by incorporating colorful appliances, such as stand mixers, cooking pans, or toasters. Of course, you want to have stylish colors that match the rest of your home and fit your style. Choose a color you use in your bedroom, bathroom, and living room for an organic way to add a pop of color. For example, you might display the color pink through your bedding, toothbrush holder, and coasters, so you can find a cake mixer or toaster in a pink color for your kitchen. It creates a cohesive look throughout your home and shows how much thought you put into every item you picked out. If you're not a baker or chef, you can include trendy colors through furniture, such as bar stools or table chairs. They're highly versatile and allow you to paint them when you want to revamp your space or decorate them with pretty patterned cushion seats.
Add a backsplash wall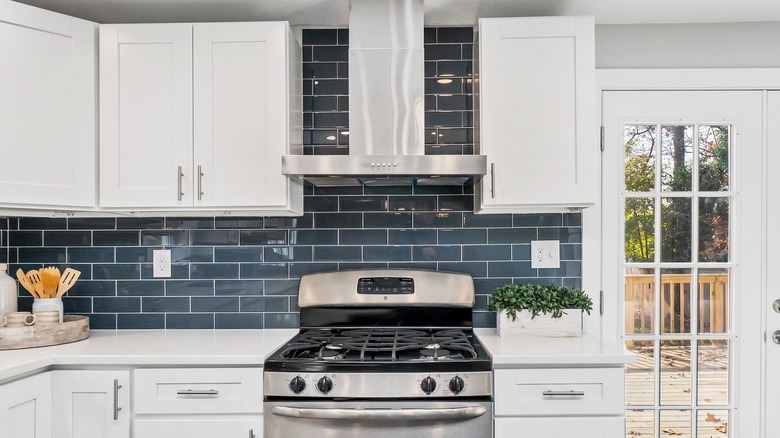 home sales/Shutterstock
Accessories are fantastic for a subtle pop of color. However, if you want a wow statement in your kitchen, include an accent wall with a paint color or wallpaper to give the space texture and contrast. Choose a trendy color you've seen on Pinterest or one that shows up throughout your space. Painted accent walls work best in neutral-colored interiors because they add life and personality to the room. Plus, if you decide you don't like the color anymore, it's easy to repaint it in any color. Installing wallpaper is also a fantastic way to bring bold colors and patterns into the kitchen. Using peel-and-stick wallpaper makes it easy to apply and remove effortlessly.
On the other hand, backsplashes are an excellent alternative to accent walls. You can use peel-and-stick tiles in vibrant colors to make the area stand out. Backsplashes are often used behind the stove or sink to catch any grease and water that splashes on the wall. There are various peel-and-stick options you can include in your kitchen that can still fit the trends and give your space a wow effect. HGTV's Jasmine Roth suggests picking a backsplash that tailors to how you live, like if you're a messy or neat cook. You'll be able to decide if you should stay away from white grout or choose something more daring that's timeless and you'll love for many years.