Thinking About Buying A Home In The Fall? Here's What You Need To Know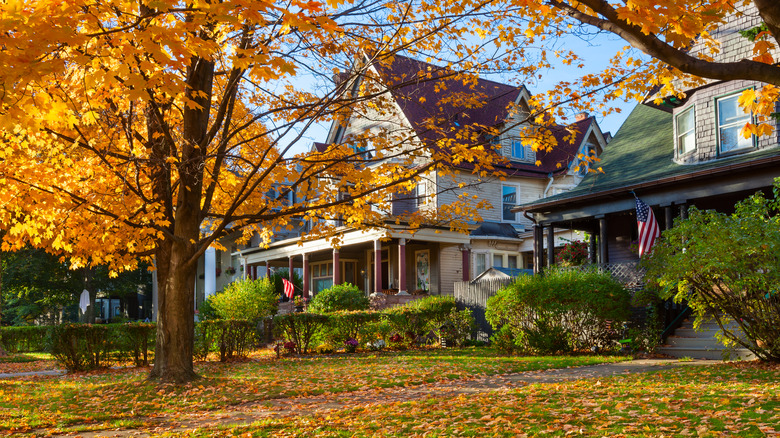 Benedek/Getty Images
When you buy a home in the fall, the weather isn't the only thing changing — so are the dynamics of the real estate market. Fall offers a unique window of opportunity to prospective homeowners, brimming with both advantages and challenges. Historically, this season often sees a dip in housing prices, which can translate into significant cost savings for budget-conscious buyers. On the flip side, there is also limited inventory this time of year. This is a factor that can influence your options and necessitate thoughtful compromises when searching for your dream home.
A bright spot is that there are plenty of tax benefits associated with fall homebuying, even if the weather might affect your house-hunting experience. Buying a house in the fall requires special knowledge and insights. Whether you're a first-time buyer or a seasoned homeowner, understanding the intricacies of this season can be the key to scoring a house you love at a price you do, too. Here's what you need to know. 
Pro: There is a chance for lower prices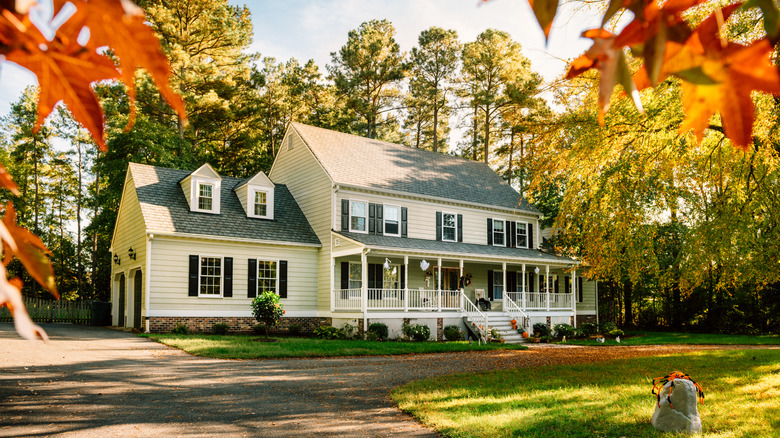 Ferrantraite/Getty Images
Historically, house prices in the fall can be a touch lower than the rest of the year and continue to cool off through winter. As the real estate market slows down after peaking in the summer season, sellers in a pinch might be more motivated to part with their homes. As they don't want to be responsible for two mortgages, they are more willing to negotiate on price. Because a lot of home buying is based around the school year, the decreased demand during autumn can create a buyer's market. This is when buyers have more leverage to negotiate a lower purchase price, which is usually caused by lots of listings available. However, in the fall, it is caused by sellers looking to part with their properties ASAP. For first-time buyers who may be budget-conscious, this can translate into significant cost savings, making homeownership more attainable and affordable.
Plus, plenty of sellers want to close deals before the holiday season. Those who have had their homes on the market during the busy summer months and have yet to secure a sale may be more willing to lower their prices to attract buyers before the year's end to avoid complicated taxes.
Con: There might be limited inventory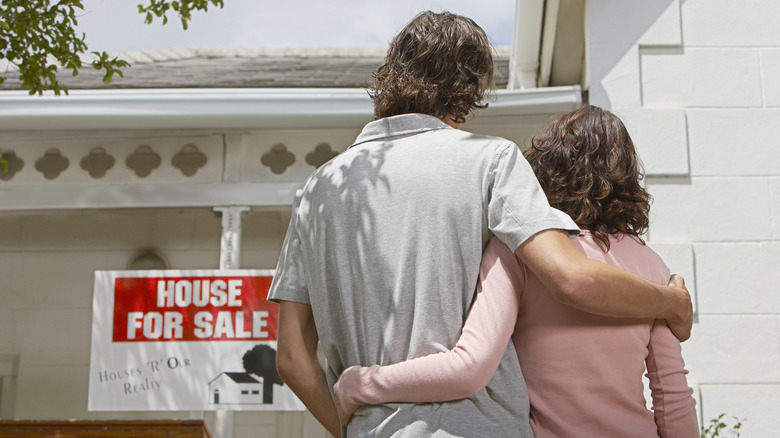 Paul Bradbury/Getty Images
If you plan on purchasing a home during autumn, you should know you might be working with limited inventory. As families settle in for the school year, fall tends to see a decrease in the number of new listings. This makes it more challenging for buyers to find properties that match their preferences perfectly. To find a fit, understanding the difference between a "must have" in a home and a "that would be nice" is important during this phase.
This means buyers should have a clear vision of their non-negotiables, things like location, the number of bedrooms, or specific amenities like a gas stove. Other things might be on the list, too — like a detached garage or pool, but those are a "that would be nice" for most buyers. While the fall market may have limited choices, buyers can still find suitable options by being open to compromises on the less critical aspects of their home preferences. Flexibility in adjusting expectations can help them find a property that fits their most important criteria, even in a constrained market.
Pro: There will be less competition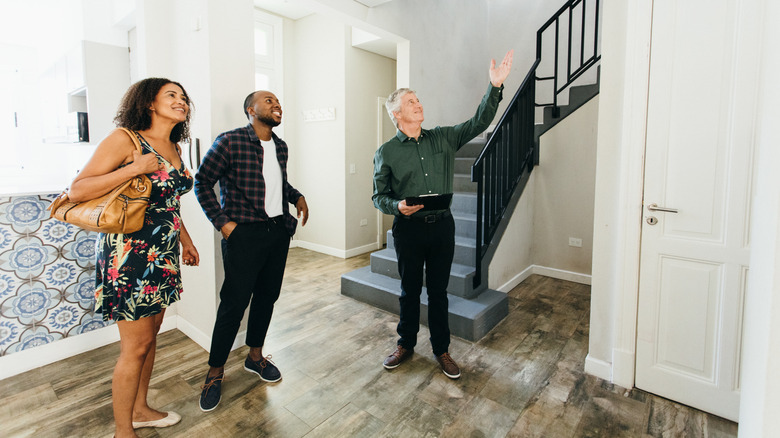 Ferrantraite/Getty Images
A big perk of purchasing a home in the fall is the decrease in market competition. The frenzied pace of the real estate market often subsides as the school year starts and everyone settles in. For homebuyers with flexibility, this can translate to increased negotiation power and potentially better deals. With fewer competing offers on properties, buyers may find sellers more receptive to price negotiations, paying up for repairs, or covering closing costs. Plus, real estate agents might have more time to devote to each client. This means buyers can take advantage of more personalized attention and guidance throughout the process.
Fall also presents an especially opportune time for people without children (or those whose children have since moved out of home) looking to buy. Without the need to consider school schedules, this demographic has more flexibility in choosing when to make their move. They can capitalize on the less competitive market and potentially secure a home at a more favorable price, without all the scrambling of a summer move.
Con: There is typically bad weather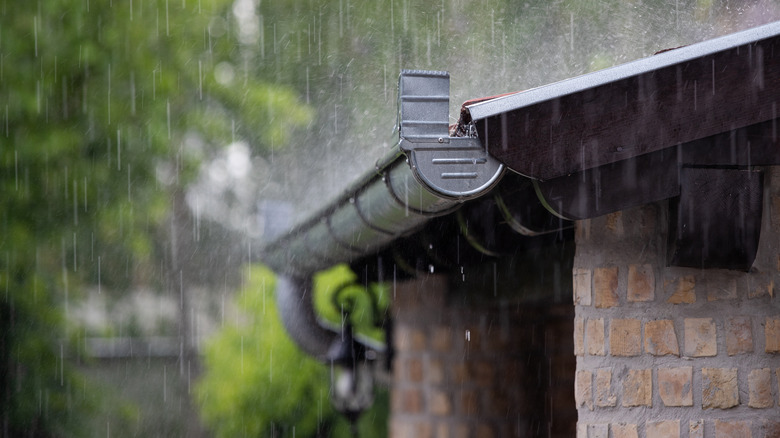 Budimir Jevtic/Shutterstock
The climate in autumn can make buying a house a touch more difficult. This is because the weather across the United States can vary significantly during the fall months. This means that someone buying a home in Texas around Halloween will have a vastly different experience than someone in Vermont. Scheduling open houses and driving to viewings is easier in warm, sunny weather without a chance of precipitation.
So, fall weather in southern states tends to still be a bit warm. It doesn't rain much, and there is no chance of snow. However, if you live in the northern part of the country, your house-hunting efforts might be put off by a storm. If you are looking in Seattle, for example, November is the rainiest month of the entire year. The same can be said of Minnesota, where snow comes as early as October 25% of the time. Bad weather won't make or break a home sale — you will be inside most of the time. However, it can make deciding which one you want that much more unpleasant.
Pro: You will have better insight into the home's condition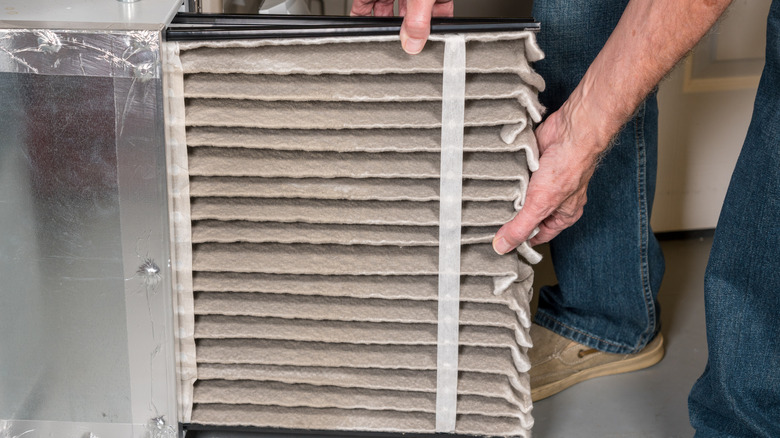 Steve Heap/Shutterstock
The good thing about purchasing a home in the fall is that the dreary weather might reveal more problems with the house. On a warm, sunny (and dry!) day, a home's leaky roof won't be on display. The same could be said for a furnace that is in dire need of servicing, or gutters that just seem to be magnets for the leaves from the trees in the front yard.
While the flowerbeds may be bare, you will get a better idea of the kinds of outdoor chores and inside fixes a home might need from unpleasant weather. You can start to calculate the potential for maintenance costs each year or upfront renovation money you might need. While these sorts of things typically come up when you complete a formal home inspection, seeing a leaky roof or feeling a freezing house as soon as you walk in can save you a lot of time. This way, you don't have to fall in love with a home and pursue making an offer for these things to come up later.
Con: You might run into moving challenges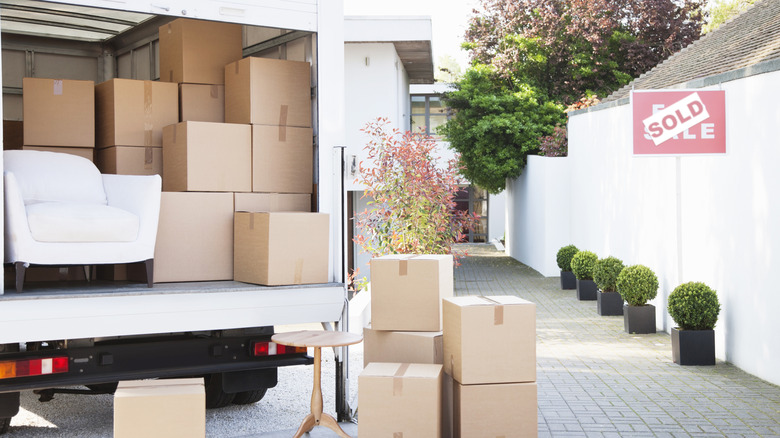 Robert Daly/Getty Images
If you buy a house in the fall, your moving schedule might be more complicated. For one, you will need to navigate around quite a few holidays, both official and unofficial. Labor Day, Columbus Day, Veteran's Day, and Thanksgiving might see real estate offices closed, slowing down the process. The same can be said for notaries and lack of mail, as this can occasionally delay the paperwork you need to close on a house. In addition to this, moving around Halloween might be particularly difficult if you have kids because of the desire to go trick or treating in a familiar place.
While you might be able to find some generous friends and family willing to give up their long weekends to help you move, some moving companies might not feel the same way. You might run into a holiday surcharge, or even closures if the business is smaller or family-run. These logistical challenges should not put you off moving in the autumn. However, just be prepared to have a little extra patience and flexibility this time of year.
Pro: You can enjoy a few tax benefits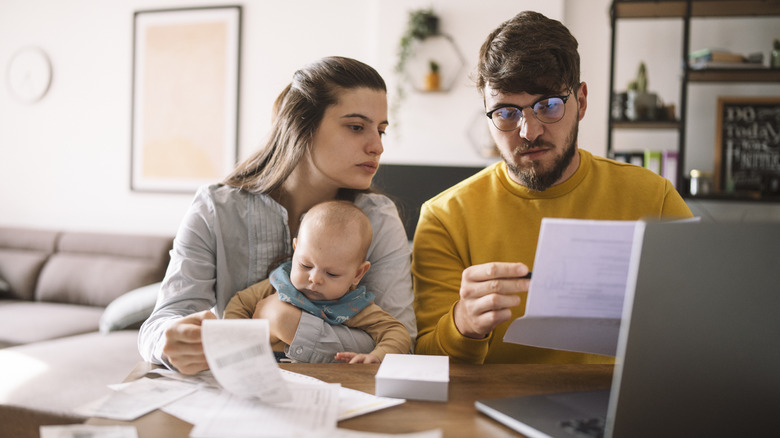 Artistgndphotography/Getty Images
Owning a home gives you access to a few special tax deductions that can decrease your overall liability. Property tax deductions are a notable advantage. Homeowners can deduct the property taxes they've paid during the year, providing a financial incentive for purchasing a home. These deductions can be significant, especially for first-time buyers who may not have previously owned a property.
In addition to property tax deductions, mortgage interest deductions are another valuable tax benefit associated with homeownership. Homeowners can deduct the interest paid on their mortgage loans. This can amount to substantial savings, particularly in the early years of a mortgage when a higher proportion of each payment goes toward interest. For individuals or families looking to reduce their tax burden, buying a home in the fall can be a strategic financial move to capitalize on these deductions before the year ends and they miss out.
Con: There will be a mid-semester start for the kids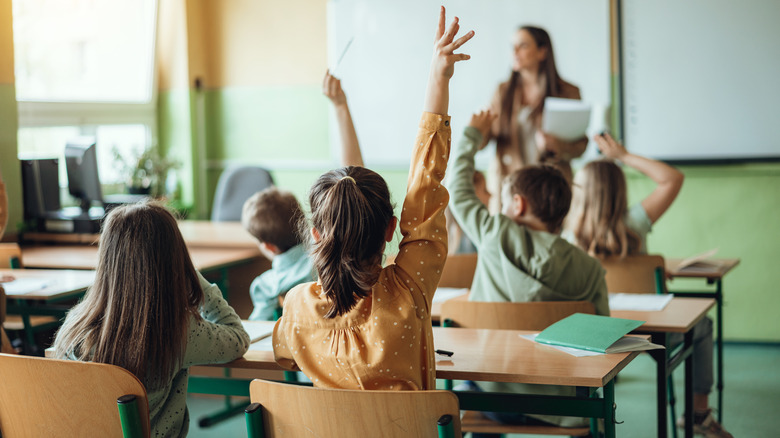 Nikada/Getty Images
One of the notable drawbacks of buying a home and relocating in the fall is the potential mid-semester start for school-aged children. When families move during the summer, children have the advantage of starting fresh with their peers at the beginning of the school year. However, moving during the fall can disrupt this seamless transition, as children may join their new school a few weeks into the academic term. This adjustment period can present challenges as children acclimate to new teachers, classmates, and routines without the security of everyone else doing it, too. This might impact their performance in school or general happiness, especially if they have never changed schools before.
Ultimately, personal circumstances, including the urgency of the move, should guide the decision-making process when contemplating a home purchase at this time of year. Often, school guidance counselors can help kids settle into their new academic routine and ensure they catch up on the curriculum quickly.
Pro: It will be easier to showcase your home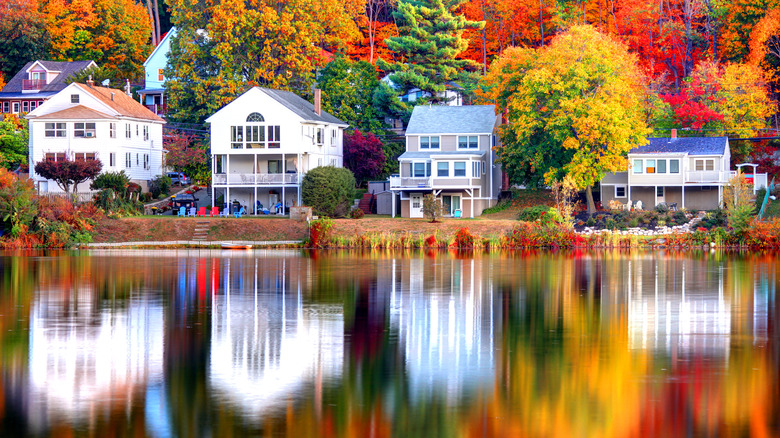 Denistangneyjr/Getty Images
Homes tend to exude a warm and inviting ambiance during this season, with the cozy aesthetic accentuated by the changing foliage and dipping temperatures. The hues of autumn, like deep reds, vibrant oranges, and golden yellows, can enhance the curb appeal of your property. People travel miles to "leaf peep," so if you have these gorgeous colors on your front lawn, it makes it more attractive to potential buyers. Plus, the fall weather allows you to highlight features like an indoor fireplace or cozy outdoor entertaining space. To fully take advantage of this, arrange outdoor furniture to showcase the versatility and comfort of the space. A nice seating arrangement around a fire pit can convey the perfect setting for autumn gatherings.
Strategically placed outdoor lighting can also help, casting a warm glow on your home's exterior and landscaping. At the very least, decorating your porch or entryway with seasonal elements like pumpkins, cornstalks, and fall-themed wreaths can create an inviting entrance with great curb appeal.
Con: There will be limited daylight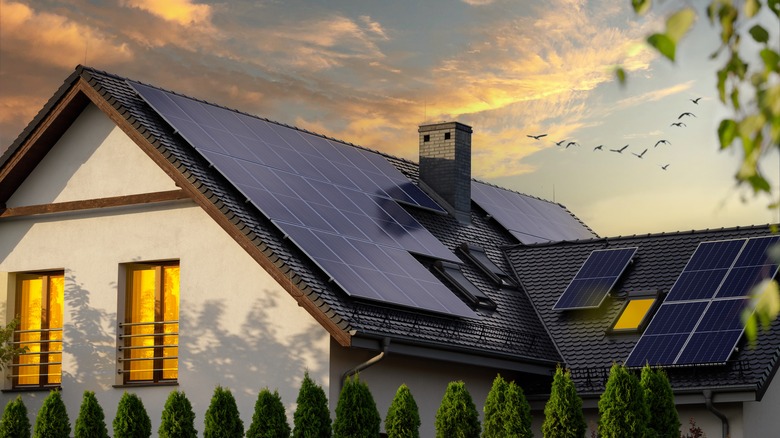 MAXSHOT.PL/Shutterstock
One significant drawback of buying a home in the fall is the decrease in available daylight. As the days grow shorter, potential buyers have a limited window of natural light to conduct viewings, complete inspections, and move house. It's possible that a professional inspector's working house decreases due to the lack of light, and you have to wait longer for results. Before you put in an offer, you might even find it challenging to decide if a home has good curb appeal or not if you visit it late in the afternoon. Plus, when it comes to moving belongings in and out of the house, a 4:30 p.m. sunset can throw a wrench in the best-laid plans. No one wants to carry a couch down rickety stairs in the dark and cold.
However, just because the days are shorter doesn't mean you can't work around them. Usually, this means trying to do as much moving during the weekend when you have full use of the daytime hours. It's also essential to invest in a few headlamps so you have your hands free while carrying things. For viewings, see if you can duck out of work a little early to catch a house before 4 p.m. sets in so you can see it in full light.
Pro: There is potential for a better mortgage experience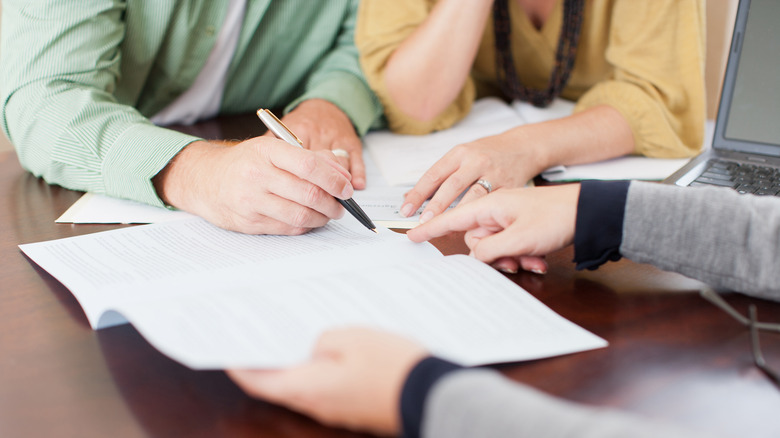 Rob Daly/Getty Images
The end-of-year slowdown in real estate sales can sometimes translate into a decreased demand for mortgages. This can incentivize lenders to compete more aggressively for the limited number of buyers in the market. This can work in your favor.
During this slower period, mortgage lenders may have more bandwidth and time to dedicate to each buyer. They can thoroughly assess financial profiles and work closely with potential buyers to tailor mortgage options that suit their needs. This personalized attention can result in a more favorable rate since they have more time to look for loopholes and programs the buyer can utilize to save on their mortgage. In addition to that, fewer clients mean fewer mortgages to process, which means you will likely experience fewer delays and shorter processing times, getting you into your new home quicker. That's a whole lot less stress!