8 Ways Paint Color Can Affect Your Home's Resale Value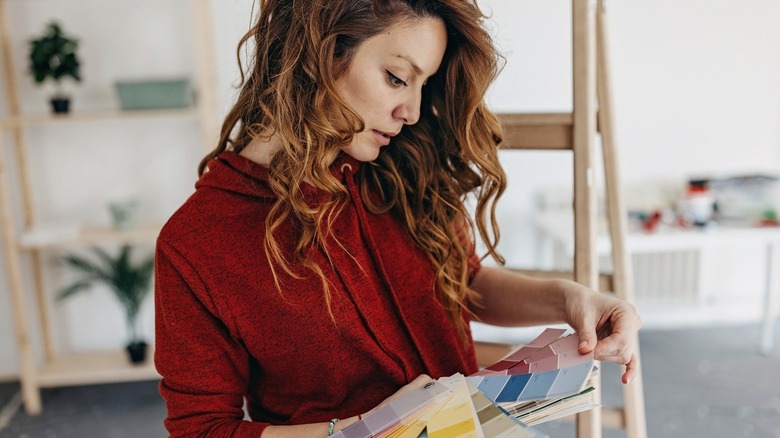 Supersizer/Getty Images
Selling a house is a big, exciting endeavor, but it can also be fraught with decisions and stress. CNBC survey results show that over one-third of Americans found selling a home to be super stressful. Roughly 70% of respondents said that uncertainty over the sale price was their biggest source of stress and 65% experienced renovation worries. However, you can make smart updates while helping boost your sales price, including choosing the right paint colors to prepare your home for the market. 
A fresh coat of paint is one of the most cost-effective upgrades you can make. It can have a big impact on your home's curb appeal and on buyers' first impressions when they walk into your home. But before the roller hits the walls, you have an important decision to make. What paint color are you going to pick?
You might know what hues you like, but what do potential buyers want? Fortunately, you don't need a master's in mindreading to choose the right shade. We've gathered eight study-based findings to zero in on the perfect paint color to appeal to buyers and boost your resale value.
A blue bathroom can get you more bang for your buck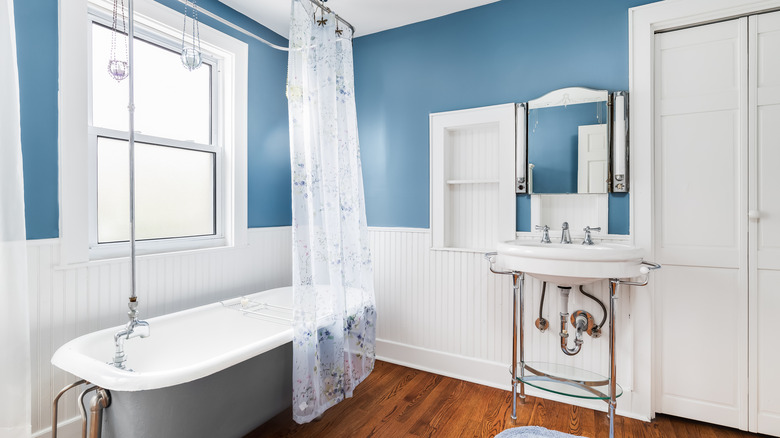 Joe Hendrickson/Getty Images
If you're wondering what paint to pick for your master or powder bath, a pale shade of blue could be a money-making hue. The color topped the charts in Zillow's paint color survey, which revealed that respondents were willing to offer 1.6% more than the asking price for homes featuring a pale blue bathroom. This might not sound like much, but on a $290,000 home, it would equate to almost $5,000 extra in your pocket.
If you feel like light blue won't go well with your home's style or existing bathroom fittings, there are some other popular colors that could still bag you a higher offer price. These include light and dark gray, off-white, and pale yellow. Terracotta, a trending color for this year, could also turn into a profitable choice. Zillow's research indicates that a bathroom in the earthy hue could help you sell your home for $1,624 more than similar listings. Tempted to repaint your bathroom with a bright burst of primary color? Step away from the paint tray. The survey's findings also showed that bright colors were a bathroom no-go and could tank the chances of buyers even wanting to view your home.
Moody colors could command more ROI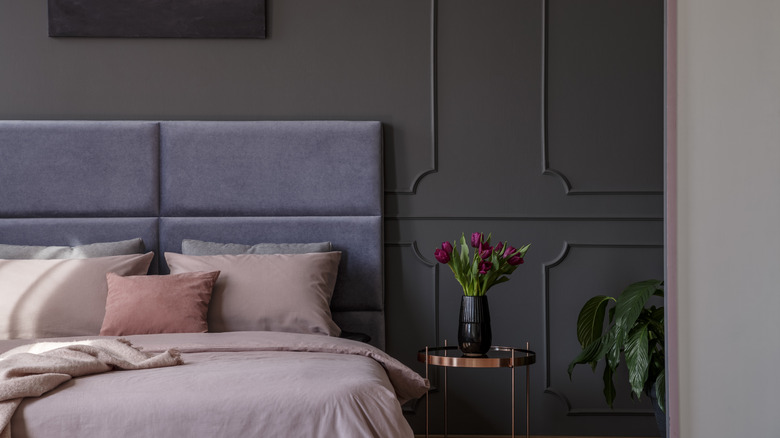 Katarzynabialasiewicz/Getty Images
If you feel like your home lacks flare and sophistication, painting some rooms in dark, dusty hues could help you catch buyers' attention and potentially boost your closing price. Dark colors are usually considered a daring design move, something that's typically off the table when it comes to renovating for resale. However, further research from Zillow shows that moody colors can actually command a higher ROI than more vanilla choices. 
Dark gray turned buyers' heads in living room and bedroom areas, spurring them to offer $1,755 more than the asking price. If you're not feeling the graphite vibes, you can also go for a midtone pewter gray in the kitchen and potentially enjoy a $2,553 increase in resale price. One of the advantages of gray is that you can easily create a cohesive color palette for your walls that flows from room to room while fluctuating in saturation and undertone.
Neutral living spaces can net you a safe return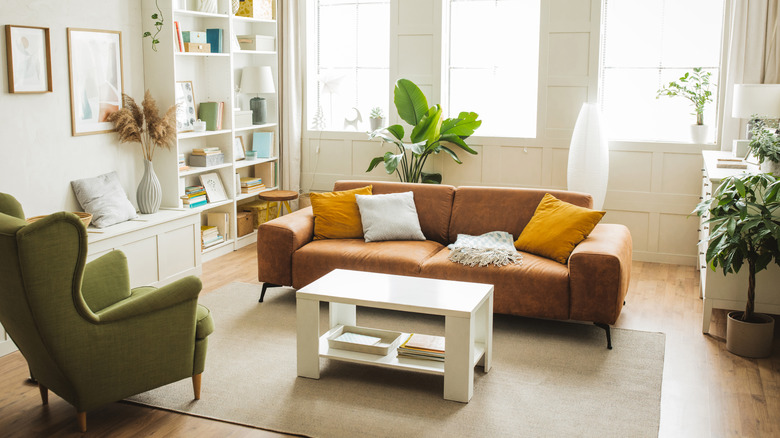 Svetikd/Getty Images
Dark design choices might trigger higher offer prices, but this doesn't mean moody paint colors are a must. Neutral palettes in kitchens and living spaces can also attract a semi-sure return. A bright white kitchen is a classic design choice that could add over $500 to your resale value. A pale gray living room might not net you the same increase in average offer value as graphite, but it can still bump it up by around $200.
If this sounds like a paltry return for the thousands you could gain by going dark, keep in mind that your realized return will depend on the type of buyer who's interested in your home. Light tones might not supercharge your sale price as much as dark paint colors, but they're a safe bet. Dark colors are typically more taste-specific. So while a dark graphite living room might attract a higher sales price from the right buyer, one in light gray or beige may appeal to a broader base, leading to a faster sale. 
Bright exterior colors are also a bust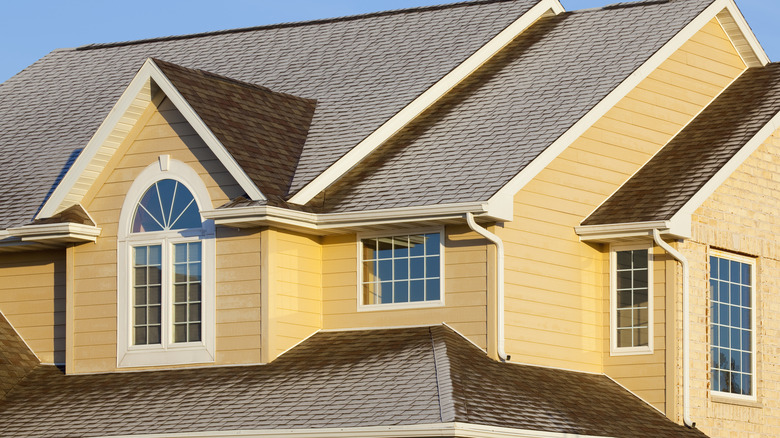 Jamesbrey/Getty Images
Repainting your home's exterior is one of the most impactful ways to boost curb appeal. Roughly 21% of sellers opt for this upgrade before putting their house on the market. If you're trying to make your listing stand out, you may be tempted to repaint in an eye-catching shade. However, this could be an expensive mistake that tanks your resale value. Bright colors look alluring on Pinterest, and sunburst yellow siding might make a home pop online. But in person, it could come off as tacky and too much.
Most bright exterior paint colors can be bad news for resale, and yellow is one of the worst offenders. Zillow revealed that yellow-painted houses sold for $3,408 less than houses in other hues. Besides chasing buyers away and impacting resale value, bright exterior colors are more prone to fading. This can require frequent repainting and more maintenance, which is not an appealing trait to prospective buyers. 
Overall, white is a safe, classic exterior choice. You can also take a cue from the more popular exterior paint colors in your area, so take a look at the hues of surrounding homes for inspiration. What exterior paint color will differentiate your home while maintaining visual harmony with the neighborhood?
Your front door's color can have an impact on value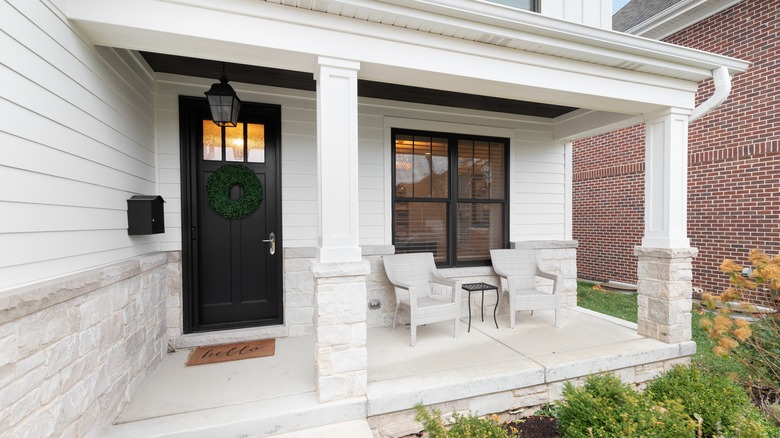 Joseph Hendrickson/Shutterstock
A can of paint typically costs less than $100, but it can bring in big bucks when applied to your front door, provided you choose the right color. For example, painting your front door black could increase offers by $6,449. Zillow found that slate blue-gray is also popular with buyers, raking in the best overall score and upping offer prices by roughly $1,537. If you're not enamored with these options, there are other hues to choose from, such as grayish-blue or white. These colors could also earn you extra eyeballs on your listing, as a survey by Opendoor shows that 44% of homeowners prefer neutrals for front doors. 
As far as what to stay away from, bright front door colors are a risky option. Opendoor's research shows that 48% of buyers don't like bold shades like red and yellow. Pink clocks in as one of the most detrimental front door colors, with buyers surveyed by Zillow saying it looks shabby. Besides being unpopular, the pastel hue also knocked down offers by a solid $6,516 on average. 
Neutral kitchen colors can reel in more offers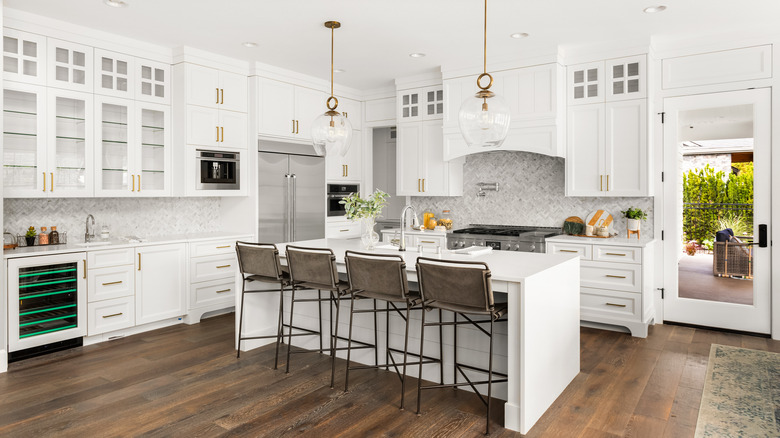 Hikesterson/Getty Images
Bold kitchen color palettes may command attention, but most buyers still prefer neutral tones. So, if painting your cabinetry is on your presale to-do list, be strategic about the color you choose. A HomeLight report showed that 84% of real estate agents say buyers like light, bright white hues in the kitchen. Other neutrals, like greys and beiges, are also becoming more popular. While these slightly darker color palettes are going mainstream, there is a limit to how intense you should go. Black on your front door could earn you a few hundred bucks, but it can chase away potential buyers in the kitchen. Only 14% of real estate agents say that buyers are drawn to black and bold-colored kitchens.
But one thing is clear: neutrals are the way to buyers' hearts. If an all-white kitchen feels bland and boring—or won't fit the feel of your home—there are various other neutrals you can choose from. Almost 30% of real estate agents surveyed by HomeLight report that gray kitchen color palettes go over well with buyers, echoing Zillow's findings. Greige is a good pick if you don't want to go all in on cool tones. Earth tones are also popular, and neutrals like cream and beige can add a touch of warmth. Just be careful to avoid "builder's beige", which is that particular shade of stock-standard beige common in spec homes during the 2000s.
Boisterous colors are seriously bad news for resale value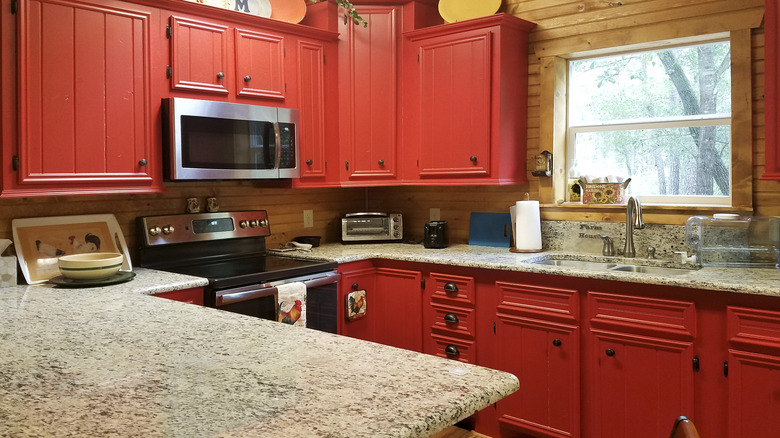 Lifestylevisuals/Getty Images
Want to know what colors not to paint your home? Bold, bright, and boisterous colors are universally bad across the board. For example, buyers seem to particularly dislike bright red kitchens, and Zillow found that this resale faux pas could drop your home's asking price by a whopping $1,500. Neon colors are another big no-no, and even seemingly safe bets like blue cabinets can ding resale value.
This principle applies to other areas of the home as well. Amanda Pendleton, Zillow's home trends expert, explains to Forbes, "In general, we found that high-intensity colors are associated with lower offer prices."  She explains that a bright yellow living room can lower the sales price by about $3,000 and a forest-green bathroom could cause a $1,700 drop.
Creative paint colors are a wonderful way to liven up your home and make it feel uniquely yours. But when it comes time to sell, the secret is to make buyers feel like the home could already be theirs. When your walls are covered in tough-to-change, vivid paint hues, buyers will have a tough time envisioning themselves in the space. If you feel like your home could benefit from some pops of color, consider incorporating this through temporary staging touches, like bright flowers or a couple of cheeky throw pillows.
A dark blue bedroom could earn you a cool $1.5k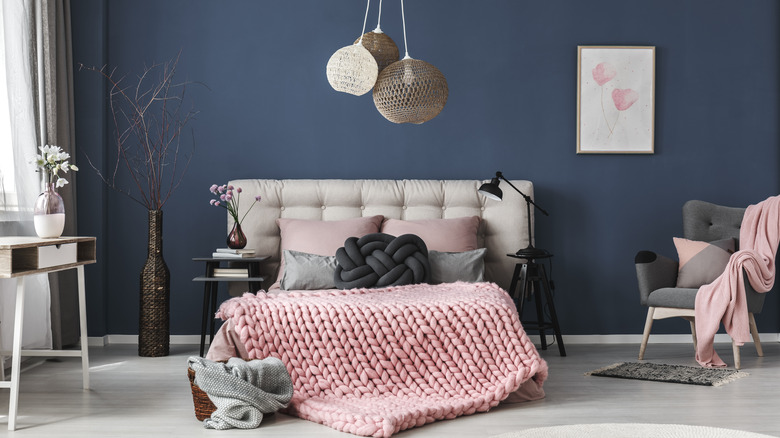 Ground Picture/Shutterstock
It's not just the bathroom where shades of blue can be a money-maker. Zillow also found that buyers were willing to pay an average of $1,500 more for homes with a dark blue boudoir. Dark blue can add a calming, moody touch, and can also serve as an elevated neutral, blending with versatile decor schemes. If navy isn't going to show your master off in the best light, you can also play it safe with reliable neutrals like white, cream, or greige. Just be careful when picking your hue, and try to match the undertones to the rest of the room. Pull out those paint swatches, place them on the walls, and examine them in different lights.
This is becoming a bit of a running theme, but again, steer clear of bright wall colors in the bedroom. Bold and daring colors could send buyers running and put a dent in your selling price. They are particularly unsuitable for bedrooms, as these hues can be the kryptonite to rest, calm, and relaxation.
One final tip on maximizing value, try to keep things cohesive when choosing your paint colors, including the bedrooms. The hues don't have to be exactly the same in all parts of your home, but sticking to just a few can make your spaces feel more connected. As top-real estate agent, Paul Wheeler, tells HomeLight, "If you have too many colors, or you change colors in every room, you're just going to distract buyers."