Use Jasmine Roth's Brilliant Trick To Hide Your TV In Style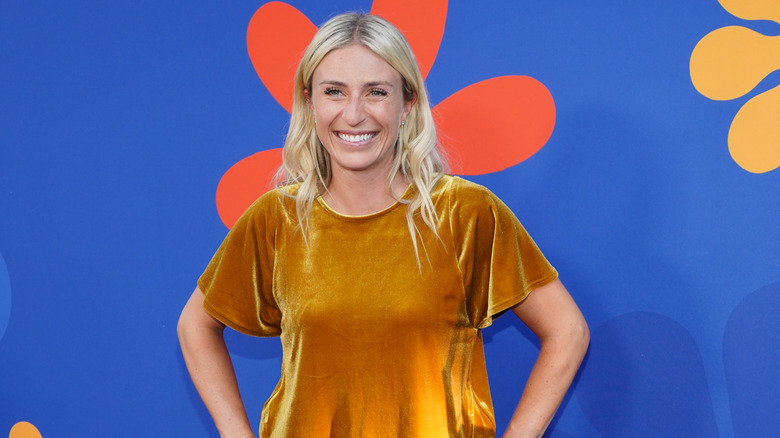 Rachel Luna/Getty Images
Televisions are often a hotly-contested issue in both home renovations and popular design shows. While there are a number of reasons designers attempt to forgo the TV, many homeowners want the appliance in their home however negatively it may impact the design scheme. That's why genius solutions that can hide or camouflage the TV are typically quite popular. There are so many ways to hide the TV in your space including using a Frame TV, a cabinet-concealed set, or a carefully-hidden recessed screen. HGTV's Jasmine Roth recently highlighted her favorite solution, which she used in Season 2, Episode 3 of her show "Help! I Wrecked My House." This solution uses a thick frame and retractable art screen to cover the television.
In the show, Roth creates a custom wood frame that surrounds the TV in the same wood as the fireplace mantle, which gives the entire area a built-in and unified look. The frame provides a box for the appliance, which is concealed by a remote-operated painted screen that raises when it's being used. Roth describes it as an even more luxurious and elevated way to do a traditional Frame TV, which simply showcases an image of a painting when the appliance is not in use.
Try out this custom camouflage trick
While many Frame TVs simply outline the outer edges of the screen to resemble a frame, the television can still sometimes be identifiable as an electronic device instead of a painting. Turning your TV into a piece of art by showcasing a painting on the screen can look different than an actual painting in terms of color, sheen, and surface, which gives away the TV's hiding place. In Jasmine Roth's design hack, the appliance is fully encased by the thicker recess of the frame, making the retractable screen a more convincing work of art. Further, this idea is fully customizable, as you can use any material for the frame and any painting or other covering to hide the television.
Roth says she likes this design hack so much that she used a similar setup in her own home. This is a great option for a more polished and built-in look, especially if you plan to place the TV in a prominent spot like above your fireplace mantle. It allows the fireplace to draw in the eye as a focal point in the room instead of all the attention going to a big black screen. This trick will give you the best of both words — a polished look when the artwork is down, and entertainment when the screen is up.