Hack An Entry Table In The Smallest Of Spaces With IKEA's LACK Shelving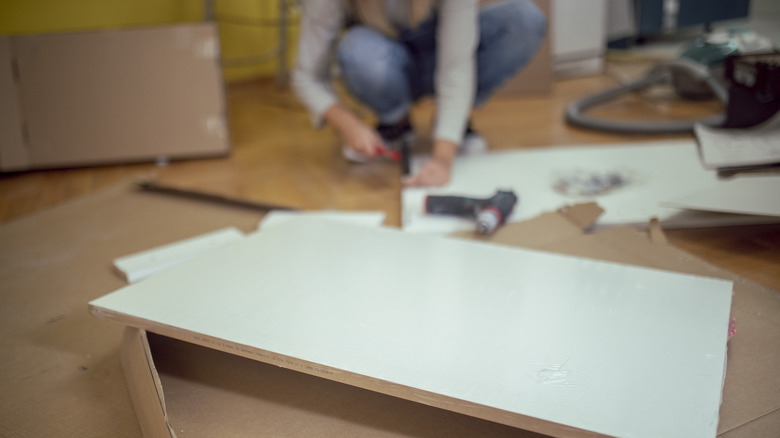 Lukatdb/Getty Images
There are so many great home projects to complete with IKEA furniture. Whether you're looking to build an elegant home bar or hack your way to a functional mudroom, there's no shortage of possibilities with these pieces. One of our latest favorite hacks is creating a simple entry table from shelving. Entry tables can be interchangeable with console tables since they're both shorter pieces of furniture due to how they're typically placed on the back of sofas or sectionals. Because of this shorter stature, using shelves to build the table creates the perfect height.
If there's anywhere to shop for shelving pieces that create the perfect entry table, IKEA is the place to go first. Their affordable prices make it easy to shop on a budget and find a shelving unit that fits your preferred style. The LACK series is great for this hack since there are plenty of stylistic choices and sizes.
How to build your IKEA entry table
The first step in building your own entry table is finding the right shelving unit. The LACK series has fully built shelving units or individual pieces for floating wall shelves. This hack works best with the floating shelf units since they are individual pieces. These units have several color finishes, so you can find the color that best suits your style.
After choosing the right shelving unit and finish, make sure you purchase two shelves. Take one of the shelves and measure it to the halfway mark before sawing the shelf at your mark. The two cut pieces are what you will use as the table's legs. To attach the legs, take your halved shelf pieces and place them on one of the side's flat surfaces. Screw the legs into the surface with an angle bracket to keep the board in place. Do this for both legs, and you have an entry table ready to style!