Bring An Autumn Flair To Your Mantel With This Beautiful TikTok DIY Display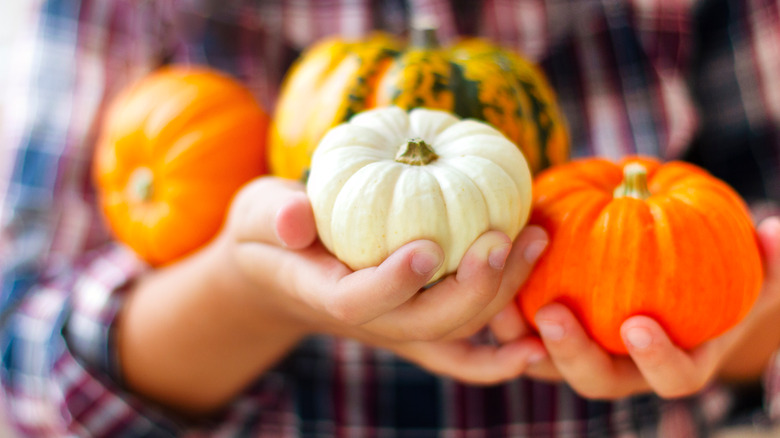 Dasha Petrenko/Shutterstock
If you're looking for an easy way to create a beautiful decoration for your autumn fireplace mantel or a fall centerpiece for your dining room table, this TikTok hack is the perfect solution. With only two clear glass vases, miniature pumpkins, artificial flowers, and faux branches with LED lights, you'll have everything you need for this fun and festive DIY. In @ashmariesavage's TikTok, she places a skinnier glass vase inside a wider one, then outlines the edge with small orange pumpkins. To complete the autumn decoration, she fills the narrow vase with faux branches and florals. This hack is a great way to decorate the inside of your home with pumpkins and add a festive touch of fall to your mantel.
Additionally, this project is extremely customizable since you can use whatever decorative items you'd like. The creator of the video used Ashland's 2-Foot Warm White LED Lit Branch from Michael's, but there are also similar products that you could purchase at other retailers. For instance, KXCOFTXI sells Lighted Twigs on Amazon that look even more lush. Miniature pumpkins can be found at local grocery stores and farmer's markets throughout the fall season. Faux flowers such as Succwoah's Artificial Fall Flowers Bouquet can be purchased from Amazon, or Michael's also has great floral decor options. For instance, you could buy Ashland's Cream & Orange Sunflower & Mum Mixed Bush or Tan Berry Bundle, which would appeal to those who love a neutral display. 
How to make this autumnal mantelpiece
Besides all your decorative items, you'll also need a large, wide vase and a smaller, skinnier one to place inside it. In the TikTok, Ebern Design's 10x5x5 Khyrin Glass Table Vase is used for the center, while Wrought Studio's 12x9x9 Araceli Handmade Glass Table Vase is used for the exterior. While you could purchase these from Wayfair, vases in similar sizes could also be found at your local thrift store to help you save money. Additionally, if you're on a tight budget, you could cut natural branches and flowers from your yard to use in the vase instead of purchasing faux stems.
To complete this project, place the smaller vase inside the larger one, then fill in the space between them with the miniature pumpkins. Ensure that the tops of the pumpkins are facing out so that the stems are visible, and try to fit the pumpkins close together to avoid large gaps that show the interior glass vase. If you use several colors of pumpkins, alternating the colors could make a unique pattern. Next, fill the small vase with the flowers and branches of your choice. Using several types of florals with different textures and colors and intermixing them will help you achieve a gorgeous look. Finally, turn on your LED branches and place them throughout the flowers, hiding the battery pack inside the small vase.