Add Height To Any Bedroom With HGTV Star David Bromstad's Creative Idea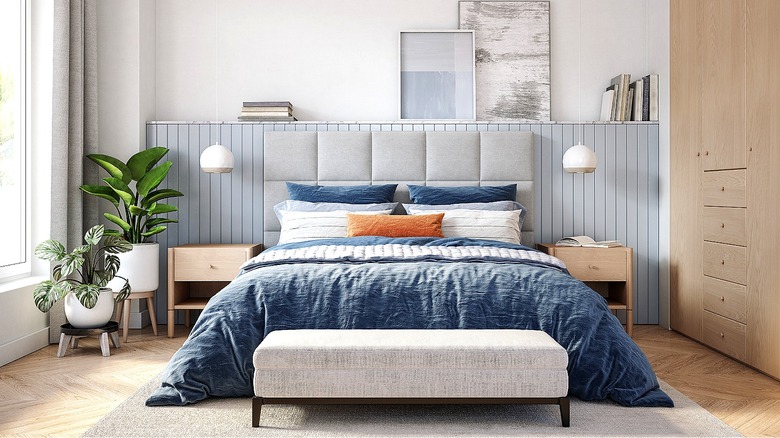 Creativastudio/Getty Images
The best bedrooms often manage to balance seemingly opposing desires. On one hand, you want the bed, and the area around it, to be cozy and conducive to resting. On the other hand, homeowners often want a bedroom to feel spacious and airy, which contributes to that same sense of relaxation. In an episode of "Color Splash," HGTV designer David Bromstad created a great way to appeal to both desires: a ceiling-high canopy with soft white curtains. This design solution simultaneously added height to the bedroom while also creating a cozy, romantic feel for sleeping.
Bromstad created the bed's canopy by building a rectangular frame slightly wider and longer than the bed out of 1-inch by 6-inch boards. Screwed into the ceiling, the framework provided a perfect surface for adding soft white curtains with a staple gun. The curtains were a fresh and clean complement to the bedding below, which included layers of texture in rich neutrals like white, cream, and brown.
Creating height with a canopy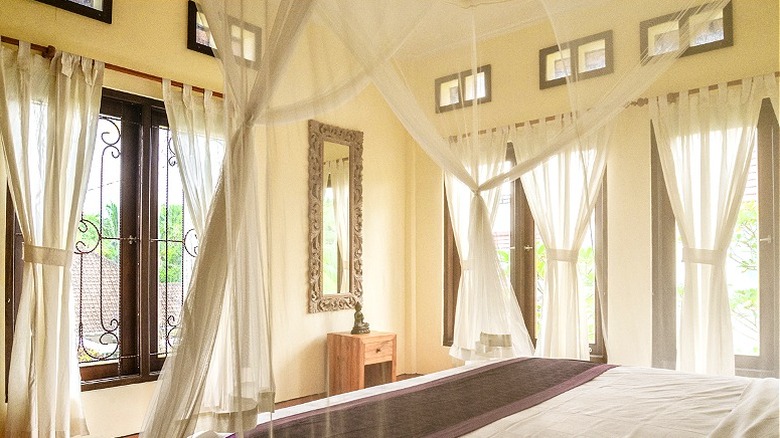 Tashka2000/Getty Images
The vertical line of David Bromstad's canopy design draws the eye upward, making even the lowest ceilings look higher and grander. By simply adding this canopy frame, the designer was able to add height and dimension to a bedroom that was lacking it. This is a great approach for smaller bedrooms that might feel too weighty at the bottom with lower or heavier furniture.
While adding a wooden canopy like Bromstad did in "Color Splash" isn't always a possibility, there are some great alternative ways to DIY a canopy bed. For example, you could add a bed crown to the area above the bed for draping curtains, using curtain rods suspended from the ceiling. Meanwhile, a great rental-friendly solution involves creating a draping canopy from a plastic hoop hung from the ceiling or using a rod supported by heavy-duty command hooks to hang curtains at the head of a bed. All of these solutions achieve a similar effect, adding height to the bed area and the room overall.