Are Eames Chairs Worth The Hefty Price Tag?
Even if you don't know the Eames name, you probably recognize their chairs. The famous Eames Lounge Chair, in fact, has been seen in movies like "Iron Man" and on television's "Frasier." If you're a follower of "Shark Tank," you've seen the sharks sitting in them in recent seasons. Eames Molded Plastic Side Chairs were used on "Big Bang Theory" in Howard and Bernadette's kitchen, and "Suits" features office chairs from the Eames Aluminum Group. One thing all these chairs have in common is the expense whether you're buying vintage or one that's newly made. Are they worth it? If you're a fan of decorating with Midcentury modern styles, quality craftsmanship, and comfort, then the answer is definitely yes.
All these chairs were conceived by the husband-and-wife design team of Charles and Ray Eames from the 1940s through the '60s. They were so innovative and popular that they're now considered to be classics celebrated by interior designers, collectors, and museums. Good design is one thing that makes them worth the high price tag since an Eames Lounge Chair and Ottoman can sell in the $5,000-$10,000 range when purchased new. Find a first generation vintage pair in good condition, and the price can triple. Even a single Eames Molded Plastic Side Chair sells in the $345-$745 range depending on the style of the base. They were all made to last using techniques that were quite novel back when they were first introduced, and their manufacturer, Herman Miller, still produces them today.
The craftsmanship of Eames chairs makes them worth the money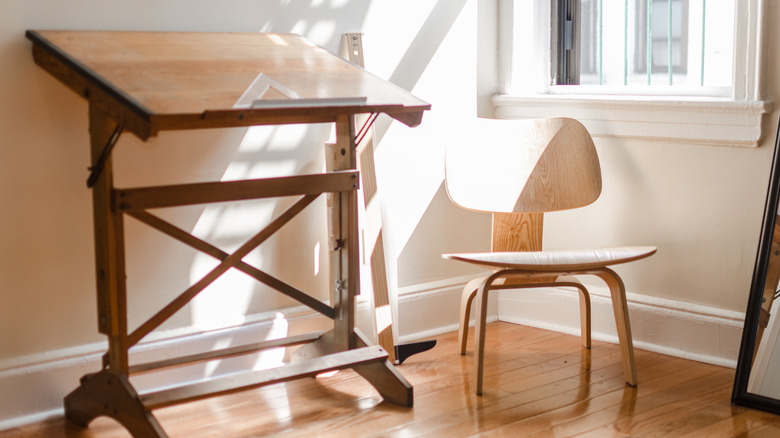 Winstonwolf89/Getty Images
Some of the attributes that make Eames chairs worth the price are the quality components and attention to detail in the craftsmanship. This furniture is built to stand up over time, and many vintage originals are held in collections of not only museums but Midcentury design enthusiasts. Using molded plywood to design chairs was one of Charles and Ray Eames' early innovations. The Eames Lounge Chair's base is made of molded plywood, but they also developed the modern-looking Eames Molded Plywood Lounge Chair using this material (and new ones sell in the $1,195-$2,545 range). Molded fiberglass and plastic made its way into many Eames chair designs as well, and Herman Miller has kept many of those in their design catalog for decades.
If you decide to shop for an Eames chair — since Midcentury modern isn't going anywhere, according to design experts — you'll likely notice that there are a multitude of copycats out there. You might also be tempted to buy one of those more affordable alternatives since they look very similar to the originals. If you do a side-by-side comparison, though, you'll quickly notice the differences in size, functionality, and quality in models made by Herman Miller and those produced by many other furniture manufacturers. If you want a chair that will last far longer and hold its resale value, too, look for the Herman Miller label on the bottom whether you buy one secondhand or new.
The stylish comfort of Eames chairs supports the price tag
One of the first noticeable attributes of an Eames Lounge Chair is the unique way that it sits. Rather than being adjustable like a traditional recliner, it is spring loaded and stays at the same angle whether it's being used or not. With that odd tilt, how comfortable can it be? As it turns out, very. Reviewers have been known to comment on how they can't wait to luxuriate in the leathery coziness of their Eames loungers. After all, it was designed to be like sinking into the comfort of a thoroughly broken in first baseman's mitt — with a cushy matching stool to rest weary feet — back when these were conceived.
You have the question the comfort of plywood lounge chairs and molded plastic side chairs, too, right? Even though the Eames Molded Plywood Lounge Chair and the Eames Molded Plastic Side Chair are made of materials that aren't cushy and don't have much in the way of give, they're both surprisingly comfortable. This is due to the way the plywood and plastic are ergonomically molded to cradle the body. The curves in each chair eliminate hard corners, which also supports the body in a surprisingly cozy way. Given all these thumbs-up attributes, if you can fit an Eames chair or two into your budget, you'll likely find that it's splurge-worthy investment you won't regret.