How To Get The Look Of Leslie Davis' Cozy Dining Room In Your Own Home
Formal dining rooms are often vastly underused, with much of today's entertaining and meals happening in more casual spaces like kitchen nooks and around spacious islands. A well-designed dining room, however, can often offer a chance to create a unique space that melds functionality with style, no matter how you end up actually using it. HGTV's Leslie Davis recently gave Instagram a peek into her dining room design, which melds unexpected colors with stylish neutrals, industrial accents with midcentury modern lines, and a blend of textures that instantly makes the room cozy and dynamic. 
If you're looking to achieve a similar look and feel in your dining room, there are a few things to keep in mind in terms of contrasts in color, materials, and textures. Combining these elements with Davis' acumen will create a room you want to spend ample time in, whether it's dining, socializing, working, or relaxing. 
A study in contrasts
Leslie Davis' gorgeous dining room has a wealth of contrasts that play off each other and make the room both look and feel good. It mixes a bunch of materials, including rich wood floors, soft layered rugs, and unique lighting fixtures that all add visual and material interest. The deep sapphire of the walls stands out against a room primarily decorated with neutrals like whites, creams, and jet black. The crisp white windows and trim, in particular, contrast the blue and tie the room together. 
In addition to the opposition of colors, the room is a mix of contrasting styles, from the sleek midcentury lines of the black pedestal table and chairs to the industrial aesthetics of the spherical chandelier and stainless steel floor lamp. The neutral floral rugs, while new to Davis, feel very antique in style, bringing a bit more of a traditional and old-world charm to the room.
Get the look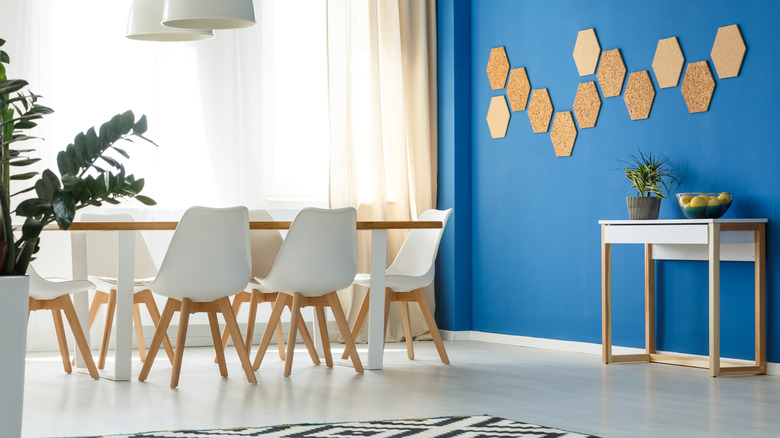 Ground Picture/Shutterstock
To get a look similar to Leslie Davis' dining room in your home, whether you are designing from scratch or planning a dining room makeover, don't be afraid to mix styles, textures, and materials to get a distinctive look that is all yours. Combine antiques with sleek new pieces when it comes to both furniture and fixtures like lighting. Layering also adds tactile and visual appeal, so consider placing a favorite larger rug with a smaller one, as well as adding cushions or soft items like table linens. In a dining room, an excellent way to bring in even more texture is shades or drapes, as well as centerpieces and dishware. 
When dealing with a neutral-driven room, bring in at least one unexpected dose of color, whether it is in small accents or a single piece of furniture, or go for the bold look of colored walls, which not only feels surprising and fresh, but deeper colors make any room feel more cozy and intimate.