Martha Stewart Has The Easiest Way To Refresh Your Home In No Time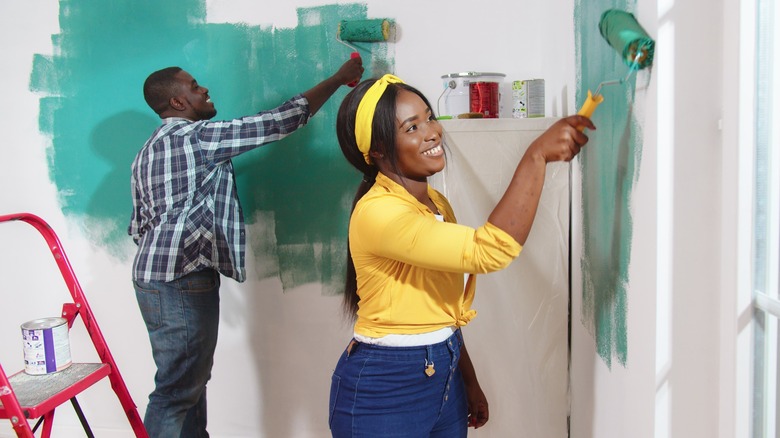 VesnaArt/Shutterstock
Refreshing your home has benefits for your well-being because the right changes can positively impact your mood, make you feel more comfortable, and make you feel more connected to your home. Refreshes can be as major or minor as you like. Renovations like remodels or additions are great when you need to adjust to new lifestyle needs or increase the value of your property, while minor changes like a new layout can be done to suit new tastes or improve a room's functionality. If you're thinking of something you can do easily and quickly, Martha Stewart suggests a new coat of paint, putting up some wallpaper, or reupholstering furniture.
"A coat of paint is the easiest way to just change your home," she told TODAY. "It's so nice to add a new color in a room or continue a color down a hallway." You can also think beyond the walls and paint the ceiling, the trim, or your front door. No matter where you apply the fresh coat, it's an opportunity to change the vibe of a space or change it to better reflect your tastes.
Put up some wallpaper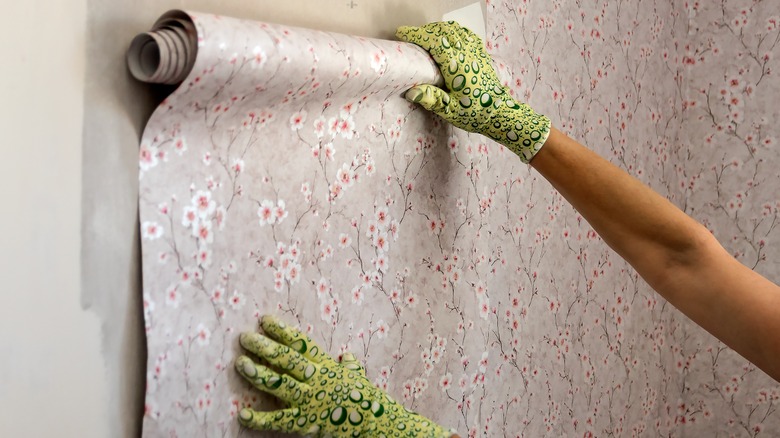 Ludmila Kapustkina/Shutterstock
Martha Stewart also suggests new wallpaper as a simple way to refresh your home. She demonstrated on TODAY how easy it is to apply the paste to the back and then put it up. She also has advice on how to keep the process uncomplicated. Wallpaper can be tricky because it takes some experience to ensure you get the desired result. One common issue with wallpaper applications is getting the pattern to match up at the seams, so Stewart recommends using wallpaper with a simple design instead. Look for patterns like faux grasscloth or faux bois, because they are labeled "random match," and you won't have to worry about matching them.
Another common issue you might encounter is bubbling after the wallpaper has gone up. Stewart's tips to avoid this are to make sure the wall is smooth and free of any holes or cracks, apply the paste to every inch of the back of the wallpaper, and use a wallpapering roll or brush after to flatten it out so it sticks to the wall properly.
Reupholster any furniture that needs it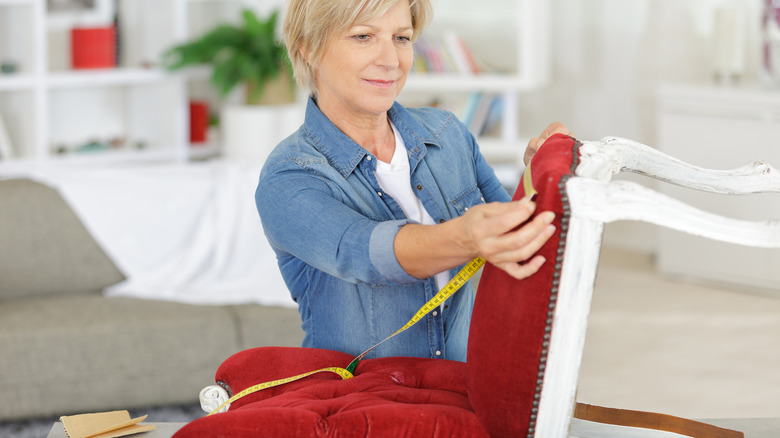 ALPA PROD/Shutterstock
According to Martha Stewart, another way to refresh your home is to reupholster any old furniture, demonstrating on TODAY with a thrifted wooden chair with a drop-in seat pad. To reupholster your old chair or stool, you'll need new material and new upholstery foam to act as new padding so the chair will not only look better again but also be soft. With the worn-out seat cushion, start by removing the material and flattened-out padding so you're left with the wooden base.
Cut out a piece of upholstery foam that's bigger than the wood and place it on it, fold the edges of the foam over the wood piece, and use a staple gun to secure the padding, starting in the center. Next, take your new fabric and cut out a piece larger than the seat base, place it on the fabric, pull it over, and staple it into the foam, again starting from the center. Take another piece of fabric and use it to neatly cover up the exposed middle part of the wood. Even though you won't see the bottom part of the chair, Stewart recommends this because it elevates it from a simple DIY project and makes it seem expertly done.