The Kitchen Cabinetry Options That Real Estate Agents Advise Against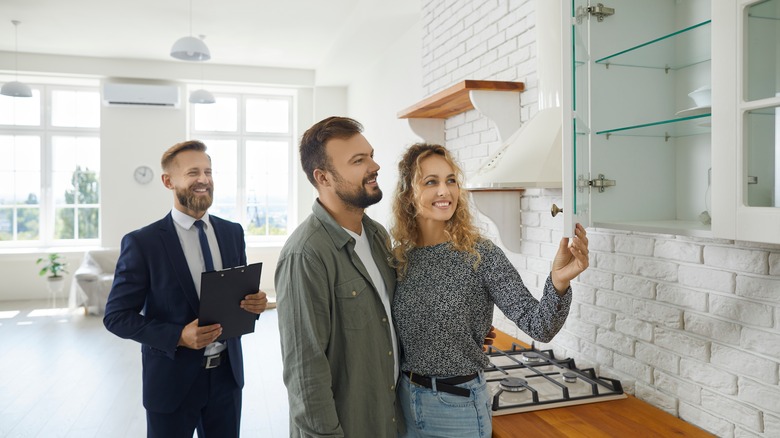 Studio Romantic/Shutterstock
If you're building a home or considering a kitchen remodel, picking kitchen cabinets to suit your style and taste makes sense. Selecting ultra-functional cabinetry and staying on budget can be important considerations, too. But when it comes to selling your home at some point in the future, the choices you make now can impact how buyers will see your place and how high their offers will go. What do real estate experts advise? Staying away from outdated wood grain cabinetry when building or remodeling is a good place to start.
While some modern wood grain cabinets are coming back into style, those traditional, builder-grade oak cabinets with wood graining and golden stain are still turning buyers off. "If you ask me, that was never really in style," remarks Jeremy Porter, a Florida-based real estate agent and consultant for HomeSmart, in an Apartment Therapy interview. Thinking about colors as well as cabinet shapes, sizes, and features are important considerations, too, when keeping resale value in mind.
Avoid cabinet colors that feel outdated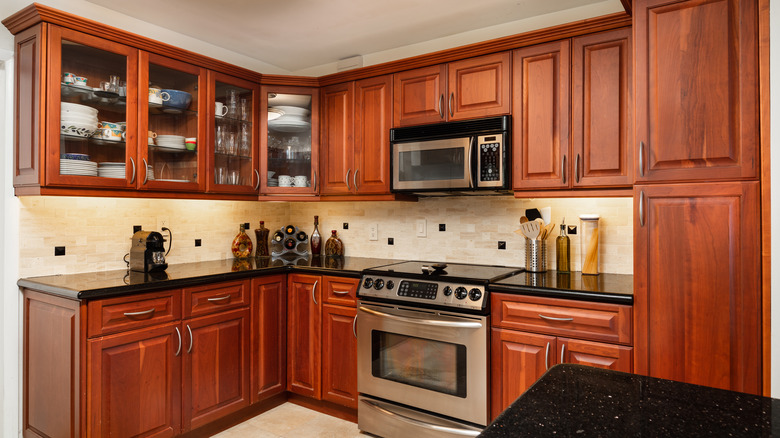 Raul Rodriguez/Getty Images
No one wants a kitchen that's out of style before a new home build or remodel is even completed, but that can happen if you select an outdated kitchen cabinetry color. "If the kitchen is outdated ... it becomes a bargaining item. The offer will be significantly less than an offer for a stylish kitchen that prompts the buyers to ask, where have you been all my life?," says Richard Grant, a Realtor with Keller Williams in central New Jersey, in a Kitchen Magic feature.
This is why, in addition to selecting the best type of wood for kitchen cabinets, picking a cabinet color or finish that will appeal to potential homebuyers should be a consideration. What's still viewed as off-trend beyond golden oak finishes? Avoiding traditional cherry-colored cabinets is a good idea, according to HomeSmart agent Jeremy Porter (via Apartment Therapy). That's not to say that some of the lighter cherry colors available wouldn't appeal to today's homebuyers, but taking darker cherry off the table is Porter's advice. Try to pick a color you will enjoy in the meantime — while steering clear of hues that are obviously outdated — all while understanding that no matter what you select, you won't be able to please every buyer. 
Remember that cabinet shapes, sizes, and features matter, too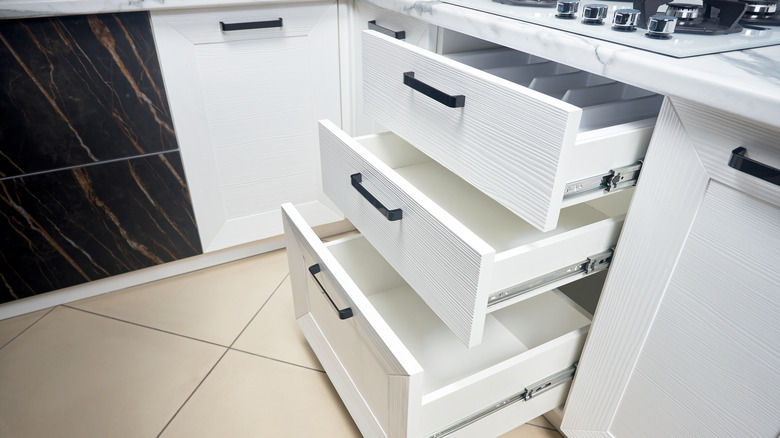 Ryosha/Getty Images
When it comes to cabinet trends homebuyers might be looking for, Chris Highland with Exp Realty in Maryland, shares that simpler styles with clean lines are not only popular but easier to maintain than those with all the fussy detailing of the past. Rather than typical boxy builder-grade cabinets, though, consider options with a more custom look to the façade like simple decorative molding or Shaker styling, a classic that's still on-trend. Many home shoppers also look for special touches — deep drawers for storage, slide-out trash and recycling bins, and other details that can make kitchen cabinets feel more luxe.
There are also some easy ways to take your kitchen cabinets to the next level that you can do yourself. For instance, you can use cabinet doors to create upgraded end panels for a Shaker look, or easily change out knobs and handles for an instant facelift. Just remember to match any DIY changes to the overall style of your kitchen to stay on target with an appealing upgrade. If your cabinets are stylish, the color is on-trend, and they have a few unique details, you get to enjoy them now and future homebuyers will love them, too.