Kitchen Decor Trends We're Bringing Home From Our Visit To Waco's Magnolia Market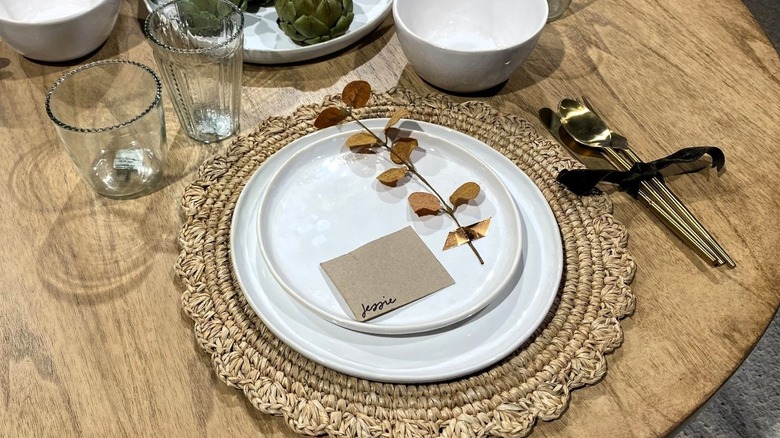 Brooke Younger/ House Digest
Once again, Magnolia is making their mark at their 20th Anniversary Silobration in Waco, Texas. Over the weekend, they're open nearly all day long for purchase, perusal, and inspiration, and 2023's lineup surely shows off some trends that we've been keeping a close eye on. Neutral tones, nostalgic prints, organic shapes, and antique-inspired kitchen items are styled to the nines and ready to be taken home.
Magnolia, the home and lifestyle brand by Chip and Joanna Gaines, is known for its seasonal and curated products that can perfectly outfit any room of your home. This year, we had the privilege of visiting Waco's Magnolia Market, and it is packed with unique and artistic merchandise that's begging for a spot in your dining room. We are loving the rustic and vintage-looking assortment of kitchen decor that is both functional and aesthetically pleasing. Here, we've documented some of our favorite trends from the Market at the Silos.
A checkerboard theme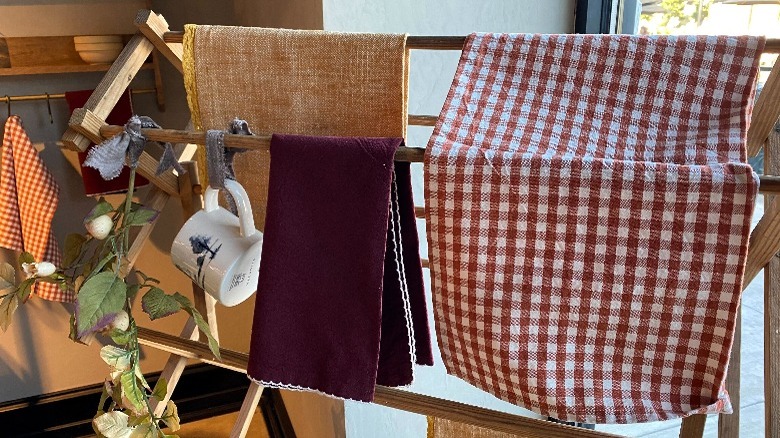 Brooke Younger/ House Digest
Checkerboard has been having its moment for some time, and it doesn't look like it's going anywhere fast. In fact, Magnolia seems to be slowing it down and bringing the trend back to its roots, pairing it with neutral tones and wooden elements for a more rustic look. From the Carmella Checkered Marble Serving Board to its red and cream gingham tea towels like this one, you have a lot of options to choose from.
Antique-inspired wares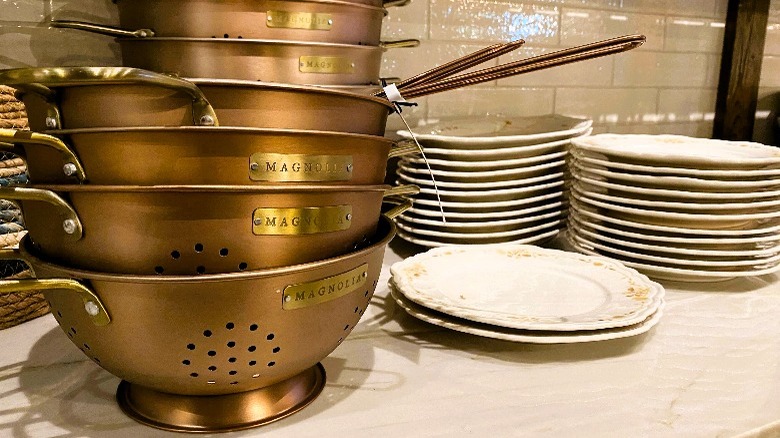 Brooke Younger/ House Digest
The antique look is something that most people would love to implement in their kitchens, but real vintage wares can cost a pretty penny. Some of our favorites in this category, that we were able to see at the market, include the French Grey Reduction Fire Baker and the Copper and Brass Colander. Both are quite affordable, costing just $60 and $30 respectively.
Carefully chosen wood pieces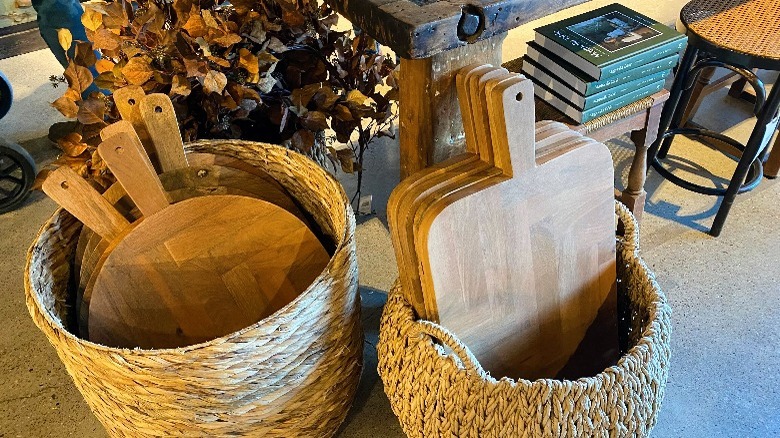 Brooke Younger/ House Digest
Whether you are setting up a charcuterie board or simply preparing some fresh vegetables, a large wooden cutting board is a necessity in any kitchen. Likely, your parents or grandparents own one that's older than the hills but don't go stealing theirs to complement the modern prairie aesthetic in your kitchen. Instead, look to Magnolia's Herringbone Serving Boards for your serving and chopping needs.
Simplistic pottery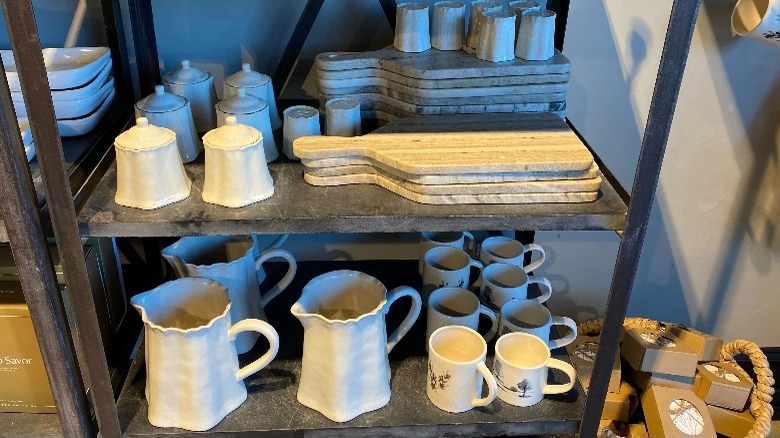 Brooke Younger/ House Digest
Organic shapes are trending in the home decorating space. More than usual, it seems that people are being drawn to small human mistakes and natural lines. This is obvious at Magnolia's Silobration. We've seen plenty of artistic pottery pieces in the form of mugs, canisters, plates, and platters. Displayed on a minimalistic shelf was this Vintage-Inspired Crackle Pitcher, which looks like it was hand-picked at an antique store or farmer's market.
Warm and woven elements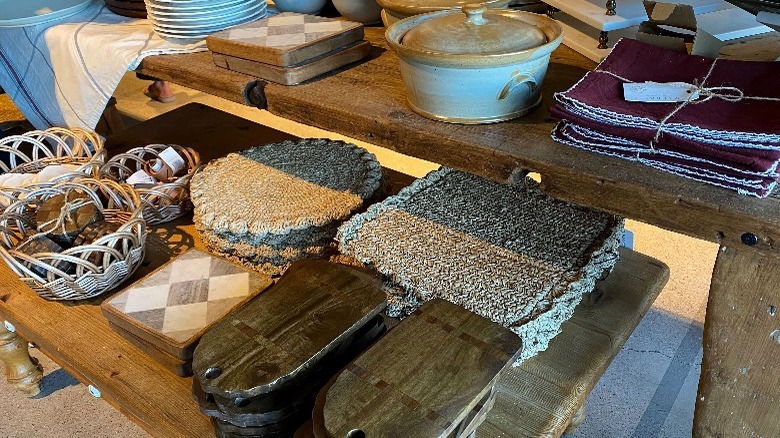 Brooke Younger/ House Digest
Not only do each of the tea towels, table cloths, and napkins feel high-end and add noticeable texture to a table setting, but the brand has also supplied woven placemats that bring an organic element to this warm collection of serveware. We particularly love the look of the entwined fibers of the mats and baskets alongside warm natural wood features and thick linens.
Delicate florals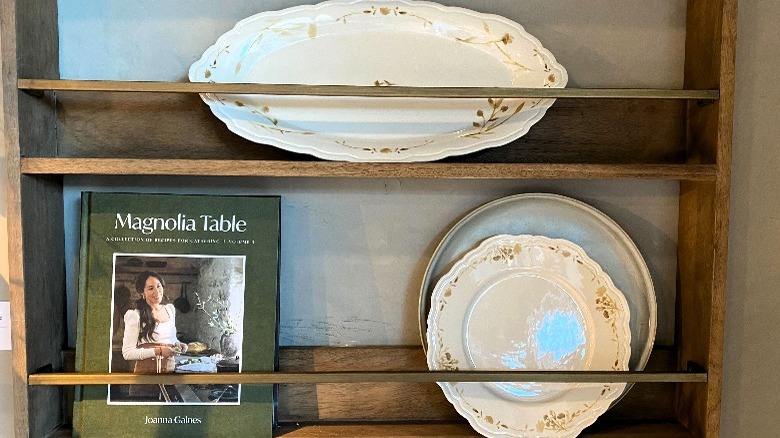 Brooke Younger/ House Digest
When you enjoy the earthy and heirloom style that many of these trends share, your kitchen decor is not complete without some small floral details. When you rely heavily on neutrals and wood tones, some careful color is necessary. The flowers on these Floral Meadow Plates are yellow, adding a cheery tone to the wood shelf, which looks quite a lot like Magnolia's Hannon Wood and Brass Display Shelf.