Use Hilary Farr's Genius Dining Table Tip To Open Up Your Small Dining Room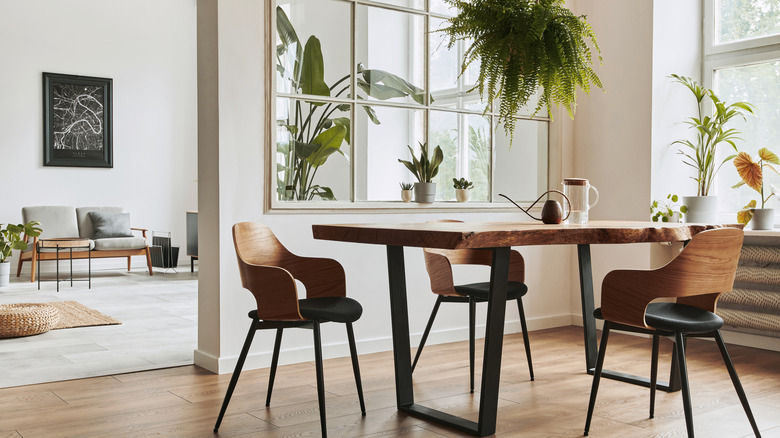 Followtheflow/Shutterstock
Sometimes the most impactful tweaks we make to our homes can be the simplest. Hillary Farr, host of HGTV's "Tough Love With Hilary Farr," recently took on the remodel of a couple's home, including the dining room that sported a lot of outdated materials, hand-me-down furniture, and heavy wood pieces that dominated the space. Farr's redesign not only involved removing some of the larger furniture like the buffet table and cabinet, but also adding new curtains, rug, chairs, and lighting. The most important change — and perhaps the easiest switch of all — was simply rotating the dining room table.
While the room was once clogged with dark and heavy furniture, freeing up the room makes it feel longer and lighter, emphasizing the height of the ceiling and the stylish new chandelier fixture. The new line of the table parallels the placement of the windows, making the room appear longer and wider than before when the heavy future dominated the space and cut the room off both physically and visually.
An instant change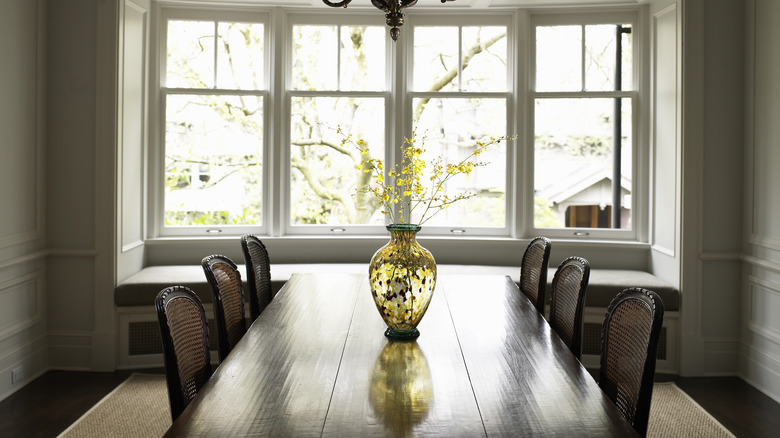 Ryan Mcvay/Getty Images
Hilary Farr's tweak, which costs nothing, instantly changes how the space looks and feels, offering easier access to the seats at the table and visually opening up the room's traffic. It also allowed them to keep the heavy, dark wood table even in a light and airy room. Farr tells Realtor.com "The table running this way allows it to be fully open. It doesn't take up as much space visually." Sometimes even the simplest change can help your dining room make a statement.
While your first instinct would be to place a rectangular table in the middle of a rectangular room parallel to the longest walls, consider placing it on a perpendicular line instead, which feels fresher and more unexpected than traditional placement in formal dining rooms. You can also try using a square or round dining room table, which may maximize the flow of the room better. Try to keep additional large furniture pieces to a minimum, especially if they are dark wood or heavy, which can crowd and clutter the usually narrow space of a dining room.