What Is A Functional Front Lawn & Why Are They Getting So Popular?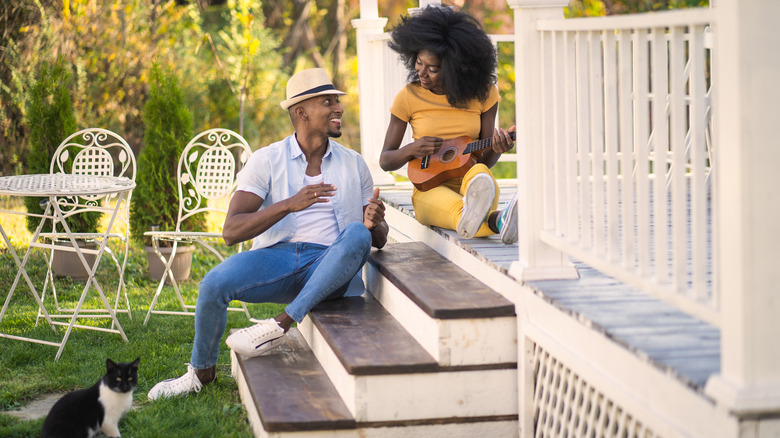 Vladimir Vladimirov/Getty Images
You may have followed traditional ideas of using your front yard to boost your home's curb appeal by mowing, landscaping, planting, watering, and fertilizing to achieve the perfect look that introduces your home to visitors approaching from the street. However, the work and expense required to maintain this look can be overwhelming, causing you to search for low-maintenance ideas for landscaping. One of those options is a functional front lawn, which is growing quickly in popularity. Also called a social front yard, this idea focuses on creating an inviting place at the entrance to your home that doesn't have to conform to the traditional ideas of pristine landscaping. It cuts down the work you have to do while allowing the yard and space to remain highly functional.
"During COVID, being at home so much, some people had this same epiphany that they needed to get more function out of the space that they had available," Kevin Lenhart, a landscape architect with Yardzen, told Better Homes & Gardens. "Generally speaking, it's creating a space where you can have social interaction with your neighbors, which is something that we were all craving throughout the pandemic, or isolated play areas, flexible gathering spaces, where you could have a drink or read a book by yourself or have a meal." For a residential property that may have limited space available in the back, creating space that's practical in the front is an idea that makes a lot of sense.
Why are functional front lawn spaces appearing more frequently?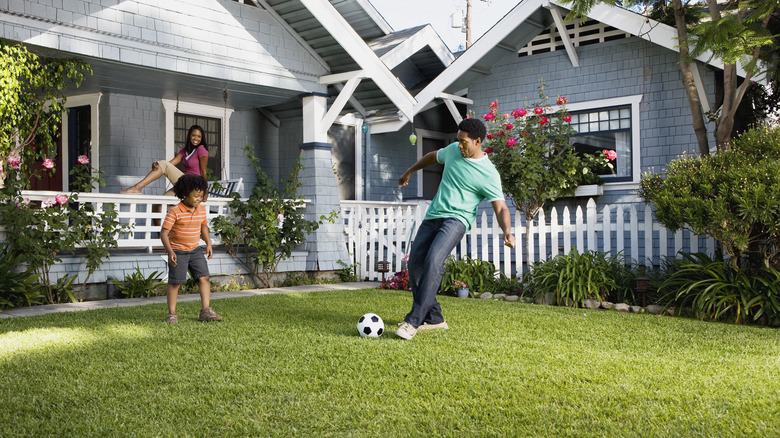 Jupiterimages/Getty Images
According to Yardzen, a virtual landscape design service, its clients' requests for designs for functional front lawns have increased by 150%. The company says its clients are looking for something that goes beyond aesthetics found in the traditional front yard. They want things like fire pits, sitting areas, play areas, and pergolas. "Front yards used to be purely aesthetic," says Allison Vaccaro, co-founder of Brick & Batten (via Better Homes & Gardens). "You think of the white picket fence, and it was almost like an American dream to have this private buffer that was purely aesthetic, but I think that has shifted completely."
The primary driving force behind the idea of a social front lawn is to make the most of available space. As residential home lot sizes become smaller in new developments, there may not be space in the back to handle all of the family's hobbies and needs. Additionally, during times of nice weather, the functional front yard expands the amount of living space that you have available.
As another benefit, the social front yard saves the homeowner time, money, and energy versus what's required to keep perfect landscaping looking perfect. You don't have to pour as much water on these areas to grow plants, and you don't need to use as much fertilizer or mow as much, saving time and energy. The planting costs for this type of space usually are lower as well.
Ideas for creating your own functional front lawn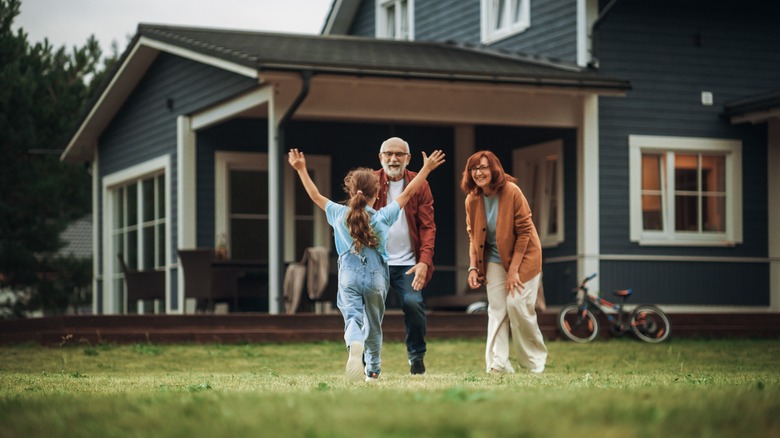 Gorodenkoff/Shutterstock
A functional front lawn isn't something to simply admire. Rather, it has more practical purposes designed to enhance the functionality of the space. It allows you to create a sitting area in the yard or on the porch to gather with family members and neighbors. It delivers a play area for children. You may have a functional garden designed to attract pollinators or wildlife instead of one that's designed to look at. The social front lawn may even have vegetable gardens in the front rather than hidden away behind the house.
One of the best ideas for designing a social front yard is to incorporate plenty of seating areas. Whether you want to use benches and tables for creating an eating area or for simply gathering around a fire pit, you want to encourage neighbors and family members to spend time together, so comfortable sitting areas are extremely important. It's better to use light and airy plants in the social front lawn because you want to be inviting to your neighbors rather than creating a barrier to the view of the street. You may no longer plant tall hedges in the front yard, opting for smaller flowers or bushes that don't block the view. Consider making use of native plants for your area in these spaces. Such plants often don't require a lot of extra watering and fertilizer. For example, ornamental grasses can deliver a beautiful look without much maintenance.