Make The Most Out Of A Small Space With TikTok's Chic DIY Hanging Clothes Rack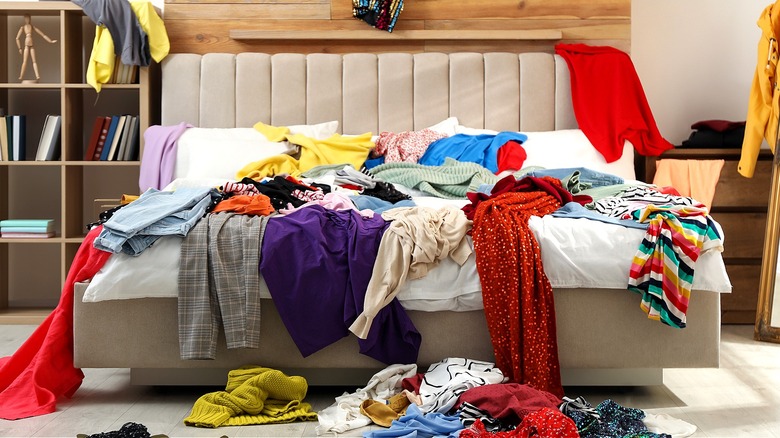 New Africa/Shutterstock
We may receive a commission on purchases made from links.
When you have a small bedroom, ideas that will maximize the space are always welcome. But add in the additional wrinkle of needing to organize a bedroom with little to no closet space, and the space-saving solutions can't come fast enough. Fortunately, there are various hacks out there that have figured out ways to use available space in a small (bed)room both efficiently and creatively. Take this design hack from @ana_cahill on TikTok, for example. Her solution? A ceiling-mounted clothes rack you can easily DIY that frees up a bedroom's floor space.
While this type of clothes rack is available for purchase, doing it yourself is much cheaper and requires little assembly time and just a few materials. All you need is a 3-foot dowel rod, two ceiling hooks, and about 12 feet of rope. TikToker @ana_cahill has a chic boho bedroom, so she uses a light brown rope and rod, but your materials should match your own décor. For example, you can get ropes in different colors and paint or stain the natural wooden dowel rods in your preferred shade.
How to create your own
For this clothes-rack hack, try to get a rope that's reasonably thick and not bulky, in a stylish, natural material like twisted manila. You can get one by Kohand, with a ⅝-inch diameter and a length of 100 feet, on Amazon for $34. The thickness of the rod also matters for this space-saving DIY so it can match the rope just enough to prevent either of them from looking too oversized. An alternative to rope is leather suspension straps. You can get a set of two in different colors on Etsy. The price ranges from $40 to $70, depending on the length you choose.
When you're ready for installation, think about where you want to have the rack. An ideal location will be a free side of your bedroom, against an empty wall like in the TikTok, where it's easy to stand at and flip through your clothes. The ceiling area should also be clear so make sure there are no fixtures like lights or fans close.
To install, fix the hooks onto the ceiling, wrap the rope once around the rod, and tie it securely at the top. If you're using straps, pass the rod through the straps. Do this, and your ceiling-mounted rack is ready for your clothes! Don't overload the structure and keep the rack well-organized so it doesn't make your small space feel messy.