The Old Home Feature HGTV's Mina Starsiak Hawk Recommends Saving During A Renovation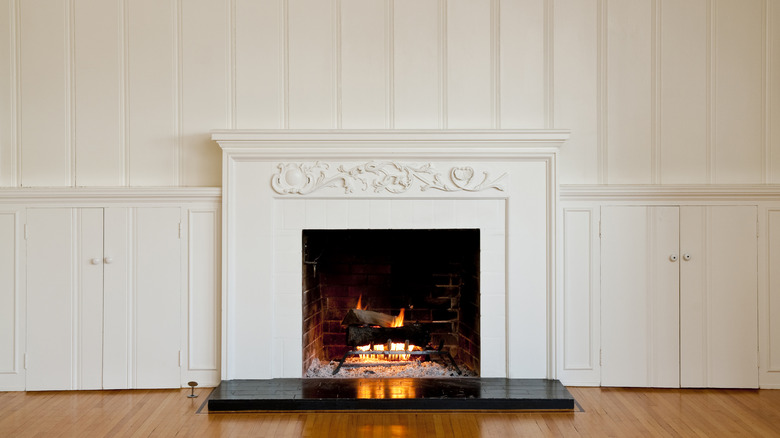 Spiderstock/Getty Images
HGTV's Mina Starsiak Hawk is known for her design acumen and signature style, which often involves mixing old and new for glorious results. While Hawk offers a plethora of advice on things to keep in mind during remodeling projects, including one element you may not be thinking about. According to the "Good Bones" host, antique or vintage millwork, which includes decorative accents, trim, and molding, can go a long way toward giving your interiors a sense of timeless style not often replicable with new materials. 
Millwork is a term used to refer to any wood material produced in a lumber mill for decorative purposes. A lot of vintage or antique millwork in older homes harkens back to a time when greater individuality and craftsmanship were the norm. This means that many pieces were carved or designed by hand before the Industrial Revolution, making them of far greater quality and endurance than similar accents today. While you can, for example, buy cabinets and doors with carving or decorative trim, or add lengths of crown molding to a room that lacks them, it's often a far better benefit to the room to retain its original materials and character. 
Updating millwork
Janine King/Shutterstock
Mina Starsiak Hawk tells House Beautiful, "Millwork, including molding and trim, is a detail that brings a traditional feeling and can be modernized with a paint color coordinated to the space." Antique millwork is often a hallmark of older homes, encompassing everything from ornate banisters, intricately carved fireplace mantles, crown molding, wainscotting, ceiling medallions, and richly carved door and window frames.
Often these important wooden accents feel dated or out of place in more modern or minimalist-driven design schemes, but they can often be amended with a coat of paint or a new wood finish to feel fresh and contemporary. Antique cabinet doors, for example, can be sanded down, refinished with a more modern-colored wood stain, and outfitted with new hardware for a delightful blend of old and new. Older decorative wood accents can be given a clean and modern look with white or black paint and will help restore character to any space. 
Mixing old and new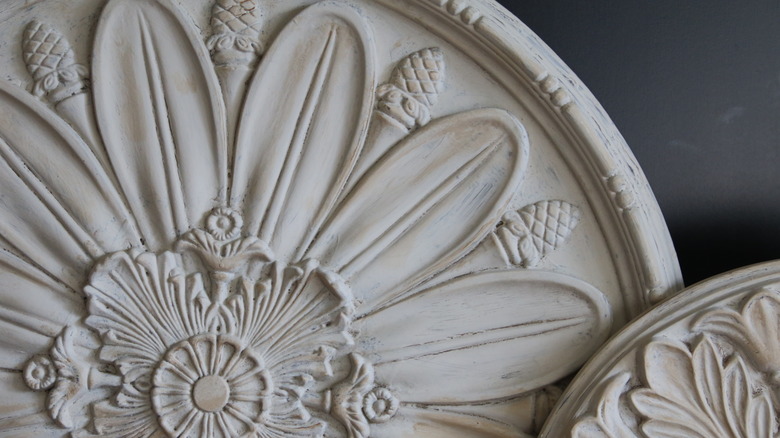 Jacquie Klose/Shutterstock
If you ultimately decide not to use existing millwork in your space, there are also ways to salvage millwork from one space and use it in another. In addition, millwork is usually beautifully hand-carved, making it great as a purely sculptural accent that need not be attached to walls at all. For instance, consider placing an old ceiling medallion on a fireplace mantle or wall as art. Or using an intricately carved cabinet door to cover something unsightly like an electric box. Using old elements in new ways is a great way to harness Mina Starsiak Hawk's style of blending modern pieces with antiques for beautiful results. 
You can also upcycle a lot of millwork into new DIY and home projects. Use stair or porch spindles as legs for a simple stool, bench, or table. Or use antique millwork trim on the front of your inexpensive Ikea shelving. With a little paint, very few will be able to tell your BILLY bookcase isn't an antique passed down for generations. If you are changing up the interior of your home completely, consider donating or selling vintage millwork to buyers looking to do more era-specific renovation of older homes.