The Decorating Hack That'll Make A Christmas Tree Stand A Thing Of The Past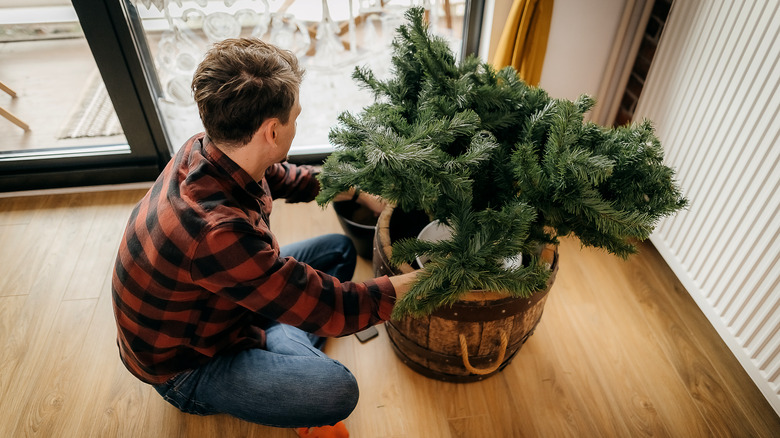 Stefanikolic/Getty Images
A big part of winter décor is holiday decorations like wreaths, garlands, tinsel, and Christmas trees. A Christmas tree ties together the warm, cozy feeling of the season and is typically the star decoration (pun intended). While it needs to have ornaments and lights that make it beautiful, it also needs the right support to keep it in place. This TikTok provides a great idea for a DIY Christmas tree collar and base so you can say goodbye to wonky Christmas tree stands. It outlines fixing your tree in place using a decorative basket so it's sturdy and stylish at the same time.
One of the most common problems with having a Christmas tree is the tree tipping over or being uneven, usually because the stand itself is unstable or because the tree isn't properly attached to it. If your stand is too flimsy or too small to support your tree's weight, try this decorative and functional hack. 
A stylish, DIY Christmas tree base
You'll need a big, woven basket with a flat bottom, a plant holder that fits into it, a polystyrene or styrofoam block, and a pack of small, decorative stones, per TikTok. You can get a 2-pack of craft foam blocks for $15 on Amazon. The TikToker uses a 15x15x15 block but the size you choose will depend on the size of your plant holder and basket. You can also buy a pack of decorative stones and vase fillers for $15 on Amazon. For the decorative basket, there are many materials to choose from like jute and palm, and you can find them in any home goods store. The creator's basket is light rattan to match her bohemian living room, but don't feel restricted to that. Because the small plant holder won't be in view, it can be any old holder or container.
To DIY, put the small plant holder inside the big basket and pour some of the small stones into the bottom. Make a hole in the foam block and fix the tree in it, making sure it is firmly inserted. Pour in more stones until they cover the block so it looks like the tree is planted in the container. Now you have a unique, decorative Christmas tree holder! In addition to being more attractive than a traditional stand, it is also sturdier. Note that this Christmas tree base is better suited for artificial trees since it doesn't have a water reservoir.