David Bromstad's Tips For Dressing Up A Room With White Walls Without Any Paint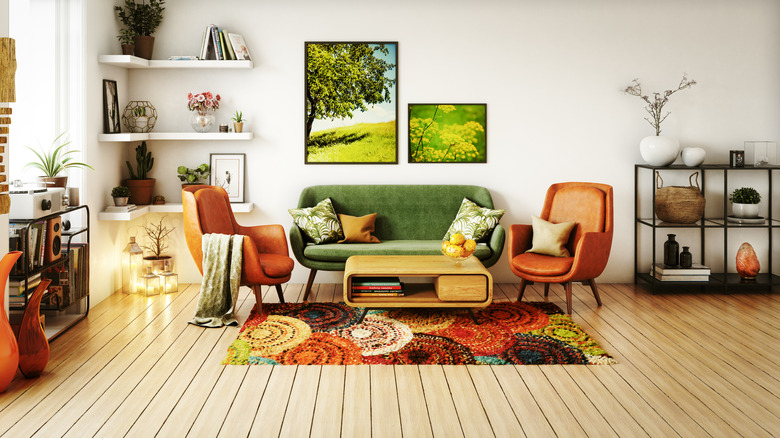 Bulgac/Getty Images
Picking the perfect color to paint your walls should be thought out carefully. The walls have to complement the other elements in the room, such as the furniture and decorations. If the walls and furniture clash, it can overwhelm the room's appearance. However, you don't always have to paint the walls with a vibrant hue — sticking to a classic white shade gives you a blank canvas and the creative freedom to add bold tones through embellishments. Interior designer David Bromstad enjoys sprucing up a white interior with colorful accessories like lamps, vases, cushions, etc. While you have various décor options to dress up a white room, Bromstad suggests choosing the right color combinations to prevent clashing, per YouTube.
Finding the right combinations is easy when you have the color wheel to help you decorate any room in your home. Using complementary tones is the best way to ensure you combine the right shades, especially in an all-white room. By implementing color through accessories, you're able to showcase your personality through features that highlight the space instead of painting the walls with different tones. However, to successfully add color to your room, Bromstad has a few tips that will make the process effortless.
Choose your colors last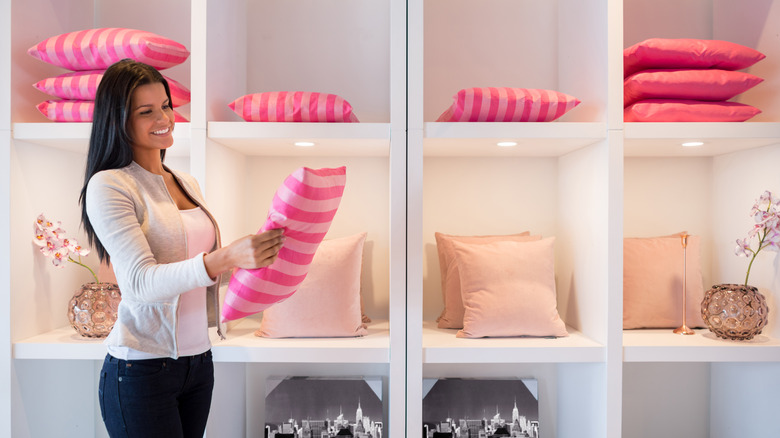 Andresr/Getty Images
Buying embellishments for a room is the most exciting part, yet, HGTV 's David Bromstad advises leaving the accessories until the end. He states, "I pick my color last because you have to find the furniture that's within your budget. You have to find all the accessories that you really love because paint is the most inexpensive thing that you can buy to transform the space," via YouTube.
When furnishing a white room, the furniture is often the most significant part of the process. It sets up the vibe and potential color palette for the space. For instance, if you use darker wood furniture throughout for your bed frame, nightstands, or dressers, you can implement colorful décors like muted green, maroon, purple, and blue. Or, if you decide to incorporate black furniture in your room, you have a wider range of tones to choose from. Even though black is an excellent neutral shade, it's still bold, so pairing it with other vibrant hues can be tricky. However, by leaving the accessories to last, you'll be able to choose tints that complement the space and still speak to you.
Always take your time when combining colors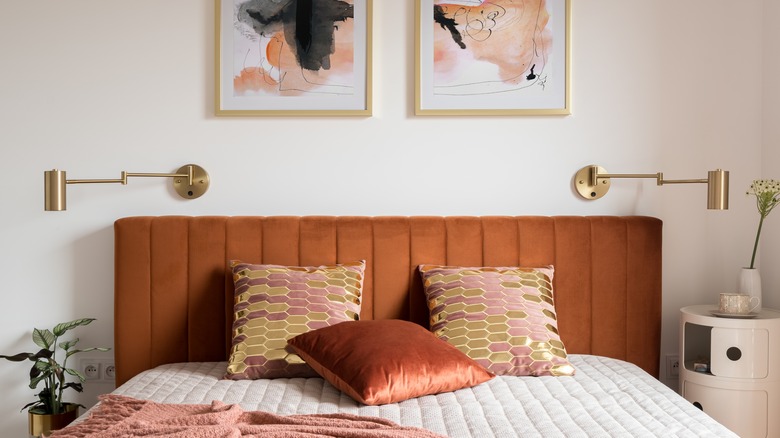 Dariusz Jarzabek/Shutterstock
Once you've chosen the primary elements of the room, like the furniture, it's time to pick out bold accessories — however, there's a catch. Once you choose your primary color, you want to ensure that you style it with complementary tones to prevent clashing. Even though you're styling a white room, picking the wrong shade for your accessories is an easy mistake. Interior designer David Bromstad explains, "There really is no wrong color; it's what you combine it with," per YouTube. It can be easy to get caught up in how something looks rather than thinking about if it will pair well with everything else you have. For example, if you find a stunning navy blue lamp and neon yellow curtains you love, they wouldn't work well together in a space since they're entirely different tones.
Instead of rushing to purchase every décor item you like at the store, take time before buying something new– there will always be new accessories to choose from, so it's best to give yourself some time. Being intentional about purchasing items and picking hues will allow you to bring a room together rather than buying everything at once and creating a cluttered space. You might even end up with an entirely different room than the one you envisioned.