Here's How HGTV's Jenn Todryk Softens A Boxy Home (Without Demolition)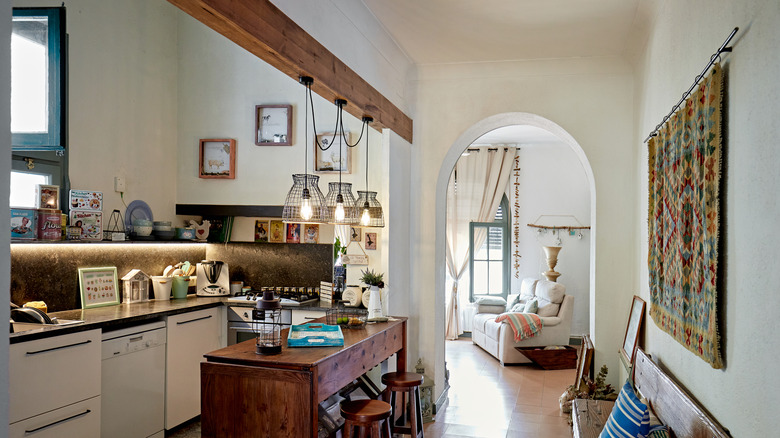 Xavierarnau/Getty Images
HGTV's Jenn Todryk is known for her dramatic transformations created without traditional demolition on her hit show "No Demo Reno." The series typically features ways to update and style the homes of homeowners without taking down walls, ripping out architectural elements, or needing major construction. In Season 3, Episode 3, Todryk transformed a boxy opening between two prominent spaces by creating an arched doorway, which immediately softened and framed the rooms, making them seem part of a cohesive, open floor plan that flowed perfectly together. 
Breaking her own rules, Todryk knocked out a wall and peninsula in the kitchen, opting instead for a large center island, which offered greater functionality in the kitchen and more open passage into the dining room that instantly made the area lighter and more spacious. Although this change alone involved far more drastic demolition measures than typically seen on her show, you don't have to take down any walls to create an arched doorway to soften a room.
Softening a boxy room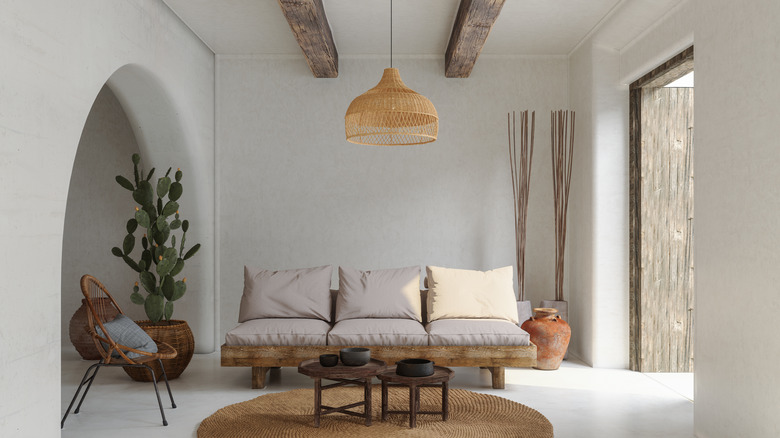 Onurdongel/Getty Images
Once the peninsula in the kitchen had been cast out, Jenn Todryk set to work maximizing the renovation's effect by transforming the existing large square opening into the living room. In the episode of "No Demo Reno" (per Realtor.com), she says, "The blocky separation that is here right now is just so builder-grade, it's boring. I think an arch would soften this place up. It's going to be this beautiful separation between now a very open kitchen and dining room into a living room."
Adding an arched doorway is an instant way to include a sense of roundness and grandeur in the room, as well as a more casual and rustic feel to the design scheme. In the show, this, combined with painstakingly selected wood floors, sets the tone for the room. The arch also makes all the rooms seem larger and more filled with light than previously. Rather than three separate rooms, the kitchen, dining room, and living room become a glorious single space that makes the entire home feel larger and more luxurious than before. 
Add arches to your home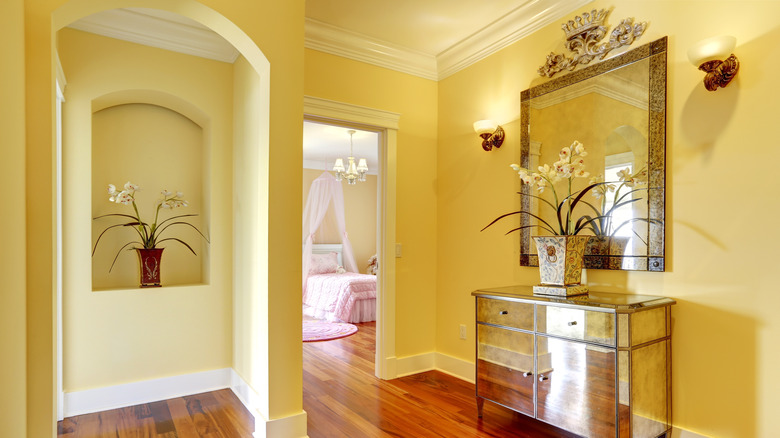 Artazum/Shutterstock
Like Jenn Todryk, many homeowners have taken to modifying squared doorways into arches. And, creating an arched doorway from a square one may be easier than you think. Create an arched doorway by building the semicircular pattern out of pieces of plywood, attaching the plywood to the frame of the doorway, and finishing it with drywall. For narrow openings, you may need to replace the door frame altogether, but that isn't always the case for larger openings, particularly if you already have high ceilings. 
If Todryk's approach requires a bit more handiwork than you prefer, you can incorporate the idea of rounding out sharp corners in other ways. Bringing in elements like arched furniture, such as cabinets and armoires, may soften some of the block-like visual lines of a room. Often, the contrast between square architectural details and more rounded or arched pieces of furniture will strike a balance that can cure any boxy room without expensive renovations. 
You can also soften the lines of a squared opening by adding hanging plants or curtains around it. Or, for a similar effect, add an oversized arched mirror to evoke the look of a doorway arch. While it may not fit all homes and design aesthetics, adding arches is a great way to soften a space and make it feel more organic, particularly for homeowners who feel boxed in by too many right angles.