The Unique Lighting HGTV's Jenn Todryk Swears By For Low Ceilings
Low ceilings can make a space feel small and caged in, especially if there isn't enough natural light entering the room. In addition, they can restrict you from using elements you've always wanted in your home, such as hanging chandeliers or darker color palettes, since they can close in the space. Decorating a home with low ceilings takes careful planning to prevent overwhelming the rooms with too much clutter that will make them feel claustrophobic. An excellent way to open a space with low ceilings is with the proper lighting. If you don't have enough natural light from windows, HGTV's Jenn Todryk of "No Demo Reno" states a few semi-flush mounted pendant light fixtures can transform a home with low ceilings.
It may seem easy to choose the brightest artificial lights, like fluorescent lighting, to increase the luminosity in a room. However, Todyrk claims that fluorescent lighting can make your space look worse. Instead, using recessed lighting helps illuminate focal points around the room and draw the eye toward the ceiling, making it appear higher than it is. Plus, it's one of the most affordable ways to upgrade a space without opting for a renovation to add windows or knock down walls to increase the size. You don't have to stick to simple round-trimmed recessed lighting either; pair them with chic low-light fixtures to spruce up your home.
Use semi-flush mount lighting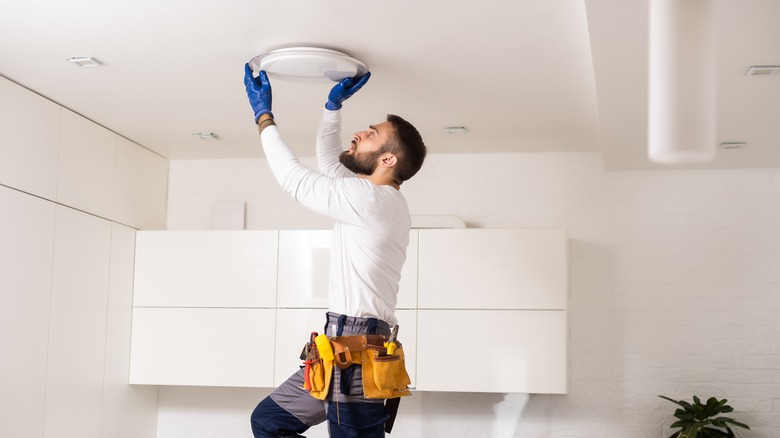 Andrew Angelov/Shutterstock
Using various ceiling lights throughout your home helps meet its lighting needs. For example, in HGTV's "No Demo Reno" season 3 episode "60s refresh," Jenn Todryk upgrades the lighting in her client's low-ceiling kitchen with gorgeous semi-flush mount pendant light fixtures. The kitchen had recessed lighting before the upgrades; however, the pendant light fixtures placed above the island spruce up the space and lighting. Todryk explains, "Typically pendants, you know, hang a long way down. But since your ceiling is short, they hug the ceiling. I feel like, in some way, it makes it feel high."
Additionally, semi-flush mount light fixtures make incredible statement pieces. There are endless styles to choose from to fit your kitchen's interior. Pottery Barn has a stunning McCarthy Glass Flush Mount light fixture that would work perfectly for a small kitchen or bathroom. It has an antique bronze finish to give it a vintage look and a curved blown glass silhouette for $129. Or, if you're looking for something more affordable yet luxe, Home Depot has a striking Vista Heights 8 in. 1-Light Aged Brass Semi Flush Mount Ceiling Light for $39.97. It's designed with a sturdy brass base and clear glass globe to capture everyone's eye. Pairing a stylish light fixture with a mix of colors and patterns in the rest of the room can make it a standout accent piece while adding height to low ceilings.
Use decorative light fixtures and incorporate lamps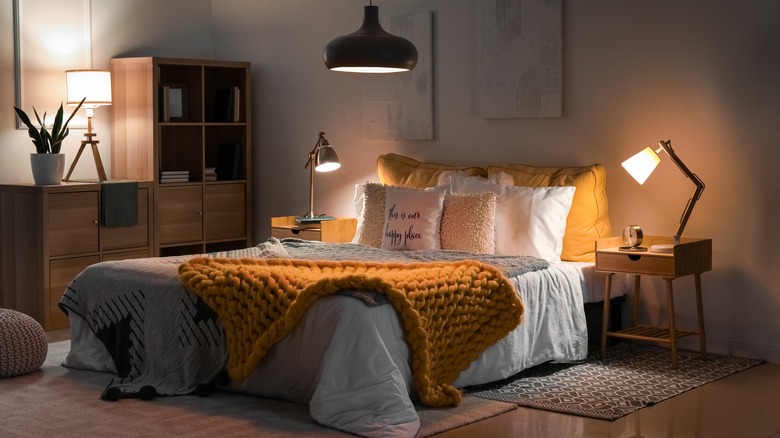 Pixel-Shot/Shutterstock
Even though your home can feel limited with low ceilings, it doesn't mean you can't use decorative lighting fixtures. You can incorporate striking styles in other rooms by following Jenn Todryk's advice on using semi-flush mount light fixtures. For instance, if your living room has low ceilings and you want an elegant light fixture, Pottery Barn sells a beautiful floral Capiz Flush Mount light fixture for $254. It has multiple capiz petals that create a lotus flower. The petals cover the entire base, so the light illuminates from the inside when it's turned on. Or, if you're looking for something elegant yet modern, you can never go wrong with a multi-bulb light fixture. CB2 offers a 6-Blub Polished Brass Flush Mount Light for $279.20 that will help give the illusion of taller ceilings.
On the other hand, pairing your mounted light fixtures with table lamps will enhance the lighting with low ceilings, especially when you don't get enough light in darker areas around the room. Ceiling light fixtures work to brighten up the space they're covering, so incorporating table or floor lamps helps spread out the light to other points in the room. Todryk also has a hack for using lamps: cut the cord and install a battery-operated bulb to add light without having an awkward cord hanging off the table or counter.