Save Your Old Light Bulbs To DIY The Most Festive Christmas Tree Decor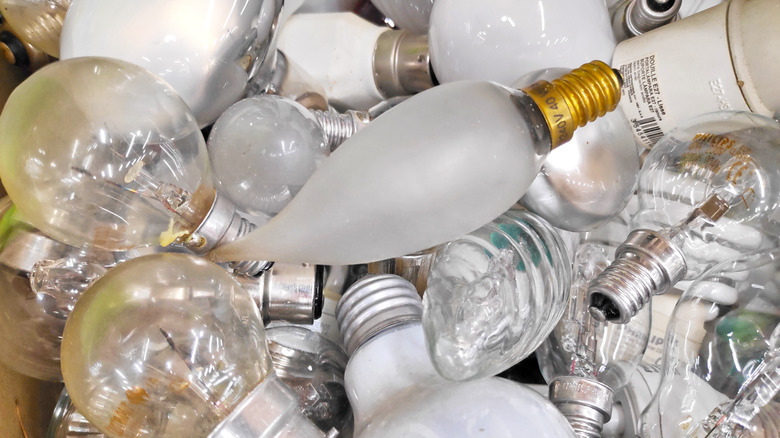 Gwengoat/Getty Images
We may receive a commission on purchases made from links.
Decorating the Christmas tree with family while listening to festive holiday music is one of the most exciting times of the season. Choosing what ornaments you're going to display can be stressful if you like doing something new every year. There are always new patterns and designs released that are hard to keep from purchasing. However, if you enjoy DIYing ornaments with your friends or family and love adding them to the tree every holiday season instead of buying more, we have a fun DIY ornament project you can do with your old light bulbs.
Using old light bulbs for décor is an excellent way to reuse them instead of throwing them out. You can create an endless amount of designs on them. If you're painting them with your family, try making up a theme or let your creative side show through and paint what comes to mind. A few themes you can do are Disney characters, "The Grinch" characters, different book covers, and classic Santa Claus and reindeer. Even if you don't choose festive characters, you can spruce up their attire with holiday accessories to make them cheery. It's vital to note that when using light bulbs, handle them with care because they're highly fragile and can easily shatter if they hit something too hard or fall on the floor. Yet, they make incredible Christmas décor that will give your tree the perfect Hallmark look.
Materials needed for DIY light bulb décor
Since there are various designs you can do to turn your old light bulb into a Christmas tree ornament, we curated a list of potential materials you'll want to purchase if you don't already have them at home. You'll need to gather every old light bulb and place them in a safe container where they won't break. In addition, you'll need ribbon, scissors, wire, a hot glue gun, markers, paint, and various decorative pieces, such as festive fabric, mini snowflakes, beads, tiny Christmas hats, small twigs, and extra felt fabric.
The embellishments are endless, depending on how you want to design your old light bulbs. For instance, to transform your old light bulbs into classic Christmas characters, such as Santa Claus, reindeer, snowman, and Mrs. Claus, purchase mini Santa hats at Hobby Lobby for $0.99, cotton coil at Walmart for $9.25, illustration markers at Five Below for $5, mini elf hats on Amazon for $9.99, mini googly eyes at Hobby Lobby for $1.79, and tinsel at Target for $6. Of course, you can buy other items to customize your characters and make them look different as well. Retail stores like Dollar Tree, Michaels, Joann, Five Below, and Hobby Lobby are fantastic places to buy crafting items for your light bulb ornaments.
DIYing your light bulbs into Christmas décor
Once you purchase all of your materials, start DIYing your light bulbs. To make a festive Santa Claus ornament, paint the entire light bulb a cream color and allow it to dry. Take some of the cotton coil and hot glue a few pieces to the bottom half of the light bulb to give him a beard. You'll want to leave a little room in the middle to draw in his mouth. Then, draw his face with a black marker. You can use the googly eyes instead of the marker.
Next, paint the back and sides of his face white to add hair, and let the paint dry. In the meantime, take one of the mini Santa hats and cut a small hole on each side the size of the ribbon. You'll want to slip the ribbon through the holes to glue them so that they hang on the tree. Hot glue one end of the ribbon to one side of the light bulb's tip, slip the other end through one hole and over the hat into the other hole, and glue the other ribbon end to the bulb. Finally, carefully slide the hat down so it covers the ribbon and rests over the tip of the bulb above Santa's eyes. Hang your ornament on your tree and make your other ones. Follow the same steps to make Mrs. Claus, except add glasses and rosy cheeks with markers instead of a beard.