Where Is Cheap Old Houses Filmed?
If you thought you couldn't get more obsessed with HGTV, think again. We've taken in several shows throughout the years, including "House Hunters," "Flip or Flop," "Fixer Upper," and now we have a new obsession, "Cheap Old Houses." If you think this sounds familiar, you are right. The Instagram handle @cheapoldhouses was the inspiration for the new HGTV show, which has millions of followers and features a treasure trove of ... you guessed it ... cheap, old houses. Once you scroll through their social media, you will definitely see why their tagline is "Instagram's Most Addictive Rabbit Hole." You see, they showcase homes that have a ton of character and fall under the price point of $150,000. It's safe to say that their new show — which we've binged Season 1 of on Discovery+ – provides the same type of comforting old home addiction.
So now you may wonder where they filmed "Cheap Old Houses," which features beautiful homes at great price points that are so worth saving, we might add. You'll have to keep scrolling to find out the filming locations, which has us believing that affordable homeownership is still a possibility.
These are just some of the filming locations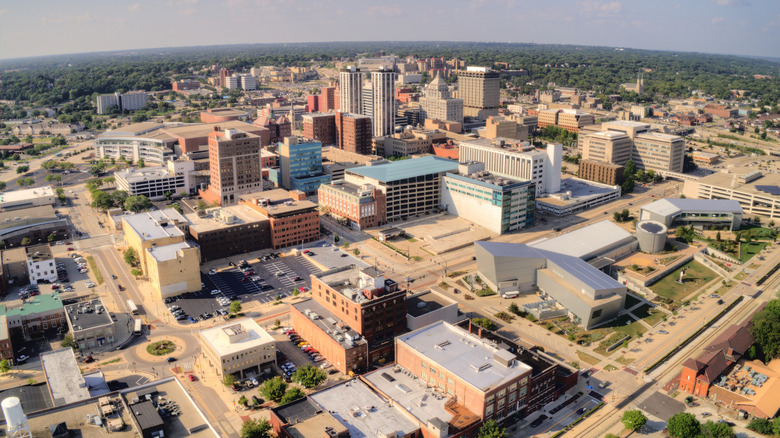 Jacob Boomsma/Shutterstock
"Cheap Old Houses" follows the husband-and-wife duo, Ethan and Elizabeth Finkelstein, navigating the first season of their already cult-worthy HGTV show. "When HGTV fans told us we needed a show with Ethan and Elizabeth, we listened because we understand how easy it is to fall into the rabbit hole of hunting for cheap old houses," said Loren Ruch, group senior vice president, programming and development for HGTV, in a statement. "Everyone will be astounded by the incredible, inexpensive property treasures that Ethan and Elizabeth find, and they also may be inspired to buy a cheap old house of their own."
According to The Cinemaholic, "Cheap Old Houses" was filmed in Peoria, Illinois, about three hours from Chicago. Peoria was such a popular filming destination that they selected three 100-year-old homes from the city. Other locations included New York State, North Carolina, Houston, Pennsylvania, and Clarington, Ohio. 
Along with the dream of purchasing our own cheap old house, we want a replica of Old Blue, the couple's trusty vintage truck that helped them navigate all of these affordable masterpieces for this HGTV show!