35 Best Neutral Paint Colors For A Relaxing Home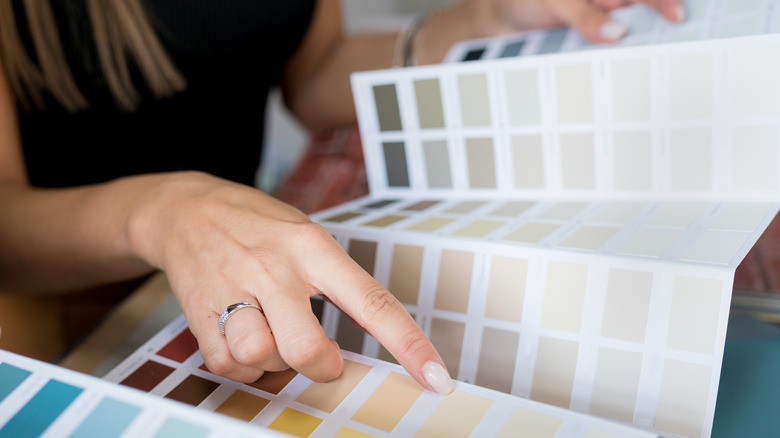 Tgordievskaya/iStock
Neutral colors might seem boring, but they actually add a subtle nuance to your room, allowing you to be creative with the rest of your décor. If you are looking to establish a relaxing ambiance in your home, neutral paint colors are the first step. But don't think you have to stick with whites, grays, and beiges. There are plenty of neutral colors, allowing you to have a different one in every room. "Most people don't really consider neutrals to be anything beyond just beige. There are so many different ways to use neutral colors in a home — and certain hues of most colors can be considered a neutral," Lorna Aragon, Martha Stewart Living's home editor, told Martha Stewart.
When looking at swatches, one thing to remember is that paint colors have undertones; they can be warm or cool. Warm undertones will be orange or yellow, which creates a cozy atmosphere, whereas cooler undertones are blue or green and are more soothing, per Sherwin-Williams. That being said, they can all be neutral. To that end, we combed the internet and came up with 35 neutral colors to help you create a relaxing home.  
1. Dark taupe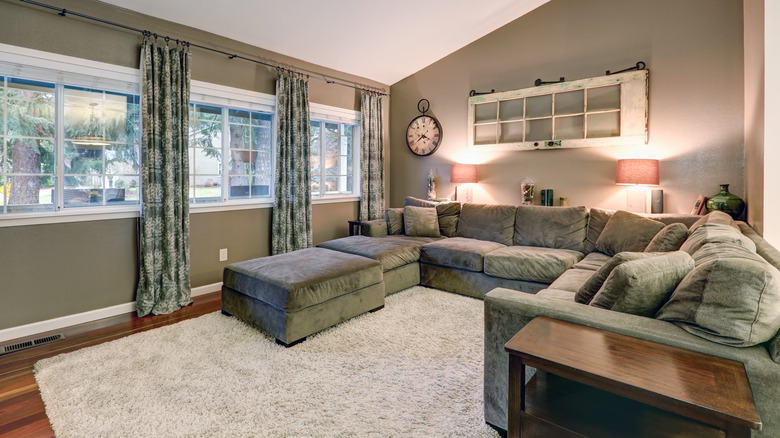 Artazum/Shutterstock
Taupe might be one of the best neutral colors you can find for just about any room. If you have a large living room like the one seen here, a dark taupe shade might be just what you need to design a serene atmosphere.  
2. Medium taupe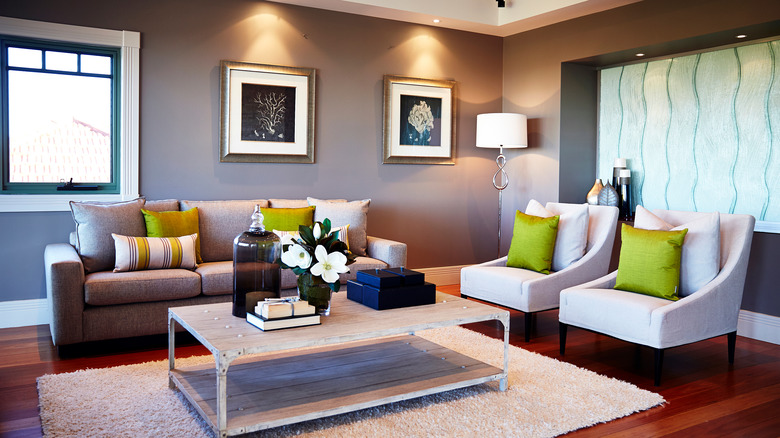 Photo Maven Stock/Shutterstock
If you like taupe but don't want to go too dark, look for a medium shade that allows you the freedom to decorate with any color scheme.  It will act as a calm backdrop to your decor. 
3. Light taupe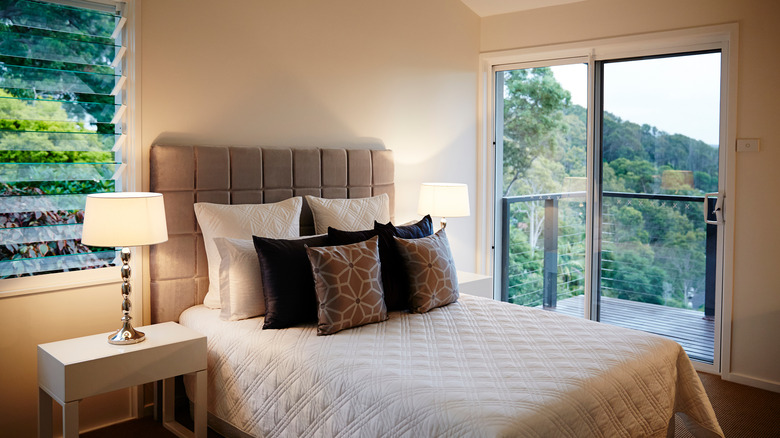 Photo Maven Stock/Shutterstock
A lighter shade of taupe might be what you need to create a warm and inviting bedroom. This will create restful nights. The color is also perfect for small rooms since it makes a tiny space feel bigger rather than closed in.
4. Tan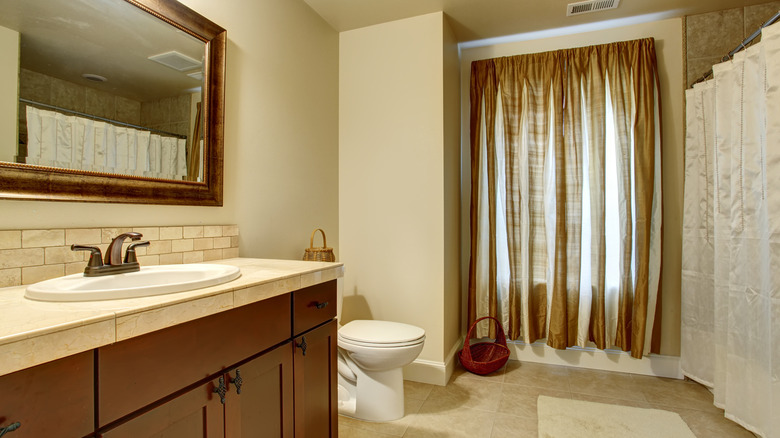 Artazum/Shutterstock
Tan is another one of those paint colors that has several shades with subtle differences. Most tan colors are warm with yellow or gray undertones. 
5. Medium Tan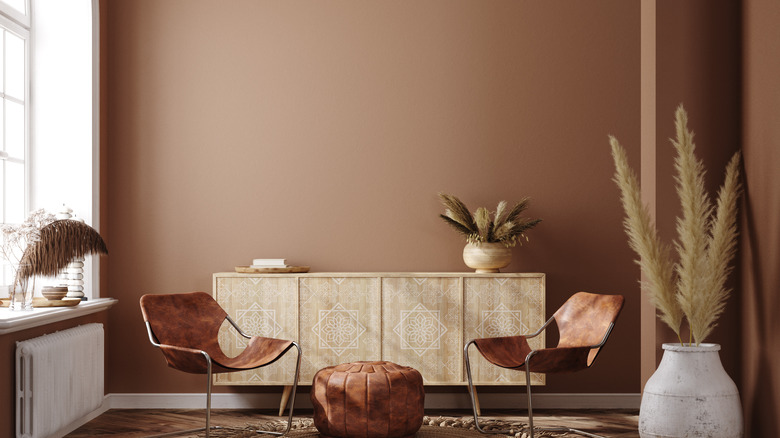 Artjafara/iStock
There are also dozens of medium shades of tan, and most of them are soothing. All of them work well in just about any room. 
6. Warm beige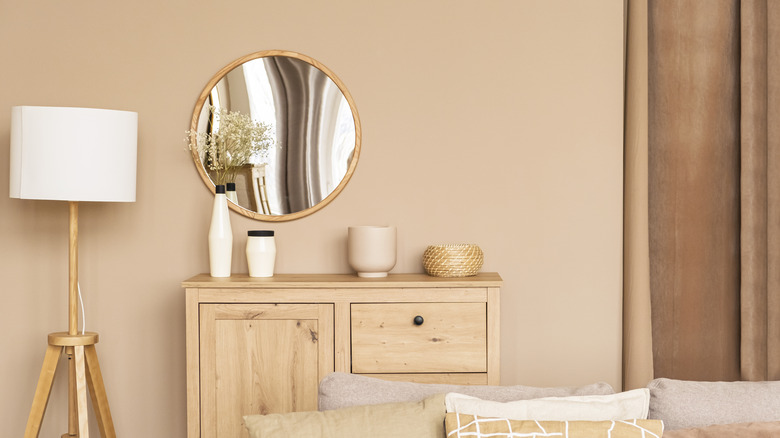 AliceCam/Shutterstock
Beige might sound boring, but it's far from it. The light, warm beige color in this room has golden undertones, and will go with just about any color. 
7. Cool beige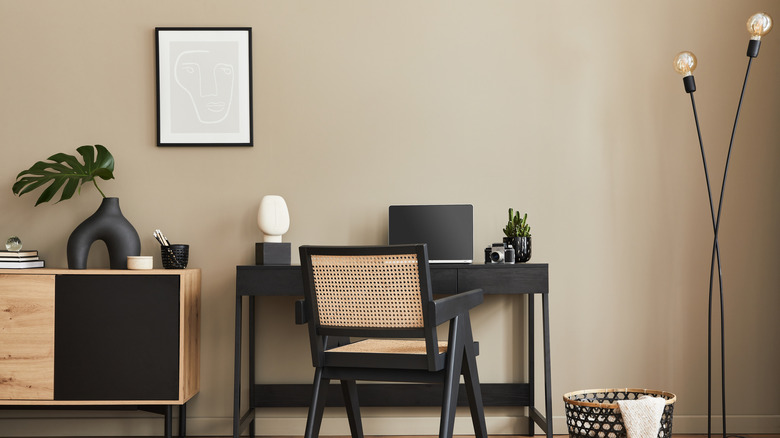 Follow The Flow/Shutterstock
Some beige colors have a green undertone, which might be the cool and calming shade you're looking for. 
8. Cream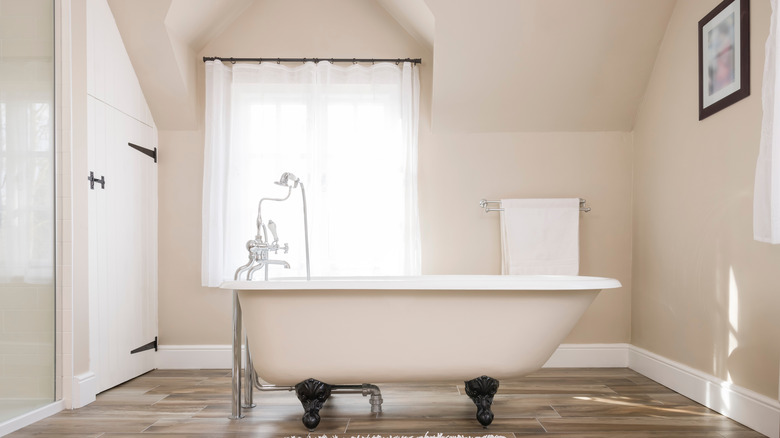 Paul Maguire/Shutterstock
Somewhere between tan and white, cream is another relaxing color that works beautifully to create a soothing atmosphere in any room.
9. Pale cream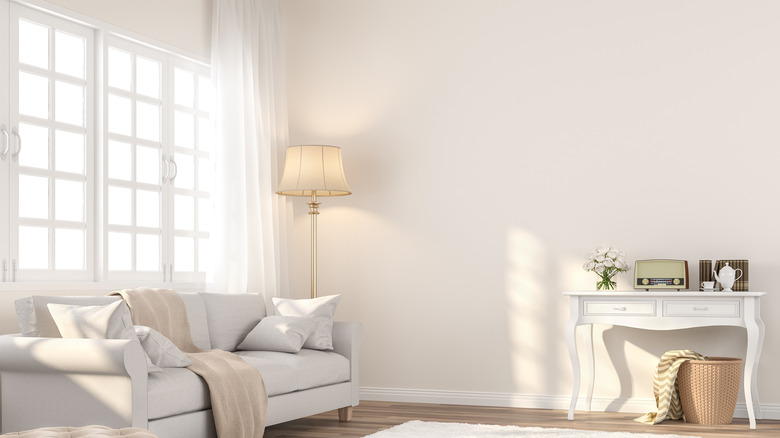 Runna10/iStock
Pale shades of cream are timeless and go with any decor. This pale cream with beige undertones is perfect for a relaxing living area.
10. Cool white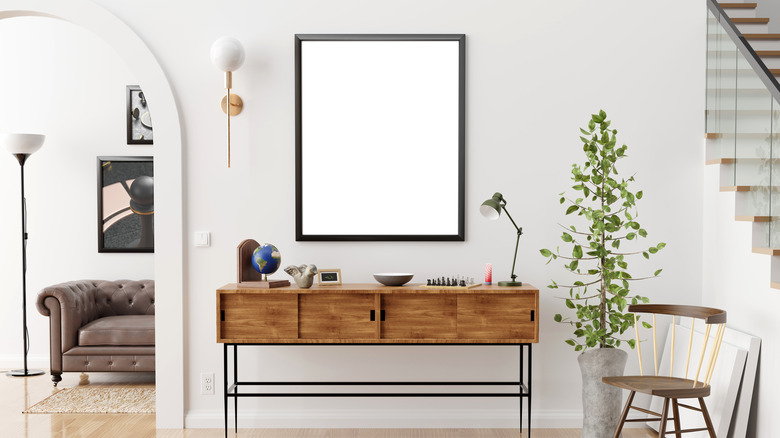 ezps/Shutterstock
Cool white might sound sterile, but its cool blue undertones are soothing and work well with just about any color.
11. Warm white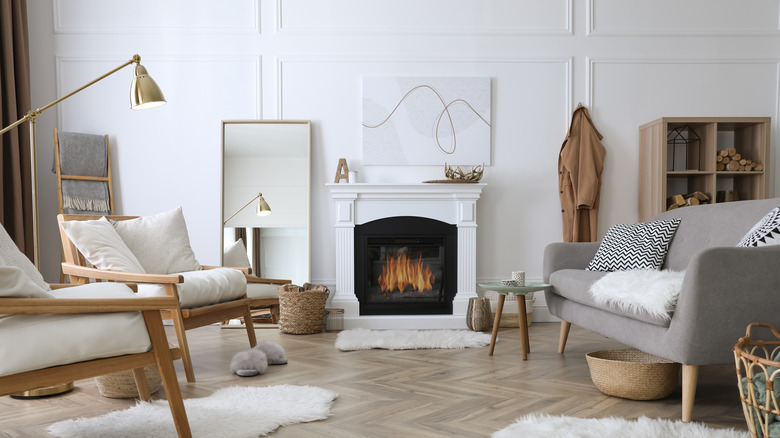 New Africa/Shutterstock
Warmer whites have subtle yellow undertones that will add a bit of warmth and coziness to a room while also being versatile. 
12. Off-white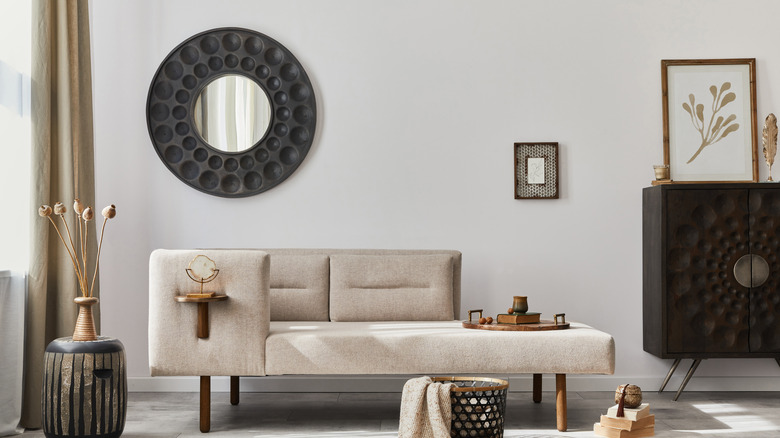 Follow The Flow/Shutterstock
Shades of off-white generally have tan undertones, creating a softer ambiance. It is warmer than a bright white, which works to make a room feel calm.  
13. Ivory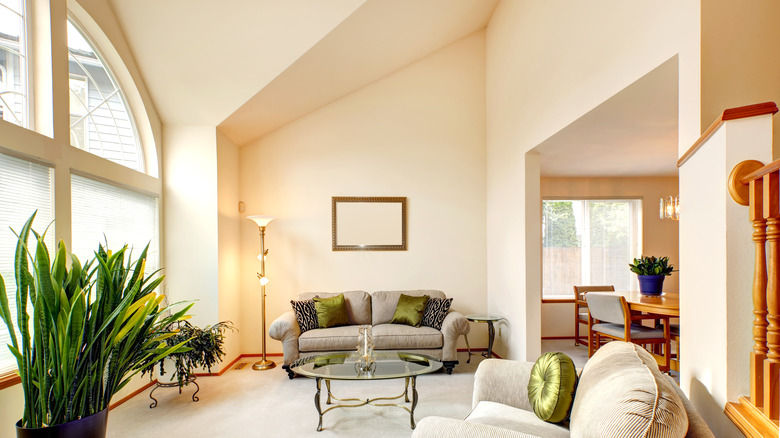 Artazum/Shutterstock
Ivory is a shade of white that has a touch of yellow. It's creamy but not too bright, making it perfect for opening up a space and creating a relaxing atmosphere. 
14. Dark Ivory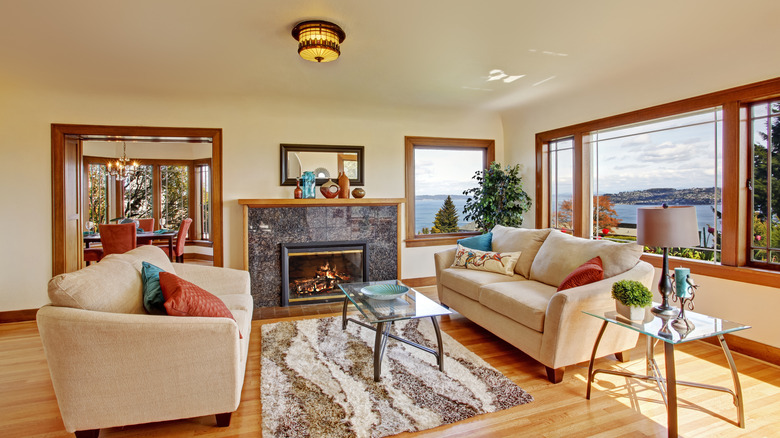 Artazum/Shutterstock
Like any other color, you can find various shades of ivory. Dark ivory is classic and soothing, and you can use it anywhere.
15. Pale gray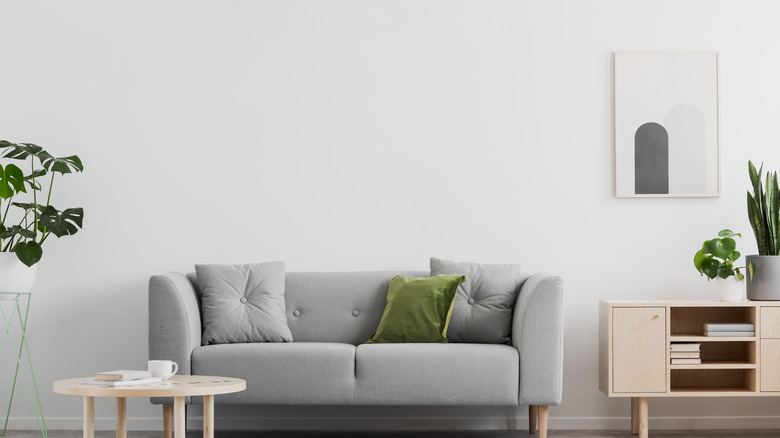 Photographee.eu/Shutterstock
If you're looking for a shade with just a bit more color, then a pale gray might do the trick.
16. Stone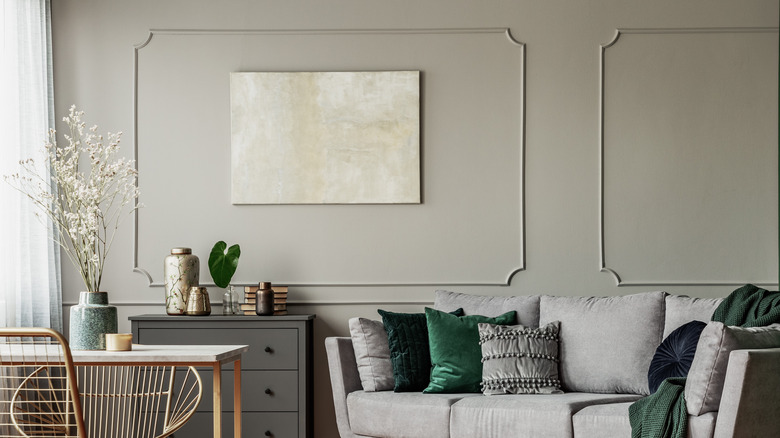 Photographee.eu/Shutterstock
Stone shades are darker than most grey or tan hues, and they work with just about any color scheme out there.  
17. Dark gray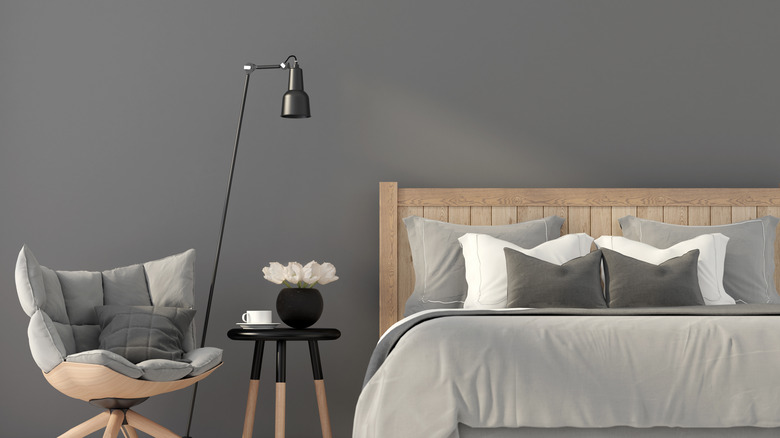 JZhuk/iStock
Darker than its pale counterpart, dark grey might sound depressing, but deep shades of this color invoke warmth and calm while still being modern. 
18. Greige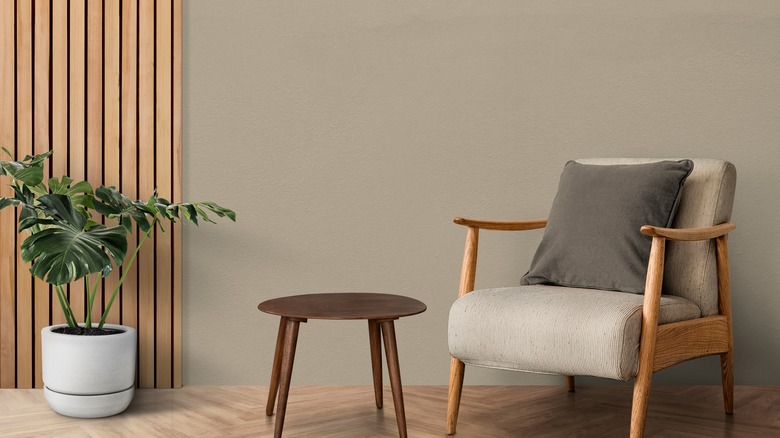 Rawpixel.com/Shutterstock
Greige is a blend of gray and beige, and while that might not sound too exciting for a room color, it actually makes an ideal color for relaxing rooms because it's comfortable.
19. Pewter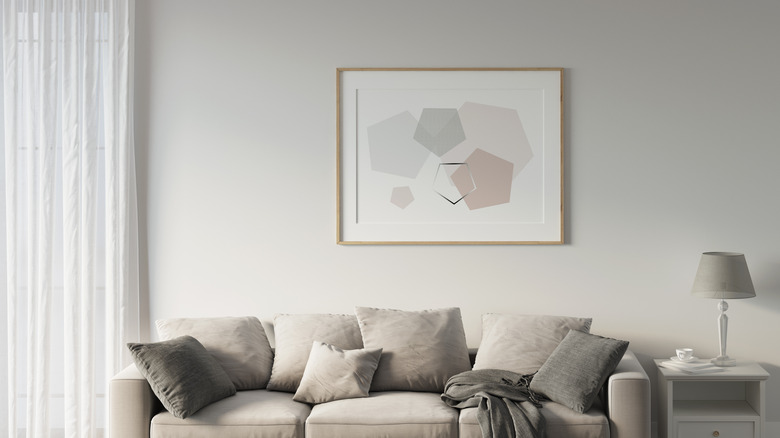 Game Spirit/iStock
Pewter is similar to a light greige, and it is just as versatile. Blend this neutral paint with other colors for a soothing atmosphere.
20. Hazelnut
Warm and cozy, hazelnut is a soft shade of brown with orange undertones. Inviting and soothing, this paint color goes well with a variety of palettes.
21. Pastel yellow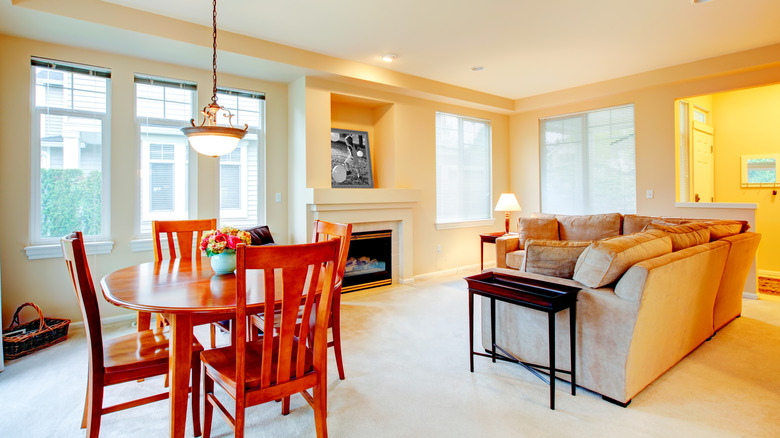 Irina88w/iStock
Yellow can be bright and energizing, but a soft shade of pastel yellow is soothing and works well with many types of decor.  
22. Eggshell blue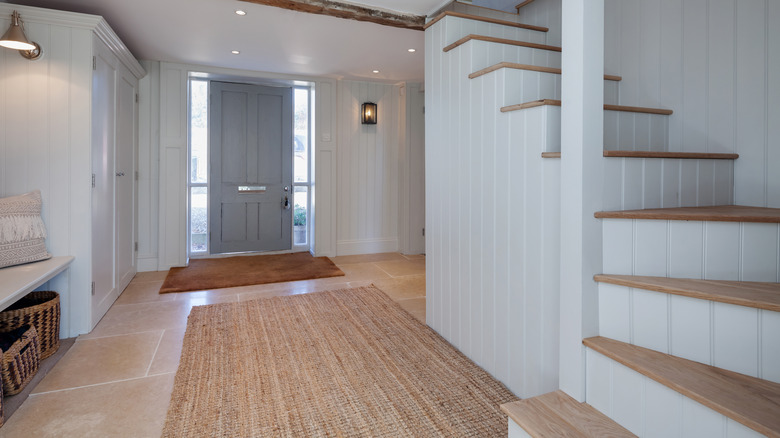 Mike Higginson/Shutterstock
If you're looking for a bright color that is relaxing, eggshell blue might be just what you're looking for. A combination of light blue and green, eggshell blue has just a hint of color.
23. Pale blue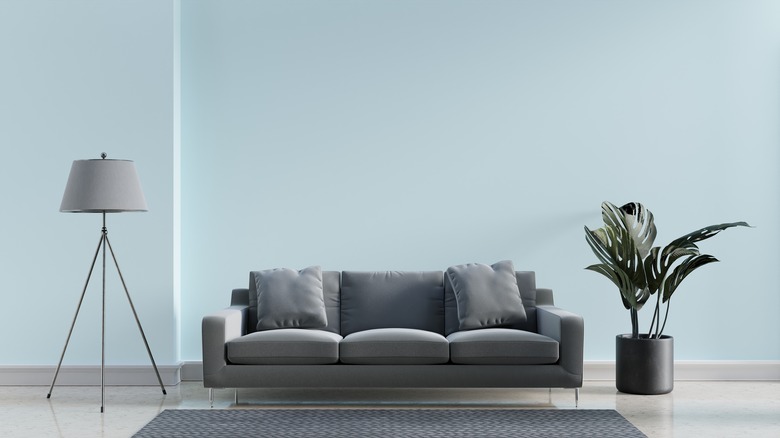 Shutter2U/iStock
Pale blue is slightly more blue than eggshell blue, but it is still muted enough to be considered neutral. When paired with the right colors, this shade can inspire relaxation. 
24. Pale blue green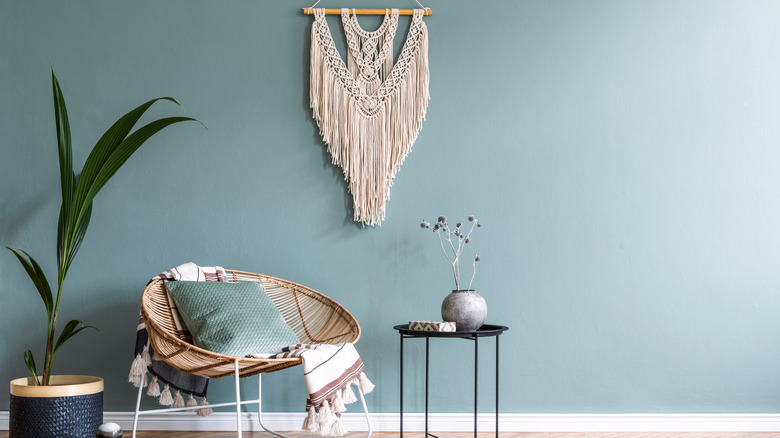 Follow The Flow/Shutterstock
Slightly darker than pale blue, blue-green shades create a different mood. Choose a subdued shade to keep the overall tone of the room calming. 
25. Sage green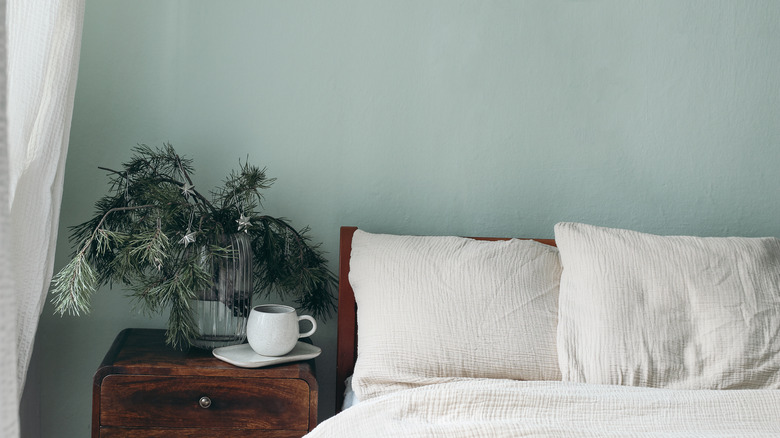 TabitaZn/Shutterstock
A unique blend of blue and green, sage green is a calming neutral color perfect for the bedroom. It looks good in any lighting and is subtle enough not to be overpowering. 
26. Light green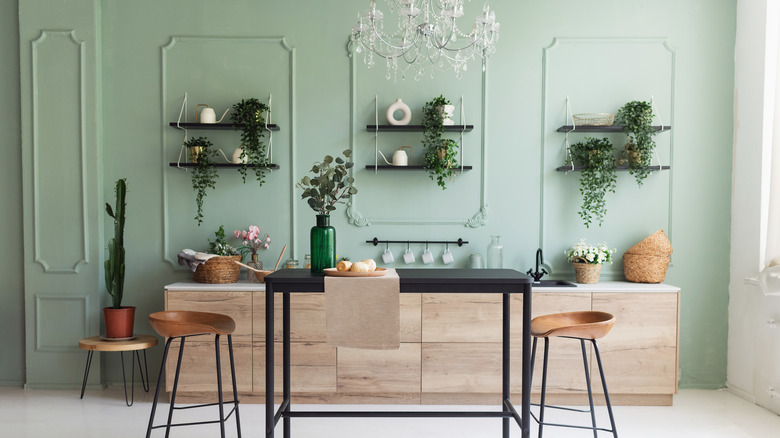 Lysikova Irina/Shutterstock
Green is invigorating, but pale green is a calming color that also adds richness to any room. Like the greens in nature, it is tranquil without being too loud.  
27. Basil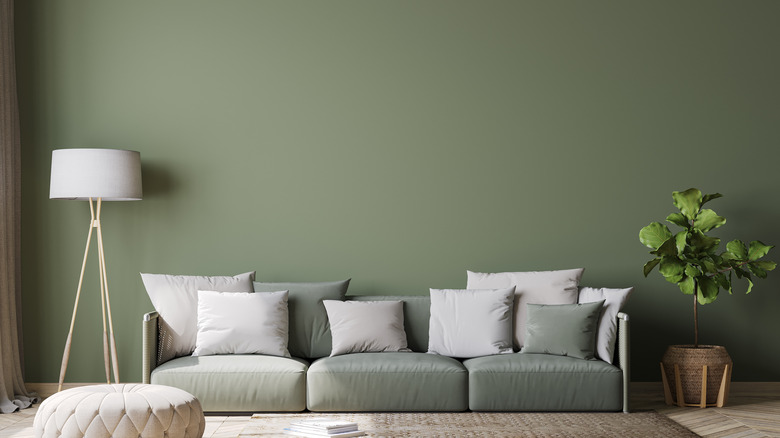 Lilas Gh/iStock
Slightly more green than sage but equally comforting, a basil shade of green can complement various decor styles while remaining in the background. 
28. Olive green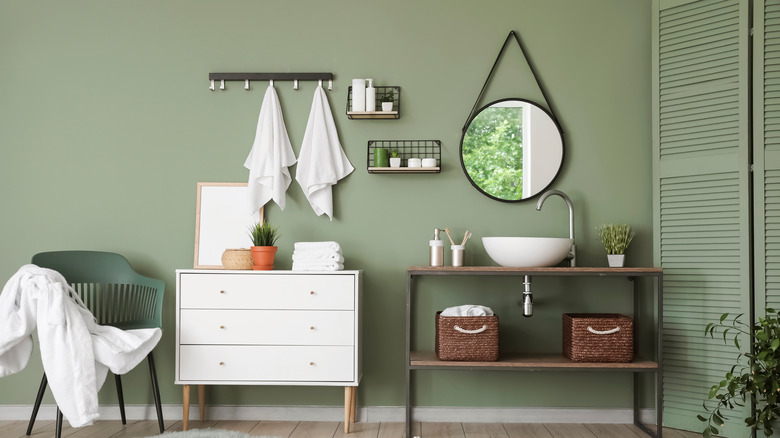 Pixel-Shot/Shutterstock
If you like green, olive green is muted enough to be considered neutral. It works well with plenty of colors and decorating styles. 
29. Peach
If you're more inclined to go with brighter colors, then a pastel peach might be just what you need. For the best results, mix peach with shades of gray, white, blue, and brown. 
30. Salmon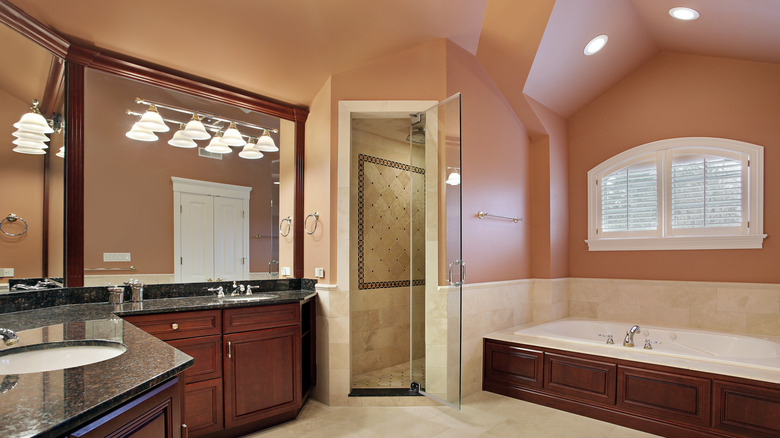 Pics721/Shutterstock
Salmon walls are chic and soothing. Slightly darker and warmer than peach, salmon pairs well with teal, white, brown, and tan.
31. Pale pink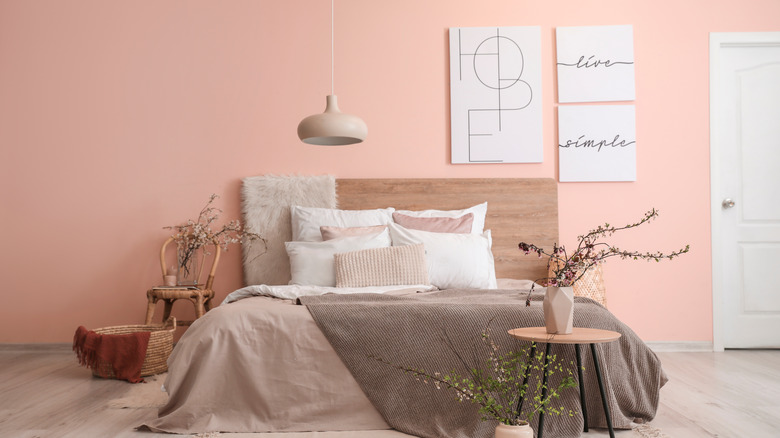 Pixel-Shot/Shutterstock
Pastel colors are generally relaxing, and a soft shade of pink might be perfect for a calming bedroom. 
32. Light mauve
Lilas Gh/iStock
It might not seem like it, but a light shade of mauve can be very relaxing. Use it with similar shades to create a welcoming retreat.
33. Blush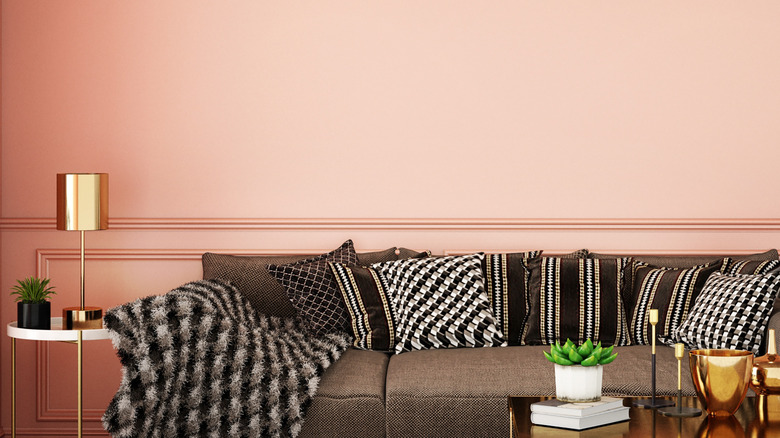 Ume Illus/iStock
Blush is similar to salmon, but not as dark. This relaxing color works well with many colors, including black and brown. 
34. Champagne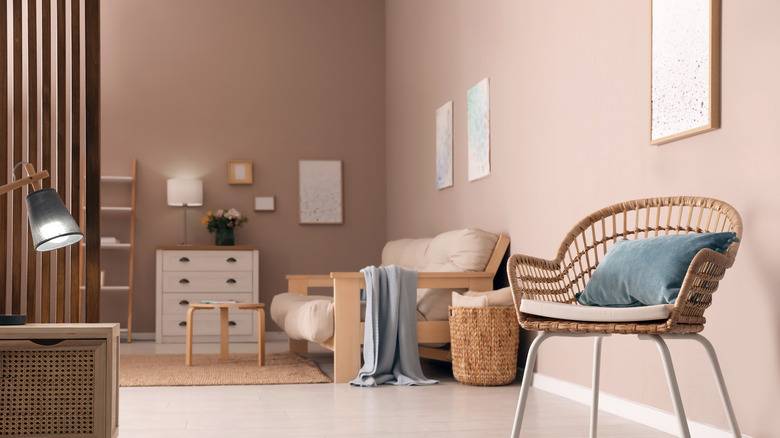 Liudmila Chernetska/iStock
Champagne is another blush shade that has different tones. It tends to look like a pale blend of pink and beige, which makes it versatile and calming.  
35. Charcoal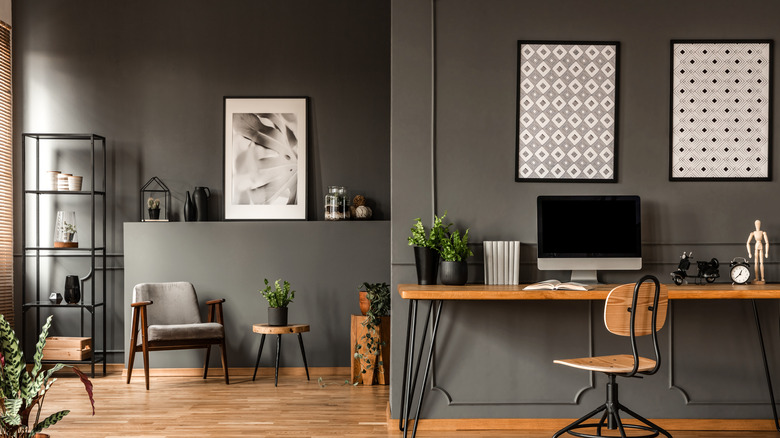 Photographee.eu/Shutterstock
Don't think dark colors can't be relaxing. Charcoal paint is neutral, and it can evoke calmness if used correctly.