Kat Von D's Famous Hollywood House Is Now For Sale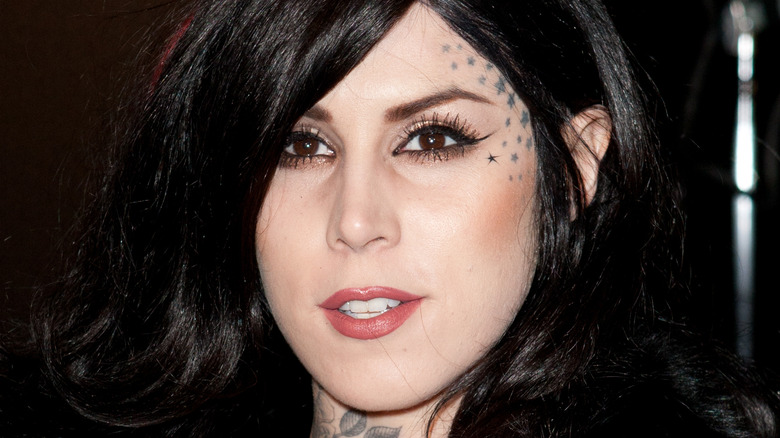 Photo Works/Shutterstock
Tattoo artist Kat Von D has become well-known for her gothic aesthetic, which she has infused into everything over the years, from her own style to her makeup brand. Back in December 2020, she purchased a massive 35-room historical mansion, uprooting her family from California to Vevay, Indiana. While only time will tell what Von D will be doing to add her personal style to that property, as an added bonus for fans of her aesthetic, everyone can now get a glimpse into the interior of Von D's Victorian mansion located in the Hollywood Hills, as it has officially hit the market for a staggering $15 million, per TMZ.
Fans of the movie "Cheaper by the Dozen" might recognize the property, as it was the set of the 2003 film, but the real estate photos prove that Von D definitely put her own twist on the space. The gothic, horror-influenced vibes begin before you even step through the front doors, with a blood red swimming pool giving the otherwise relatively classic Victorian exterior a little spice. The exterior shots also offer a glimpse at a two-bedroom, one-bathroom carriage house — perfect for guests (or ghosts).
Inside the space, Von D seems to have maintained many of the historic features from the 1896-built home, such as the intricate wood paneling and grand staircases, while of course adding her own pieces — and plenty of those blood red accents.
A little more about Kat Von D's Hollywood home
Many were dying to get a peek into the unique mansion and how Kat Von D has transformed it during her time living there. The home stretches over 12,565 square feet and has 11 bedrooms and 8.5 bathrooms, as per Realtor — not counting those added rooms in the carriage house. For those looking to add some warmth and coziness to the home, there are seven fireplaces in total spread across the property. And, anyone interested in sipping a spooky cocktail or two can check out the hidden bar
While Von D herself incorporated plenty of statement furniture, fixtures, and contributed to the overall antique-infused and gothic-inspired look of the home, the actual property itself is packed with stunning features from intricate hand-carved walls to stained glass windows and even a turret side room, for those who want to truly feel as though they're living in a gothic castle. Despite the historic appearance, though, there are still plenty of modern conveniences. The home has HVAC installed to keep things cool during those California heat waves, with great care taken to add the HVAC system "without disturbing intricate original wood and plaster work."
While the asking price is probably too steep for the majority of real estate fans, getting a glimpse into the one-of-a-kind property was likely a thrill for many fans of either Von D or historical properties packed with personality.