The Truth About The 'Burial Crypt' Ed Sheeran Is Building On His Property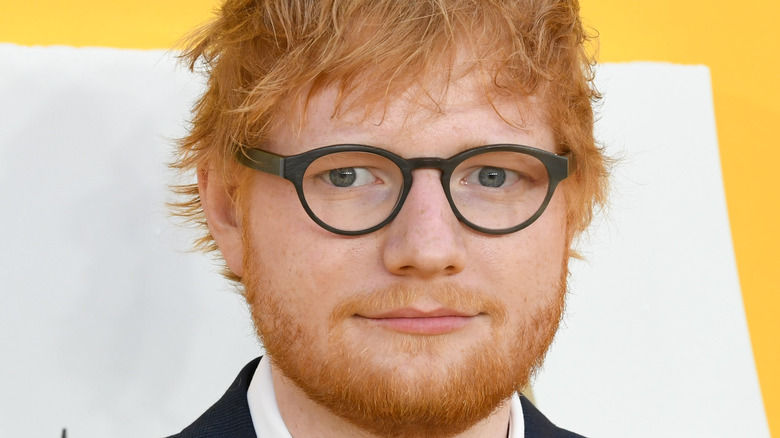 Featureflash Photo Agency/Shutterstock
Singer, songwriter, and Suffolk native Ed Sheeran has plans in motion to add a burial crypt to his large hometown estate, reported the New York Post. The 31-year-old singer of wildly popular songs "Shape of You," "Bad Habits," and his most recent collaboration with pop star Taylor Swift, "The Joker and the Queen" resides in Suffolk, in a large plot of land nicknamed "Sheeran-ville" with his wife Cherry Seaborn and daughter Lyra Antarctica.
According to Hello Magazine, the estate reportedly costs $5.5 million and includes multiple properties Sheeran has purchased through the years. He began with buying a $1.1 million farmhouse in 2012, says Velvet Ropes, and eventually purchased more properties amassing to $4.9 million, including two four-bedroom homes, another six-bedroom home, a pub, a gym with an attached swimming pool, a bungalow, a four-room treehouse, and a four-car garage. Other amenities on the property include a wildlife pond, a greenhouse, a cherry orchard, a chicken coop, and farmland.
Sheeran-ville set to add a burial crypt
Sheeran and his family have access to almost every amenity they could ever need, but that's not enough for the pop star yet. Sheeran-ville is still missing one crucial building, according to Sheeran — a burial crypt. To the chagrin of his neighbors, Sheeran is seeking approval to build a permanent resting place. According to the New York Post, he was approved to build a chapel on the property in 2019 but has not yet received approval on the burial chamber.
That has not stopped his neighbors from protesting the addition. One of Sheeran's neighbors, Anna Woods, strongly objects to the singer's need for adding on a church and private burial site, saying "The area is well-served by local churches and I feel there is no need for a well-known person to create his own island of calm when lovely places of worship abound in the area." Woods accredits a negative sense of celebrity individuality to her concerns, asking, "Are celebrities now so detached from reality that their every living breath and now even the act of dying be apart from the rest of us?"
That being said, there are no legitimate legal objections for the construction — it is legal in England to bury a body on private property, clarified Ok Magazine. Robert Scrimgeour of the East Suffolk council design has also expressed support, stating, "I maintain my previous view that I have no objection to this application." The burial site is set to house roughly two graves.