Alec Baldwin Just Bought A $1.75 Million Farm In Vermont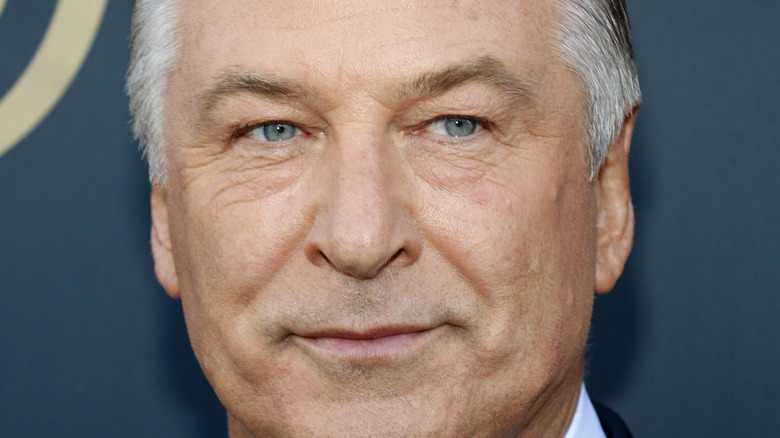 Tinseltown/Shutterstock
Alec Baldwin is in the news again. This time, for a much better reason than the last. According to confirmed reports, the "Beetlejuice" actor is saying goodbye to The City That Never Sleeps and hello to The Green Mountain State, where he recently purchased a 55-acre property for $1.75 million. Baldwin, 64, finalized the details of the sale earlier this month and is expected to move in almost immediately with his yoga instructor wife, Hilaria, 37, and their children, said the DailyChatter. This move comes a few months after Baldwin injured his director and accidentally fatally shot cinematographer Halyna Hutchins with a prop gun on the movie set of "Rust." The film has since been suspended as investigations ensue.
While much is not known about the transaction process and estate, since it took place offline, there are just enough details to give you a gist of the estate pegged as a "classic Vermont 18th-century farm." It is unclear why Baldwin would trade the bustling city for a town with a population of 2,457, but it seems family ties could be a contributing factor. His wife's grandfather, David Lloyd Thomas Sr., was a long-time resident of the small town.
The exterior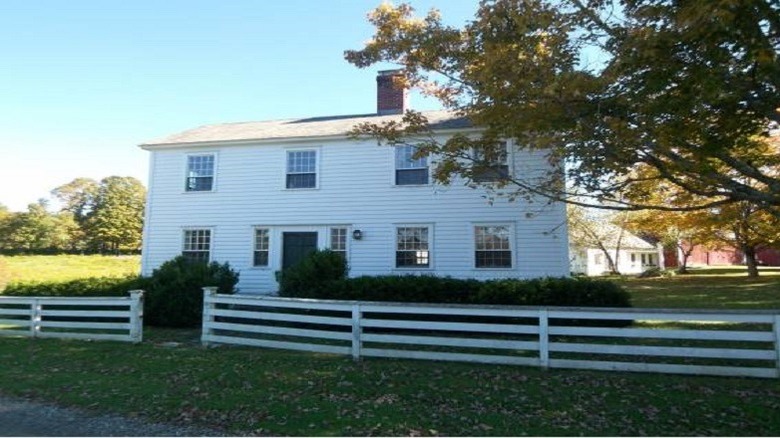 Josiah Allen/Website
Alec Baldwin's new home is a classic Vermont 18th Century farm sitting on 55 massive acres of land. It is a two-story white house in the beautiful countryside of Ice Pond Farm, close to Arlington Village, where lush greenery and beautiful landscapes abound. The exterior of the farmhouse is simply gorgeous, brimming with character and simplicity. We love how the main house is bordered by a white picket fence that stretches around the building.
At the entrance, a thick shrub, modest dark gray door, and nine farmhouse windows — five on the ground floor and four above — welcome guests. And like a typical 18-century home, a brick chimney peeks through the part shingle and part asphalt slate. Even though the property may seem modest, considering Hollywood standards, it is nonetheless quite an impressive slice of history that we are sure would offer lots of respite for Baldwin and his family as they leave New York.
The main house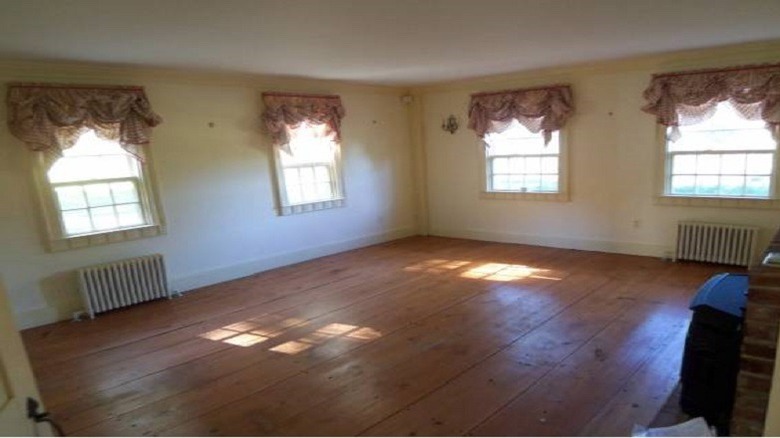 Josiah Allen/Website
The estate offers 3,600 square feet of living space consisting of a restored main house that has three bedrooms and three bathrooms. In addition to the cozy main house, there are also several outbuildings on the property, including a 1,800-square-foot beautifully renovated guest cottage comprising four bedrooms, two bathrooms, and a horse barn with updated stalls. There are also plenty of scenic areas that are worth exploring — a pond with a picturesque waterfall spillway, expansive manicured lawns, numerous pastures, and breathtaking views.
Since the house was built in 1792, the bedrooms are, of course, modest. They feature hardwood flooring and lots of windows to encourage natural light and proper air circulation. The tavern room is particularly enjoyable and spacious and has a cozy fireplace. According to property documents, before Alec Baldwin became owner, the house was last sold for $549,000 in November of 2014 after it went into foreclosure.
Features of the interior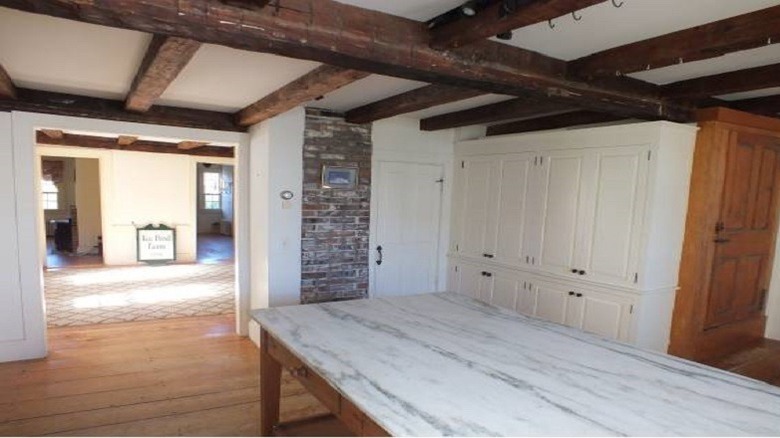 Josiah Allen/Website
The modest theme continues in the kitchen, where you will find hardwood flooring, a large center table with a marble countertop, and multiple windows for natural light. Two cabinets hang on the wall; they are plain and have an open design. There is also a white, enclosed cabinet system and built-in pantry. To add character, a lone brick wall stands in the corner serving as an accent space. The estate features a basement with a sump pump, a relaxing sauna, and a gorgeous red dairy barn — adding to the farmhouse aesthetic of the place.
What we love most about this farmhouse is that many antiques and remnants of the original building pepper the main house, even though there have been substantial renovations over the years. You get a twinge of nostalgia mixed in with the modern in this delightful property. Sean Dillon at Rhodes Real Estate helped Baldwin purchase the estate.