10 Furniture Ideas For An Eclectic-Inspired Home
If you enjoy a wide variety of materials, patterns, and colors when it comes to decorating, then chances are that you are an eccentric with eclectic style. It's not uncommon for this type of home decorator to throw the rules right out the window when it comes to choosing furniture for a living space. According to HGTV, although the time periods or style of the furniture may vary in an eclectic-inspired home, it's the patterns, colors, and fabrics of the pieces that tie everything together.
When comparing it to other decorating methods, the eclectic home may be closer to a boho-chic type of design. Both follow a mix-and-match principle with a focus on comfort and producing a cozy atmosphere. So what exactly should you look for when choosing the ideal furniture for an eclectic-inspired home? Here's a list that might help you to get started creating that perfect space.
1. Wicker furniture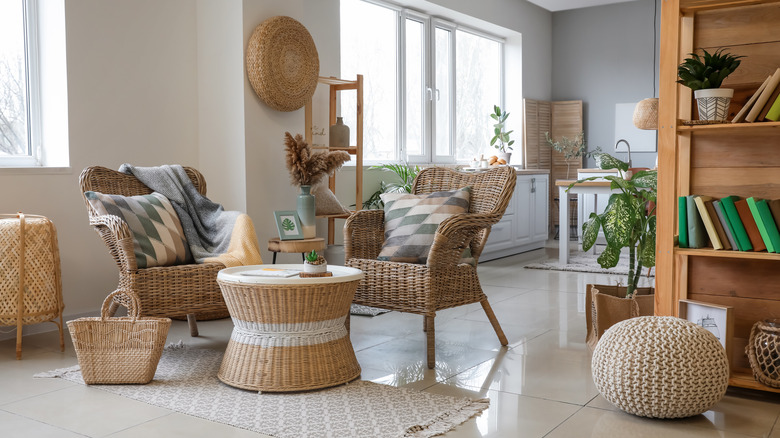 Pixel-Shot/Shutterstock
For furniture that can blend in with any aesthetic, wicker is one of those styles that can be truly versatile. Whether it's chairs, funky coffee tables, or nightstands, this type of furniture is usually made from sturdy bamboo or rattan, so you can be sure it not only looks good but can last a long time as well.
2. Indoor hammock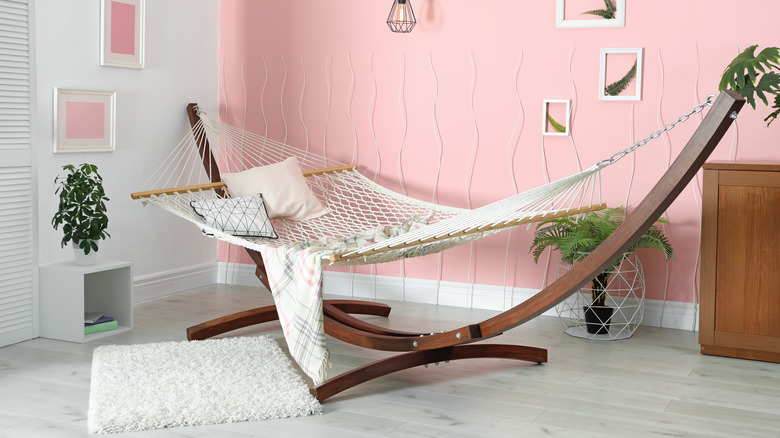 New Africa/Shutterstock
If you want to give your home a distinctive, eclectic look, try adding an indoor hammock. This can give your living space a playful, yet relaxing vibe. However, if you're not confident your ceiling or walls can hold the weight of a traditional hammock, you can swing yourself safely on ones that come with a strong floor stand.
3. Beanbag chairs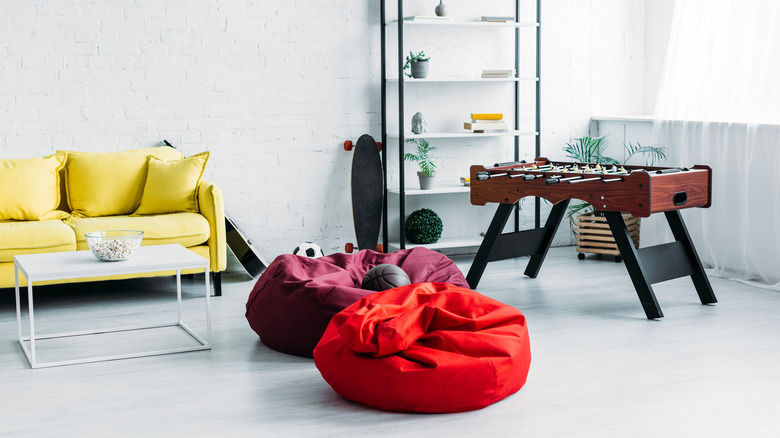 LightField Studios/Shutterstock
Bring back all of that childhood excitement you remember from beanbag chairs by adding them to your home. These chairs can not only be comfortable but can also be easily moved around to suit the needs of the room. Beanbag chairs would make for great seating in a game room and could add a real pop of color.
4. Wooden furniture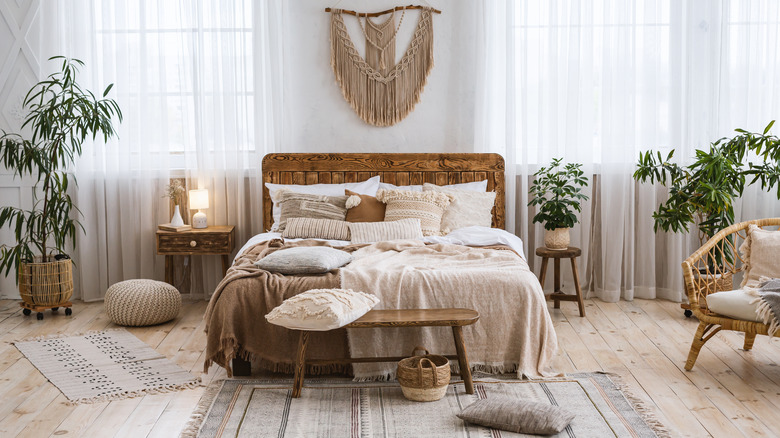 Prostock-studio/Shutterstock
Because good wooden furniture can come in all types of grains, stains, and aesthetics, it makes for the perfect choice to complement an eclectic home. Whether it's a multi-colored stained bedframe, grainy end table, or classic wooden stools used as side tables, this kind of furniture can work with both modern and country homes alike.
5. Wooden pallet bookshelves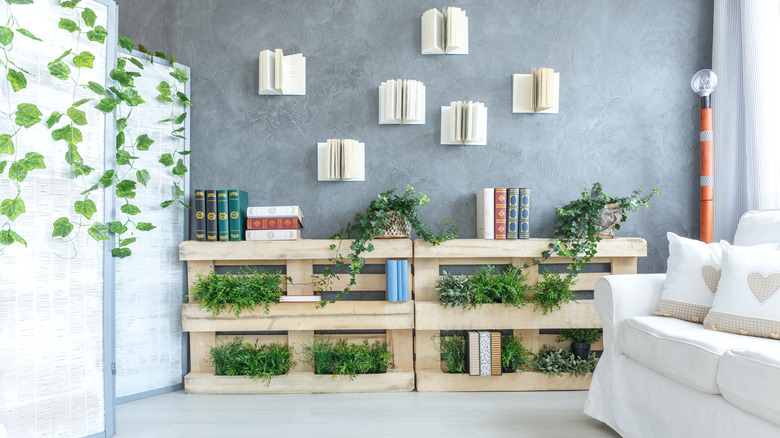 Photographee.eu/Shutterstock
Instead of just tossing out old wooden pallets, give them new life by repurposing them as homemade bookshelves. With some handy tools and a few cuts, those old pallets can be reworked to hold books, plants, and other knick-knacks. This is a unique way to add some extra storage to a room while also being incredibly eye-catching.
6. Colorful comfortable chairs
Plush, comfortable chairs are a welcome addition to any room. But, if you really want to set these pieces of furniture apart from the rest, then choose some that are made with bright and colorful fabric. Multi-colored chairs create a nice focal point in a room and lead your guest to the coziest parts of the space.
7. Round bed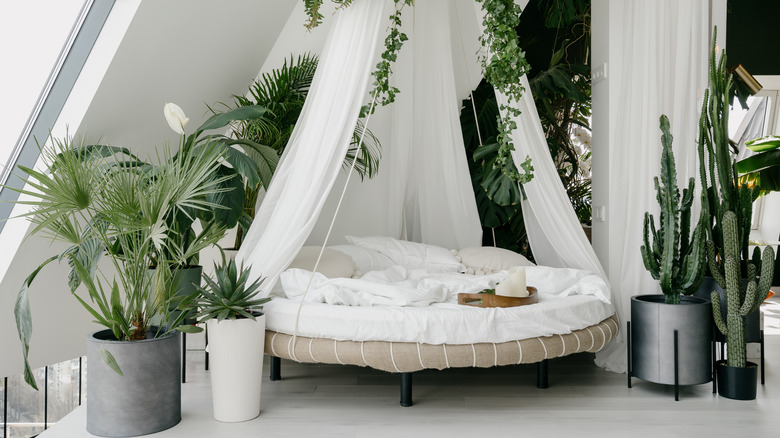 brizmaker/Shutterstock
Say goodbye to traditional rectangular beds and welcome something a little different. With a rounded bed, you can bring some individual style into the bedroom and have it act as a unique sleeping space as well as a place to hang out and relax. A draped canopy and extra plants can help to add to the eclectic atmosphere.
8. Chaise lounge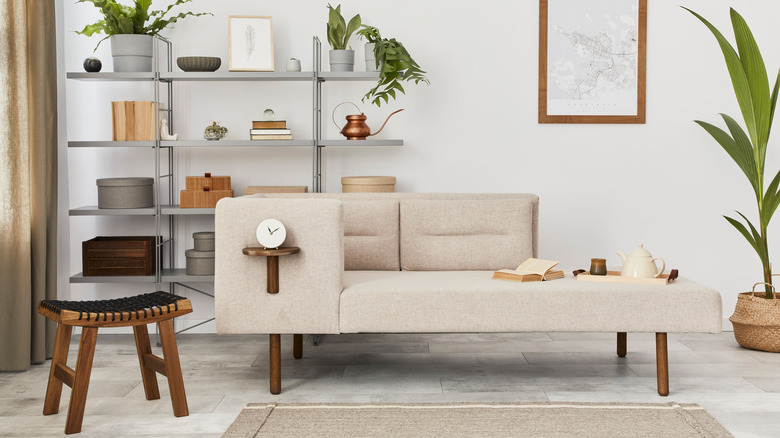 Followtheflow/Shutterstock
A chaise lounge can be a wonderfully multifaceted piece of furniture. It can act as social seating for a party, a place to lounge while enjoying a good book, or just a fantastic-looking accent piece to complement the rest of your room. This distinctive piece of furniture can lead to many imaginative interpretations.
9. Plenty of outdoor seating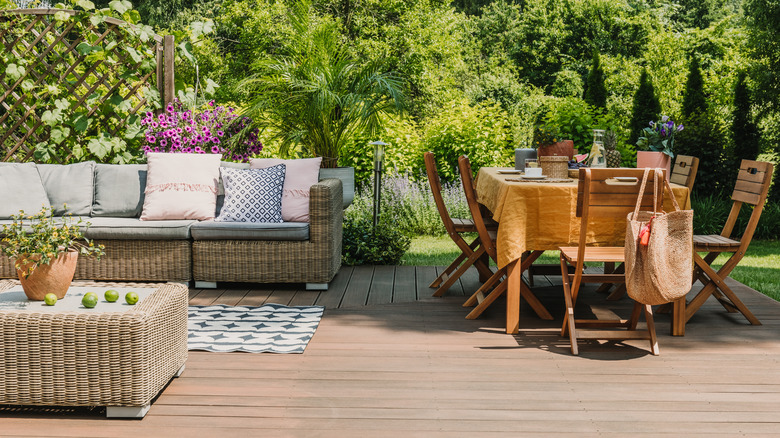 Photographee.eu/Shutterstock
A home with an eclectic style lends itself to comfort and joy. You want to surround yourself with the things you love, and what better way to share that passion than with those around you? A variety of seating — especially on a backyard patio — for dining or unwinding with friends will surely make your home welcoming.
10. Live-edge table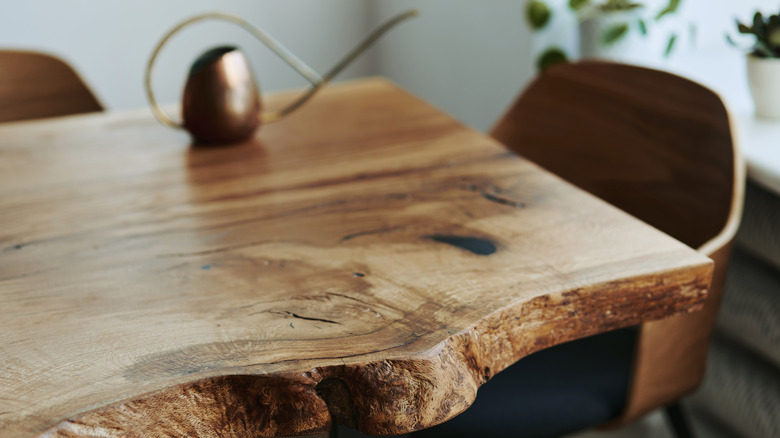 Followtheflow/Shutterstock
Let your furniture tell a story with a live-edge wooden table. The best feature of this tabletop is that it allows you to see every grain pattern and irregular corner. All the knots and holes show that it's not some typical big-box store piece, but rather a unique thing that has lived and can be experienced.