10 Furniture Ideas For A Southwestern-Inspired Home
Southwestern interior design stems from the décor trends originating from the region of the United States with the same name, which includes Arizona, New Mexico, parts of California, Utah, Texas, Oklahoma, and Nevada. As a result, there are quite a few inspirations and influences in the history and development of the design style, which, according to The Spruce, includes indigenous peoples of the region, particularly the Navajo, Spanish settlers, and historic Western design elements.
There are no particular rules when decorating in Southwest fashion, but a few guiding trends and themes form a base for it. According to HGTV, Southwest design combines earthy desert colors with bright and bold textiles, tiles, etc. They recommend incorporating elements such as Spanish textiles, ironwork, leather, suede, bulky furniture, plants and nature influences, and bold colors such as cactus green and turquoise blue, as well as earthy colors like rust and terracotta. There are also stylistic variations and influences on Southwest décor, such as vintage furniture and aesthetics, boho vibes, and even modern, Cosmopolitan touches. So if you want to decorate in the bold and eclectic style of the Southwest, keep reading for furniture inspiration and ideas.
1. Fun printed pillows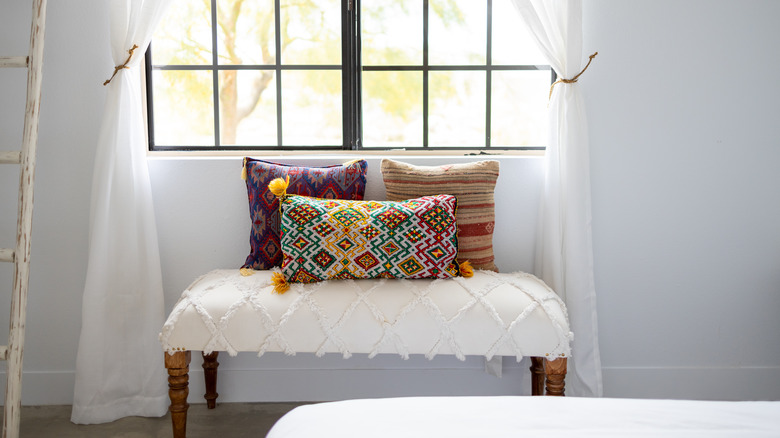 G_Hosh/Shutterstock
Incorporate a few fun, boldly patterned throw pillows for a simple Southwest touch in your bedroom or living room. Colors like turquoise, orange, yellow, and brick red, especially in geometric patterns, will help add that special rustic touch.
2. Wicker and wood
Heavy, warm-toned woods will help amplify other elements of Southwestern décor. Pair with wicker for a more trendy, boho-inspired take on the design style.
3. Desert-inspired art
To bypass subtlety and fully showcase the Southwest, incorporate some art of the desert and regional landscape. You can make this somewhat abstract and muted like the picture above or go more realist and heavy.
4. Bright colored statement furniture
Southwest décor loves to mix rooted, earthy desert hues with bright and vibrant colors. Consider getting bright-colored accent furniture, such as the colorful blue chairs pictured above, to make the bold tones pop.
5. Persian rug
Persian rugs are typically very red and orange-toned with pops of blue, green, and other bold colors and come in geometric patterns. This makes them perfect to mix with the thematic elements of Southwestern design.
6. Bright thematic color
For those who prefer more of a streamlined look, instead of mixing and matching tones of warm and rooted colors with busy bolds, consider simply featuring one bright color in a more subdued room, such as the turquoise accents pictured above.
7. Mix and matched bold textiles
A major component of Southwest décor is the busy and intricate textiles that come from the region. While focusing on one is fine and will capture the essence, why not go bold and mix multiple loud, bold, and fun textiles?
8. Leather couch
Leather is a very popular textile when it comes to decorating in Southwestern fashion. Lighter brown and yellow leathers will incorporate better into the earthy pallet as opposed to darker and more modern blacks and grays.
9. Cacti
If you want to model your home after the look of the desert, you should incorporate a cactus or two. They will instantly recall a Southwest regional sensibility, and either wicker pots like the ones featured above or bold and bright patterned ceramic pots will help amplify the aesthetic.
10. Aztec prints
Bright geometric patterns, such as Aztec prints, are very popular and vital to a Southwest room. Incorporate a boldly patterned throw blanket or two to tie in the design elements.