10 Furniture Ideas For An Art Deco-Inspired Home
Designing an art deco-inspired home is all about being bold. Art deco doesn't use muted neutral tones or soft organic shapes. The furniture has structure and sharp lines, any wood is stained dark, and gold is a common accent color. The easiest way to think about art deco is by looking at the designs in the roaring 20s and "The Great Gatsby," according to Architectural Digest. Art deco is about being luxurious even in the fine details and making a room look grand.
Geometric shapes are the key when taking inspiration from art deco. Detailed geometric patterned wallpaper is a great way to incorporate this or even with tiles. Saturated colors are necessary, especially jewel tones like emerald, ruby, and sapphire. Contrasting colors are also used frequently. Looking at the way you plan to layout your furniture can be influenced by art deco. Art deco uses a lot of symmetry and highlights a lavish focal point in the room.
1. Wallpaper
Wallpaper is prevalent in art deco-styled homes. It allows you to easily incorporate detailed patterns like this emerald green and gold fan pattern. 
2. Light fixtures
Light fixtures play a big part in art deco. Here the fixtures play with shapes by using glass spheres with gold hardware. 
3. Rich wood stain
Art deco is not scared to use dark and rich colors like the stain of this wood entryway table. It has some art deco influence because of the round shapes of the drawer handles. 
4. Jewel tones
Jewel tones are popular with art deco. This room uses emerald tones in the wall paint and couch, along with gold accents to complement the color. Other jewel tones that are often used in art deco decor are ruby and sapphire. 
5. Bold deign
Art deco is all about bold designs. This room shows that with its dark theme, large windows, high ceilings, and lux chandelier. 
6. Geometric shapes
Geometric shapes are important in art deco designs. Instead of the usual intricate patterned wallpaper, this room incorporates shapes in the wainscoting on the walls and in the tiled floor. 
7. Contrast
Contrasting colors are popular in art deco designs. A lot of black and white is used, but this room uses that inspiration with a dark green wall and a white headboard. 
8. Symmetry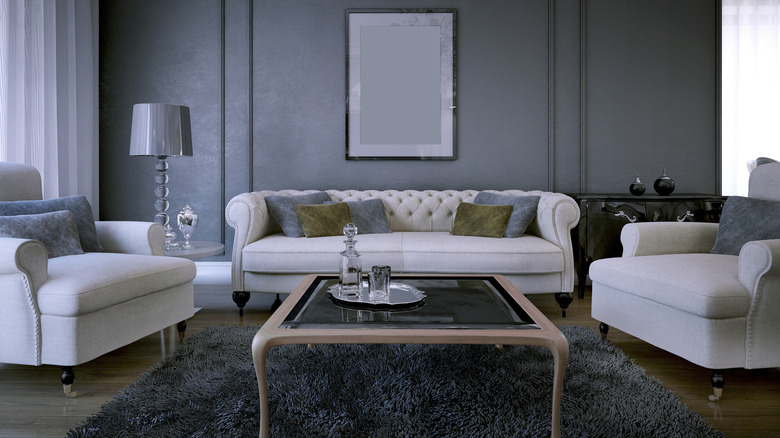 KUPRYNENKO ANDRII/Shutterstock
When designing a room that draws inspiration from art deco, symmetry is a subtle way to incorporate the style. Using symmetry makes a room look grand. This room does so by centering the sofa and coffee table and mirroring the two chairs.  
9. Patterns
Strong lines and patterns are prevalent in art deco. While this room doesn't entirely fit the art deco style, it draws inspiration from it with the pattern of the accent wall. 
10. Saturated colors
Art deco isn't scared of bold saturated colors. That's why jewel tones are so popular in the style. Here ruby red is used as the wall paint and sapphire blue in the velvet chair.