Kesha Lived In A Surprisingly Modest Home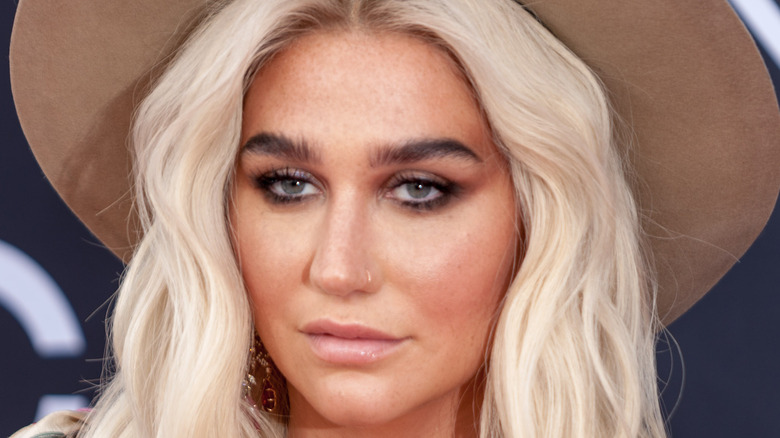 Jamie Lamor Thompson/Shutterstock
Musical artist Kesha, known for her pop songs "Tik Tok," "Your Love is My Drug," and "Blow," has sold over 55 million copies of her tracks worldwide. Kesha's been in an ongoing lawsuit against her former producer from Kemosabe Records, Dr. Luke, since 2014 to be released from her contract after she accused him of emotional abuse, among other allegations, according to Vulture. She's won numerous awards for her singles from MTV Europe Music Award for best new act and best pop, iHeartRadio Music, Brava Otto, and Eska Music Awards.
Kesha has been in the music business since 2005, a native of Los Angeles, which only makes sense that she once bought her own Venice Beach bungalow in 2014, according to Variety. It was strangely a modest home taking into consideration most celebrities go big when they look into buying property. Kesha sold it a year after living in it, per Los Angeles Times, but the Spanish home lives on.
Jungle-like backyard with various trees and plants
This Spanish home has the most beautiful turquoise-colored accents in the doors around the white exterior home, according to Variety. It's situated on a quiet street, noted by Realtor.com, with a stone pathway that leads to the tiled steps in front of the turquoise door. The front yard has high-trimmed hedges and trees surrounding the home, making it cozy and private. There's a small turquoise fountain along the stone pathway across from the home. Various potted plants and shrubs grow along the sides of the home.
The backyard wraps around the entire house, providing enough space for many outdoor activities. In one corner of the backyard, there is a BBQ grill and patio furniture, while in the center of the yard, there are lounging chairs laid out in front of a fire pit, per Variety. The backyard looks like a jungle with all the plants and trees in every nook of the space. Detached from the main house is a smaller unit that was made for extra storage.
Natural light fills every space in the home
Inside the bungalow are three bedrooms and two full bathrooms, all enclosed with massive windows as well as in every other room that allows in natural light, per Realtor.com. The master bedroom has double doors that lead to the backyard and an attached spa-like bathroom. It has an outdoor shower and bathtub just outside of the white interior bathroom, as noted by the listing. The other two bedrooms serve as guest bedrooms and are located near the office.
The kitchen takes up almost two rooms as it's overstretched over a long hallway with funky black and white tile. It holds all stainless steel appliances, and there are two additional rolling racks for extra storage. From the kitchen, you're led into the dining room, where a glass top dining table with a crystal chandelier hanging above it sits in the center of the room in front of double doors that lead out to the backyard, per Variety. Adjacent to the dining room is the living room which is decorated simply with one couch, a gray rug under a glass coffee table, and a wood fire fireplace.