Here's Where You Can Visit The Bed And Breakfast From Groundhog Day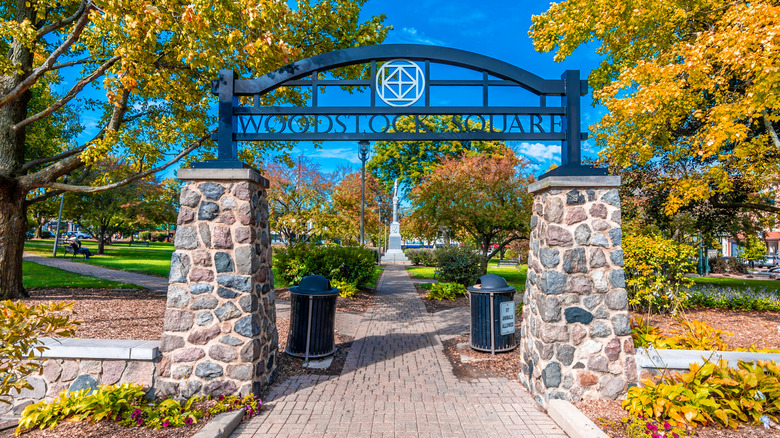 Nejdet Duzen/Shutterstock
Do your dreams of staying at the Cherry Tree Inn feel like they're on repeat? The Victorian inn may resonate within a Hollywood memory. Made famous from Harold Ramis' 1993 cult classic film "Groundhog Day" starring Bill Murray and Andie MacDowell, the celebrated bed and breakfast is located at 344 Fremont Street, approximately 50 miles northwest of Chicago in the suburban neighborhood of Woodstock, Illinois. Identified as the Cherry Tree Inn in the film, its original name was the Royal Victorian Manor, per Curbed Chicago. On and off the real estate market for a number of years, the current owners, George and Lori Miarecki, purchased the famous property in June of 2017 and solidified the name as it is known to audiences around the world.
A stay at the enchanting Inn features five different suites to choose from, including a home-style breakfast created by award-winning cooks, who are also the owners. If you want an extended, relaxing visit, you can rent the entire house and/or guest house for cherished celebrations. Visit the Cherry Tree Inn website for pricing, where you can find an email, phone number, or inquiry form regarding questions and booking.
Established in 1844, there are many events and sights to see in historic downtown Woodstock, from the Victorian-style architecture to the brick laid streets. Walk just two blocks to Woodstock Square (or Gobbler's Knob) for a live concert in the 2-acre park. Sound tempting? Read on to learn more about visiting the Cherry Tree Inn B&B.
What you'll experience with a stay at the Cherry Tree Inn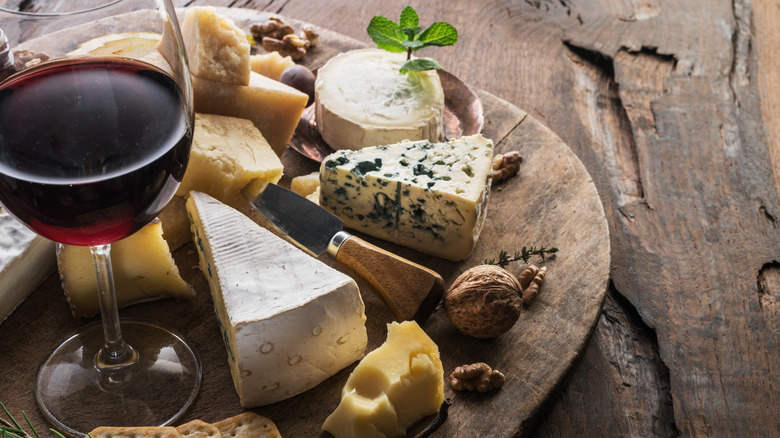 Valentyn Volkov/Shutterstock
Whether it's a weekend escape or a destination wedding, make all your romantic dreams come true with a stay at the Cherry Tree Inn Bed & Breakfast. Each of these elegant suites comes with a private bathroom and various features: Black Walnut, Cherry Blossom, Magnolia, Old Oak, and Willow. Guests are welcome to peruse the amenities of the house like the café, bistro, game room, grand parlor with fireplace, and the lovely wrap-around porch and gardens.
Start each morning with a farm-to-table breakfast. According to Enjoy Illinois, the owners thrive on authentic hospitality with many of the foods (coffee, eggs, and jam) provided locally from the Woodstock Farmers Market. You are welcome to chat with Lori while she prepares freshly made sweets like cherry chocolate scones or apple spice pancakes. The formal dining room is perfect for intimate festivities and seats up to ten people. Other indulgences may include massage, personalized flowers, charcuterie board and wine, dinner party, custom cookies, and Groundhog Day memorabilia items for sale.
If you're unable to book a room at the Cherry Tree Inn, there are a few rooms at their Cherry Branch Guest House, a smaller renovated house located on the property near the manor. Each room features a private bath with a walk-in shower. From small affairs to extended weekends, you can book your wedding or cocktail reception at the Inn. Refer to their website for booking options and packages.
The best way to experience Groundhog Day in Woodstock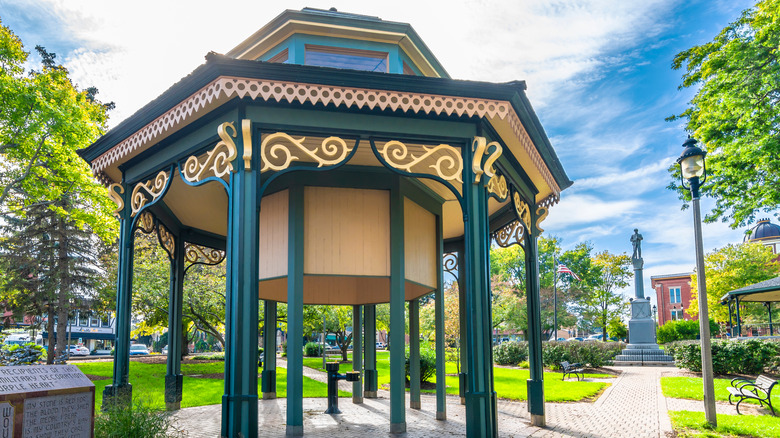 Nejdet Duzen/Shutterstock
Every day at the Cherry Tree Inn is "Groundhog Day!" If you're looking for the ultimate experience, the best time to visit is during the town's Groundhog Day festivities, which typically runs from January 25th to February 8th. There is a three-night minimum (generally two nights) during this time, with rates that are relatively higher than other times of the year. Groundhog Day activities at the bed and breakfast include a movie watch party, private tours, trivia, bingo, cocktails, and a dinner party, per their website. With a population of approximately 25,000 people, the town of Woodstock also offers an ample number of festivities to choose from, including screenings of "Groundhog Day," walking tours, memorabilia exhibits, and a dinner dance at the Woodstock Moose (as depicted in the film), among other special events. Be sure to visit Woodstock Groundhog Days for further information. 
Other activities around the town might include the Farmers Market, Opera House, The Chester Gould Dick Tracy Museum, and of course the variety of "Groundhog Day" film locations you can relive like the bowling alley, gazebo, Ned's Corner, and the Tip Top Café (currently a Mexican restaurant). The tradition of celebrating the groundhog seeing his shadow, aka Punxsutawney Phil, may have originated in the late 19th century in Punxsutawney, Pennsylvania, but the popularity of the annual holiday lives on each day in McHenry County.