15 Colors To Decorate With For A '90s Aesthetic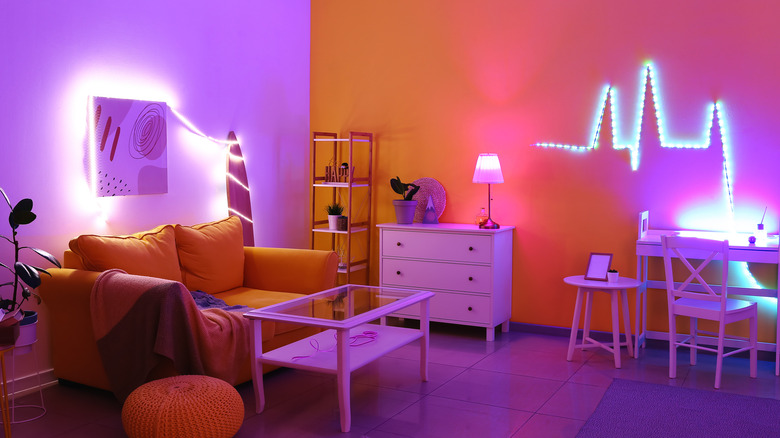 Pixel-Shot/Shutterstock
The '90s are becoming popular again because of the return of looks and hot trends like low-rise jeans, handbags, platform shoes, sheer tops, and more. It was one of the trendiest decades that also brought some of the best music. On one side of the spectrum colors were vibrant in the way people dressed up and decorated the inside of their bedroom. On the other, grunge was a popular style people also enjoyed that consisted of darker moody colors.
You can mix and match the colors to have an expansive color palette in your home. Incorporating colors such as peach, blush, and dusty blue in accent pieces or use them as colors to paint your walls can bring your space to life. Even the most non-versatile color such as brown can make an appearance in your home according to The Spruce. We'll look at a series of colors and the various ways you can use them in your space.
1. Peach accent wall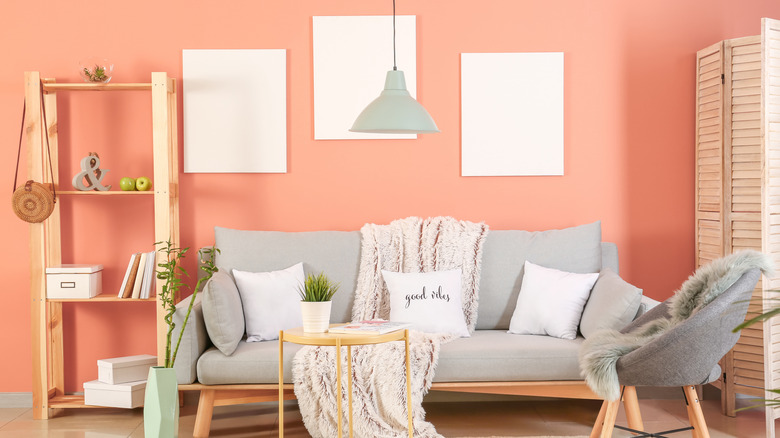 Pixel-Shot/Shutterstock
The 90s were big on pastel colors, and they were mismatched with other colors such as yellow and green in order to stand out. Peach is a soft color that can easily be paired with various shades of gray, green, and beige. Having a peach accent wall makes the room pop and allows room to add some subtle furniture or use a contrasting color such as sage. 
2. Dusty blue furniture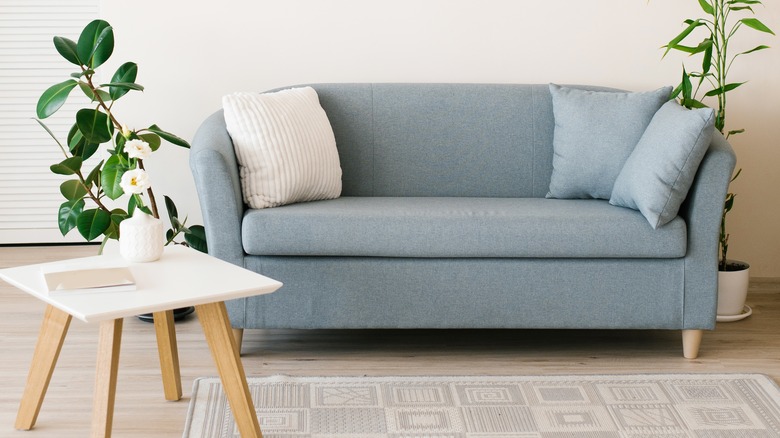 Chamomile_Olya/Shutterstock
If you prefer a more minimalistic design, you can use soft shades of blue, such as this dusty blue color, to draw attention to your furniture pieces. Even though the '90s were all about standing out, a small way to add it into your home is through accent pieces. Dusty blue screams '90s baby, and matching it with a beige tone will spruce up your living area. 
3. Blush décor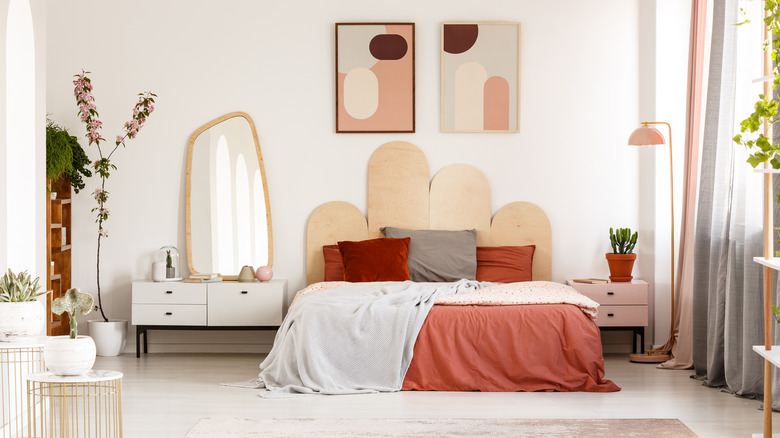 Photographee.eu/Shutterstock
Blush was the ultimate '90s color that was used more than any other color in the palette, which makes it an essential color to use if you're going for a '90s aesthetic. You can use blush as a main focus or use it sparingly around your space. If you'd rather make it pop, you can invest in furniture pieces such as lamps or nightstands in blush. Wall art with blush tones can be hung on walls or placed on your shelves.
4. Hints of green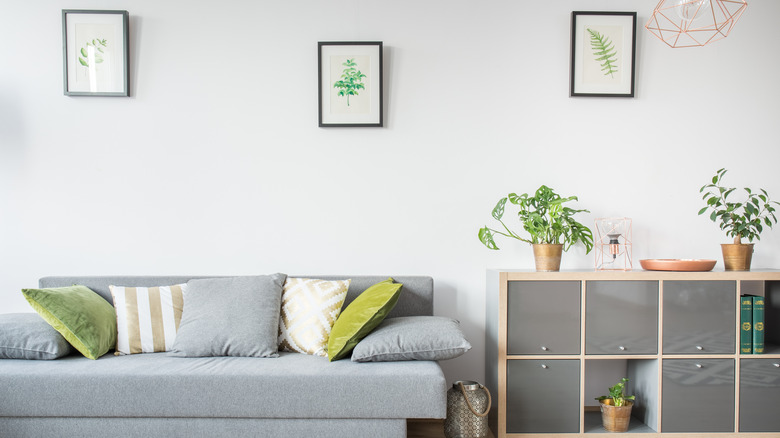 Photographee.eu/Shutterstock
Green has become a fan favorite in the last year, so if you're not on board with green in the house, you can start small. Placing small house plants such as succulents or big leaf fig plants on side tables or on top of dressers can be a good start. You can then make your into buying accent pillows in any shade of green, if you're going for a '90s look, then lime green is the way to go. 
5. Pops of yellow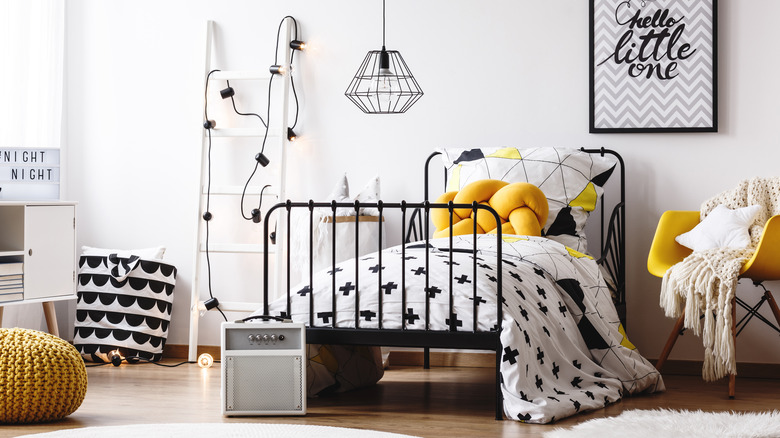 Photographee.eu/Shutterstock
Any plain room will stand out with any décor item that's yellow because it's bright and brings attention to itself. If you add a yellow lounging chair or funky designed pillow, then your room will be your favorite room in the house. Think of the show "Saved by the Bell" when you're trying to figure out what color will pop out the most. 
6. Brown focus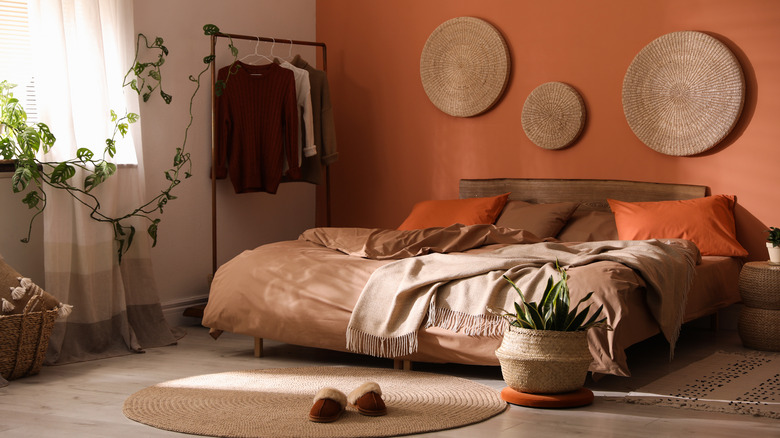 New Africa/Shutterstock
One of the most controversial colors people are hesitant to use in their homes as a primary color is brown. Even though beige is an extended lighter shade of brown that everyone loves, dark brown is seen as too bold. You can pair it beautifully with other darker colors such as burnt orange or emerald green. If you feel like it's too much, you can use it as an accent color and buy some brown pillows to start. 
7. Touch of neon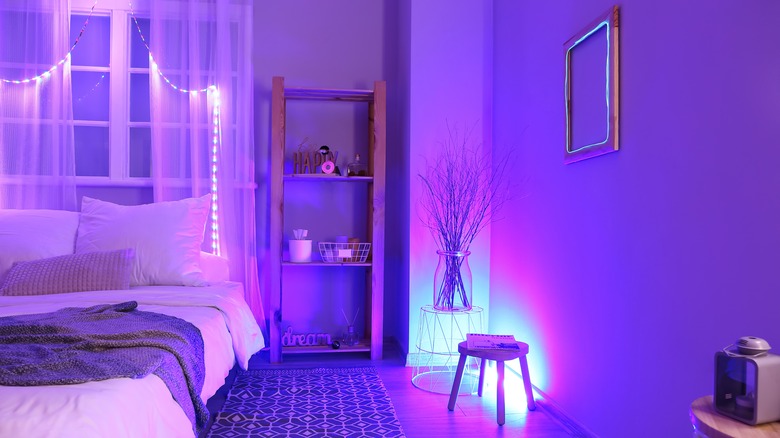 Pixel-Shot/Shutterstock
The epitome of a '90s aesthetic is having neon colors in your room that make the colors of your wall brighter and give your room a nice colorful glow. Painting your walls any shade of purple, for example, creates a galaxy-like feel to the room with some neon wire lights. If you don't want any sort of look wires hanging around your room, you can buy a funky lava lamp that gives the same effect to your space. 
8. Orange wall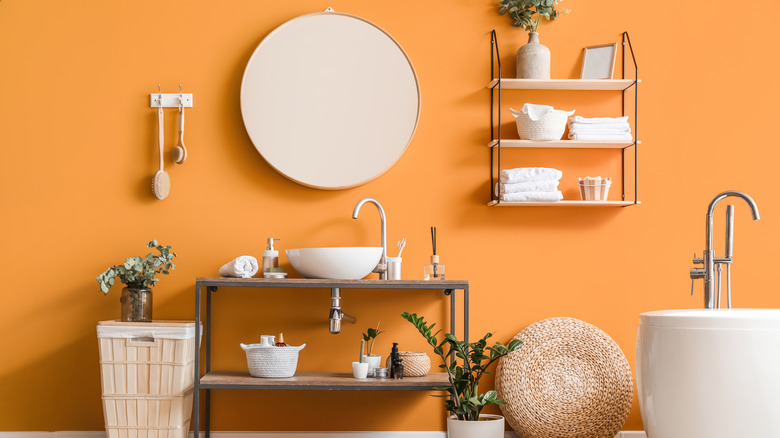 Pixel-Shot/Shutterstock
Orange is great to use as an accent wall or décor focus since it's a vibrant color; it can be used along with other complementary colors such as green or yellow. The '90s called for posters covering the walls leaving little to no view of the color of the wall, so you can always add some wall art to minimize the view of the orange. You can also find small décor pieces to fill in space against a neutral-colored wall, such as ceramic items, lamps, and even bookends. 
9. Neutral tones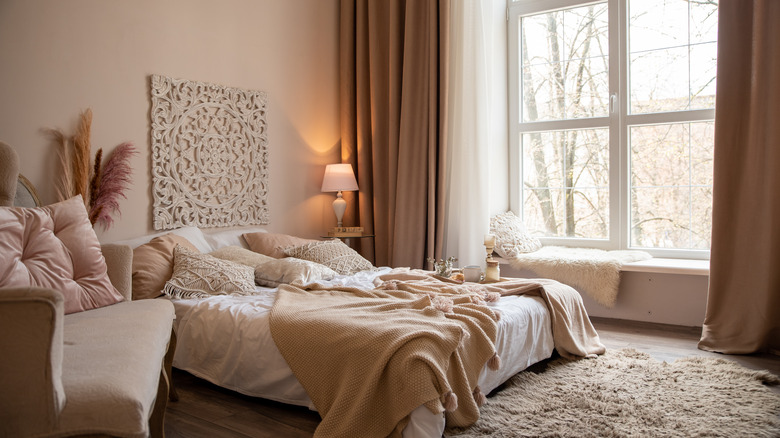 Marianna_ Zh/Shutterstock
If you're not a fan of the darker shades of brown for your home, you can always incorporate neutral tones such as beige, which will allow for more ways to add some color. Beige can be paired with blush, light shades of blue, or green to give it a subtle '90s feel. You don't have to go all out with the neon colors or posters on your wall, you can add various pieces of décor that accentuate the '90s. 
10. Light blue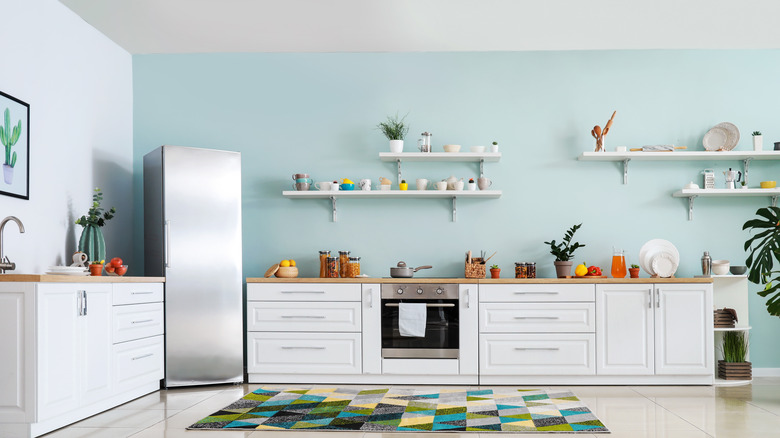 Pixel-Shot/Shutterstock
Funky patterned furniture pieces like rugs can make any room have a touch of the '90s. They are centered around the chevron style with neon colors; you can use light blue as one of your accent walls and display a neat rug to go with it. You can add a touch of green or orange décor so that you have a variety of colors and patterns. If you want to go all out, you can add some bead strings to the entrance of your kitchen door. 
11. Bold black
Margaret Gus/Shutterstock
If you prefer a darker palette, you can go for a grungier look for your space. Black is the perfect color to achieve a grunge look since it's very versatile; you can pair it with numerous colors such as green, gray, white, and purple. It'll feel like Halloween all year long, but with the right furniture pieces, it could feel more '90s than anything. Pairing it with a few gold accents such as mirrors or side tables will balance out the darker tones, along with hanging up colorful wall art. 
12. Mustard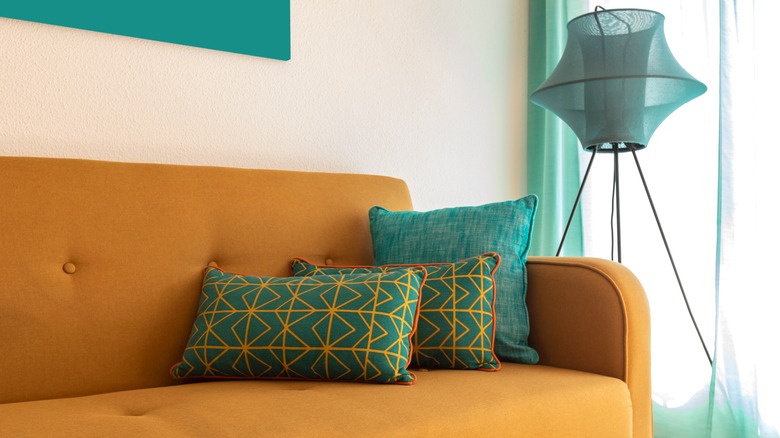 alexandre zveiger/Shutterstock
Using a mustard color instead of a bright yellow can change the feel of the room instantly since you can pair it with darker colors such as teal. This is a perfect example of a '90s aesthetic with the funky patterned pillows that match back to the couch. You want it to look a bit mismatched in a way where it also matches. To mix it up more, adding some shelf of records above the couch can make it more '90s. 
13. Vibrant red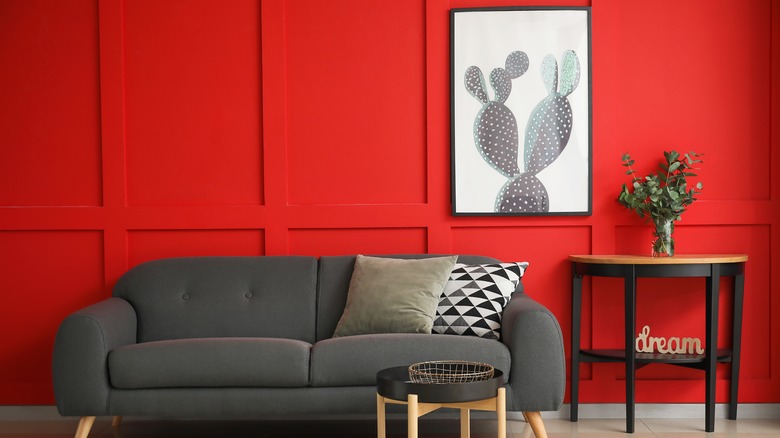 Pixel-Shot/Shutterstock
To continue with the grunge theme, you can include any shade of red to your space. Red is moody yet intimate, so it can be paired with different colors and furniture pieces. Blush is perfect with a softer shade of red, while black can be paired with a darker shade of red. Incorporating furniture pieces like an armchairs in different colors can be a perfect accent piece, or a funky coffee table or side table can give more of a '90s theme. 
14. Pearl white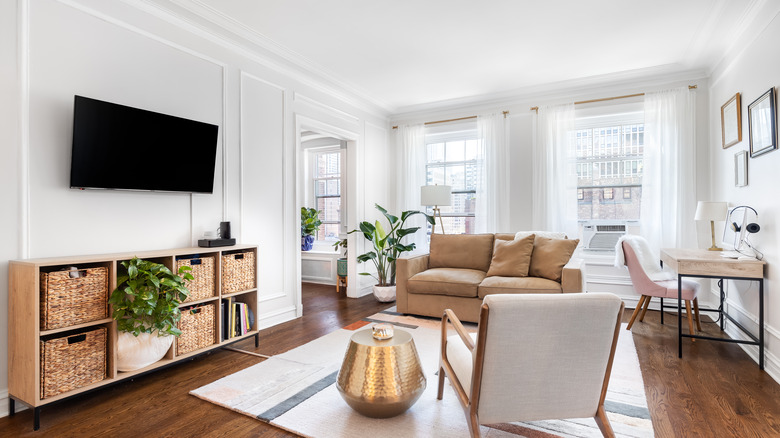 Hendrickson Photography/Shutterstock
You can never go wrong with a white interior because you can add so much to it and mix it with a variety of colors. If you pair white with neutral tones such as beige, there's still room to introduce bright colors such as blush, yellow, or blue you can achieve a subtle '90s feel. Adding some patterned rugs or different colored curtains to your space can make the white walls serve as a background color instead of the main focus. 
15. Gold accent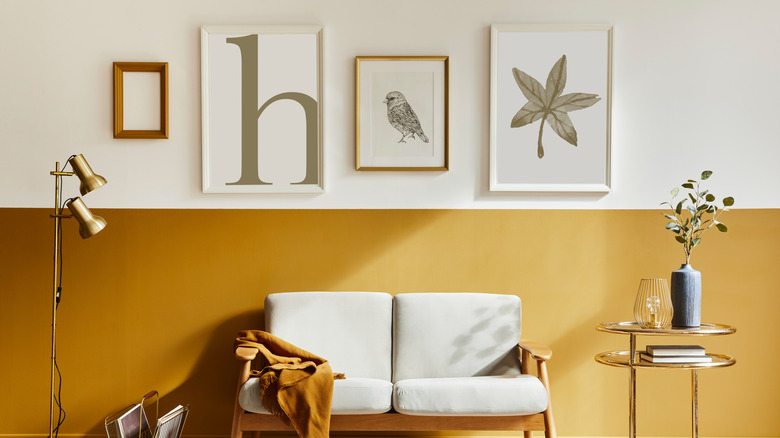 Followtheflow/Shutterstock
Gold has made its way into the modern interior design world, especially the minimalist side of interior design. It's dainty yet bold and can be paired with almost any color, such as teal, yellow, orange, and white. Using gold furniture pieces such as side tables or standing light fixtures can make any space pop. The two-toned wall in this photo makes the space fit the '90s aesthetic. It matches perfectly with the decor but creates an idiosyncratic look to the wall.