The Fascinating Story Behind Taylor Swift's Rhode Island Holiday House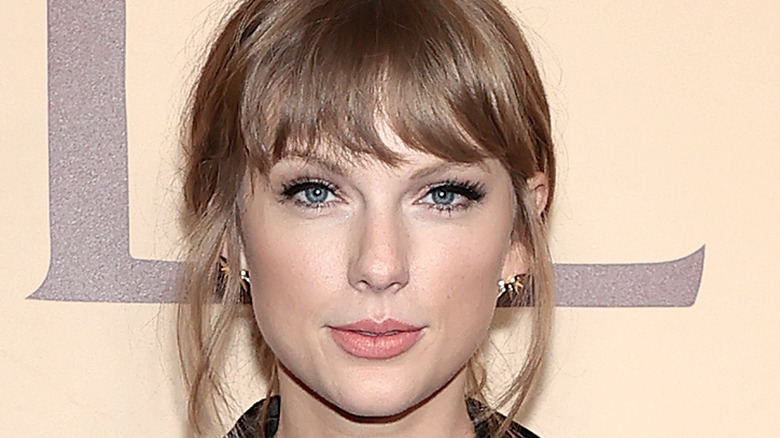 Dimitrios Kambouris/Getty Images
Taylor Swift is notorious for her autobiographical style of songwriting, incorporating her own life experiences into her music. Whatever you are feeling or going through, we can almost guarantee there is a Taylor Swift song for that.
With the 2020 release of her eighth studio album, Folklore, fans got the opportunity to see a different side of Swift, as she moved away from writing music from her own perspective and, instead, chose to share other people's stories. "I found myself not only writing my own stories, but also writing about or from the perspective of people I've never met, people I've known, or those I wish I hadn't," she explained in a tweet announcing the arrival of her album.
In the tweet, she also describes "a misfit widow getting gleeful revenge on the town that cast her out" in reference to the song, "The Last Great American Dynasty." The song happens to be about the woman who lived in Swift's Rhode Island mansion, nicknamed Holiday House, decades before she bought it in 2013 for $17.75 million, per Business Insider. It turns out that Swift's Holiday House has a long history of wealth and lavish parties, and is renowned among locals for its coastal views.
A piece of Rhode Island history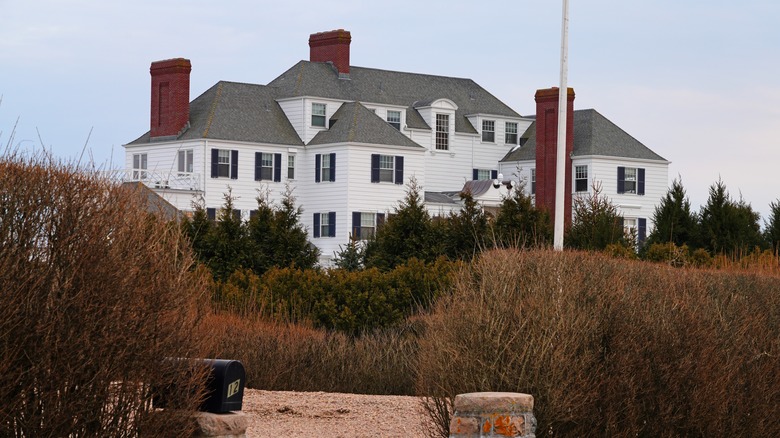 EQRoy/Shutterstock
In the lyrics of Taylor Swift's song, "The Last Great American Dynasty," she tells listeners that her Rhode Island mansion sat empty on the coast for 50 years before she purchased it. She also mentions a woman named Rebekah, and it didn't take fans long to discover that the woman in question was Rebekah West Harkness, an heiress from St. Louis who once owned the property, as reported by The Washington Post. 
Harkness was married to William Hale Harkness, whose family founded the Standard Oil Company. After William's death in 1954, it was reported that Rebekah infuriated her neighbors with her quirky and wild antics. Swift includes details in her song about how Rebekah filled the pool with champagne, threw luxurious parties, and played cards with Salvador Dali. The singer also draws parallels between Rebekah's reputation and her own, especially when it comes to their shared tendency to upset society for not always doing what is expected of them.
Coastal elegance
EQRoy/Shutterstock
The coastal mansion, located at 16 Bluff Avenue in Watch Hill, Rhode Island, was built in 1930 and sits on the highest point in the coastal town. The 11,744-square-foot holiday house boasts 700 feet of shoreline and offers sweeping views of Little Narragansett Bay, per Business Insider. According to See Westerly, Watch Hill was used as a lookout during battles dating back before the French and Indian War.
Since Taylor Swift tends to keep her personal life fairly private these days, details about the house have been hard to come by. Biographer Craig Unger gave See Westerly some insight about the famous house, however, describing it as "the single most imposing structure in Watch Hill ..." He added that the house has more than 40 rooms, four chimneys, six terraced sundecks, and a room near the top deck with windows on three sides, providing ample views of the coast.
Fans got a rare glimpse into Swift's home life in 2016 when she made headlines for an elaborate Fourth of July party, which featured several of her A-list celebrity friends in attendance, including Blake Lively, Ryan Reynolds, and GiGi Hadid. In a now-deleted Instagram post (via Business Insider), Swift shared photos of the partygoers on the beach, at the pool, and in front of the giant inflatable water slide that read, Taymerica, causing many to draw further parallels between Swift and the house's predecessor.