20 Stylish Ideas For Decorating Your Kid's Bedroom With A Mermaid Theme
Choosing the theme and aesthetic for your kid's bedroom can become one of the most difficult and nerve-wracking tasks as a parent. From the room's colors, décor, and layout, you know you shouldn't take these decisions lightly. For most children, their room is their safe place; it's where their belongings are and where they run to have personal space.
According to The Baby Atelier, decorating your kid's room can impact their overall health as well. And as a child grows, their room must grow as well. The type of room they live in can play a key role in their creativity, imagination, and growth. It tells the story of personality and their perspective on life. And since no two children are the same, no two bedrooms are the same either. Some kids like superheroes such as Spiderman or Batman, and others like fairy tales with princesses or mermaids. If your child is one of the many who like mermaids, we have 20 stylish ideas to help you choose what to make of your child's bedroom.
1. Go for primary purple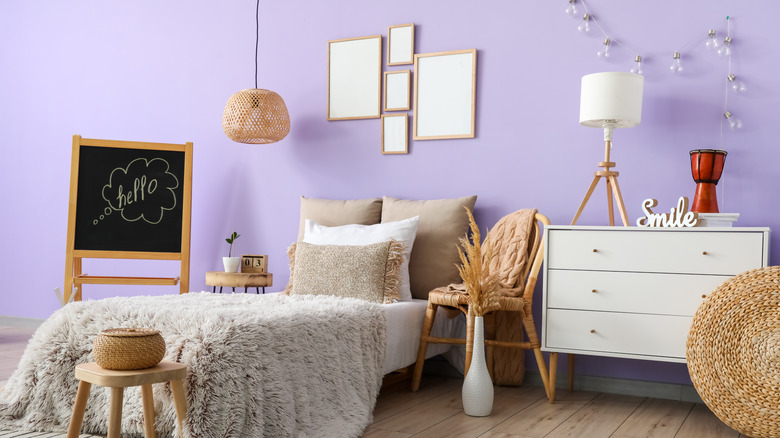 Pixel-Shot/Shutterstock
Purple is a great main color to go with when decorating for a mermaid theme. Along with some others, this one hue is sure to make the room pop. A full-colored room, an accent wall, or even some main décor such as the bedspread is a great way to use this dye to create a mermaid theme.
2. Sequin pillows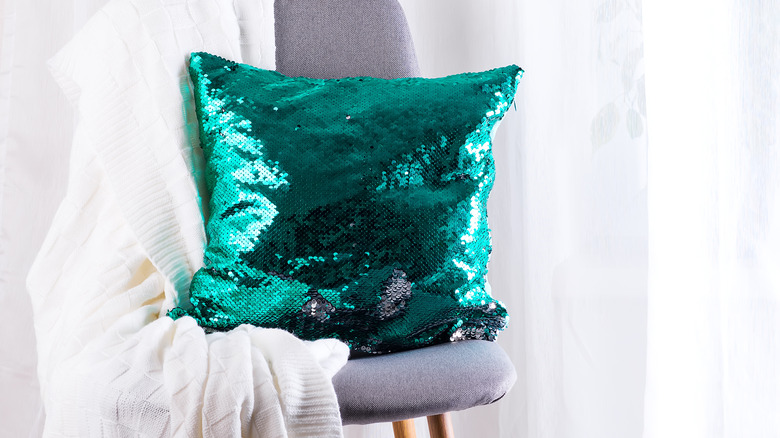 Yuliia Mazurkevych/Shutterstock
Pillows are a fairly easy and simple idea to further a mermaid room, specifically those with sequins. Seeing that sequins are shiny, these throw pillows are perfect for adding to any room with the mermaid aesthetic. The best colors to use are purple, green, teal, or silver. However, any color combination would work with this theme due to its versatility.
3. Meaningful messages
Adding meaningful messages to a room is a significant way to spread positivity and add some cute decorations to the wall as well. Specifically, a sweet message about mermaids is the way to go for this theme.
4. A touch of teal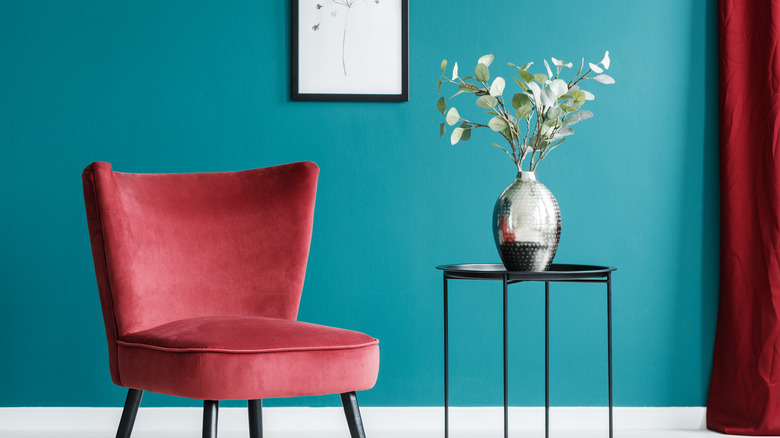 Photographee.eu/Shutterstock
Aside from purple, the second primary color to decorate with for a mermaid theme is teal. Combining teal with equal parts of purple screams mermaid. Brownie points if these colors have a sparkle to them. Adding in accent walls, tons of large décor, or a furniture item is the perfect way to create this theme.
5. Paper lanterns
A unique item to add to this theme is paper lanterns. Although most commonly known for celebrations, these items can be used for everyday purposes as well. Like most other mermaid décors, purple or teal is best, although the shades can vary, and neutral colors such as white or silver can look nice as well.
6. Seashells sensation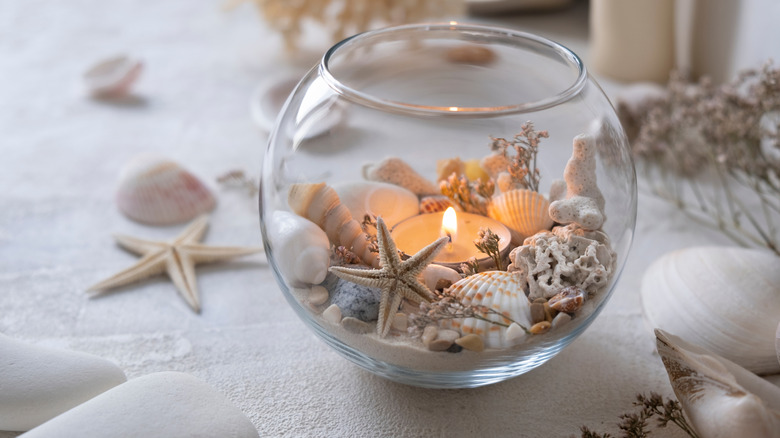 Ellen19/Shutterstock
A few things always seem to accompany a mermaid theme; one of those is seashells. Found below water where mermaids live or on the sand near the waves, seashells are cute, simple and help bring the underwater dream to life.
7. Lava lamp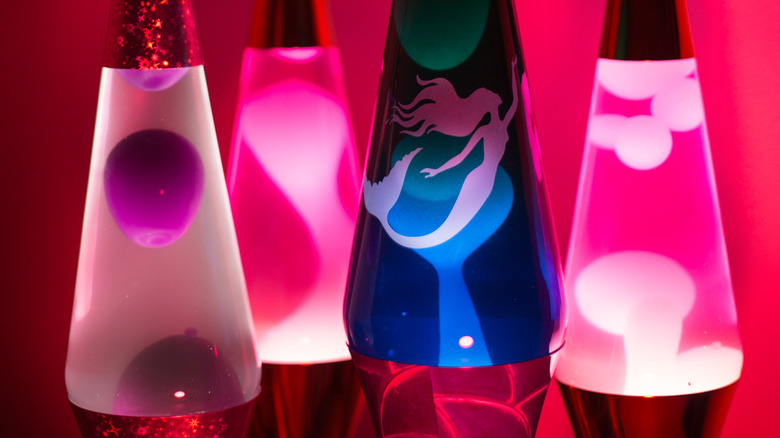 Rosie Simmons/Shutterstock
While most popular during the Y2K era, a lava lamp fits perfectly well with a mermaid theme. Choose one with colors such as pink, blue, purple, or even a light green as they are the best suited to incorporate the mermaid aesthetic into the room. Additionally, this lamp will look great placed on a nightstand or a desk.
8. Wallpaper or painted design
Either put up some specific wallpaper or hand-paint the wall as desired for a stunning mermaid-themed bedroom. This gives you tons of freedom and space to specifically design the room instead of sticking to a solid color. Some painting options are a mermaid, sea creatures, and ocean waves.
9. Sparkly chandelier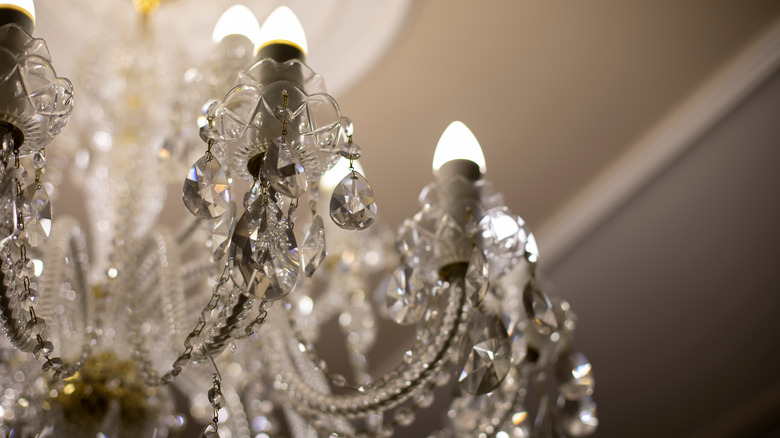 Oleg Kopyov/Shutterstock
Let's be honest; a chandelier can work for many different themes and aesthetics. However, for a mermaid theme, this item can be the key piece that brings the whole room together. A bright shiny chandelier, either in silver or gold hues, is ideal, but a matte color such as violet or blue is also perfect for this aesthetic.
10. Elegant mirror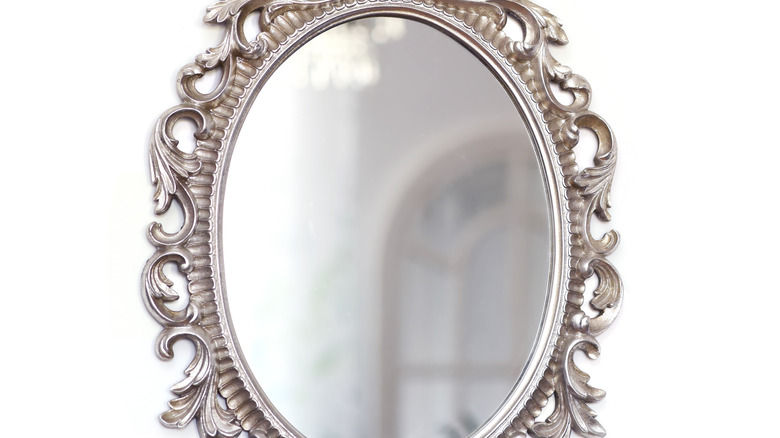 Sachiczko/Shutterstock
A simple but elegant mirror can go a long way when decorating a room with a mermaid theme. Not only does it make a room feel bigger, but it can also enhance the aesthetic by adding some extra shine and reflection to the room. The mirror can be medium in size and have silver or white trim.
11. Wall net
A net hanging on one solid wall, in between two walls, or even from the ceiling is a perfect and unique idea to create a mermaid aesthetic. Of course, adding other décors such as seashells or pictures will make the place stunning. It definitely will be one of the most eye-catching and appealing displays in the whole room.
12. Simple white furniture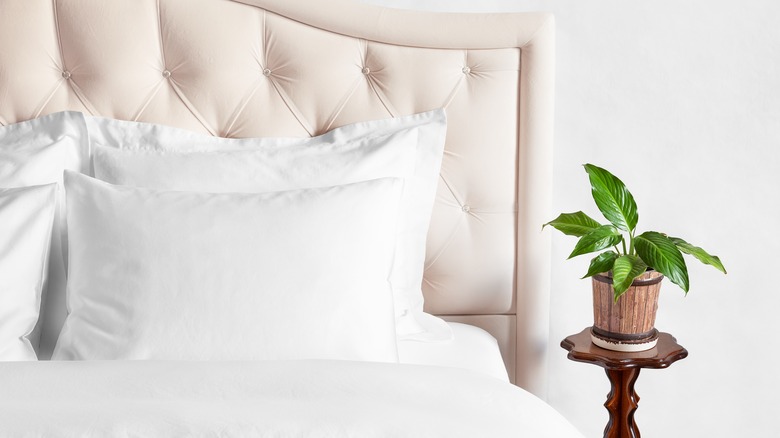 Preto Perola/Shutterstock
Some things should be kept simple with all the colors a mermaid theme brings. For example, furniture items such as a bed headboard, a nightstand, or even a dresser could potentially remain white. This will add a splash of neutrality to the room to help even things out.
13. Ombre curtains
Changing out regular curtains for ombre drapes is a great way to incorporate more than one color at once. For a mermaid theme, these can include purple, blue, and pink. You can also combine one of these colors with white or gray to keep it simple. 
14. Magical dreamcatcher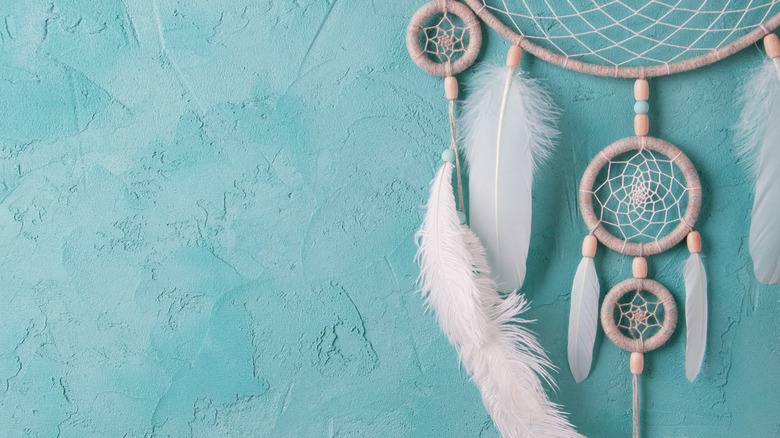 Olena Kryzhanovska/Shutterstock
A dreamcatcher can help bring in the fairytale theme. Some of the many ideas for this décor are a few small-sized dreamcatchers on a side wall or a large one on the main wall. Of course, like any other item for this theme, this aesthetic would look best with purple, teal, or a light shade of pink.
15. Bright string lights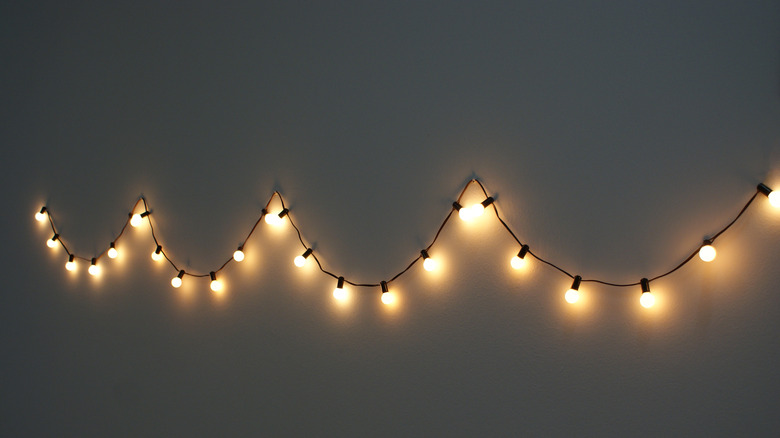 Igor Hotinsky/Shutterstock
Since mermaids are bright, what greater way to achieve this aesthetic than adding some string lights? Placing them over a window on an accent wall or directly above a bed or desk are great areas to further this theme. Of course, bright natural white lights are best, but multi-colored lights work too.
16. Multi-colored furniture
While toning down a room is alright, having multi-colored furniture works just as well for a mermaid-themed space. Pairing one of the bright mermaid colors like purple or blue with a neutral wall tone color like white or gray works fantastically. This helps keep the atmosphere even but bright and fun at the same time.
17. Wall decal
Add a decal if you're not sure about hand-painting the whole room. Usually, these are stuck on solid-colored walls. For this theme, a decal of a mermaid, a seashell, or other under-the-sea creatures is perfect.
18. Bead curtain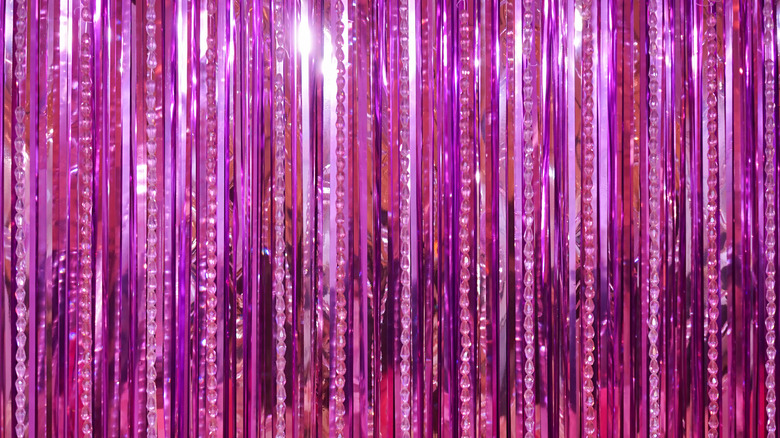 enchanted_fairy/Shutterstock
A cool and fun idea for a mermaid-themed bedroom is a bead curtain. A bead curtain is basically long strings tied together that hang in a doorway that you can walk through. This is a fantastic way to enter a room and can be the first mermaid-themed item the kid will see.
19. Beach art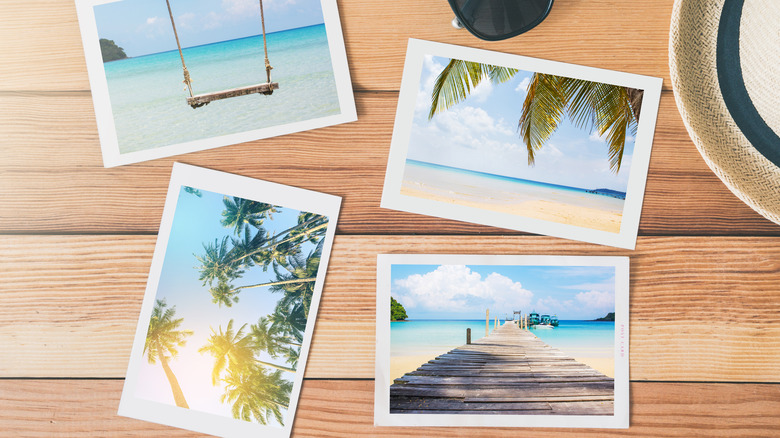 nednapa/Shutterstock
A key element of a mermaid theme is water. After all, that is where mermaids live, right? So having simple beach-inspired decorations around the room is perfect for adding to the aesthetic while not overwhelming the space. A simple painting or photo of the beach is a great way to achieve this, and it's not as costly either.
20. Mermaid blanket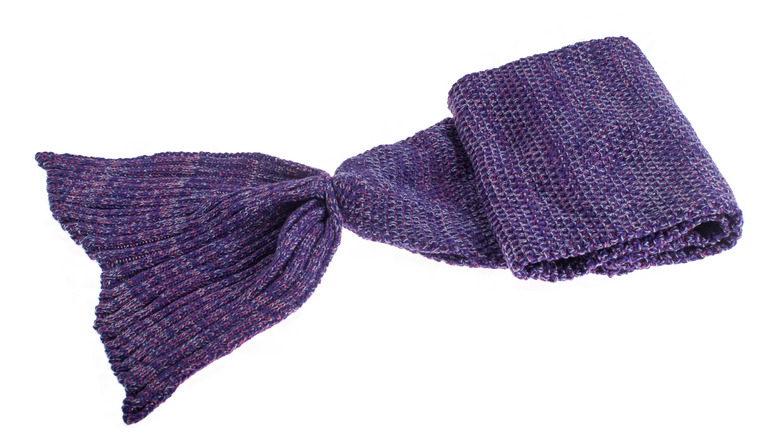 limipix/Shutterstock
A potentially obvious item for a mermaid-themed bedroom is a mermaid blanket. Having a blanket with a tail in teal and violet colors is the perfect way to round out the bedroom and make it feel complete.