This Unexpected Item Has The Worst Reviews At IKEA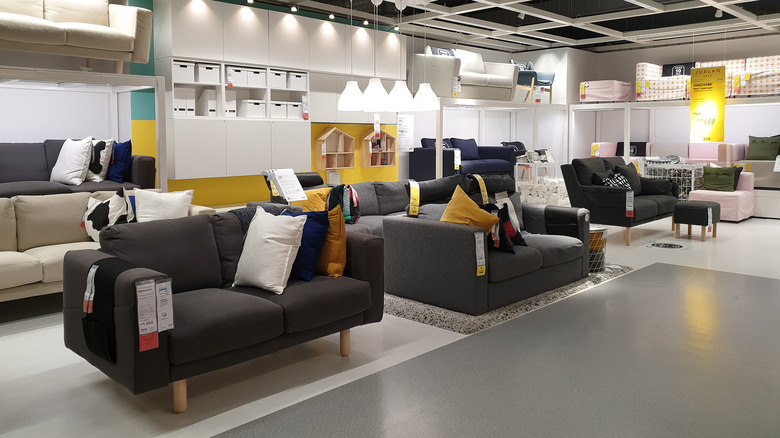 TY Lim/Shutterstock
IKEA is loved by many for its affordable prices on well-made, aesthetically pleasing home items, ranging from kitchen furniture and appliances, bedroom sets, bathroom staples, home décor, and more. With such a vast array of available items to fully furnish your home on a budget, it's no wonder that many swear by the Swedish furniture behemoth.
That being said, not every item at IKEA is worthy of unadulterated praise. There are some obvious, popular, and well-rated favorites, including the Kallax cube shelves, classic Klippan loveseat, and the Färgrik mug found in almost every kitchen (via Insider). According to The New York Times, a Billy bookcase sells every 10 seconds.
While there are plenty of great items, with such a vast catalog, there are bound to be a few furniture flops. Before diving headfirst into your next IKEA daytrip, consider taking a look at reviews to weed out the not-so-great options.
Minnesund foam mattress
One of the least popular items sold at IKEA is the Minnesund foam mattress. The twin size model is sold for just $75, with the Queen size mattress listed for $149. Their cheap price is arguably quite clearly reflective of their performance, with both mattresses having solid 3.5 star reviews, and Go Banking Rates listing it as one of the worst items offered at IKEA.
The biggest reason for the mattress' low reviews is how thin they are. The Minnesund model is only 3.86 inches thick — according to Amerisleep, most mattresses are at least 8 inches thick. In fact, they state that mattresses themselves should be a minimum of 8 inches thick, with a topper at least 3 inches thick. This makes the Minnesund mattresses barely qualify as an appropriate mattress topper, let alone a full mattress.
The reviews on the sales page echo the previous sentiments, with dissatisfied customers describing the mattress as too thin and firm. One review describes it as looking messy, and another says it feels like they're laying on a floor instead. That being said, some people have found other uses for it, with a handful of reviews saying it's a great floor mattress for occasional guests, such as in place of an air mattress.