Distracting Design Features Hilary Farr Says To Avoid Putting In Your Kitchen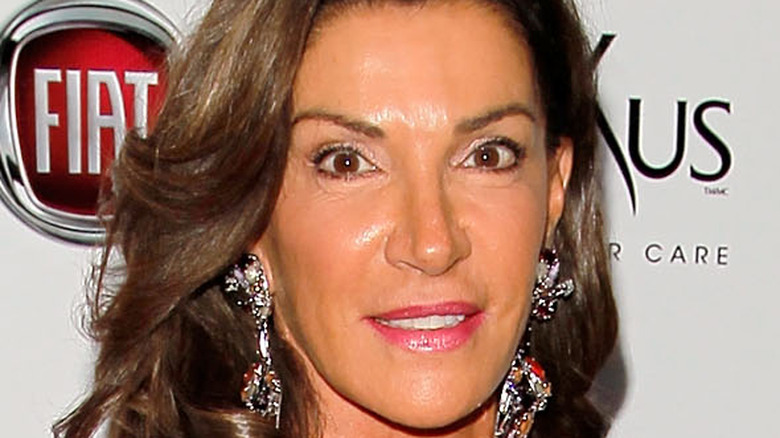 Jemal Countess/Getty Images
Interior designer Hilary Farr has seen countless kitchens over the years, from the "before" stage of spaces that need some serious TLC to the gorgeous renovated rooms she thrills homeowners with after working her design magic. For years, Farr has been gracing television screens on HGTV's popular show "Love It or List It" and recently expanded her role in the HGTV empire with her own series, "Tough Love with Hilary Farr." On both shows, as HGTV reports, Farr's role is to help transform a space homeowners are already living in to make it better suited to their needs.
The kitchen is one of the main areas in any home, and given Farr's expertise, she likely has many go-to solutions to spruce up that particular space. However, she also has a few features that she thinks can serve as distractions and should be avoided, as she told Apartment Therapy.
Some people — including other interior designers — feel that swapping out the hardware on cabinets can instantly level up your kitchen and give it a fresh new feel, as One Good Thing by Jillee says. However, according to Farr, you want to be cautious with your selections. She warns that the hardware can easily become quite distracting, particularly in a relatively open-concept kitchen. If you do want to swap outdated hardware with something newer, she suggests options that are "lean and very linear."
A few other potentially distracting features to avoid
Paul Maguire/Shutterstock
One of the most prominent components in any kitchen is the cabinets — the choice of color, type of doors, inclusion of any embellishments, and the overall aesthetic effect of the cabinets play a big role in how a kitchen looks and feels. There's one particular type of cabinetry that Farr recommends avoiding, as per Apartment Therapy. According to Farr, stained wood grain cabinetry can be distracting and potentially even pull focus away from other elements in the kitchen that you may want to highlight. She does provide an exception — something like chic walnut cabinetry can work, particularly if you have touches of walnut throughout your home as a design accent — but as a whole, she recommends avoiding this category of cabinetry.
Her final tip has to do with the colors you select for your kitchen. You might be tempted to incorporate splashes of bold, bright hues, particularly if you have relatively neutral cabinets and countertops. Unless you live in a retro home with old-school pastel appliances, chances are the large appliances that take up a fair bit of space in your kitchen are stainless steel, white, or black. However, according to Farr, you may want to avoid splashing distracting amounts of color all over your kitchen. Instead, she recommends pulling in colors that appear elsewhere in your house for a more cohesive look that allows the design details of your kitchen to truly shine.