What Is An Energy-Efficient Mortgage In Real Estate?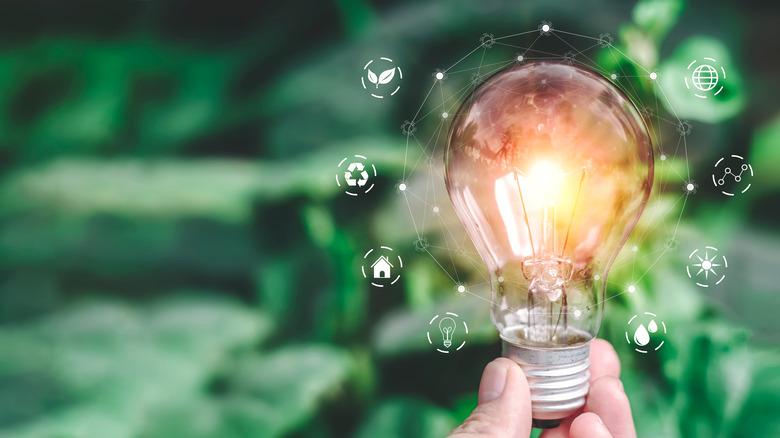 Aon Khanisorn/Shutterstock
Energy-efficient mortgage products are a key resource for homeowners looking to make energy conservation improvements to their homes. Whether you're buying a new property and hoping to retrofit it with new, greener additions or seeking a mortgage loan option that can support changes to your existing home in the same realm, an energy-efficient mortgage is a great way to accomplish the task.
Rocket Mortgage notes that energy-efficient mortgages are sometimes known as green mortgages. This lending product is often bundled as an additional component alongside a standard, FHA, or VA mortgage loan to refit a home with green energy production and management capabilities. Homeowners often make use of this type of lending addition because it affords them a low-cost option for financing property improvement that will help make the community more power-efficient and responsible while also reducing the overall cost of electric energy in the home. Therefore, energy-efficiency mortgages are a positive force for everyone involved.
Eligibility requirements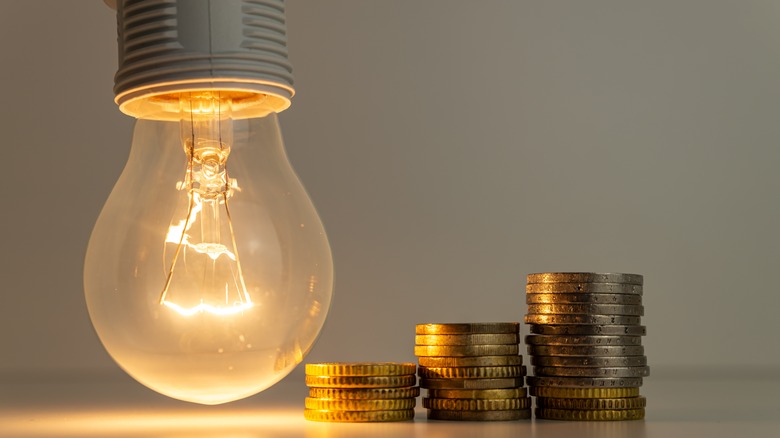 Daniele Mezzadri/Shutterstock
The U.S. Department of Housing and Urban Development reports that the primary feature of a green mortgage product lies in its ability to provide cost-effective and energy-efficient improvements to a home. Borrowers will need to have an assessment conducted on their house (or the property they are looking to buy, perhaps in coordination with the seller) to identify valuable improvements that will create better ratings in the residence. After this assessment is complete, a lender can calculate the amount that a borrower can save in energy costs with the addition of key features and changes in the property.
Rocket Mortgage reports that this funding can be leveraged to purchase new energy-efficient appliances like a washer, dryer, stovetop, or refrigerator, an HVAC and duct or insulation upgrade, weatherstripping, and other air conditioning support elements, and even roofing improvements that include the installation of new solar panels.
An energy-efficient mortgage requires the same credit checks and other eligibility essentials that a typical home mortgage makes use of, but the added criteria surrounding the use of the funds to purchase upgrades for the home that balance out or reduce the overall cost of running the home provides an extra wrinkle. In practice, this funding allows homeowners to upgrade crucial elements of their house, but these changes are great for the community, not just the person purchasing the property. Communities that can reduce their reliance on electricity are able to stimulate their local economies as well, Pembina notes.
Benefits of an energy-efficient mortgage loan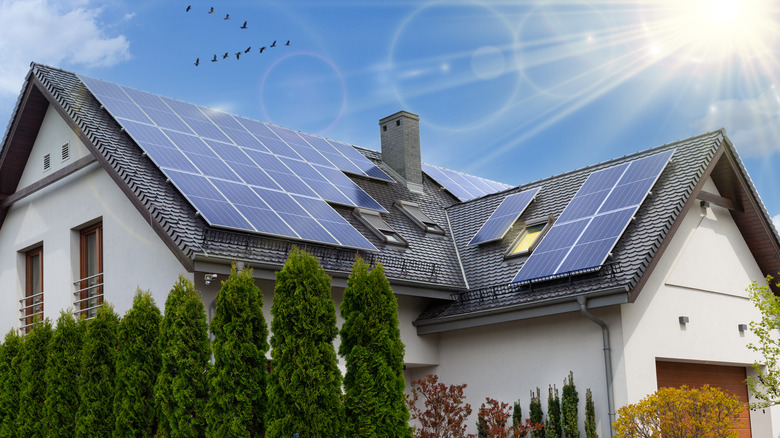 MAXSHOT.PL/Shutterstock
The benefits of an energy-efficient mortgage are wide-ranging, and they start with powerful savings potential on electricity bills. With a green mortgage addition to your initial mortgage loan or refinancing, tackling projects that will reduce the overall cost of your electricity is simple and can be done without the added stress that often comes along with high dollar purchases. Moreover, instead of having to save up for months or put the purchase on a credit card or higher-interest personal loan, a green mortgage can provide immediate financing at a great rate, Rocket Mortgage explains.
Purchasing new energy-efficient appliances or solar panel products that can swing the electrical usage statistics of a home in the opposite direction is a noble endeavor. Still, many people are forced to reconcile how to accomplish this change. The U.S. Department of Housing and Urban Development notes that energy-efficient mortgages can change this calculation for the better.
Not only does this program help homeowners and buyers get the financial backing they need to make this important change in their property, but it also offers a massive boost in resale value, savings on electricity bills, and more. In addition, HUD reports that this mortgage type can help buyers access expanded financing that can aid them in purchasing or creating a more comfortable and valuable property.