30 Bedrooms That Provide A Spot To Sit After A Long Day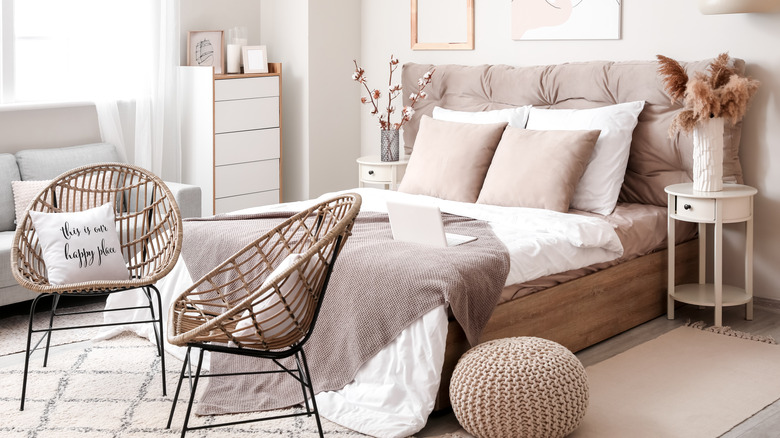 Pixel-Shot/Shutterstock
There is something so classy about having a place to sit in your bedroom space. Think about it ... after a day's work, you get a private place to sit, relax and unwind away from disruptions and noise. In fact, Indeed expresses the importance of taking some relaxation time after the workday. Other than that, including a sitting area in your bedroom is also a brilliant way of making your bedroom multifunctional and also making good use of the extra space. Implementing a sitting area in your bedroom requires creativity and not an expansive bedroom space. 
First, you need to be aware of your unique needs for having a sitting area in your bedroom. Secondly, you also need to consider the available space and the type of furniture you intend to introduce to your bedroom area. Let's face it, with plenty of design options available out there; it is easy to get lost in research. So we have done the digging for you and come up with 30 unique ideas that you can borrow a seat from.
Lounge chair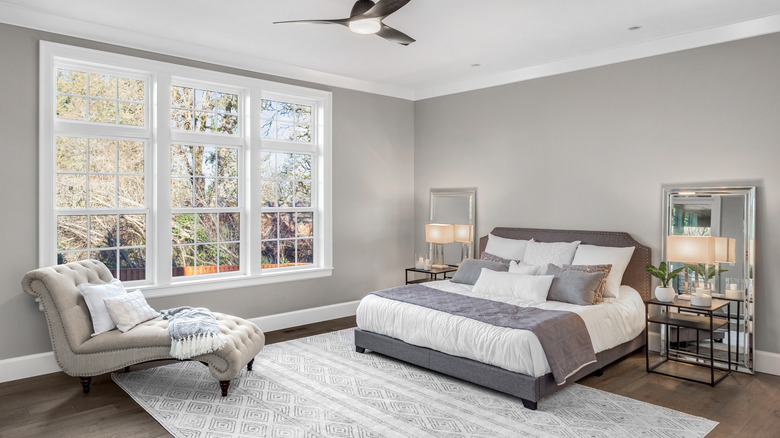 Breadmaker/Shutterstock
A comfortable lounge chair in your master bedroom is a good idea for bedrooms with large unused spaces. A good size lounge chair like in the example above is multifunctional, serving as a sitting area but could also double up as a small bed for those lazy afternoon naps. Strategically placing your lounge chair by the window is a great idea for when you are reading or unwinding. Enjoy the beautiful views from your window while sipping a warm drink of your choice.
Work from home desk
Putting a working station in your bedroom is not the best of ideas. However, for anyone who works from home or those who need to finalize work stuff over the weekend, a bedroom working station is a great place away from destruction from children. This particular example demonstrates how you don't need a lot of space to install your working station. A simple desk and a chair with a few floating shelves are enough to bring out the creativity in you.
Simple and compact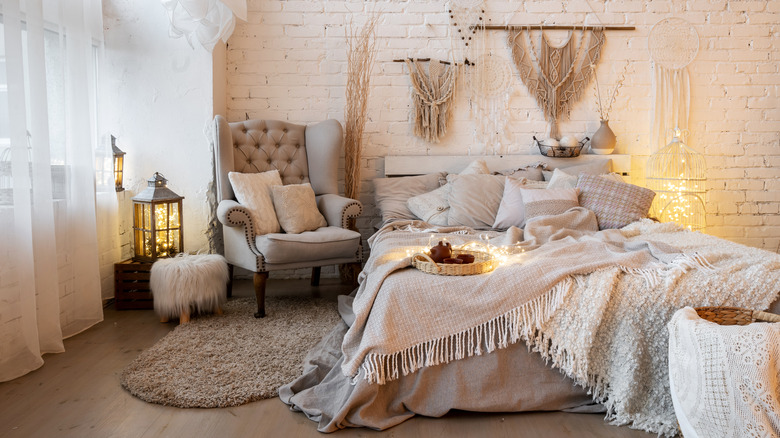 brizmaker/Shutterstock
Is comfort a priority for you? Then bring in a simple yet comfortable chair right beside your bed. This cozy sitting area doesn't have a ton of space but looks comfortable enough to unwind while reading a book just before bed. Also, the fluffy rug is essential in making this space feel inviting and accommodating. This design is just but a demonstration of how to make use of the tighter spaces in your bedroom.
Luxury meets retro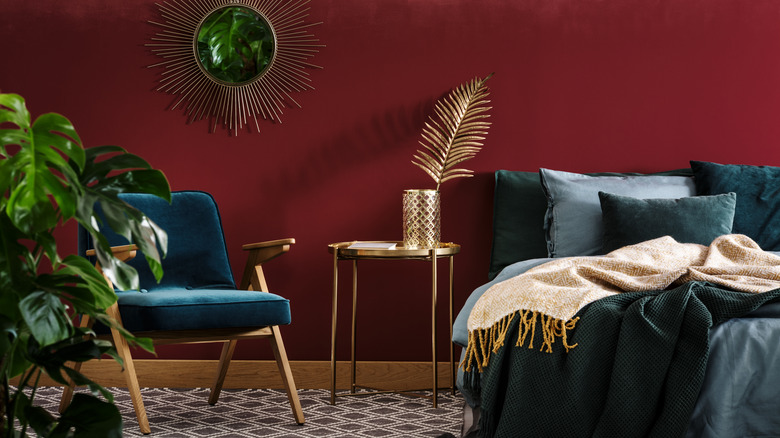 Photographee.eu/Shutterstock
Nothing spells out luxury more than golden colors. This particular design features a raised retro chair with a mini golden bedside coffee table that can also double up as a stand. This setup has a touch of sophistication. You can easily make it your book nook or a place where you unwind with a drink by your side. It is, however, not ideal for a couple who would like to make use of this space simultaneously.
How about a swinging chair?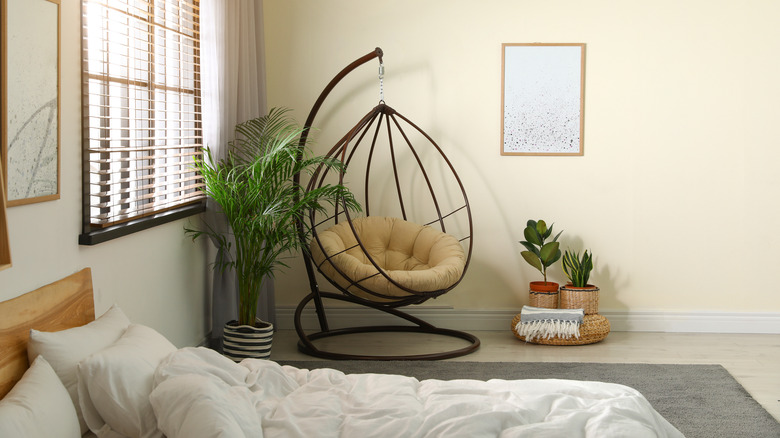 New Africa/Shutterstock
When thinking of a cozy place to relax in your bedroom, you don't always have to go with conventional chairs. A swinging chair is a fun way of making good use of the extra space in your bedroom and also gives some personality to your space. This particular swinging chair is built for ultimate comfort. It features a thick cushion where you can sink in and swing away for hours. A swinging chair is a great way of adding some texture and extra trendy vibes into any given room.
Rocking chair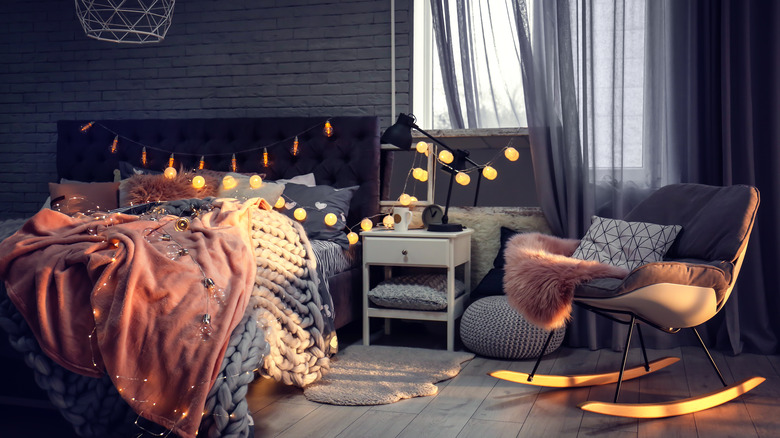 New Africa/Shutterstock
If you don't have a lot to splurge on a huge lounge chair, a rocking chair is a cheaper alternative that will serve your sitting needs just fine. This particular chair is not your conventional wooden rocking chair. It is made with comfort in mind featuring a thick layer of cushion and a pillow for extra comfort. A rocking chair has plenty of uses. You can also easily move it out of your bedroom if you need to bring in a bigger chair in your bedroom in the future.
Bedroom bench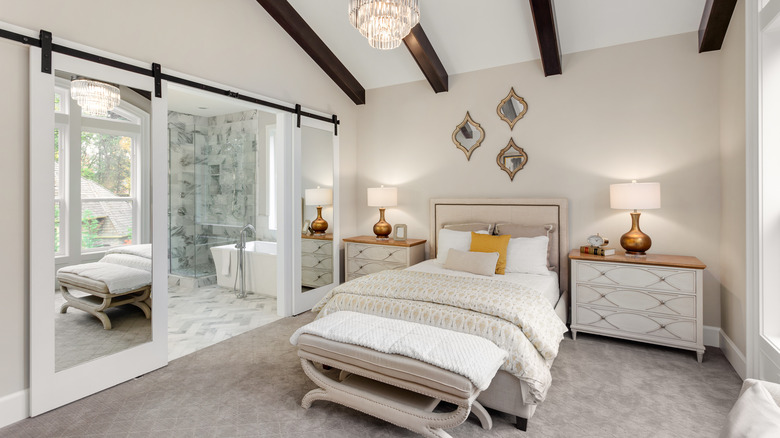 Breadmaker/Shutterstock
A bedside bench is ideal for bedrooms of every size. Putting a bench right at the edge of your bed gives you a nice perch to tie your shoes from. Bedroom benches are designed to be more comfortable than conventional wooden benches. Although it appears as a rather casual sitting place, it adds a touch of class and elegance to the bedroom. Depending on the specific design, you can add a storage area right under your bedroom bench.
Separate lounge area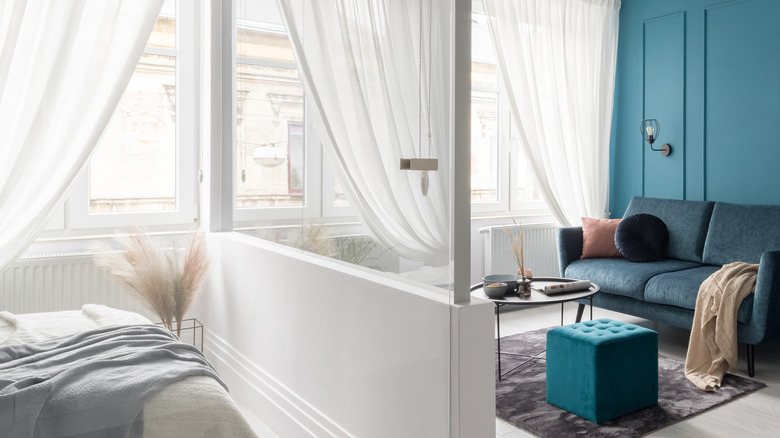 Dariusz Jarzabek/Shutterstock
This setup allows you to combine a nice lounge area and the bedroom in the same space without sacrificing anything in the process — no worry about losing space from the comfort of your sleeping area. This example shows the elegance that comes with incorporating a small sitting room and a bedroom in a tiny apartment or in a master bedroom.
Minimalistic attic with a view
Your attic bedroom does not have to be boring; use the extra space by adding two unique chairs facing the bed. In between the two vintage chairs is a modern coffee table with a similar color palette as the bedroom. This particular design is an ideal setting area for two people as you enjoy the view from the large windows. This is a perfect example of how you can implement a sitting area in your minimalistic bedroom without making the space appear cluttered.
Solo sitting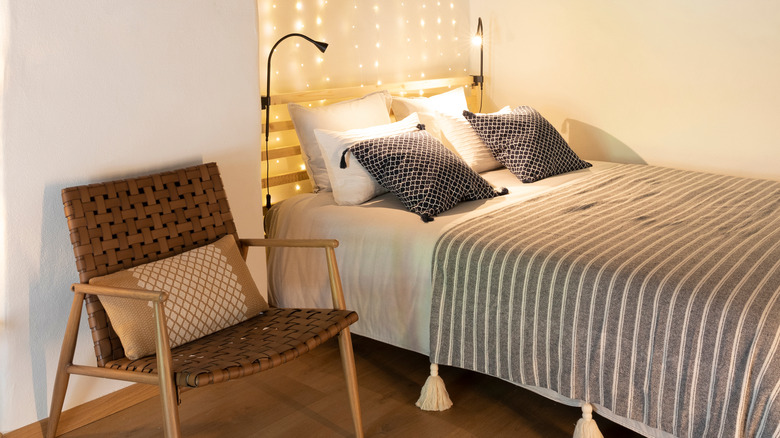 alexandre zveiger/Shutterstock
Make good use of the space next to your bed by including a vintage chair. This chair's design is quite practical for sitting. Although not designed for lounging for hours, this unique bedside chair gives your bedroom an extra sitting area and also an aesthetic appeal. This chair is relatively small and doesn't take up a lot of space, making it ideal even for the extra small bedrooms.
A living room inside a bedroom
If you have too much space inside your bedroom, why not fit a whole sitting room? While this might sound impractical, it is a common idea for homeowners who want a private space for relaxing and winding down. This living room set features a love seat, a rug, and an extra seat with a table facing the window. A combined bedroom and living area also make for a good guest room because it is multifunctional. With an entertainment set, your guest will use this room for more than sleeping.
End of bed sofa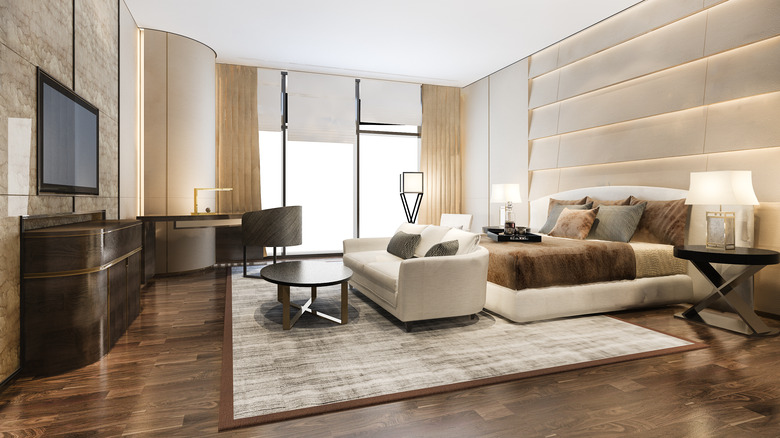 Beyond Time/Shutterstock
You are likely to encounter bedroom benches at the end of bed furniture rather than a sofa. However, if you have enough space in your bedroom, why not put an entire sofa in the place of a bench? This seating area features a sofa that can also double up as a lounging chair. This sofa offers enough space for two and also fits right into the bedroom decor. However, you should keep in mind that this style is ideal for bigger bedrooms as it takes a lot of space.
Out of sight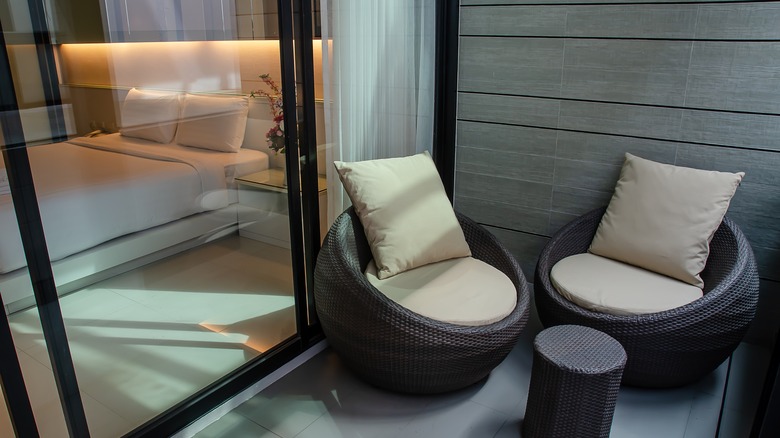 Mrz producer/Shutterstock
Don't have enough space in your bedroom for a sitting area? Why don't you install two chairs out on the balcony away from sight? Use this space out on the balcony to install two unique chairs and a small coffee table. The unique style of the chairs with enough padding and cushion makes it a great place for you and an extra company to sit and talk for hours. You can also go the extra mile and add a lamp to light up the space during the night.
Create a reading nook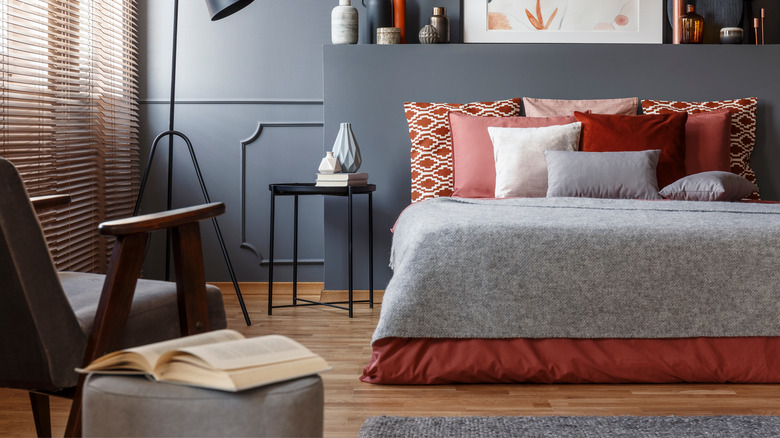 Photographee.eu/Shutterstock
If you are an avid reader and are looking for a quiet space to get lost in a good book, go ahead and create a special place for yourself in your bedroom. A simple reading nook doesn't need a lot of sophistication — a reading lamp, a comfortable armchair, and a small stand or table are all that you need.
Simple sitting space by the window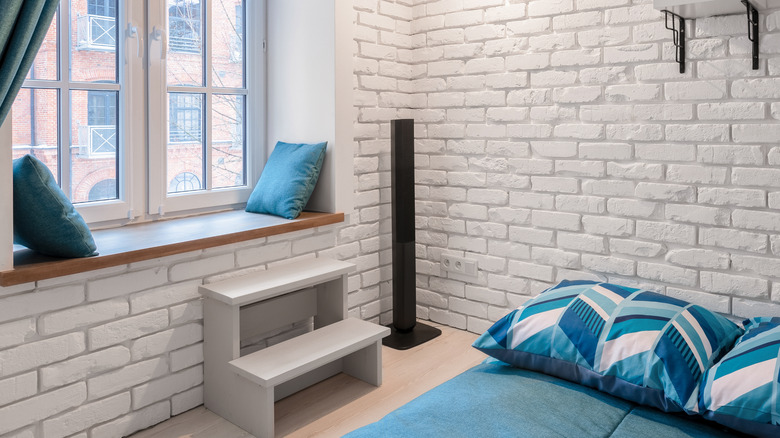 Dariusz Jarzabek/Shutterstock
Creating a seating space in your bedroom does not get any simpler than this. Make use of the beautiful view from your bedroom window by making a creative sitting spot. From this example, it is evident that you do not need much to make a space comfortable for you. The wooden extension creates just enough space for two people to sit and have a chat. The two blue throw pillows are an extra detail to compliment the color palette of the bedroom.
Couch by the window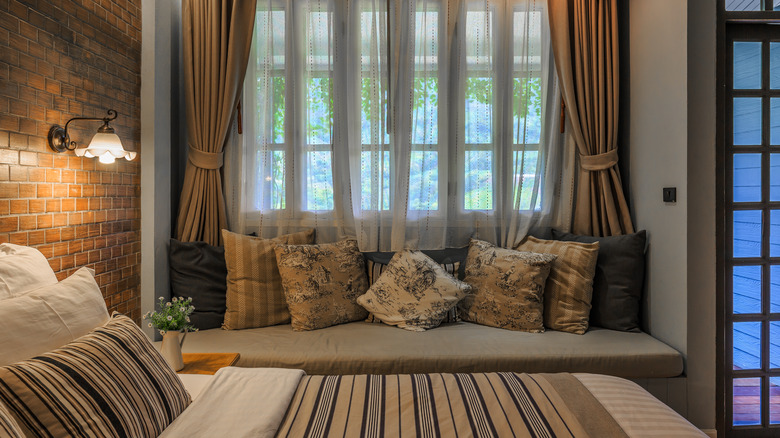 Avigator Fortuner/Shutterstock
Even the smallest of spaces deserve an extra sitting area. This bedroom features a sitting area tucked right below the window with plenty of pillows for extra comfort. This couch offers enough sitting space for two people, or it can also double up as an afternoon napping spot for one. This setup is a great idea for those who love spending time in their bedroom. Perfect if you are looking for a way of making your bedroom space multipurpose.
Hotel-style luxury
This particular bedroom features a bed and a sitting area that you would typically find in a high-end hotel. The expansive bedroom space has enough room for a loveseat and also a comfortable armchair with a small coffee table. The loveseat is enough for two people and is conveniently placed facing the TV. It is a brilliant way of making use of the large bedroom space.
Individual comfort
A swivel chair is a unique piece of furniture that not only offers a sitting space but also adds a touch of personality and style to your bedroom. This particular chair is paired with an equally interesting coffee table. The deliberate selection of the wood color choices brings some warmth to the bedroom space. The throw pillow on the chair is for added comfort, but you can change it to match the bedroom décor whenever necessary.
Comfort by the fire
Whether you have an actual fireplace or an electric one, it provides a beautiful chill spot for two chairs. You can either place the chairs facing the fireplace or the bed; for this particular bedroom, the two are placed on both sides of the fireplace for a symmetrical appearance. Also, the fact that the throw pillows match the wall painting adds extra sophistication to this bedroom.
Carve out a corner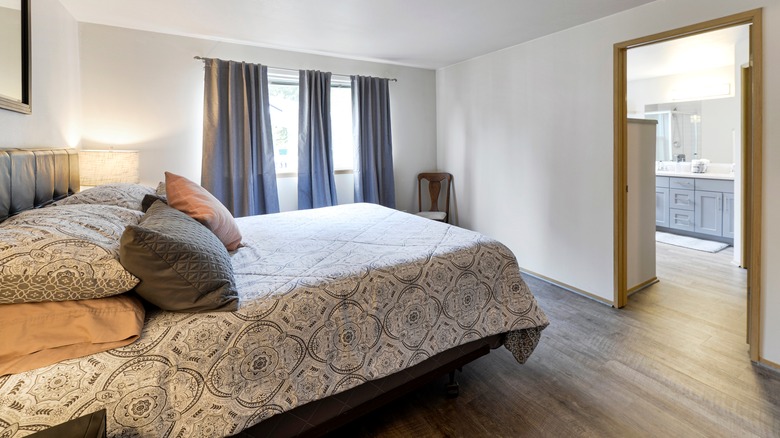 Jonathan Park/Shutterstock
This is a great idea for the extra small bedroom spaces that hardly fit anything else other than the bed. Carve out one corner in your bedroom for a solo sitting space, as demonstrated in this example. Strategically placing the chair by the window makes it a pleasant place to sit back and unwind. Such a setup also gives you the opportunity of using that unique solo chair that you got from a thrift or antique store. Don't worry much about matching the chair with the interior décor.
A not so simple bench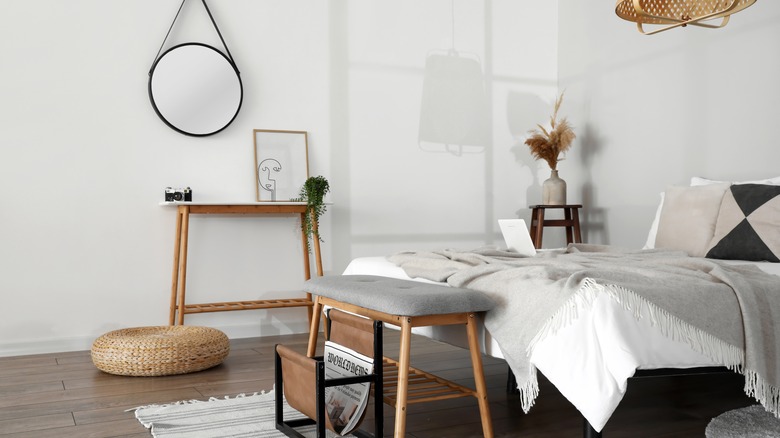 Pixel-Shot/Shutterstock
This bedroom idea features a simple bench placed strategically at the edge of the bed, giving you a sitting room in your bedroom. Other than providing a sitting area, a bench at the foot of the bed is also a nice finish, especially for beds that do not have a footboard. A simple bench has many perks in a bedroom; it is an extra sitting surface, has a storage area, and also provides a place where you can arrange extra linens or throw pillows.
Banquette seating area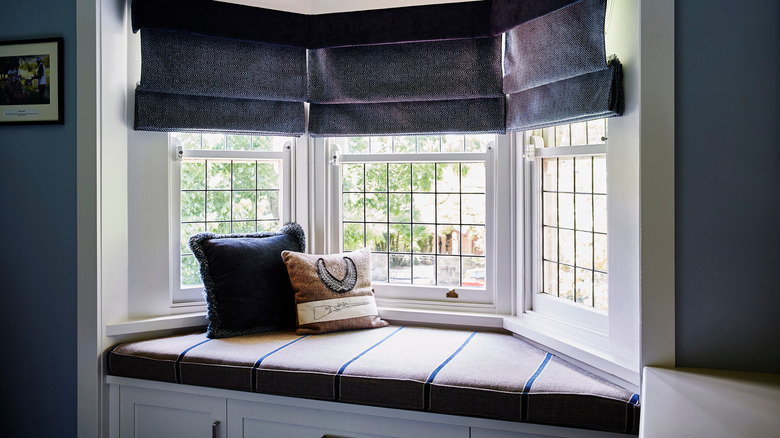 PhotoMavenStock/Shutterstock
Including a sitting area in your bedroom doesn't have to mean bringing in an actual chair. This example shows how to include a banquette seat tucked away in the extra space on the bay window. This particular space is made with comfort in mind; the thick cushion and extra throw pillows are designed to give you ultimate comfort as you unwind, gazing at the beautiful scenery out through the window.
Ultra urban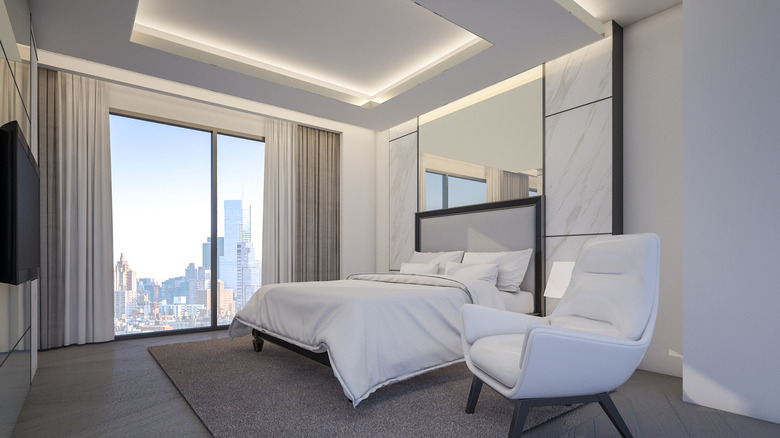 Worawuth/iStock
No doubt contemporary designs are a treat to the eye. This modern master bedroom features a minimalist bed and a chair. You can move the chair around anywhere in the room, especially right near the window, to enjoy the beautiful view over the city. The white and marble color palette is emphasized by the bed and chair, giving this bedroom an ultra-urban vibe.
Comfort for one
In case you don't know how to make good use of the extra space in your room, installing a stuffed chair is a great place to start. This bedroom features a white stuffed chair placed strategically near the window and not too far from the bed either. A standing lamp is also mounted behind the chair, making it an ideal reading nook. This stuffed chair is big and comfortable enough for you to lounge and also take a short nap.
Kick back and relax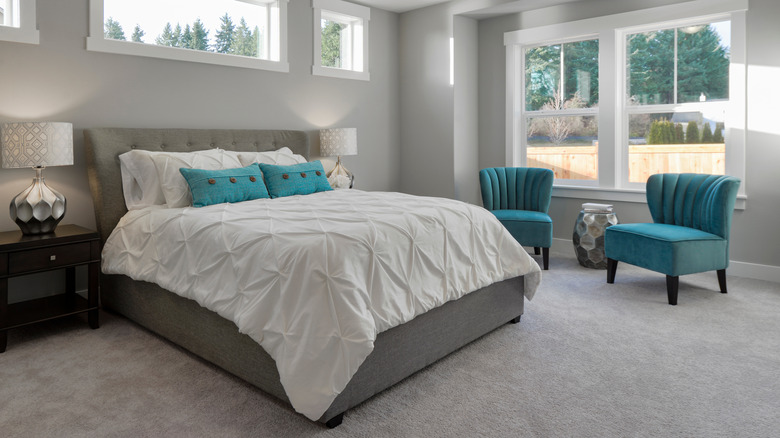 Jonathan Park/Shutterstock
This idea is great when you have enough space in your bedroom. Two large pieces of comfortable furniture provide enough space for you and your partner to sit back and unwind. The stuffed chairs are placed adjacent to the window, making it a great location for enjoying coffee, reading, or enjoying the views right outside. This particular setup is quite comfortable and makes good use of extra space in your bedroom.
Lounge on the balcony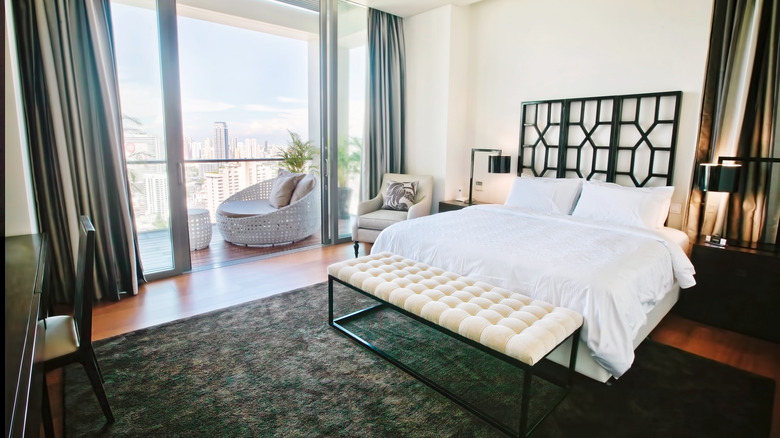 AnnaTamila/Shutterstock
You can always have more than one sitting area in your bedroom, especially if you have the space. This bedroom has multiple seating areas like the working desk, a comfortable stuffed chair, and the unique lounging chair on the balcony. While such a functional sitting space in a bedroom gives you plenty of options when you need to relax, it goes without saying that the lounging area on the balcony will be a favorite for many.
Open plan luxury
If you love spending time in your bedroom, go ahead and create a multifunctional bedroom that features a tiny living room. This idea is great if you are dealing with an extra-large bedroom with plenty of room to spare. The design in this example is just amazing. Notice how the bed and the living room space share the same rug, which helps blend them within the same space. The coffee table gives this arrangement extra functionality.
Inbuilt window bench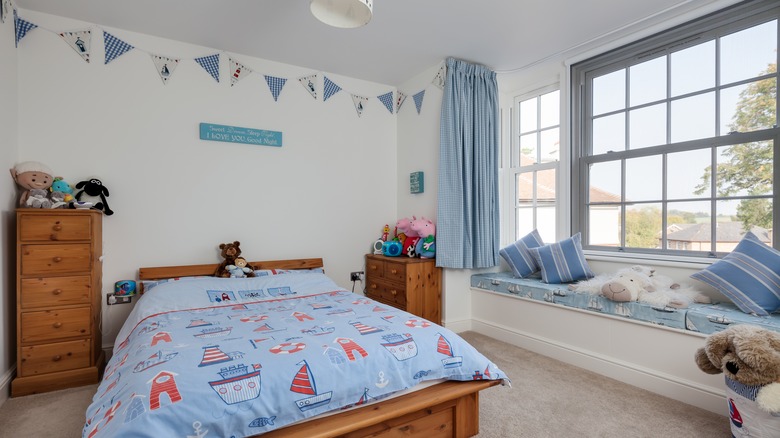 Mike Higginson/Shutterstock
Wondering what type of seating spot you can install in your kid's room? Consider a window bench built right by the window. This kid's bedroom sitting area has enough room to accommodate other kids when they come over to play. The blue cushions complement the bedroom's décor, and the throw pillows are extra detail for comfort. An inbuilt bench can also be built to have extra storage for your children's toys.
Boho Inspired space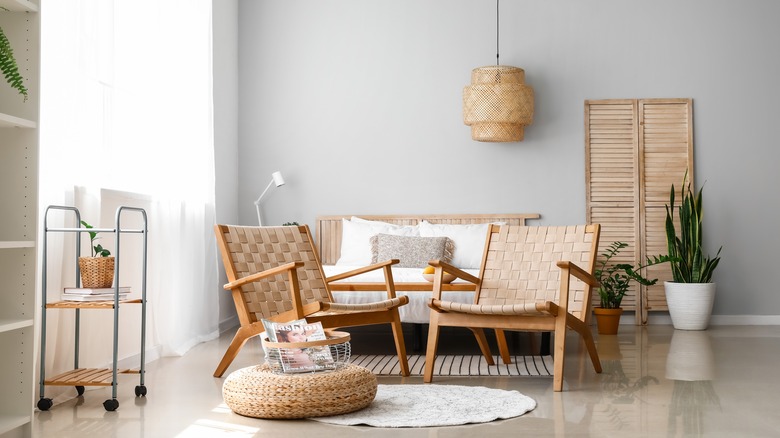 Pixel-Shot/Shutterstock
Go unconventional with these boho-inspired seats that add a touch of personality to your bedroom. This unique sitting spot for two is just the ideal place for having conversations with your partner. Wicker chairs are built for sitting for a short period of time because they don't have padding or cushions. You can have a small coffee table to make this place more functional.
Elevated sitting
This sitting idea is fun, stylish, and also multifunctional, thanks to the desk and the vanity mirror. This particular space can serve as a working area and also double up as a grooming space. The elevated sitting setup fits a smaller space better compared to the others that require the installation of bigger furniture for relaxed sitting. Keep in mind that this setup does not provide a lounging opinion because it is not very comfortable.