The Color Tone To Avoid When Painting Your Entryway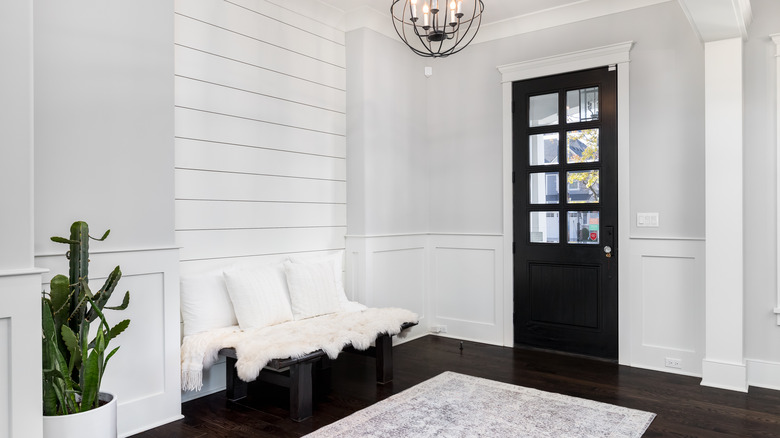 Hendrickson Photography/Shutterstock
How your entryway looks sets the tone for the rest of your home. An entryway or foyer that is too plain or too messy can make a less than ideal first impression and spoil the vibe of your home. In reality, many people forget about this space entirely — usually, it's relatively small or can't serve many functions. However, it is easy to transform yours to make it inviting and stylish. 
Keep in mind that your entryway is one of the most high-traffic areas in your home where you, your family, and any visitors constantly pass through the space. Of course, you probably don't spend more than a minute or so at a time, but you do notice it, even if it's routine. An entryway that holds negative energy due to the wrong color paint, busy décor, or awkward furniture must be corrected to fix the aesthetic of the rest of your home. When this space is poorly designed it can make every experience walking in or out of your residence a bad one when, in reality, it should be seamless. The quickest way to begin fixing this problem is to repaint. Read on to find out what you should avoid when choosing a color.
Never use dark colors in your entryway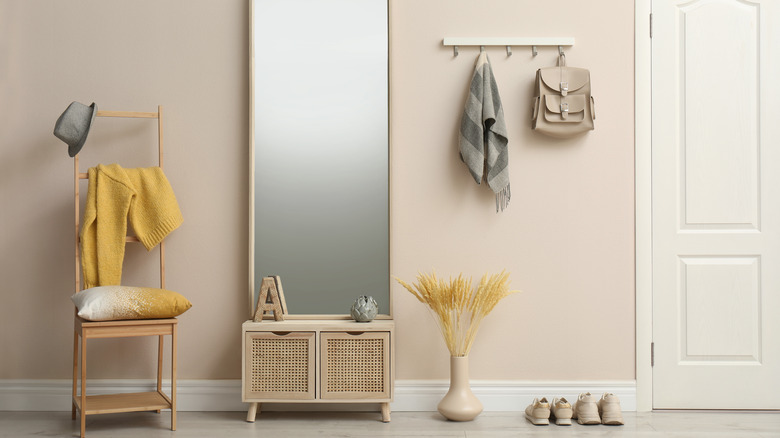 New Africa/Shutterstock
Though some designers might suggest a dark color for small rooms such as an entryway, Homes & Gardens actually says to avoid this. It's true that dark colors such as forest green, black, brown, and navy can soften the edges of the room to make it appear bigger, but these tones can also bring down the mood. In a space where you want to welcome visitors or feel reprieve when you come home after a long day, uplighting, light colors are more appropriate. 
Designer Edward Bulmer suggests neutral tones to help reflect light and make your entryway feel comfortable. The best thing about using a light, neutral color is that it will better facilitate a smooth transition between indoors and out. Your foyer serves an important purpose, as it constantly acts as a barrier between you and the outdoors. Using a softer color as a transition between the two will eliminate the stark contrast that may manifest with a darker color palette. Try out some uplighting colors such as blush, beige, greige, or warm white to see how light, neutral tones can transform the energy of your entryway.