Why DIYers Are All Buying This Item At Michaels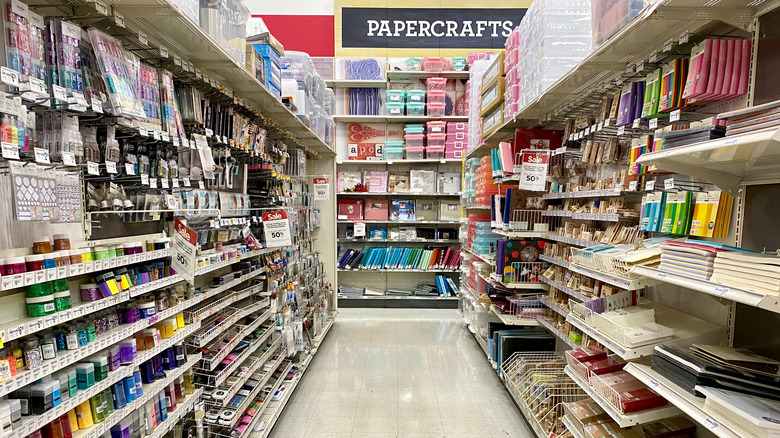 ZikG/Shutterstock
Known for their assortment of arts and crafts supplies, Michaels is a popular shopping destination for DIYers. Some of their go-to items might include supplies for crafts, baking/cakes, framing, home/floral décor, painting, t-shirt making, scrapbooking, seasonal projects, and knitting/sewing. Options for creativity are healthy, although there may be one item that stands out for many customers, like their variety of Loops & Threads Impeccable yarn, per USA Today. Available in about 60 colors, the versatile crocheting and knitting material is made of 100% acrylic worsted yarn and comes in two skein (or bundle) sizes: jumbo and regular.
Initially manufactured in Germany in the late 19th century, acrylic yarn showed similar features to sustainable wool. Decades later, the widespread fabric is a popular choice for crafting many wash and wear items, per Digital Commons. Whether it's a blanket, hat, scarf, or sweater, many avid knitters have said that Michaels' Impeccable product is always fairly inexpensive (typically $3.49) and often found on sale ($2.00). Impeccable has also been praised by yarn-lovers for being easily workable and resilient while maintaining its soft, spongy texture, even after washing. Read on to learn more about how to use Loops & Threads Impeccable yarn.
Why yarn fans believe this yarn is special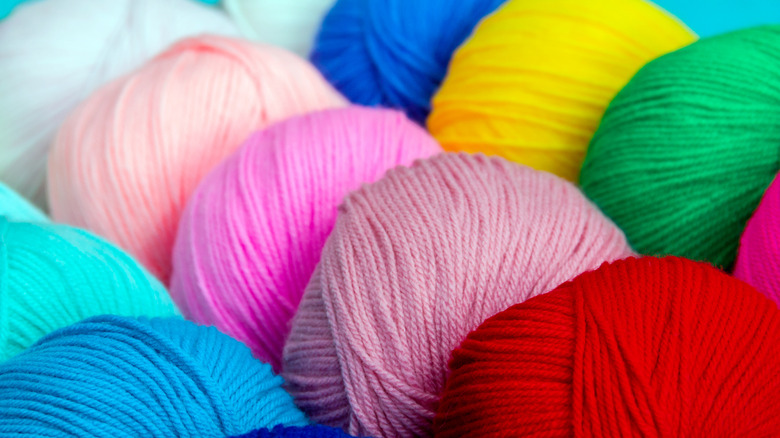 Photojulia/Shutterstock
Whether you're a newbie or professional in the crocheting/knitting world, you may find Michaels' Impeccable yarn to be a solid choice. Represented by Loops & Threads, Impeccable (Michaels' in-store brand) is sometimes available on Amazon, although it may be best to find at your local Michaels store or online. What makes it so popular with DIYers? With a large assortment of colors to choose from and reasonable prices, USA Today says Impeccable is strong enough for knitting blankets or sweaters. When compared to other yarn products, Michaels' Impeccable is a reliable product, as it holds its form and feel over time, especially with wearables that go through repeated washes. One of the yarn enthusiast editors at USA Today has even said Impeccable is her go-to yarn brand, using it for most any project, especially with crocheting.
Also known as afghan or aran yarn, the acrylic fabric in Impeccable is a medium worsted weight yarn, which refers to the thickness of the fabric rather than the weight itself. According to Darn Good Yarn, this type of acrylic yarn can be easily located by the number 4 symbol on the label, which is in the middle of the yarn weight family. Not quite as thick as a bulky weight yarn, medium worsted yarn offers a generous thickness that makes your knitted creations fairly durable.
What you can make with Impeccable yarn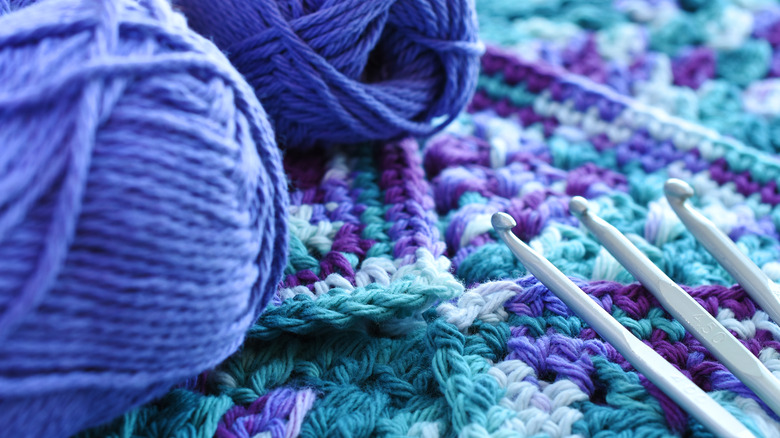 Pam Walker/Shutterstock
Ideal for afghans, sweaters, hats, and scarves, there are several other patterns and projects to explore with using Impeccable. Before you begin, determine how much yarn you need. A skein may contain approximately 285 yards of material, which could endure one or two projects. Depending on how much your one yarn bundle gives, you might be able to knit a few different hats from baby to youth/adult-sized. Other ideas might include a throw pillow (or cover), or a plush holder for glasses, pens, or any other essentials. 
Additionally, designs could lead to fashion with bespoke clothing like a filigree shawl, plus handbags or totes, including smaller creations like a mason jar cover, mittens, socks, or even stuffed animals, per Yarn Inspirations. Finally, while Impeccable yarn is good for various crochet projects, there are several patterns to discover like the classic chevron, granny ripple stitch, or car seat blanket pattern (delicate enough for babies), per Easy Crochet.