Mistakes Everyone Makes When Buying Backsplashes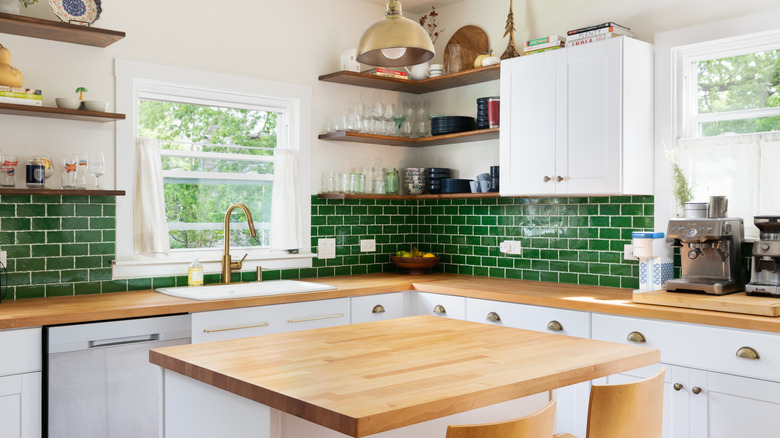 Hendrickson Photography/Shutterstock
Warm and inviting, the kitchen is the heart of the home. It's where you gather with guests for good times, and the family comes together at the end of a long day for food and conversation. No one wants their kitchen to be all function and no style. They want a wow factor, and this is where the backsplash comes in. According to HGTV, the backsplash is the focal point of a kitchen and therefore presents the opportunity to dazzle. There are plenty of creative backsplash ideas that will help your kitchen shine. Yet because a backsplash is so visible, it shouldn't be the last part of the planning process.
Style blunders are not the only mistakes one makes with their backsplash. There is much that homeowners may not know about purchasing their tiles that can derail the project. And for DIYers, potential traps can be plentiful and costly. From spending too much money to forgetting to measure, here are some mistakes to avoid when buying your kitchen backsplash.
Measuring incorrectly and ordering too much or too little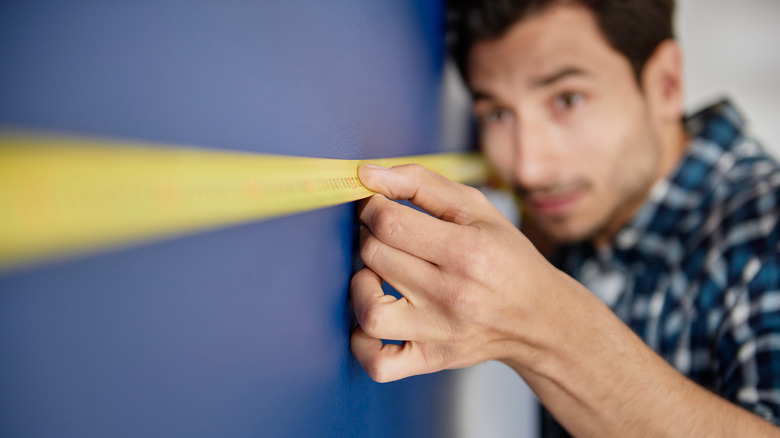 Gpointstudio/Shutterstock
There's no fudging it when it comes to designing a kitchen backsplash. The tiles must fit together accurately, or moisture will seep in, perhaps forcing another kitchen redesign shortly. You will need precise measurements to know how much tile to buy. According to HGTV, there are some guidelines to keep your project on track. First, use a tape measure to get accurate dimensions of the area. Next, map out your plan with measurements on paper with a pencil. Since it's a working document, use a pencil, not a pen. Move from the focal point of your design toward the edges. Finally, once you have the measurements, mark them on the back of the tile.
Some pitfalls can skew measurements if you're not careful. Be sure to measure outlets, window sills, and other features that interrupt the tile flow. The thickness of the tile is also a factor. Too thick, and the tile may not match up with the counter. Once you have your measurements, don't go cheap and refuse to order a little extra. Having an extra box or two is a wise move.
Forgetting to make sure the tile is in stock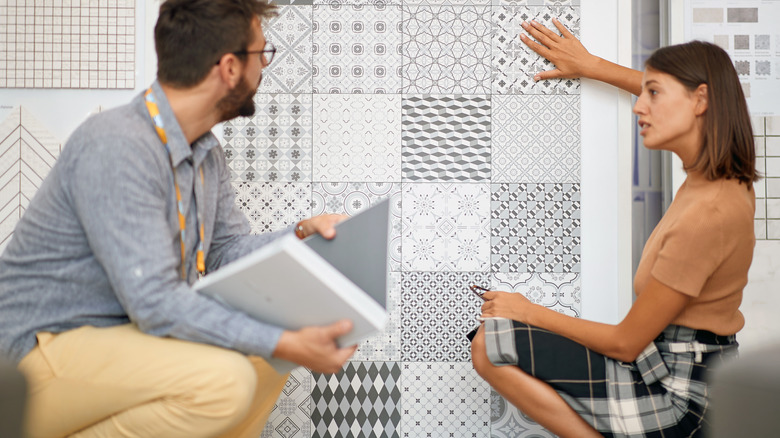 Lucky Business/Shutterstock
Sometimes there is quite a wait for certain tiles. Not all of the styles in the showroom are available. Make sure to ask if the tile is in stock and how many boxes, again allowing for extra just in case. Then lock in your amount. If working with a contractor, you want to ensure the tile is ready for their timeline. Delays can be costly when a contractor is involved, and no one wants to see their project derailed. Stephen Kahn, president of Anchor Bay Tile, told HGTV, "The economy has changed things in the tile industry, and when times were booming, companies were willing to stock more." It's common today for stores to carry minimal stock.
The rule of thumb when ordering tile is to buy 10 percent more than your precise measurements to allow for waste and breakage (via Homes & Gardens). When setting tile in a more difficult-to-achieve herringbone pattern, the amount is 15 percent. Remember to factor in delivery time to estimate when the tile might arrive. It's best to have a flexible mindset, as everything is subject to change.
Neglecting trim pieces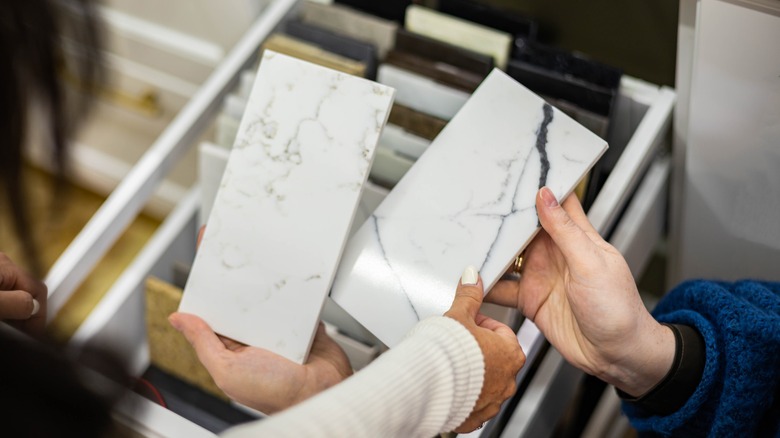 Kostikova Natalia/Shutterstock
Finishing pieces are a must to give your backsplash a polished look. The exposed edge of a tile can be rough and unsightly. Wherever a ragged edge is exposed, it calls for a trim piece or other cosmetics to please the eye. Take the time to figure out what type of trim or edging best fits your backsplash and order that along with the tile. Some tiles come with matching trim, but it needs to be measured and purchased separately. It's essential to check where any exposed edge might be, or you might run short. As with the base tile, order a little extra and avoid different batches for an ideal match.
According to HGTV, the best way to coordinate is to buy the trim and decorative moldings that come with the particular tile. The term in the tile business is bullnose for a rounded or beveled trim piece. Other options include metal edging and rail moldings (via Home Decor Bliss). In cases where the edge of the tile has a finished look, the DIYer can caulk the edge to solve the problem of leakage and deterioration with minimal effort and cost.
Impulse buying instead of giving your backsplash proper thought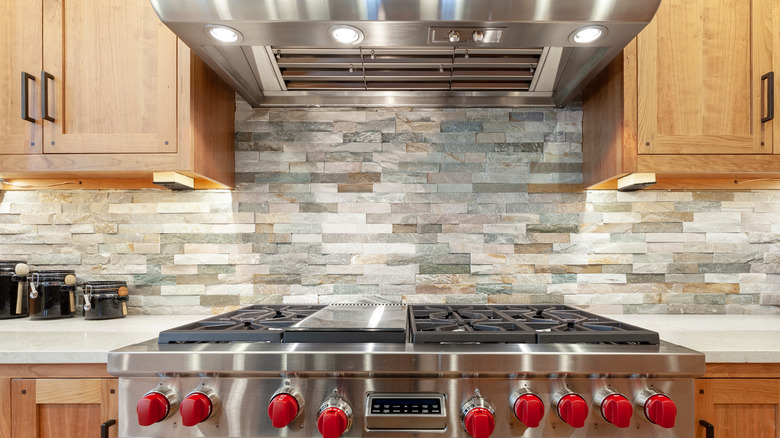 Berkay Demirkan/Shutterstock
Although the backsplash is potentially an opportunity to make a wow statement in your kitchen, some homeowners treat it as an afterthought with disappointing results. Forgetting to consider your backsplash is one of the top mistakes people make when buying backsplash tile. Tile can be costly, especially when one switches from porcelain to marble. Failure to plan is a problem that can lead to costly overruns.
Illinois architect Michael Menn told Architectural Digest that poor planning is the top mistake in kitchen renovations. "Decide what your life — and your family's life — will look like in this new space, because the kitchen must perform to [meet] those ends." Interior designer Stefani Stein emphasizes the importance of addressing the backsplash early on to MyDomaine, saying, "The right material can enliven, refine, or even soften the overall feel of a kitchen." However, not all tile is created equal. Consider the design impact of the backsplash on the rest of your kitchen.
Letting your backsplash break the budget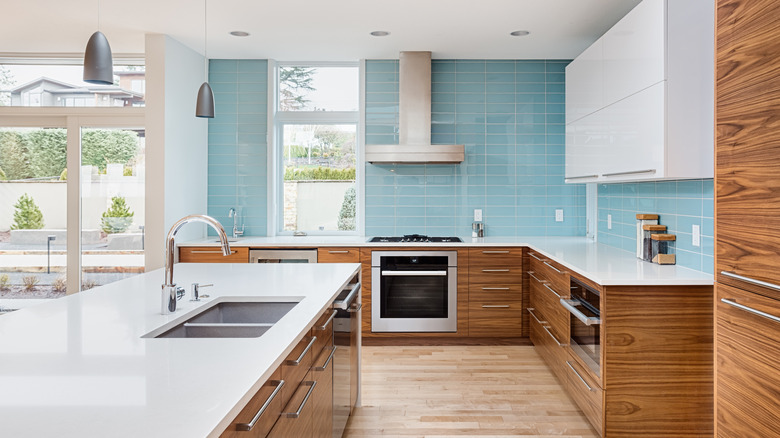 Breadmaker/Shutterstock
It's a misconception that a backsplash must be marble, glass, or a fancy material to make a style statement. True, imported stone is the epitome of luxury, but it's unnecessary in a kitchen where spaghetti sauce splatters and kids might have a food fight. According to Better Homes & Gardens, many budget-friendly backsplash options are available, including peel-and-stick tiles that adhere to the wall. Even simple subway tile backsplash can wow in your kitchen if beveled, glazed, or laid out in a pattern. You can find these tiles for around $2 per square foot.
The cost difference between stone and a subway tile of porcelain or ceramic is significant. Knowing where and when to splurge is key to designing your kitchen without going broke. A budget should consider the broad spectrum of project needs to help keep backsplash costs in perspective. After all, the backsplash may be your focal point, but it is not the only element in the kitchen.
Giving no thought to the durability of backsplash grout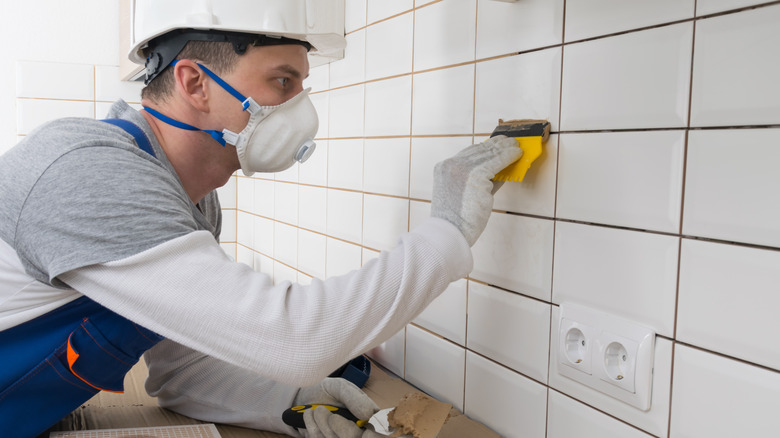 Aleksey Kurguzov/Shutterstock
Keep some tips in mind to help you choose the right grout for your tile. Since white grout won't stay white for long, it's sometimes best to avoid it altogether for the backsplash. As the saying goes, nothing lasts forever, including your grout. Nashville designer Jessica Davis told Southern Living that homeowners should stay clear of white grout even if planning an all-white kitchen. "This is common with the bright white kitchen trend, but if you plan to actually cook in your kitchen, it will prove to be a nightmare, even if it's a 'power' grout or other cleanable grout product," Davis said.
Conversely, a light gray grout can give your kitchen a pop of color and solve further cleaning headaches. Darker grout will hide the grime until cleaning time, while white grout magnifies it. It comes down to preferences and how you want to clean your kitchen backsplash. It's also not a good idea to skimp on grout when building a timeless design.
Choosing material that's not easy to care for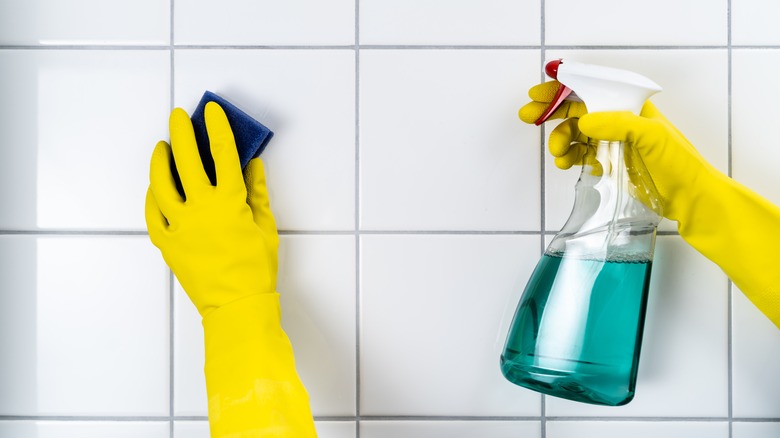 Andrey Popov/Shutterstock
Backsplashes need durability that materials like glass and stone may not offer. According to Martha Stewart, if the goal is to resist damage and moisture, porcelain is better than ceramic. While both are clay, porcelain gains durability from its denser composition. Porcelain tile will help the kitchen last. Near the top of the list of materials that may not age well are stone tiles like granite, marble, or slate. For some natural tiles, the protocol will be annual sealing, but there are exceptions like travertine, which requires resealing every other year. Without sealing, these stones will absorb moisture and become susceptible to stains.
It's a mistake to ignore what your backsplash needs to stay young since this will ultimately cut your kitchen's life expectancy. You want to take proper care of your tile (via HGTV). Besides the optimum method of sealing the tile, you'll also want to ask at the tile shop about proper cleaning. For example, abrasives will scratch many types of tile, diminishing their luster. Additionally, good care extends right down to the grout, which can also benefit from a sealant.
Not considering tile thickness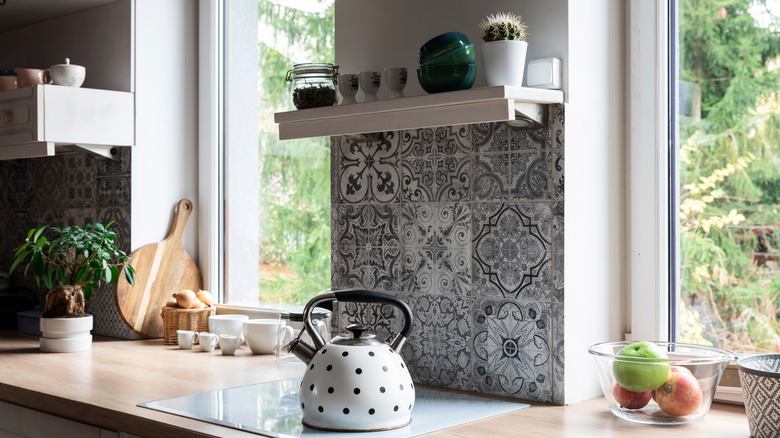 Liloon/Shutterstock
Many homeowners want a backsplash that wows. A decorative accent tile can help you achieve a statement style. This look is popular in the stove area, with good reason. However, this tile needs to connect with your other tile selection. The accent tile may be thicker or thinner than the field tile, creating a challenge to match them up if you want symmetry. What might happen if you make a glass tile accent next to a field tile? According to SFGate, it's likely that these tiles will not be flush. You might love it or hate it. The key is to be aware of thickness before it's too late.
The easiest solution is to buy tiles of matching thickness, even if that means returning to the store (via Home Arise). You might also let the decorated tiles protrude like it's part of the style. Lastly, apply thinset, an adhesive that helps fatten the thin tiles and slim the thicker ones. Sometimes the entire wall demands thinset to appear even. Knowing the thickness of your tiles while still in the showroom saves time and money.
Expecting your tile to look exactly like the sample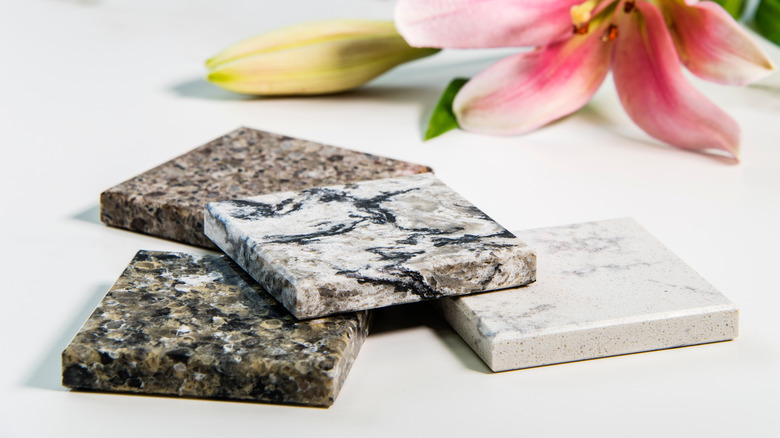 StudioDin/Shutterstock
Tiles are notorious for variation. Color can be lighter or darker and a pattern more or less pronounced. A sample should give you a good idea of what the tile will look like in your home. However, the tile in the box won't necessarily match the sample in shade and hue. According to Amy Dutton Home, you should check your tiles with the sample and ensure you're satisfied before leaving the showroom. It makes sense to approve the tile before installation.
Ripping up a backsplash because it clashes with the rest of the room is costly and unnecessary if you've done your homework. Check the tile manufacturing date code to ensure a good match (via Homesteady). The clue to this information is searching for words like "lot" or "run." If these numbers match up on your boxes, you're less likely to have mismatched tiles ruin your backsplash magic.
Choosing bold colors that overpower the kitchen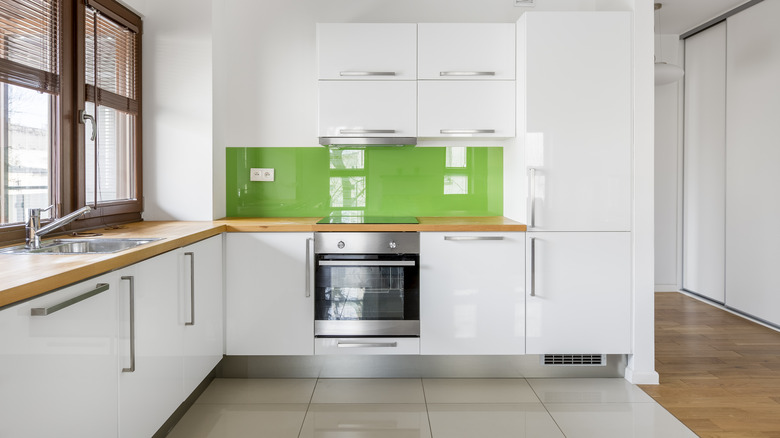 Dariusz Jarzabek/Shutterstock
Bold can be beautiful. However, a backsplash that's too bold can dominate the kitchen or compete with other design elements. Even if the goal is for the backsplash to stand out, bold colors may take it to an undesirable extreme. Considering redesign costs and inconvenience, most people want their kitchen to be timeless. It's best to think about bold choices before committing. You may tire of it before it's time to redesign the kitchen again. According to Denny and Gardner, backsplashes with bright colors are a mistake to avoid. These recessed areas are at their best when subdued.
To commit to a bold backsplash, you should absolutely adore the shade. Without that connection, it won't take long for it to feel like a mistake. Muted and calming colors are generally best for a backsplash. Homeowners tired of trendy and loud styles should seek tranquility in their kitchens.
Waiting too long to order the tile you need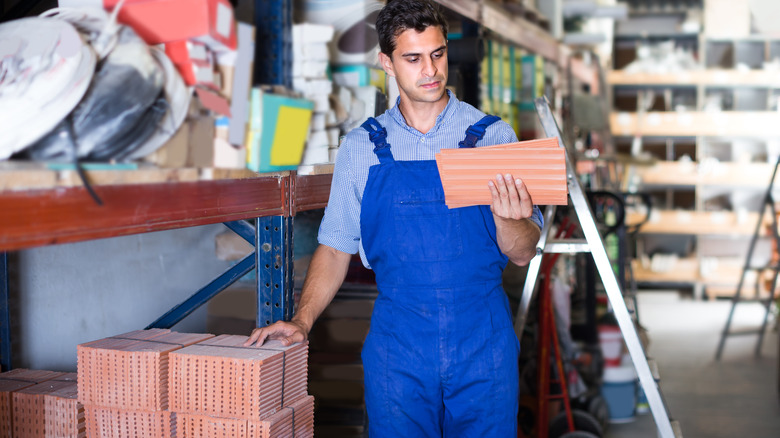 BearFotos/Shutterstock
Some people think they can pick out a backsplash tile in a day and have it ready to take home for their kitchen renovation. Often, there are flaws with that plan. A store will often feature more tiles in the showroom than they keep in stock. As a result, the homeowner may have to settle for a tile or postpone the contractor, which messes up the schedule.
Try to factor in how long it takes for the tile to arrive at your house and the drop-off method. As Hamish Smith, the Creative Director of Ca' Pietra, told Homes & Gardens, "If ordering a large amount, they will likely arrive on a pallet, often meaning curb side delivery if a large hard surface driveway is not available." Tile may ship by pallet, which needs a flat driveway surface, or delivered to the curb in front of your home.
Missing the opportunity to go big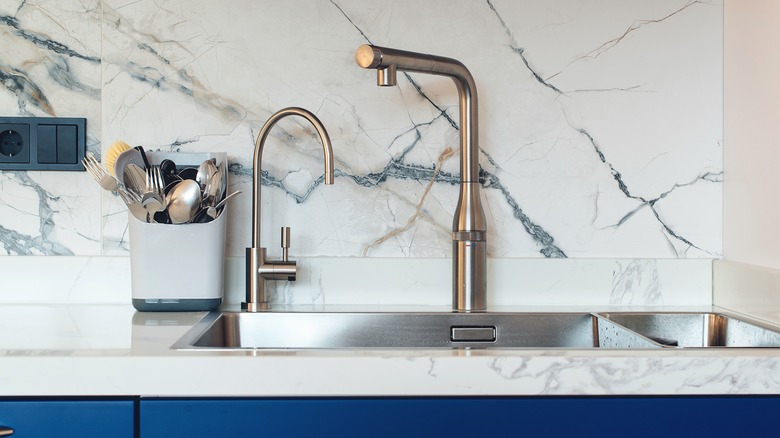 Volurol/Shutterstock
Backsplashes need not be a combination of small tiles. For an entirely different vibe, go big with your backsplash. You might even consider a slab of stone with minimal grout to spoil the sleek image. According to Houzz, you can achieve a luxurious look with your backsplash and complement a contemporary or transitional kitchen without breaking the budget. Opt for stone to accomplish your vision or use more affordable engineered materials like Corian or Caesarstone. Matching the slab to the countertop will create a chic, uniform style in the kitchen.
A backsplash doesn't have to be big to turn heads. You can also make a statement with an elegant slab. This style works regardless of size. Just imagine how easy how much cleaning time you will save in the kitchen. A slab backsplash will help you score ultimate sleekness and eliminate grout cleaning battles (via Bob Vila).
Not knowing where to stop your backsplash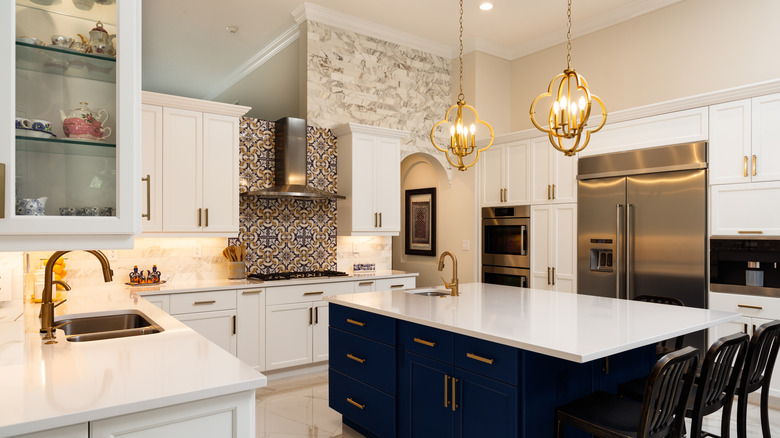 Fotoluminate LLC/Shutterstock
An essential aspect of designing a kitchen backsplash is deciding where it ends. You want to avoid stopping where you run out of tile. The eye is not very accepting of unexplained and sudden disruptions in a design. Finances may determine whether a backsplash might have to end or if it can climb up to the ceiling. However, it should never just stop without reason. According to Houzz, a backsplash that blankets the cabinet walls will look stylish and polished.
If your kitchen is on the smaller side, it's best to cover the entire wall to make the space appear larger. On the other hand, if your kitchen is spacious, consider ending the backsplash tile in line with the top of the cabinets to avoid going over-budget. Piping and other obstacles could change your strategy. Knowing the termination point will help you measure how much tile is needed to get the job done.
Not paying attention to dye lots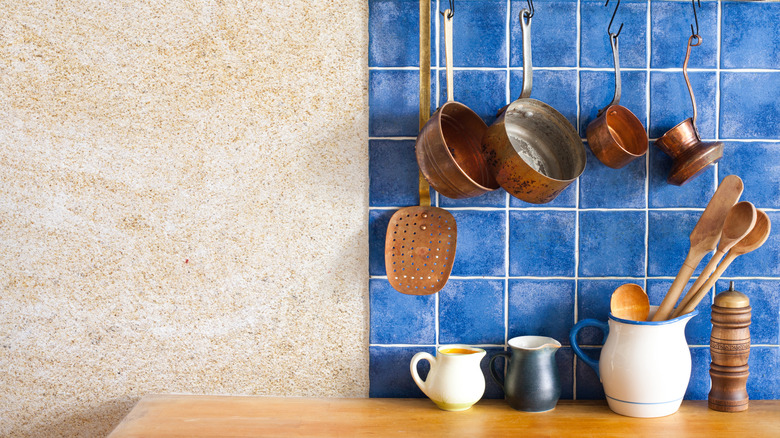 Besjunior/Shutterstock
Dye lots can have a significant impact on your backsplash design. According to Floor & Decor, dye lots are the color difference between production batches of tile. Even though the tiles are the same style, the color can vary due to slight temperature differences in the kiln. It's a good idea to take note of your tiles before installation and ensure they are the same dye lot to prevent unwanted color variation. The last thing you want is to finish installing your backsplash, only to realize that some tiles are bluer than others.
The dye lot code should be on your boxes. The box will use terms like a lot or run to refer to the dye lot, also known as the manufacturing date code (via Home Steady). You'll also want to read the box for the tile grade, which refers to purity, quality, and color.