Jillian Harris' Tips For Organizing Your Closet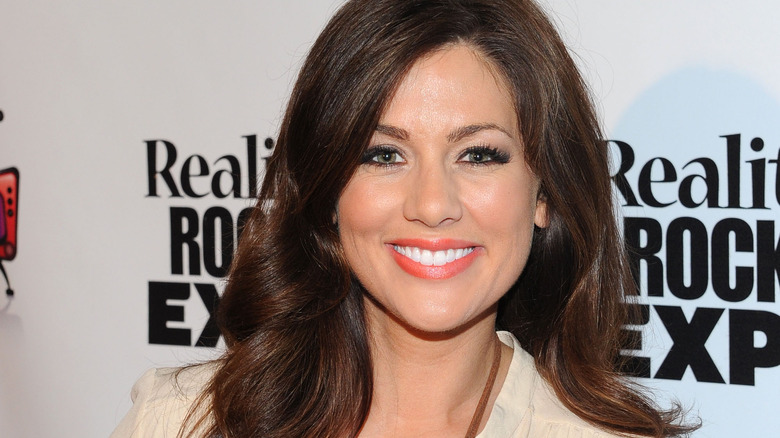 Michael Buckner/Getty Images
Organization can be quite a pain, especially if you own a lot of material things. This can especially be difficult when dealing with closet space. Sometimes, it may seem like you never have enough space — or maybe you just don't know how to handle your current load. Whatever it may be, Jillian Harris may be able to provide the advice you need. Harris is an interior designer who garnered many fans after co-hosting "Love It Or List It Vancouver" on HGTV, according to Jillian Harris Design Inc. She has also participated in shows such as "Style at Home" and "Extreme Makeover Home Edition."
With all the interior design experience Harris has garnered, she seems to have plenty of knowledge when it comes to decorating and organization. Western Living Magazine has shared some of Harris' tips that may be suitable for your space. Whether you want to expand your closet's storage capabilities or create a more pleasant appearance, her knowledge may be what you've been looking for.
Organized closet equals less headaches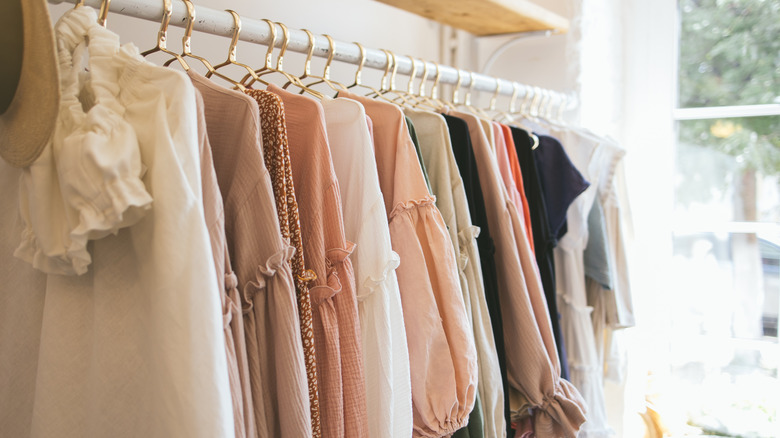 Da Antipina/Shutterstock
It can be quite annoying to not be able to quickly find the perfect outfit on a Saturday night. This may be because your clothes and accessories are splayed everywhere, or you just don't have the correct storage for your space. First things first, Harris says to get rid of clothes that you hardly wear, according to Western Living Magazine. When the seasons change, clear up closet space by storing away the previous season of clothing under your bed or anywhere else it can be easily hidden. Or try painting your closet a light color to brighten up the space and create the feeling of a larger closet.
Harris also explains that the way your clothes are arranged can determine whether or not your closet appears cluttered or neat. She advises ensuring that all your clothes, such as sweaters, t-shirts, and other shirts, face the same direction. This will make your closet appear more organized, and it will also make finding the perfect outfit so much easier.
Neatly design your closet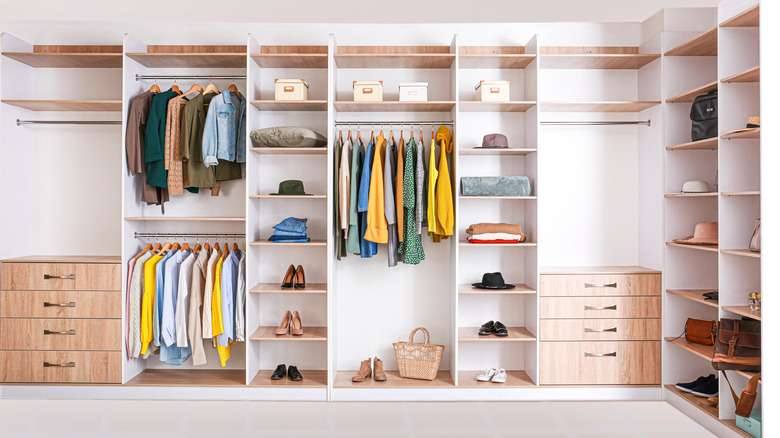 Pixel-Shot/Shutterstock
If you have a dense amount of clothing and other items, Harris says to make the best use of the space you have, according to Western Living Magazine. Her advice is to take your top closet rod and hang it up higher to fit another rod underneath. If you have any additional space, she also says to purchase stacked or cascading hangers which can help maximize space and decrease your closet's cluttered appearance. Those of you who have a purse for each day of the week may enjoy Harris' next tip: use hanging baskets to neatly put away purses or other accessories. This can open up space while also putting some of your most prized accessories on display.
Her last tip is simple but also seemingly effective. She states that to expand your closet's functionality, you should place your daily items at eye level. For items that aren't used as much, they should be stored underneath, and the items you rarely use must be placed higher than the items you use daily.