25 Ways To Achieve A Boho-Chic Living Room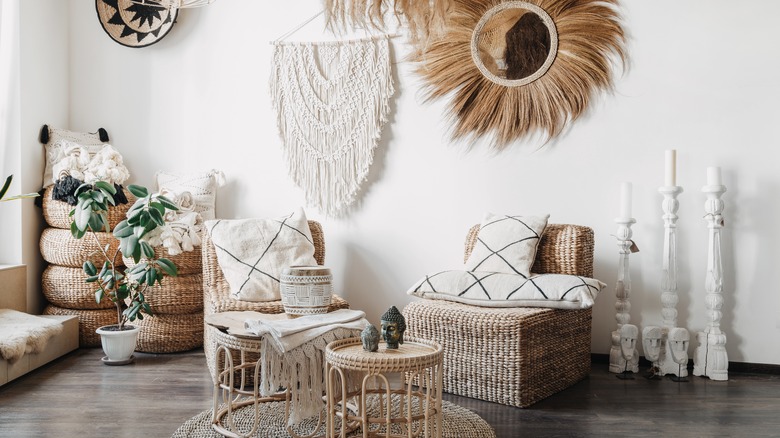 brizmaker/Shutterstock
Boho-chic is one of the most popular home décor trends in today's world, and it's a style that doesn't seem to be going away anytime soon. It's lively, modern, and brings a certain peace and elegance to one's space. When it comes to boho-chic décor, there are endless tips and fashions you can play with because the rules are up to you, Curated Interior notes. Your living room is your palette; it should be a reflection of your personality, so don't be afraid to get your hands dirty. Or better said, creative.
Whether you're a free spirit or you just love bohemian décor all around, here, you can find all the inspiration to transform your living room into a beautifully put-together boho-chic vibe that's all for you. A selection of colors, bold prints, and unique textures are calling your name. There are a number of ways to pull it off that push you to think outside the box, so roll up your sleeves and get those creative juices flowing. Your boho-chic living room awaits you.
1. Stick with neutrals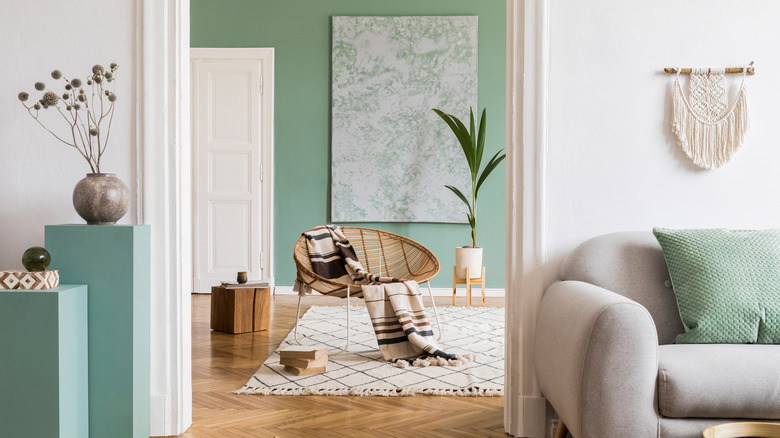 Followtheflow/Shutterstock
Neutrals are your best friend with the boho-chic style, especially if you're someone that doesn't want to do too much but just enough. Earthy tones like green, white, and brown are perfect for creating a calm, peaceful space to unwind. The colors and serenity of the room will draw you in each time you enter.
2. Go rustic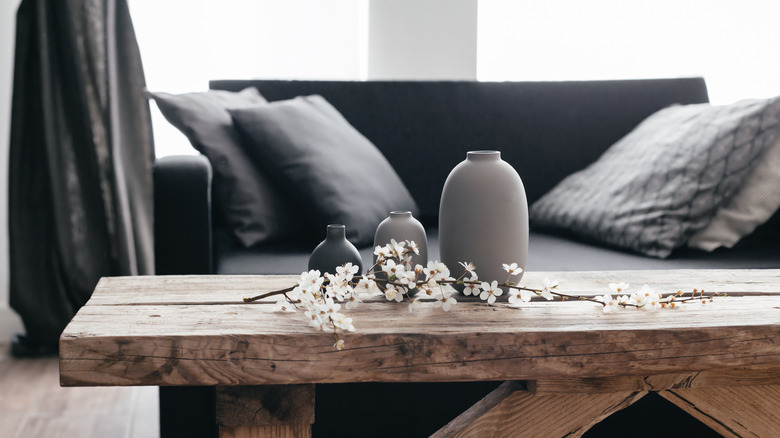 Alena Ozerova/Shutterstock
Boho-chic décor doesn't always have to be bold and bright. Incorporate dark colors and accessories like ceramic vases, sculptural objects, and throw pillows into your décor. Go for a wooden coffee or end table to top it off.
3. Try a hammock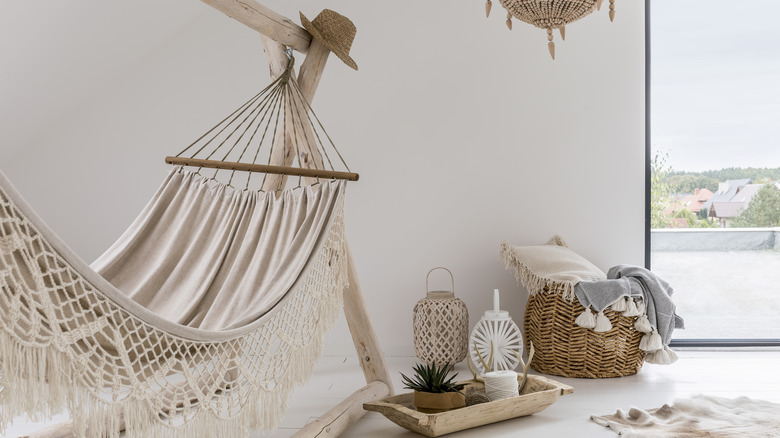 Photographee.eu/Shutterstock
Nothing screams boho-chic like a hammock in your living room. Go with soft colors like white and beige to brighten up the space and add a calm element to it.
4. Plants, plants, and more plants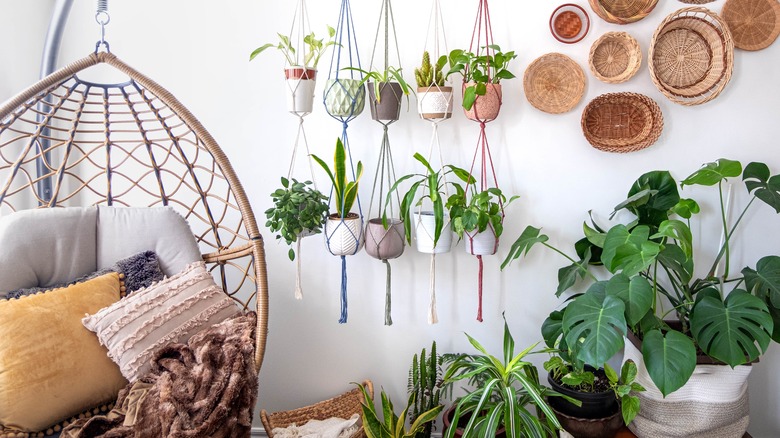 TippyTortue/Shutterstock
Plants are a necessary boho styling tip, and you can never go wrong with a few or an overload of house plants. Whether you go for a tribe of hanging plants or a collection of floor pot plants in the corner, the greenery will create a serene vibe in your living room.
5. Keep it minimal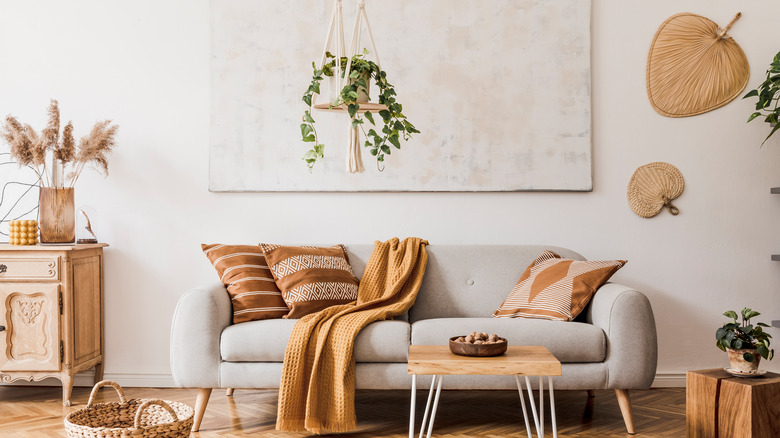 Followtheflow/Shutterstock
If you're not a fan of clutter, create a contemporary boho space with minimal décor and accessories that leave your space feeling open and free. So, incorporate wall décor, small plants, and trays that take up just enough space but not too much.
6. Gallery wall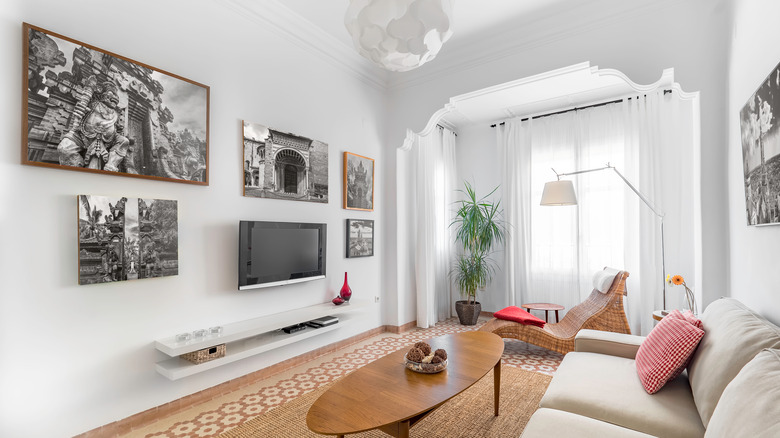 elRoce/Shutterstock
Make a gallery wall of your favorite art or personal photos. Since no rules apply when it comes to boho-chic, go for black and white pictures to stand out distinctly from your décor. Visually, it will look amazing and be the first thing your eyes are drawn to.
7. Faux fur
Incorporate faux fur pillows and throws on your sofa to create the boho-chic atmosphere you didn't know you needed until you had it. Keep it neutral, but mix it up at the same time with tones of brown, beige, and gray to create a cozy, inviting vibe.
8. The more color, the better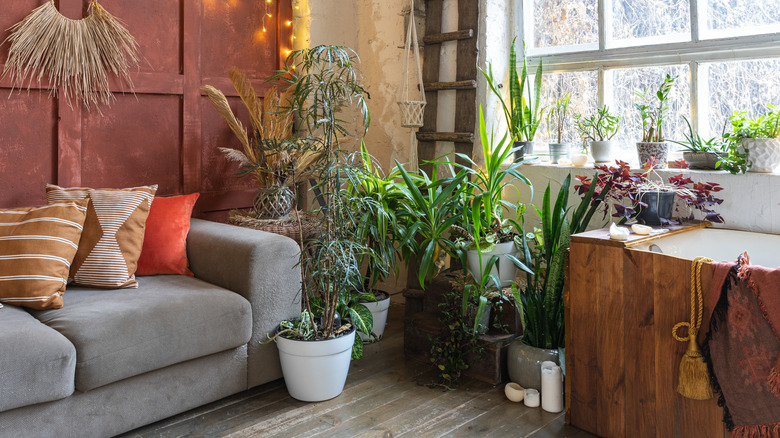 brizmaker/Shutterstock
Nothing brings out boho beauty like a mix of colors paired together. Bright colors here and there are commonly associated with boho décor, so mix what works for you or pair similar tones if you'd rather match. Your options are endless, so go wild and free.
9. Baskets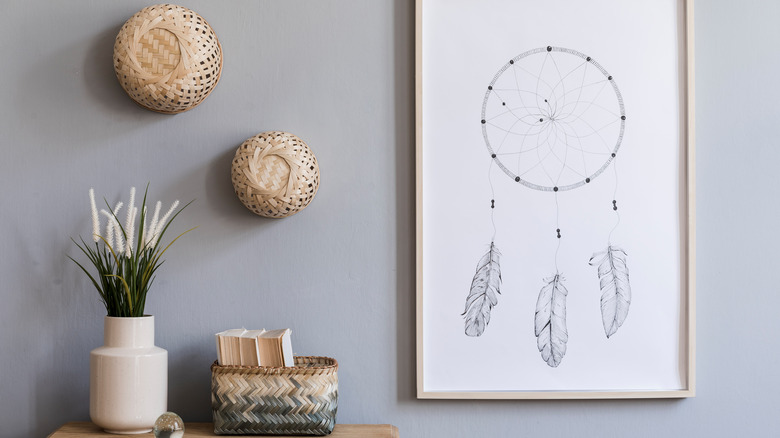 Followtheflow/Shutterstock
Whether for storage, décor, or both, you can't go wrong with hanging brown woven baskets on your wall or using them to hold books or blankets. Either way, it spruces up the space magnificently.
10. Hanging lights
A string of lights is just what you need to bring a peaceful chic ambiance to your space, especially when paired with light neutral décor. Not to mention how DIY-friendly and cost-effective they are.
11. Sheer curtains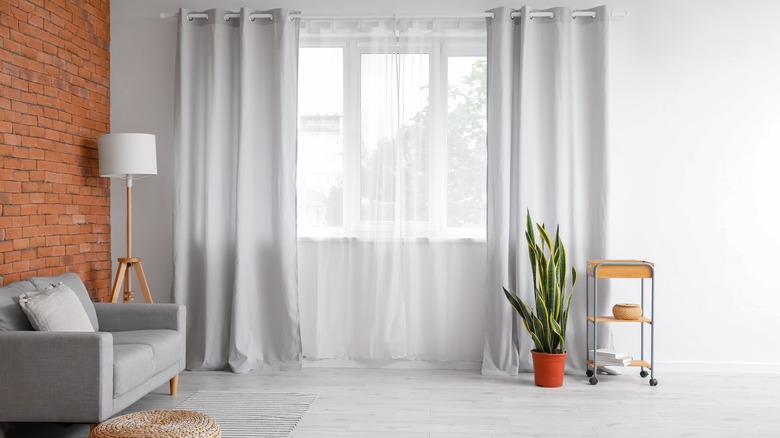 Pixel-Shot/Shutterstock
Go for a simple, relaxed boho vibe with light curtains and choose neutral tones like white, gray, or beige that naturally brighten up the space.
12. Pampas grass
Pampas is modern, and you can style it in a number of ways. Placed in a potted vase, pampas grass is chic and trendy, especially when paired with wicker décor.
13. Artwork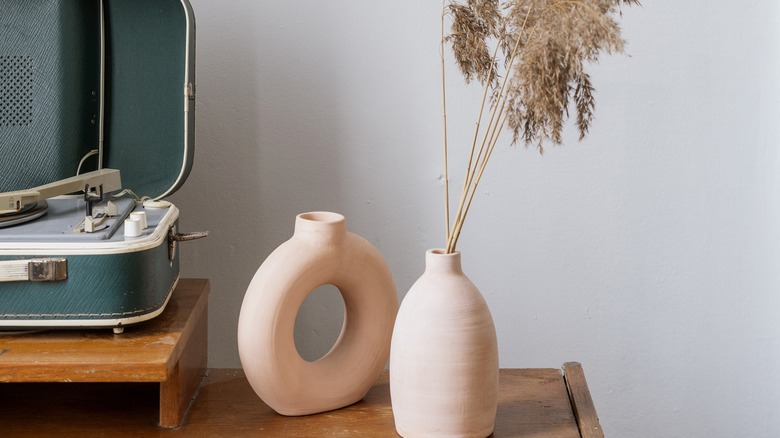 brizmaker/Shutterstock
Incorporate different types of art for your boho theme, like ceramic pieces and vases. The more outlandish and unconventional, the better.
14. Hang up a tapestry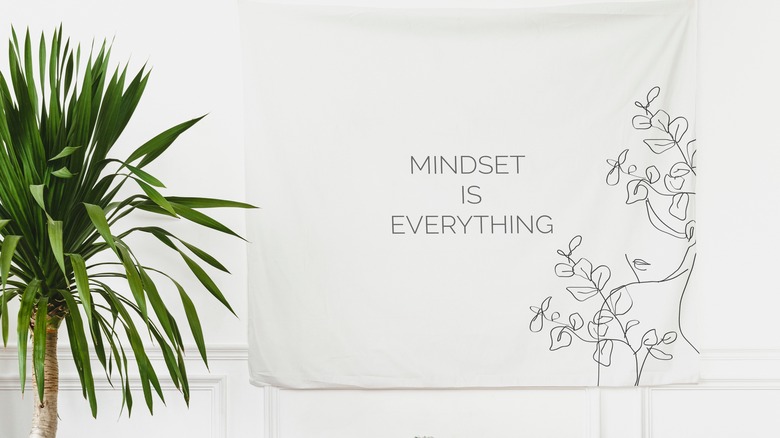 Rawpixel.com/Shutterstock
What screams boho-chic more than a tapestry? It's an easy way to decorate a wall, and you can change it up as often as you want to.
15. Create a cozy nook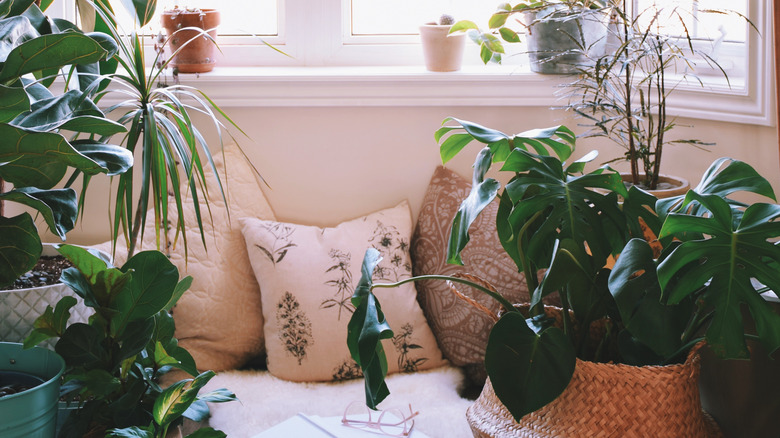 JulieK2/Shutterstock
Put together a cozy and comfy relaxation nook. Fill the space with plants, throw pillows, and blankets to channel your inner boho.
16. Dream catchers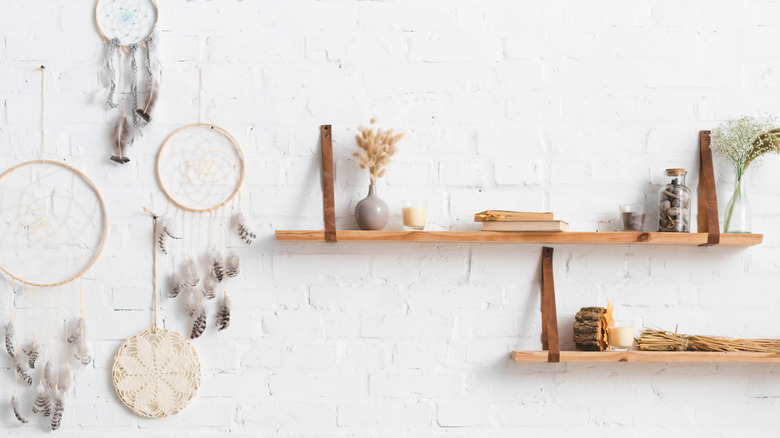 LightField Studios/Shutterstock
Not only are they known for capturing bad dreams, but they're also a visually beautiful representation of boho décor. Dream catchers look beautiful in any room; no matter where you place them or how you style them, they will always bring the atmosphere of a space together.
17. Natural light is everything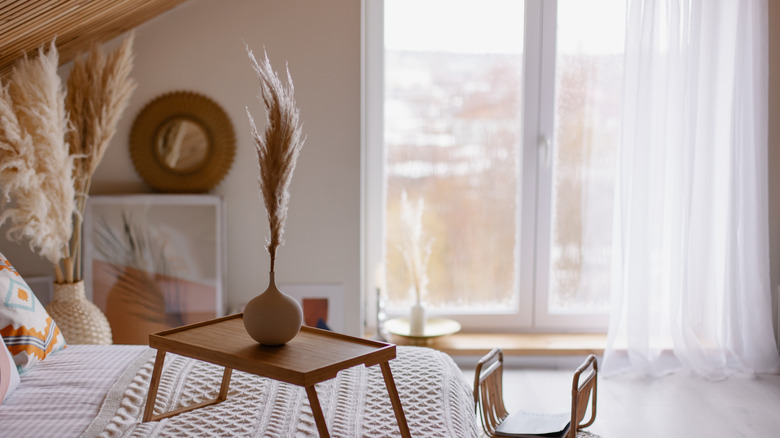 Da Antipina/Shutterstock
Nothing spruces up a space like natural light, and when it comes to a boho-inspired living room, it's just what you need to create a vibe. So brighten up your space; don't shy away from letting all the light in.
18. Leather sofa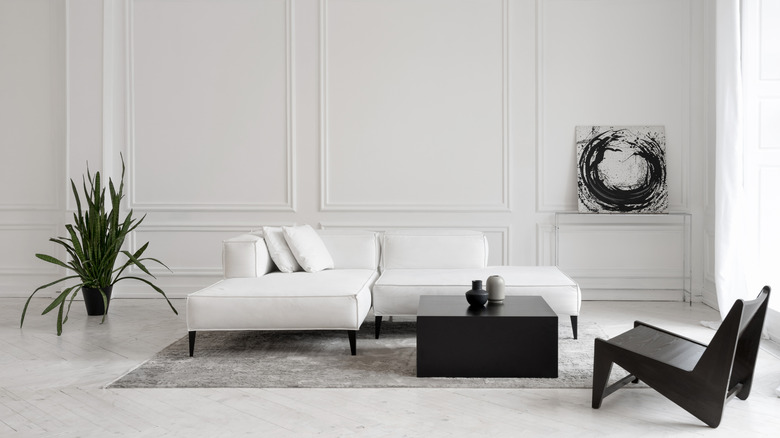 brizmaker/Shutterstock
Leather is trendy, cozy, and distinct. It sets itself apart from other décors, creating a warm vibe for the space when styled creatively.
19. Go boho crazy
There is no such thing as too much boho, so if you love the bohemian chic-themed décor, don't be afraid to go crazy with plenty of accessories, macramé, and wicker stuff. The more boho-chic, the better. Go boho or go home.
20. Velvet sofa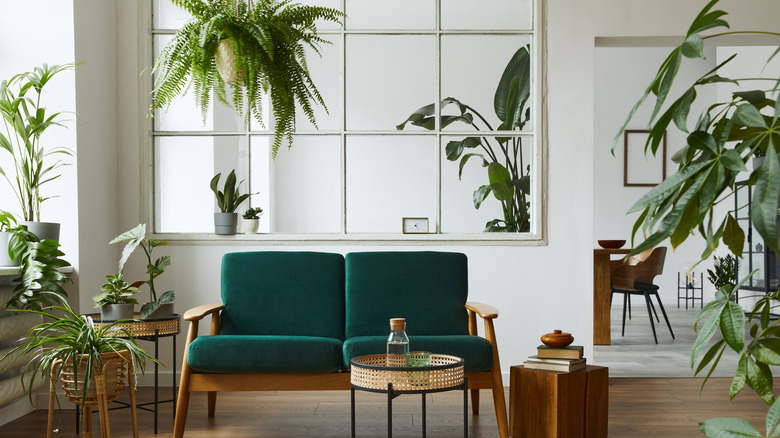 Followtheflow/Shutterstock
A velvet sofa is just what you need to bring your boho-chic living room to life. Not to mention, it adds a main focal point to the space.
21. Swing chair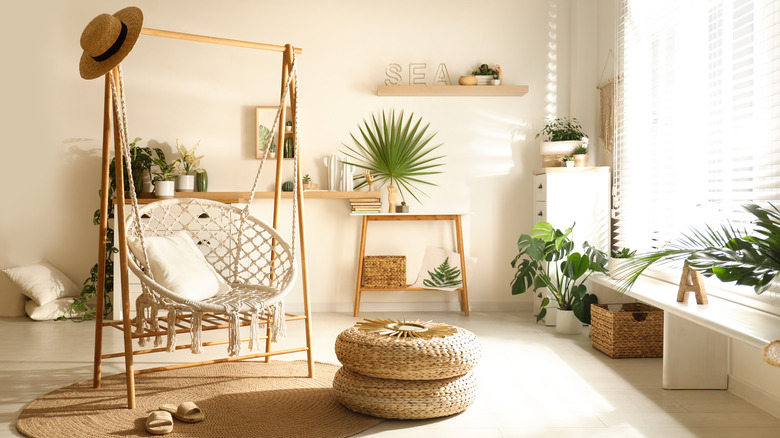 New Africa/Shutterstock
A swing chair is simple yet elegant and unique. It gives the room a relaxed, casual vibe, and your spirit will lift immensely at the sight of it. This will become your new favorite place to take a phone call or curl up with a good book.
22. Funky rug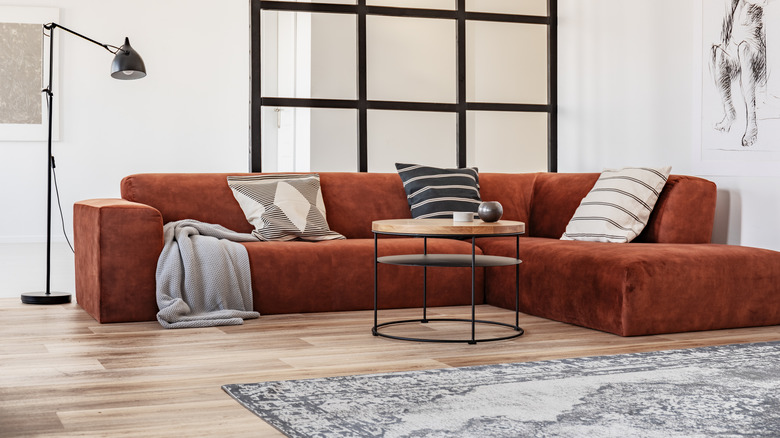 Photographee.eu/Shutterstock
An eclectic rug is a piece of furniture that will surely bring your space together. Challenge yourself to think outside the box and spruce it up with a printed rug or a versatile texture.
23. Hanging bed
A hanging daybed is exactly what you need to complete your boho-chic studio space, as it matches the vibe you're going for completely. It's cute, comfy, and aesthetically pleasing, and you or your guests won't get enough of it.
24. Vintage pillows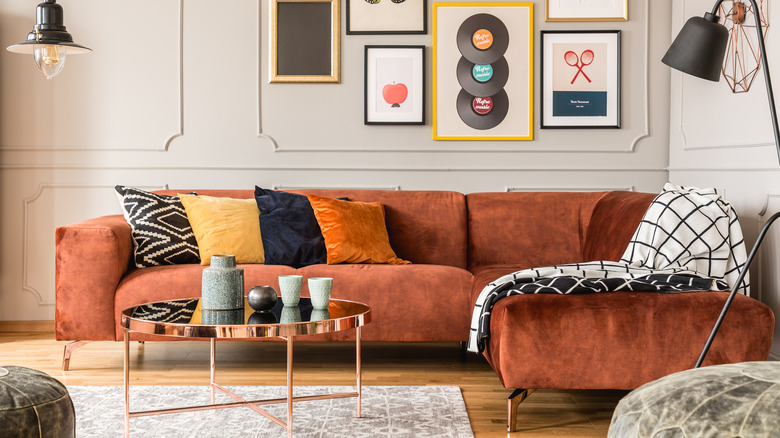 Photographee.eu/Shutterstock
Whether you're going for a subtle boho-chic vibe or going all out, vintage pillows are a perfect décor option. They're old-fashioned yet modern, so they'll get the job done once and at the same. So, don't be afraid to play with textures.
25. Vinyl record player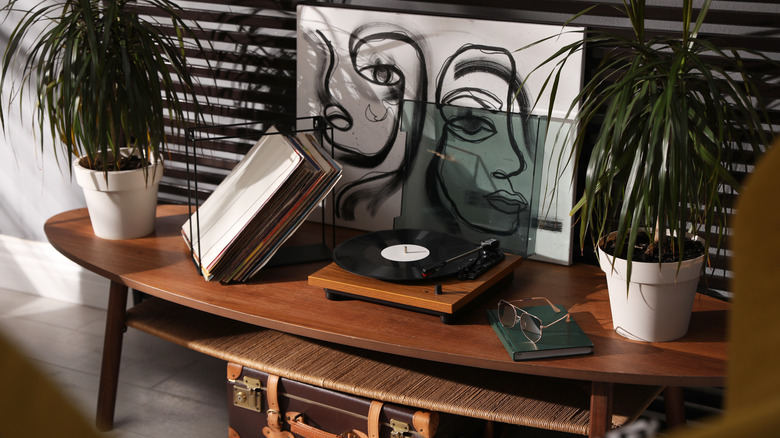 New Africa/Shutterstock
Channel your inner 70s with a vinyl record player as part of your retro boho-inspired look. They're trendy and don't seem to be going out of style any time soon.