30 Ways To Add A Touch Of Mid-Century Modern Style To Your Bedroom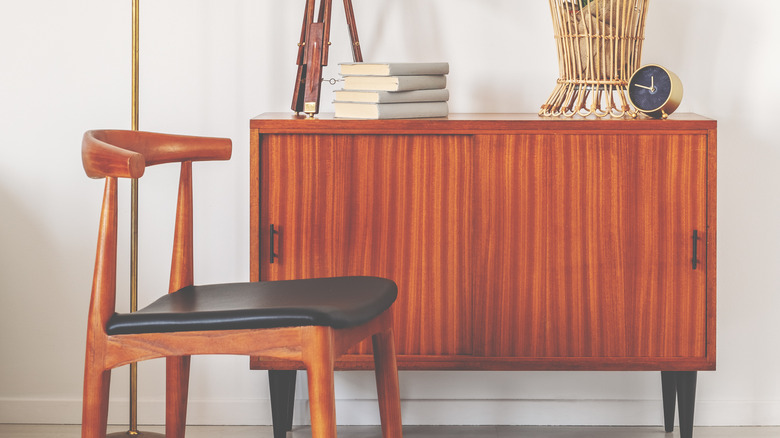 Photographee.eu/Shutterstock
Mid-century modern is a design that never really goes out of style. As House Beautiful points out, it's the lean lines and symmetrical elements of the furnishings that most people are attracted to. This design aesthetic was made popular during the 1950s and 60s. Per the outlet, the pieces from this era are quite easy to spot with their clean lines and thin peg legs.
While the design is always popular since there are plenty of ways to incorporate the style into your home, you may want to think about adding current trends to keep the look fresh, notes Homes & Gardens. The outlet explains that creating a symmetrical layout, picking up mid-century Scandinavian furniture, adding wooden furniture, and using a primary color palette are all excellent ideas to consider. It's a very common style for a living room, but consider adding elements of mid-century modern style to your bedroom! We think the clean lines of the furniture would look stunning in many homes. Keep scrolling to see 30 inspiring ways to add mid-century modern style to your boudoir.
1. A vintage-inspired kids bedroom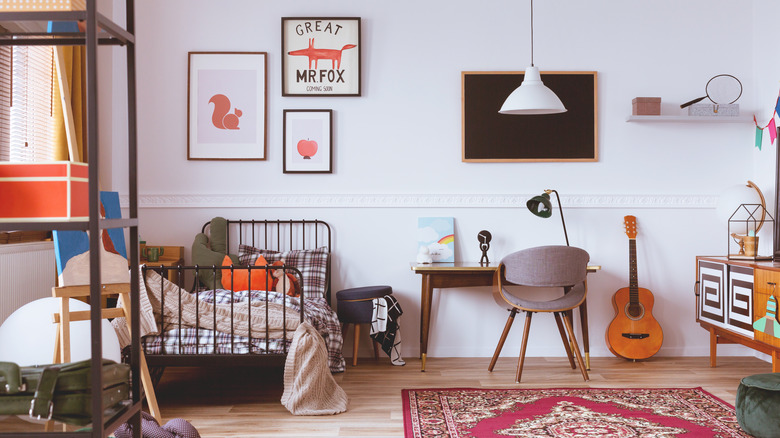 Photographee.eu/Shutterstock
This adorable child's bedroom has some incredible mid-century modern furniture. We love the dresser that is updated with a modern black and white pattern. The desk and chair with the skinny peg legs are also an excellent idea to add the design style to a bedroom!
2. A mid-century modern workstation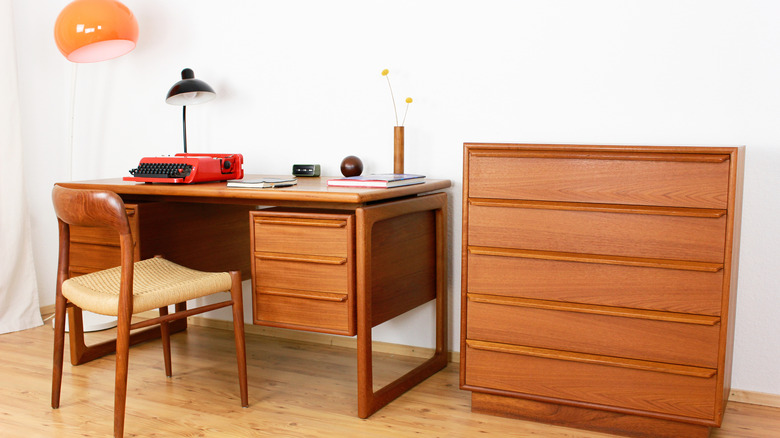 Dreamprint/Shutterstock
We can't get over the gorgeous clean lines of this wooden desk, which would help make any hectic work day more feasible. Notice the streamlined lighting too? So when you're designing your room, don't forget these little details. Get a matching dresser, and you have a complete look.
3. A savvy studio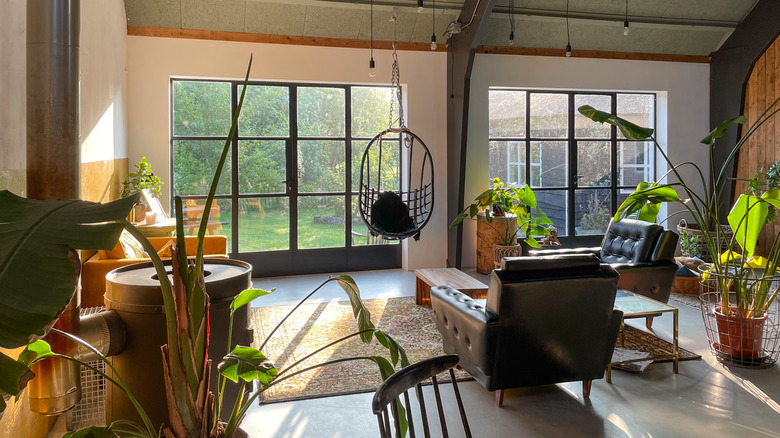 Hugo Goudswaard/Shutterstock
If you live in a studio apartment and must combine your sleeping and living space, no problem! This open space has a lovely seating area, including a hanging chair. You can create a comfortable sleeping space in this oversized room; we suggest adding a Murphy bed to the room so it looks airy and open when you aren't sleeping.
4. A vintage aesthetic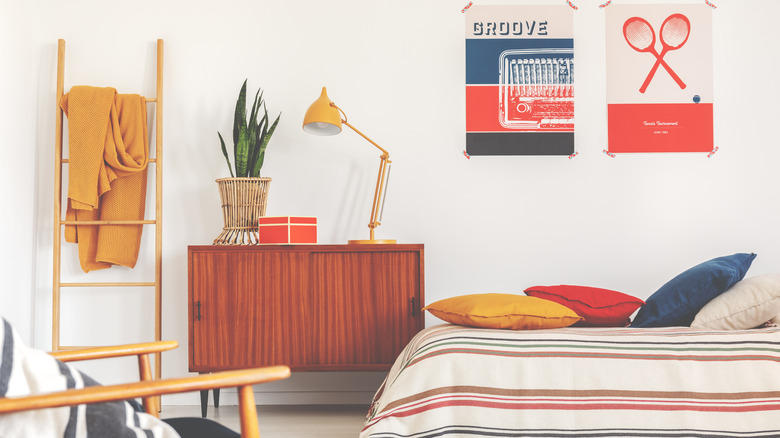 Photographee.eu/Shutterstock
This room exudes the perfect vintage aesthetic, and we love the elements of mid-century modern furniture that have been added to the room, including the dresser, lamp, and chair with a navy seat and beautifully clean lines. Groovy posters in colors like red and blue hang on the walls, and colorful matching pillows and blankets are seen throughout the room.
5. Add a mid-century modern-style lamp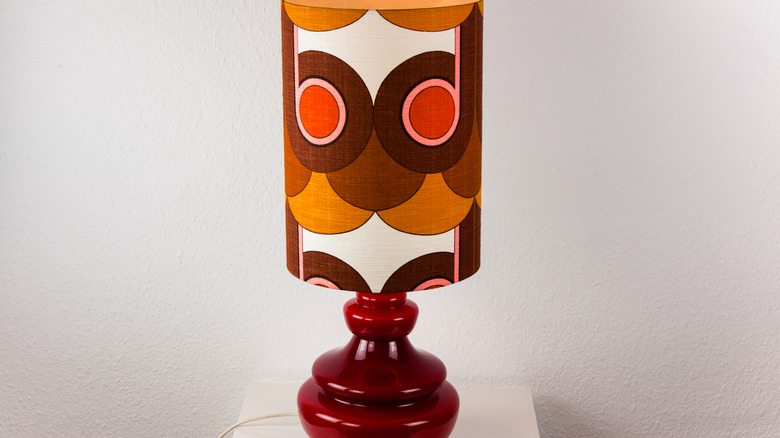 Dreamprint/Shutterstock
This colorful mid-century modern lamp has a contemporary feel yet it is perfect for the time period. It has a beautiful burgundy base, and the shade has a unique pattern with a variety of colors, from red tones to browns and yellows.
6. A chic baby's room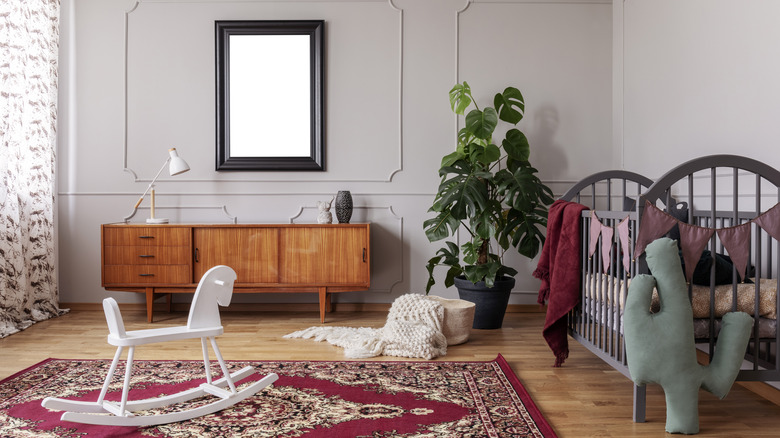 Photographee.eu/Shutterstock
This calm baby's room has a beautiful mid-century modern console, which would be excellent for storing away toys. The gray crib and rocking chair also have clean lines, which is the perfect mix for the look.
7. A room with clean lines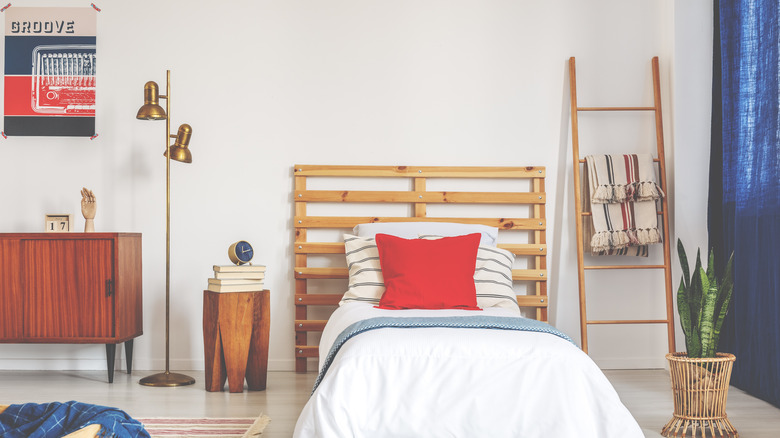 Photographee.eu/Shutterstock
This bedroom with clean lines uses lots of natural wood, popular during the 50s and 60s. We like how this homeowner made it feel modern with different tones of wood, from the side table to the ladder for blankets.
8. Find a unique table
Dreamprint/Shutterstock
Look for an interesting table like this two-layered style from the 50s or 60s in a dark mahogany wood tone. It could be a beautiful side table too. We can't get enough of the mid-century modern chair that features the most famous element of the times ... those thin, peg legs!
9. A vintage hanging bookshelf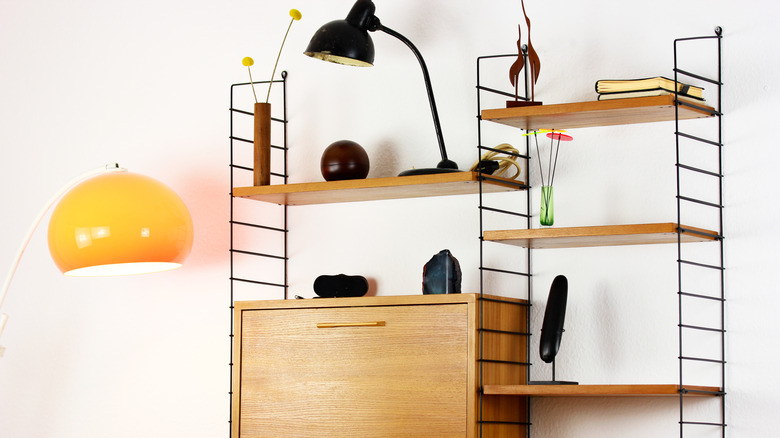 Dreamprint/Shutterstock
Consider hanging a shelf in a gorgeous mid-century design on your wall where you can display your favorite items, from books to small sculptures. We love that there's a wooden area where you can store away items or even important papers, so they are out of sight from your guests!
10. A chic spot for the TV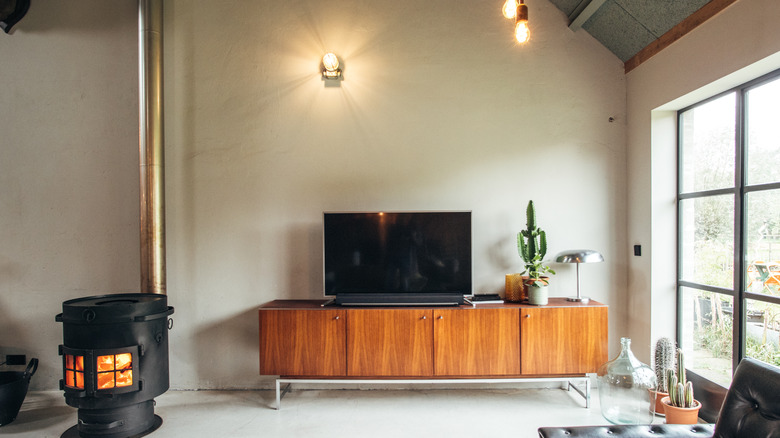 Hugo Goudswaard/Shutterstock
Some people love watching TV before bed, so If you decide to have a TV in your room, we love this option. This large mid-century modern console is the perfect place to hide away any important items and only display what you love. The small fireplace makes this bedroom such a comfortable spot as well.
11. A child's gorgeous retreat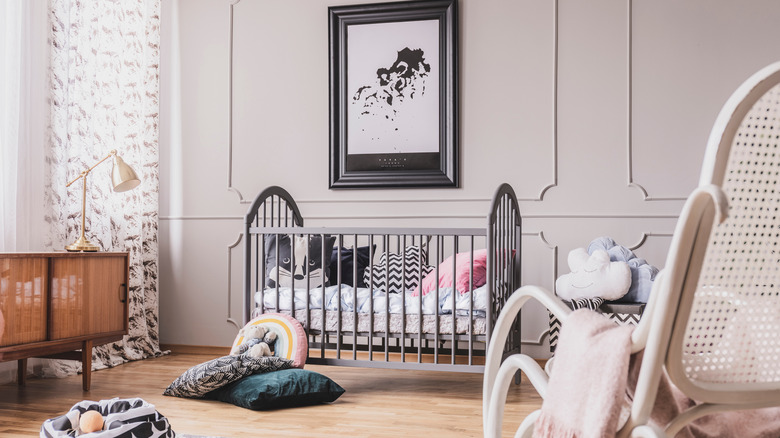 Photographee.eu/Shutterstock
This room would be stunning for any young child and features a mix of unique furniture, from the mid-century modern console with a stylish lamp to a crib with clean lines.
12. Go for unique wallpaper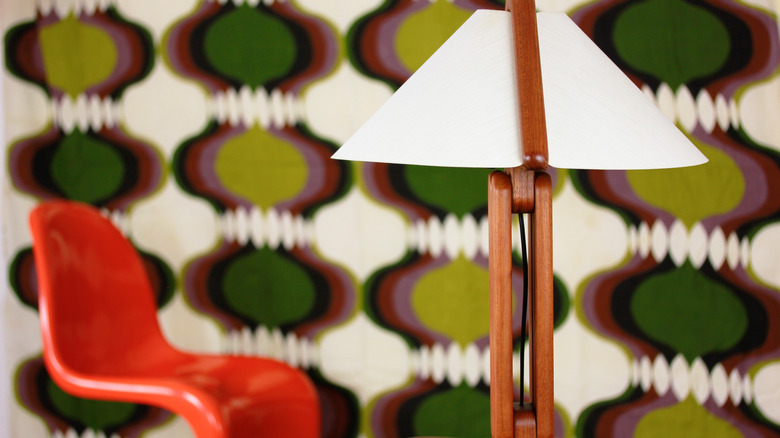 Dreamprint/Shutterstock
This unique print with colors from lime green to burgundy is definitely inspired by the 50s and 60s and would be an excellent way to add a mid-century style to your bedroom. A pop of color with a bright red chair adds a unique element to the room, as does the vintage lamp.
13. Add vintage details to your shelf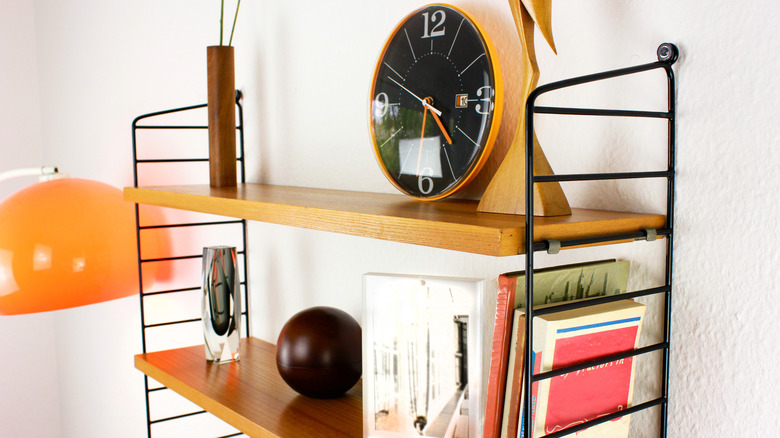 Dreamprint/Shutterstock
Another way to add mid-century elements to your room is to pick up stylish accessories inspired by the times, such as this unique clock! It's a classic style that is entirely timeless.
14. Create a nice workspace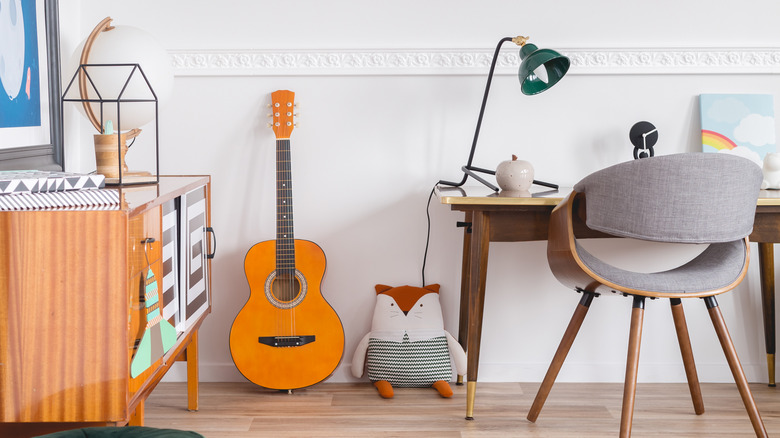 Photographee.eu/Shutterstock
To inspire productivity for your kids to finish their homework, we suggest adding a unique workstation as this homeowner did with a desk that looks like it was plucked from the times. Adding other modern elements to the room like a new rug, modern shelving, and accessories brings the bedroom into this century.
15. Purchase a pretty pendant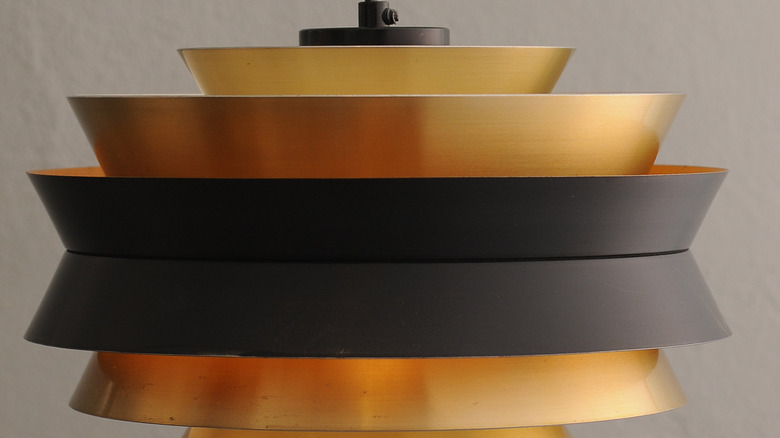 matike/Shutterstock
One way to make your bedroom stand out is to add a pretty pendant to the space like this Danish lamp. The gold and black tones would look really luxe against almost any color palette.
16. A simple shelf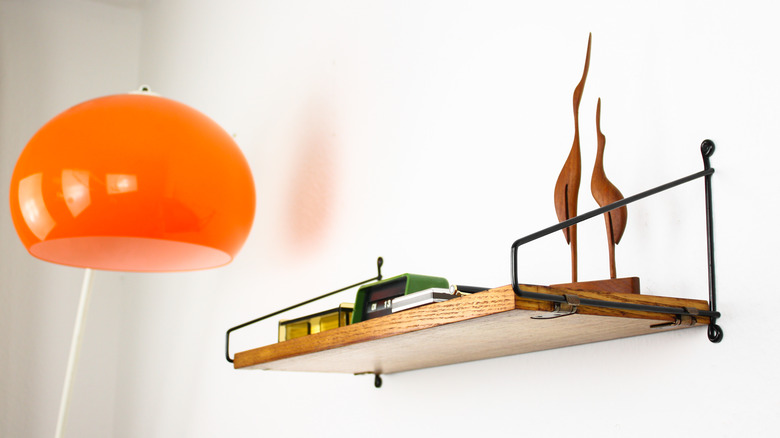 Dreamprint/Shutterstock
You've likely seen more elaborate shelving options, but you don't have to go all out. This simple shelf in a mid-century modern style would look great in your bedroom and is the perfect spot to add your favorite items.
17. A beautiful bedroom with unique elements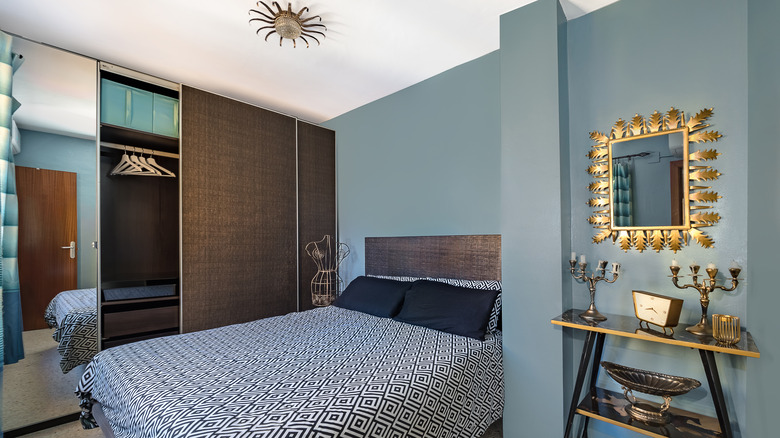 elRoce/Shutterstock
This edgy bedroom has the perfect retro design and features a typical side table dressed up with a vintage clock. The bed has clean lines, and the bedding is a gorgeous geometric pattern. The gold-trimmed mirror and lighting add that extra pop to this vintage-inspired bedroom.
18. Make it pop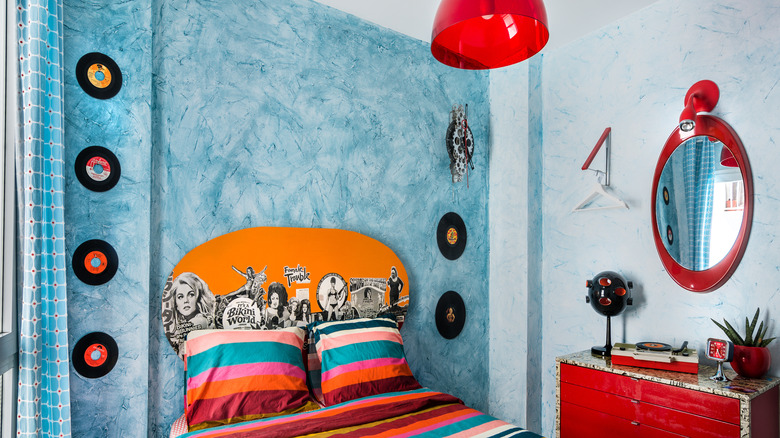 elRoce/Shutterstock
Bright colors from the 60s can also be an inspiring way to add a touch of mid-century style to your bedroom. This homeowner added a brilliant red dresser with clean lines, a colorful striped bedspread in pink, blue, yellow, and blue, and a teal wall with records, creating a totally unique space.
19. A gold and black lamp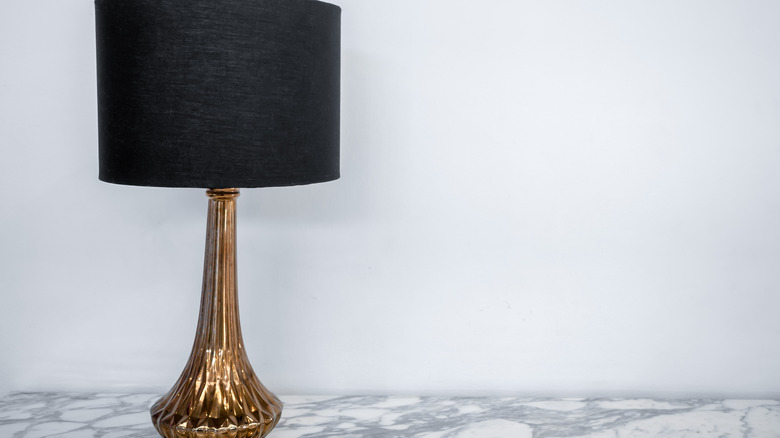 tete_escape/Shutterstock
This gorgeous, luxurious lamp has a gold base and a chic black shade and would look equally as stylish on two side tables on either side of the bed as it would on, say, a marble table like shown here.
20. A beautiful dresser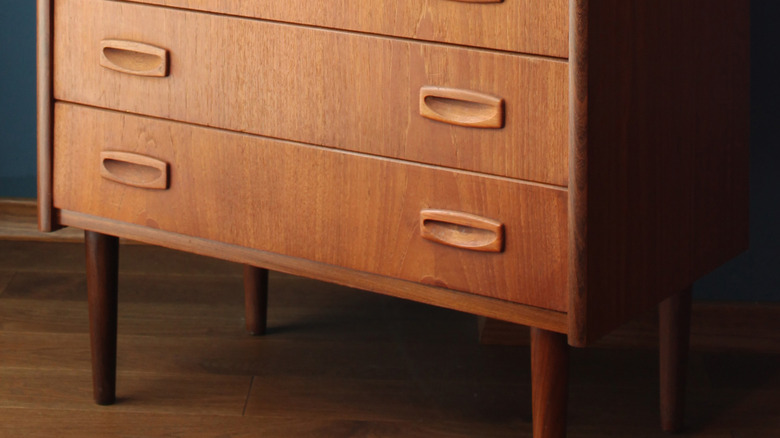 matike/Shutterstock
It shouldn't be difficult to pick up a mid-century modern dresser, whether it's a piece you found while antiquing or a modern take on the trend, but there are a few reasons why this trend is so popular. Designer Michael Berman tells Architectural Digest that it's all about the nostalgia of the time and that the furniture conjures up memories of times that were "exciting, tumultuous, and innovative."
21. Add a sweet side table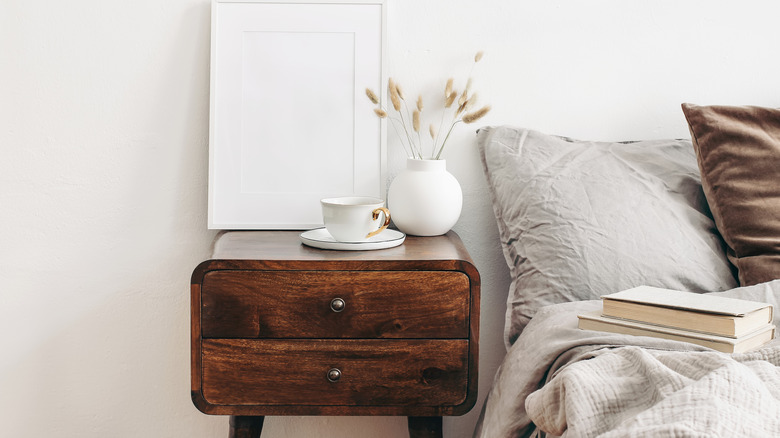 TabitaZn/Shutterstock
One unique element we love for a bedroom is simplicity, and we can think of nothing better than a sweet, tiny side table with clean lines that you can put your belongings on.
22. A classic table for your books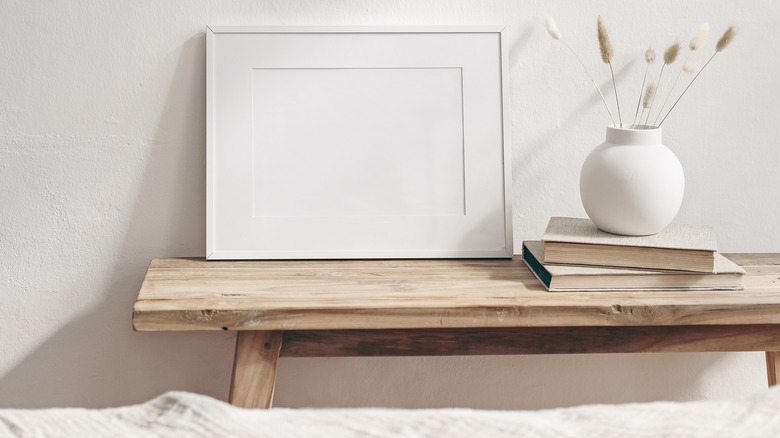 TabitaZn/Shutterstock
This vintage table has the clean lines necessary when adding a touch of this vintage style to your bedroom. It can be the perfect spot for photos, flowers, and books!
23. Think outside the box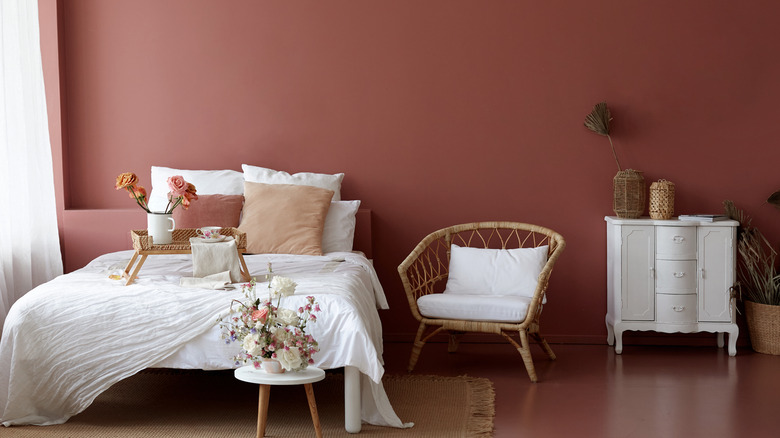 Reviaka Ina/Shutterstock
At first glance, you may not see the mid-century modern piece of furniture, but if you look closer, you'll see that tiny table with wooden peg legs and a white circular top that represents the style perfectly. 
24. A headboard with a vintage feel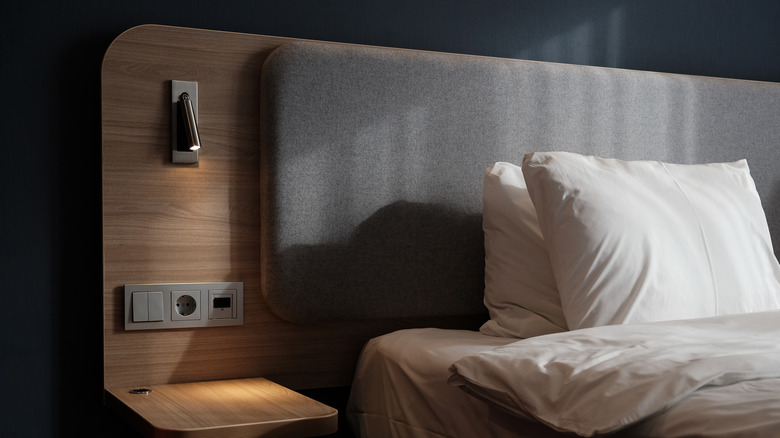 JulieStar/Shutterstock
This headboard is a combination of wood and soft gray fabric, giving you the best of both worlds. It has all the modern elements you need, like a USB socket to charge your electronics and a reading lamp to enjoy your favorite books.
25. A geometric rug and a stylish chair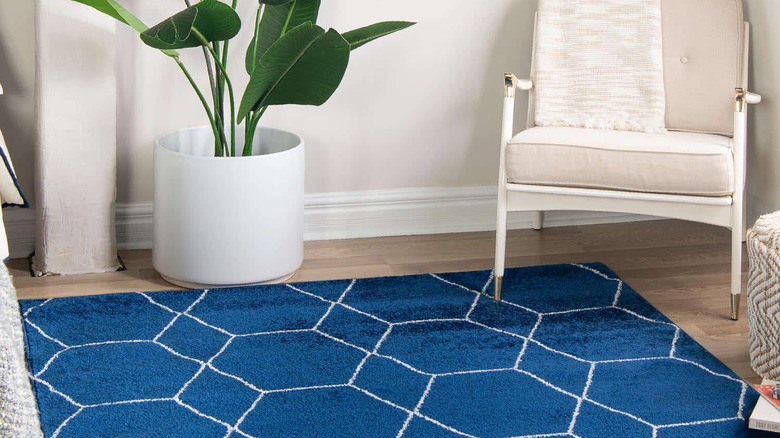 DesignStock09/Shutterstock
A few small touches are all you need to make your room pack a major punch. Add a stylish blue and white geometric rug and a mid-century modern chair in all white and you have a look that goes back in time.
26. Add a cool retro chair in a modern fabric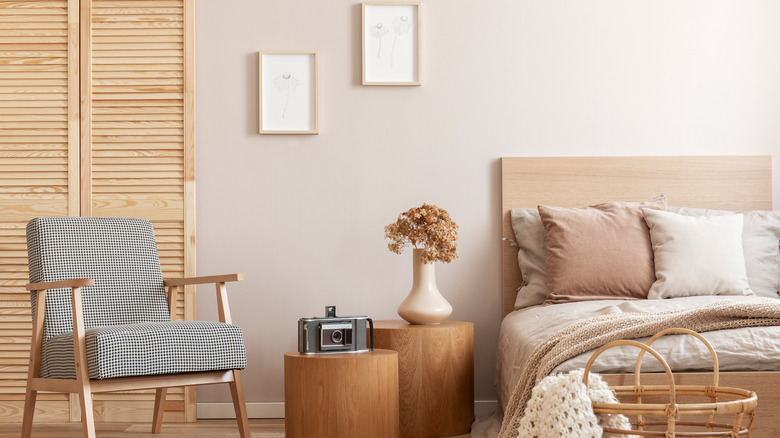 Photographee.eu/Shutterstock
A modern fabric can make all the difference in making a vintage piece of furniture feel contemporary. The round, wooden tables also have clean lines, an old-school radio, and a vase of flowers. The muted tones of the bedding and pillows make the room feel extra relaxed.
27. Get a vintage-style clock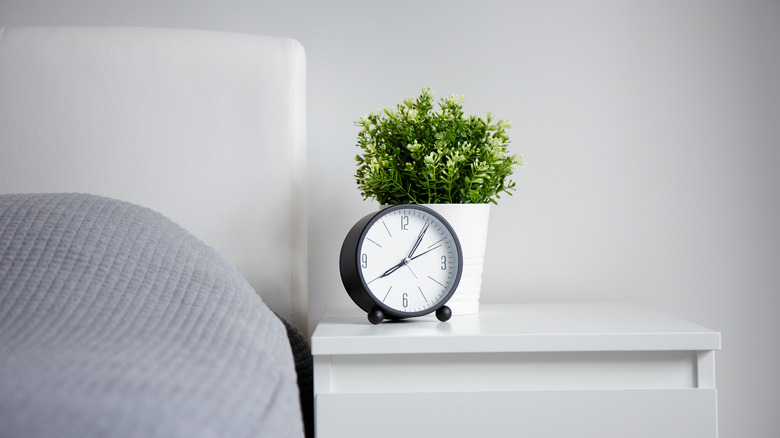 Di Studio/Shutterstock
After you've purchased the right furniture, consider picking up some vintage-style accessories like a traditional clock such as this homeowner did.
28. Mix it up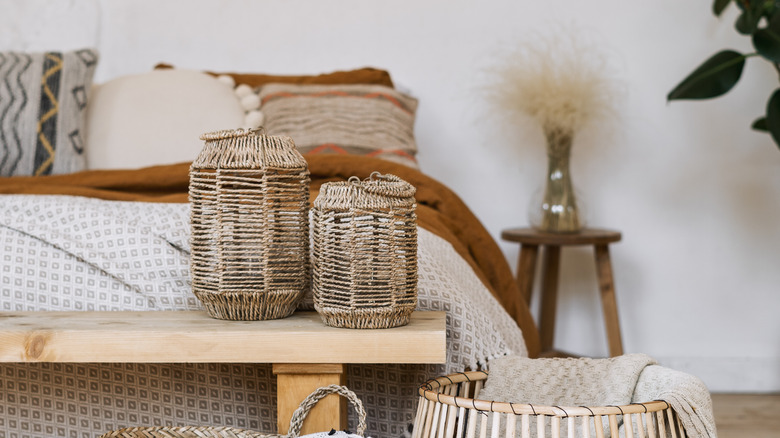 brizmaker/Shutterstock
If your style is bohemian, you can still think about adding mid-century modern pieces to the room. Spot the wooden side table? It has clean lines and is the perfect touch for your bedroom.
29. Gray and pink bring modern flair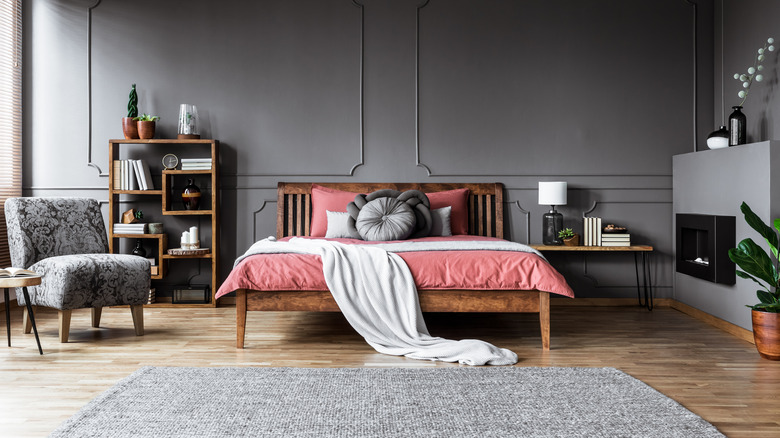 Photographee.eu/Shutterstock
This bedroom has pretty gray walls and a pop of pink for the bedding, but it's those clean lines we can't get enough of. A mid-century modern bed, a side table, a bookshelf, and a chair all share this beautiful element.
30. Sophisticated boudoir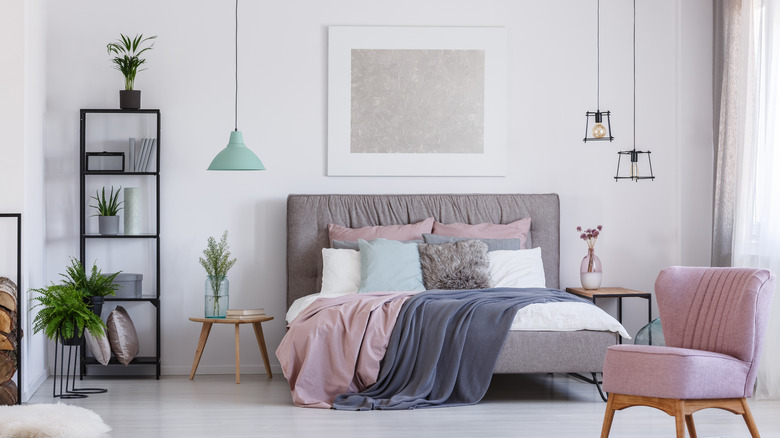 Photographee.eu/Shutterstock
This savvy bedroom makes a statement with its overall aesthetic, but it's that timeless chair that caught our eye.