What You Need To Know Before Buying Big Lots Furniture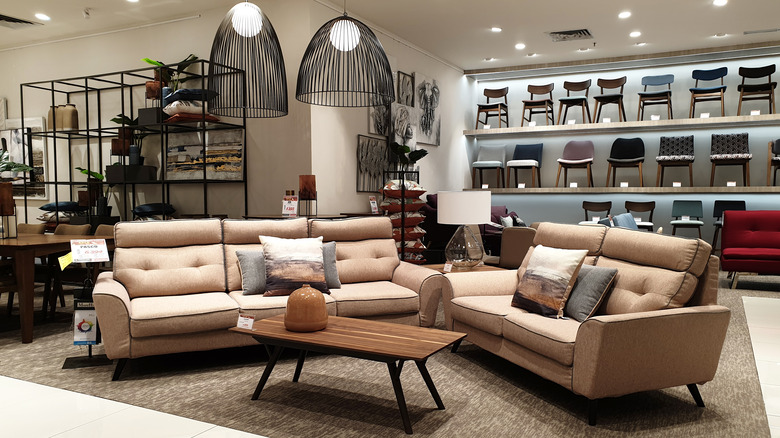 TY Lim/Shutterstock
Imagine a business facility or a home without furniture. Awkward, right? Well, according to Business-Marketing, well-furnished offices add satisfaction to employees' lives, create a good impression on visiting customers, promote a stress-free working environment, and boost productivity. Similarly, an expert over at Dwell explained 10 reasons why homeowners should take the process of home furnishing with seriousness.
But knowing this is not even as important as understanding the mistakes to avoid when picking furniture for your space, as we previously discussed in this article. Ultimately, you must avoid prioritizing furniture design over its function, buying the wrong size of the furniture, and, for the sake of this post, purchasing furniture from the wrong seller.
The thing is, you have a lot of options when it comes to choosing a home/office furnishing store –– both online and offline. From IKEA, West Elm, and Walmart to Wayfair, The Home Depot, and more. So, if Big Lots happens to pique your interest out of the crowd of them, then this post is a must-read for you.
What is Big Lots?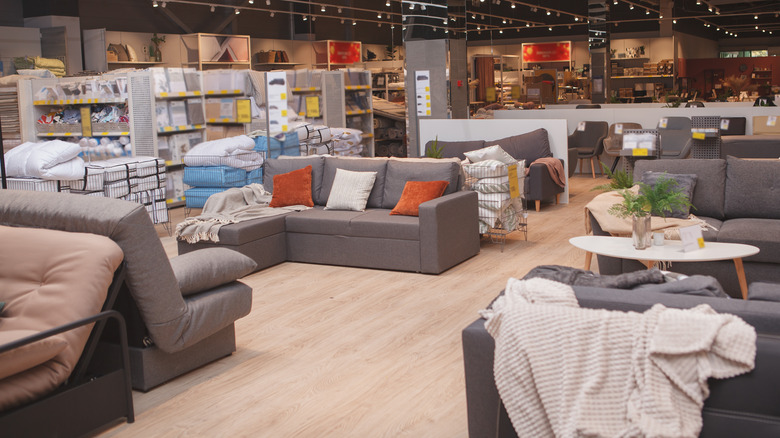 MAD_Production/Shutterstock
Big Lots is one of the biggest retail close-out stores in America. The chain was founded in 1967 by Sol Shenk (per Zippia), who migrated from Russia in the mid-1900 and died in 1994 after building the now billion-dollar-worth fortune 500 company, according to The Immigrant Learning Center.
Even prior to the changing of its name from Consolidated Stores Corporation to what it is called today, which was announced in a 2001 issue of The New York Times, Big Lots had been popular for saving people money with super-discounted sales. The retail line sells virtually everything, including household essentials, clothing and footwear, accessories, furniture, pet supplies and accessories, food, electronics, and more.
And while the headquarters of the company is located in Columbus, OH, they have over 1,400 stores sprinkled all over 47 states, as discovered on Headquarters Address. Sounds like a lot, right? Well, guess what, CNN Business recently announced Big Lots' plan to open an additional 500 stores this year.
Now, while Big Lots may be a good place to make discounted offers, shoppers have found that it's not everything that's worth buying over at the store. In 2020, The List published a post explaining why most people don't buy groceries from Big Lots. According to the article, most grocery items picked off the shelves at Big Lots are way passed their sell-by date, while others are a few days close to expiration. However, customers have had the best experience buying furnishings at the store. Anyway, before delving into the types of furniture you can buy from the retail chain –– and other details –– let's get to know some of Big Lots' branches.
What are the branches of Big Lots?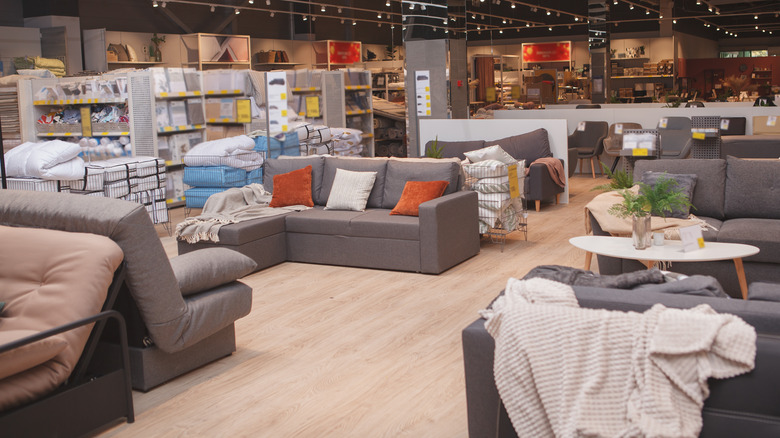 MAD_Production/Shutterstock
As of the time of writing this article, Big Lots has 30 locations across 28 cities in Alabama, where the company was ranked number 3 out of the 10 largest departmental stores by ScrapeHero. Big Lots also has furniture store locations in Arkansas, California, Colorado, Connecticut, Delaware, Georgia, Idaho, Illinois, Indiana, and Florida, where they have the largest number of stores, as seen on their location page. But those aren't the only states where you can shop this discount store for furniture and so much more. Whether your state has the most locations or not, the locations you do have are sure to offer up some great furniture to add to your home, along with other excellent decor pieces.
Speaking of "much more," Big Lots sells more than home/office furnishing items. If you check the Big Lots website, you'll discover all of their shopping categories, including clothing, footwear, kitchen and dining, bed and bath, beauty and personal care, home storage, kids and baby, and a whole lot more. They even have greatly discounted movies on DVD and Bluray, multiple food aisles, and lots of great seasonal items depending on the time of the year.
Types of furniture offered by Big Lots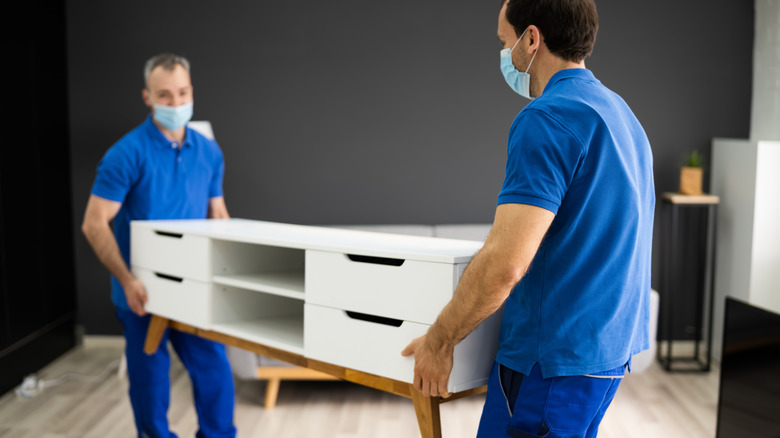 Andrey_Popov/Shutterstock
Do you know that Big Lots has 26 different inventories of furniture? Well, it only now makes sense since Statista said the store's furniture department was responsible for $1.74 billion in sales out of the $6.2 billion net sales recorded by the company in 2018. But there's more to this than meets the eye. So, let's browse this billion-dollar department.
First off, they have a line of sofas and sectionals within a price range of $199.99 and $1299.99. These include 5-star-rated mid-century sofas, sleeper sectionals, and more. Similarly, their category of recliners features rocker recliners, pushback recliners, power lift chairs, swivel gliders, and even snuggle-ups. And when you browse their beds, you'll discover both linen and upholstered king platform beds, bunk beds, adjustable/static queen beds, and more.
Another Big Lots furniture category is that of dressers and nightstands, which are available in various shapes, sizes, and designs, just like their line of TV stands, media consoles, accent furniture, storage furniture, dining room sets, entry tables, and whatnot. But the good thing about these items is that they are mostly sold for half the price you'd get them over at other stores, as revealed by Columbia Mom.
Anyway, if you'd like to borrow from our book of 40 home office ideas, or you're remodeling your kitchen by recreating any of our 100 kitchen remodeling ideas, you can always pick some of the furniture pieces from Big Lots' inventory of home office furniture and kitchen furniture. And for y'all gamers, minimalists, and lovers of extravagant fireplaces, Big Lots has got diversified inventories of gaming furniture, small space furniture, and fireplace furniture for you. Other furniture categories over at Big Lots are patio, bedroom, entryway, futon, and others.
What size of Big Lots furniture is best for you?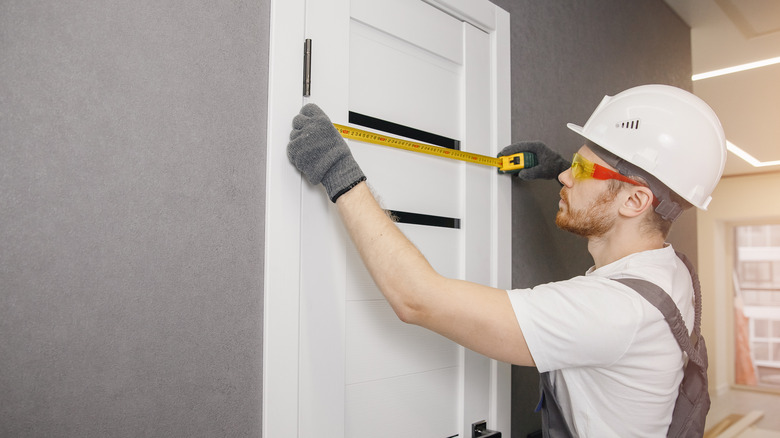 Parilov/Shutterstock
When shopping for furniture, the things you want to avoid are buying on impulse, forgetting to consider who will use the furniture, neglecting the space available in the room to be furnished, and other common furniture-buying mistakes reviewed by HV Design Group. And speaking of which, buying the right furniture pieces largely means buying them in the right sizes. Now, the question is, how would you know the right size of Big Lots furniture to buy.
Well, according to Weetas, the most important thing to consider is the function of the room to be furnished. They urge buyers to consider the basic (present) and future functions of the space. For instance, when furnishing a children's bedroom with beds and book storage, you should consider whether you'll be carving a play space for them in the same room. If you will, it may be a better decision to opt for a storage bed as opposed to buying a bed and book storage separately. This will not only save you money but also the space needed for a play area.
With purpose defined, experts over at Furniture Mall explained the next step perfectly. According to them, you must know the space available for the furniture you intend to buy. Now, this isn't all about measuring the height, width, and length of the available space in the room. You must also consider the space in the doorway, staircase (if a story house), and other areas through which the furniture will be moved. Additionally, you should consider the space needed for closing and opening windows, doors, and other elements within proximity.
Big Lots vs Wayfair vs West Elm vs IKEA furniture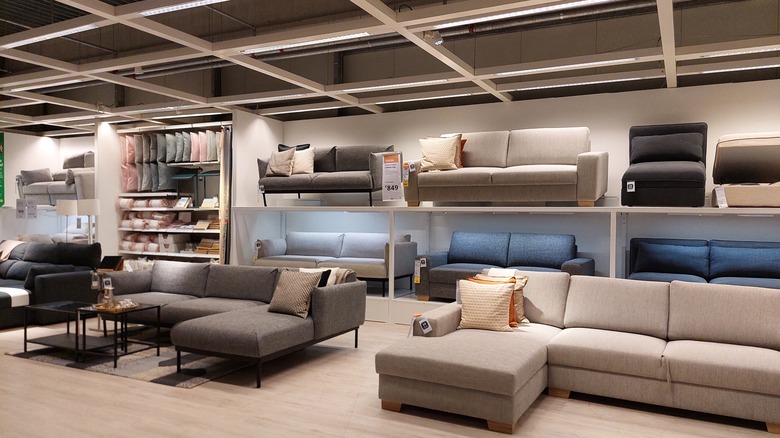 Walter Cicchetti/Shutterstock
While all of these stores sell furniture, not all of their offers are worth a penny. In fact, Go Banking Rates covers the absolute best and ridiculously worst furniture to buy at IKEA.
Let's start with Wayfair, the 2011-initiated retailer and one of the biggest furnishing brands in North America and Europe. According to Furniture.com, Wayfair sells high-quality accent furniture, modern bedroom suites, storage items, traditional living room furniture, and more that are sourced from professional designers, artisans, hobbyists, and importers. This is unlike Big Lots which acquires its merchandise as overstock from manufacturers like Ameriwood Home and Simmons (per QuerySprout).
Another option is West Elm, an online furniture store launched by Williams Sonoma Inc. in 2002, as claimed by Fast Company. And according to Crunchbase, West Elm furniture features only modern designs. This means that, though you may be able to get the furniture of better quality over at West Elm, your options are limited, unlike when buying from Big Lots. Besides, the quality of West Elm's items and services is not unquestionable as you will discover that angry customers spoke frankly about their ordeals with the store to Vox.
Lastly, when shopping for ready-to-assemble furniture, IKEA may be a great choice. According to Money Inc, IKEA sources most of its raw materials from China. IKEA designs are contemporary and minimalist and, therefore, may be a better choice over Big Lots for the young folks.
How long does Big Lots furniture last?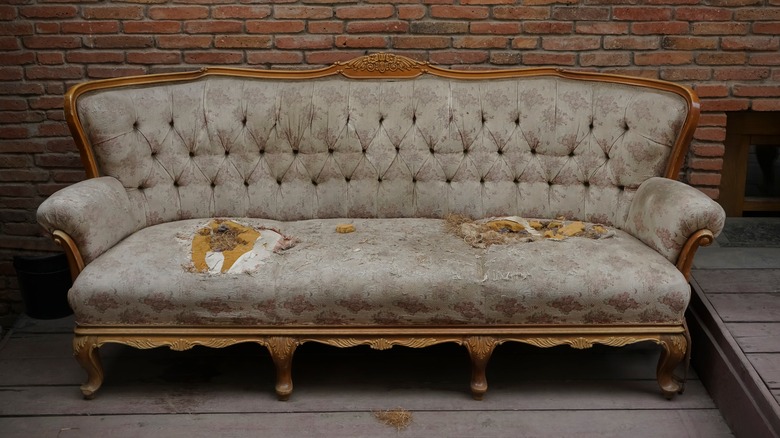 maradon 333/Shutterstock
Before exchanging your money for Big Lots furniture, it's important to have an idea of how long you can expect that furniture to stay in good shape and in one piece. QuerySprout created a long post that answers the question, "is Big Lots furniture good?" And according to them, it's not always the best investment. While it's true that Big Lots' furniture sources are reputable names like Lane, Simmons, Broyhill, and Stradford, it's noteworthy that Big Lots buys these pieces as overstock, defected, damaged, and so on.
And though some of these pieces are in 100% perfect shape, most of the defective ones are refurbished, which means that they were repaired to "work" like new again, though this isn't the always the case (sometimes the fixes aren't very good, no matter where you're buying refurbished items). For example, Lindar of Cedar Hill, Texas, took to ConsumerAffairs to write that she'd purchased a couple of recliners from a Bih Lots in Fort Worth, and one of the chairs was obviously used with stains on it.
Anyway, based on our analysis of the retailer's customer reviews, the average lifespan of Big Lots furniture is between the range of four months and two years. On Sitejabber, a Big Lots customer going by the name Sierrah B. wrote that she bought an affordable couch from Big Lots, something simple on her college student budget, but it only lasted a few months before it started falling apart. Bob H. reported that he's been shopping at Big Lots for over three decades and has zero complaints. Adrian I. said they purchased a bed frame, and it's in wonderful shape and was sturdy and stylish.
Should you buy Big Lots furniture?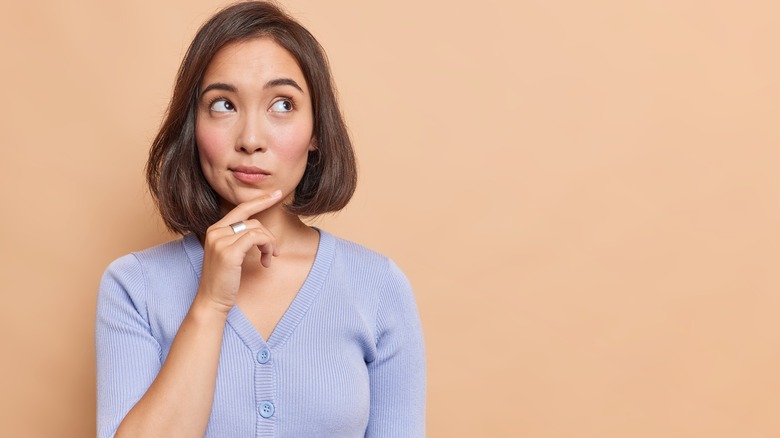 Cast Of Thousands/Shutterstock
Whether you should buy or not from Big Lots is entirely up to you and what you make out of the factors that most consumers consider when buying from the store. First off, you want to find out if Big Lots sells the brands of furniture you love buying. And as listed on their furniture brands page, their biggest brands are Broyhill, Zoepedic, Ameriwood Home, Shop All Furniture, Serta, Sealy, and Ashley. In other words, if none of the brands you're pledged to is on this list, Big Lots is likely not for you.
Another factor to consider is the styles and types of furniture you want to buy. And guess what, the retailer has an inventory of every style and type of furniture you may be looking for. Their furniture styles include industrial modern, traditional, contemporary, minimalist, retro, shabby chic, and everything in between.
Next, you should consider their return policy, delivery time, acceptable credit card score, customer service quality, and special options. Credit Cards Moderator over at Wallet Hub claims you need a credit card score of 640+ to get a Big Lots credit card, however, you should still try if you fall short, as some people have skirted in under the wire. Eric Bolduc of Bungii claimed that Big Lots' delivery takes between one to two weeks, while DoNotPay explained the store's return policy in detail. According to them, customers have 30 days to either get a refund or get replacements for purchases they are not satisfied with. Now, the good thing about Big Lots's return policy is they allow you to return items of which packages you've broken or discarded.
What are the money-saving tips for buying quality furniture at Big Lots?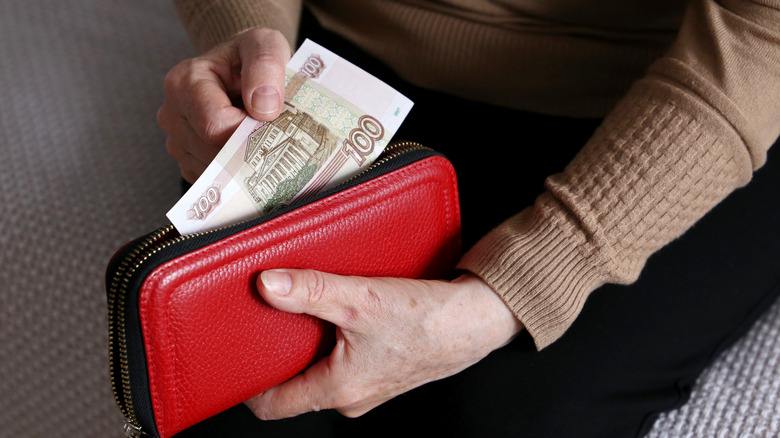 Oleg Elkov/Shutterstock
Beyond the low prices, Big Lots has a lot of hidden and obvious perks for their customers that most new shoppers are not aware of.
The first two ways to save big bucks picking Big Lots furniture are by joining Their Buzz Club and browsing their clearance section. As Clark explained it, the clearance section is located at the back of every Big Lots store, and there you'll get a 25% to 50% discount on beach chairs, patio sets, and other furniture in July or a 75% price slash on other furniture in summer. Similarly, shoppers who join Big Lots' Buzz Club (a rewards program) receive $5 on their first purchase that's worth $15 and also get notified about special offers before other regular customers.
Also, according to Simplemost, you should always remember to check your email (especially the spam folder) for Big Lots' notifications on their exclusive deals and also be conscious of their end-of-season sales. They also mentioned that you should keep an eye out for furniture with "This item only" stickers on them when shopping physically because items with that sticker usually sell for ridiculously low prices.
When The Krazy Coupon Lady wrote an article on 12 ways to save money shopping at Big Lots, she revealed that every purchase of furniture piece worth $200 earns you $10 in return. She also said you can ask a Big Lots store for a price reduction, but there are terms to be met. If you discover that a Big Lots competitor is selling the same Big Lots furniture at a lower price, and the competitor has a physical store, Big Lots sell you the item at the other store's price.
Pros and cons of buying Big Lots furniture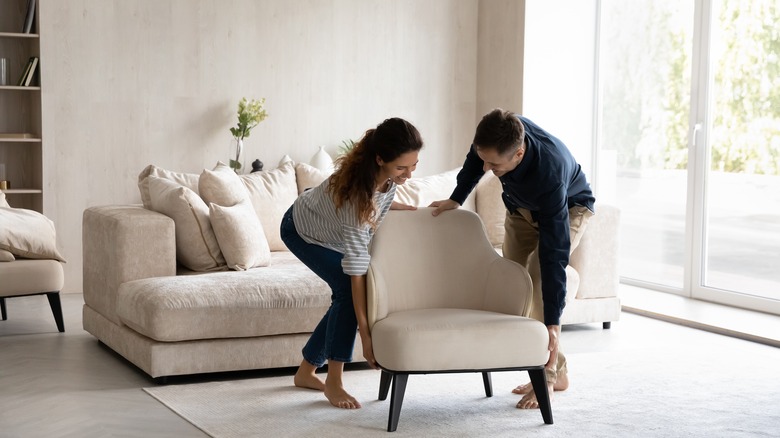 fizkes/Shutterstock
Now, let's get this clear: Big Lots is a great discount store for furniture buyers, but no store is perfect. Let's weigh the advantages of buying the store's furniture against the disadvantages of doing so, according to their customers.
Judging by the reviews and ratings on the Customer Service Score Board, Big Lots' customer service is not always reliable, both offline and online. Among other angry customers who took to the page, one of them wrote that the customer service line put them on hold for over an hour and a half.
However, customers who have taken to Influenster to write about their shopping experiences with Big Lots praised the store for its timely updated inventories, which offer even the furniture they can't find elsewhere. A customer going by the name Crista M. said that they have furniture of excellent value and other great products.
Be sure to pay attention to their furniture warranties, though. For instance, a lady who allegedly bought a mattress that had a 10-year warranty on it was not allowed to return the item after it sagged in the middle just one year after purchase. Similarly, some shoppers complained about how rude Big Lots workers are in reviews on Defaulters. Perhaps the employees were having bad days during these encounters. On the other hand, an advantage of buying from Big Lots is that they have branches in almost every state. This makes it easy for consumers to buy and transport their furniture home, though there is also the convenience of online shopping.
Average cost of Big Lots furniture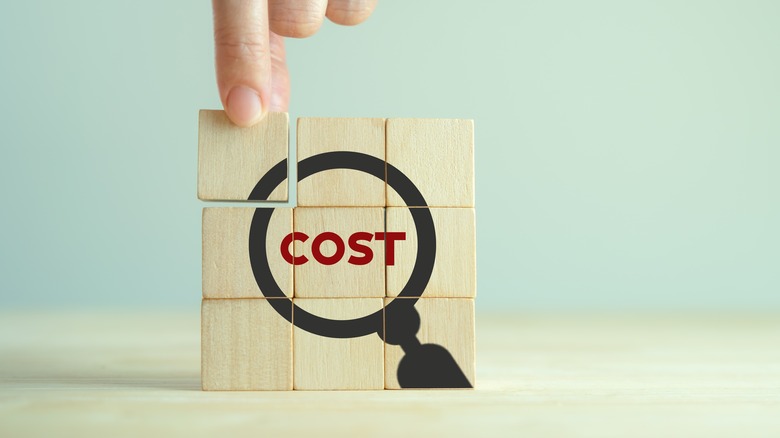 3rdtimeluckystudio/Shutterstock
The cost of Big Lots furniture depends on the furniture you want to buy — there are all sorts of price points, and there's no hard and fast rule here. There are some price patterns that can be noticed if you peruse the website. First off, at the time of writing this article, we found out that living room furniture pieces have an average price of $300. This means that you can pick a set of furniture for your living room over at Big Lots for as low as $99.99 and as high as $500. Similarly, their kitchen and dining sets go from $89.99 to $600 while their line of sofas and recliners feature pieces that cost between $199.99 and $1299.99.
But if you're shopping for recliners, most of their pieces are from Lane and are up for grabs for $250, $799.99, and every price tag in between. Also, the cost of dressers and nightstands ranges between $79.99 and $699.99, desks and chairs have a price range between $10.99 and $429.99, while tv stands and media consoles go for anything between $99.00 and $499.00.
Likewise, those planning to pick from Big Lots' line of accent furniture, storage, patio furniture, fireplaces, kids' furniture, and entry table should have a budget of up to $700. Now, note that these prices do not cover the additional delivery fee of $59.99 as claimed by eComQuery.