Top States To Live In If You're A Member Of The LGBTQ+ Community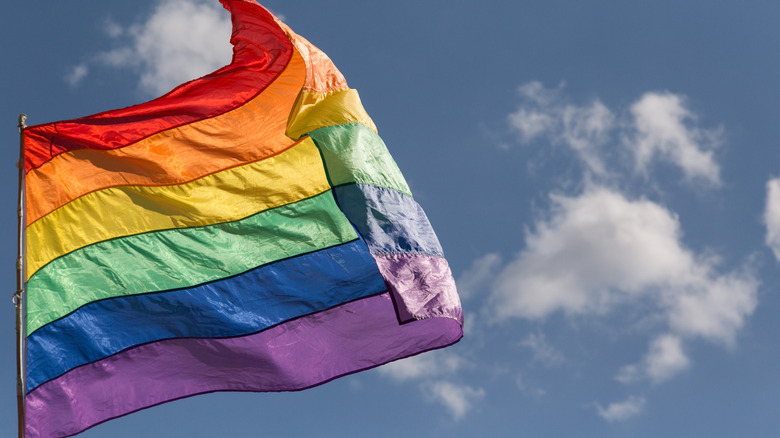 oscar lauta/Shutterstock
Comprised of millions of individuals around the world who identify as gay, lesbian, bisexual, transgender, and queer, the LGBTQ+ community has had many triumphant moments over the last few years. One includes the Supreme Court's landmark Same-Sex marriage ruling in 2015, which will soon be celebrating its 10th anniversary. In terms of the LGBTQ+ population in the United States, the community consists of roughly 14 million Americans. It spans all 50 states, as well as the District of Columbia, according to the Movement Advancement Project's Equality Map.
And although the U.S. LGBTQ+ community has seen an increase in acceptance and political representation, some states aren't as open and welcoming toward them as others. Because of this, news and media outlets and networking companies like USA Today and Out Leadership have developed a way to determine which states are the best options for those who identify as LGBTQ+ to live in and which are the worst.
To do so, the companies created a ranking system out of 100 to assess each state's protective laws and policies, along with the residents' personal, political, and religious attitudes towards members of the community. Out Leadership also looked into each state's nondiscriminatory protections like the ability to change one's gender on their driver's license, the state's support of LGBTQ+ youth and families, their access to healthcare, and the work environments and employment opportunities for members of the community.
The best states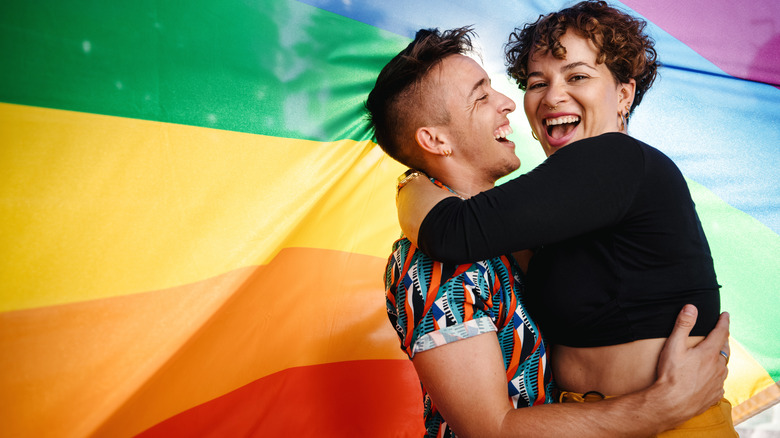 Jacob Lund/Shutterstock
As for which of the 50 states ranked the best overall, New York came out on top with an estimated score of 93 out of 100 due to its rich LGBTQ+ history and plentiful protective legislation. Along with New York, many Northeastern states, including Connecticut, Massachusetts, Maine, Rhode Island, and Vermont, have been ranked among the top 10 best LGBTQ+ states since 2020.
However, while the Northeastern states have continued to occupy most of the top five spots, a few states from the West coast have also been highly ranked over the last few years. In particular, California and Oregon have found their way onto the list. They are often closely ranked, with Oregon coming in fourth and California fifth as the best states in 2020, before appearing again as the eighth and ninth best states in 2022, via USA Today. 
And while neither state has claimed the number one spot yet, California does boast one of the best cities for LGBTQ+ people. Often referred to as the gay capital of the U.S., San Francisco is known for its LGBTQ+ history. It is the home of the country's first Gay Community Center, where the first Same-Sex marriage license was issued and the first Pride parade took place, via Time. Like California, many other top-ranked states are also home to well-known LGBTQ+ friendly cities like Chicago, Illinois, Denver, Colorado, and Las Vegas, Nevada.
The worst states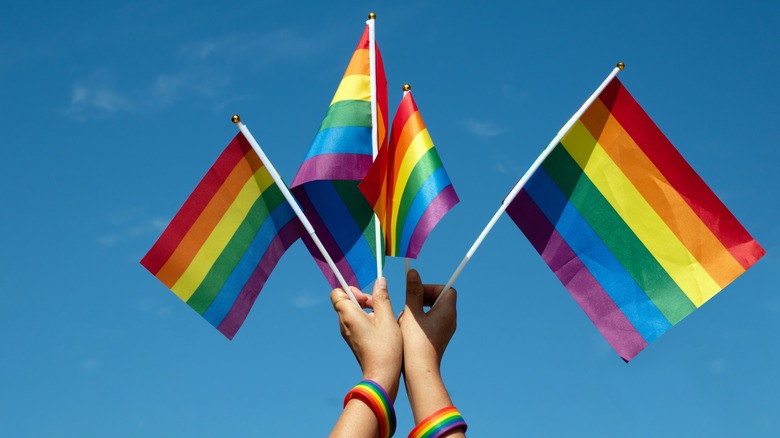 Sophon Nawit/Shutterstock
Despite the seemingly overwhelming wave of acceptance toward the LGBTQ+ community over recent years, harmful legislation has continued to be passed in multiple states. The USA Today and Out Leadership consider many of these states as some of the worst places for LGBTQ+ people to live. In particular, South Carolina found its way to the top of both of their lists in 2021 and 2022, dethroning the number one worst state in 2020, Alabama, with a rating of 33.63 out of 100.
Joining South Carolina atop the 2022 list, Tennessee, Louisiana, and Texas all claimed spots within the top 10 worst states and a handful of other low-ranking Southern states over the last three years. A few states from the Midwest and Northwest regions of the United States have also found themselves atop the list, with South Dakota and Montana coming in at number 3 and number 10 for 2022, while Wyoming, North Dakota, and Idaho have all previously appeared within the top 10.
And although these states are considered the worst places for LGBTQ+ people due to their discriminatory policies, practices, and beliefs, many are home to major cities that are known to be LGBTQ+ friendly, including New Orleans, Nashville, and Austin. Along with the major cities, these states are also home to smaller cities and towns known as LGBTQ+ friendly destinations like Eureka Springs, Arkansas, and Missoula, Montana, via Thrillist.