The 3 Best Places To Install An Awning For Extra Shade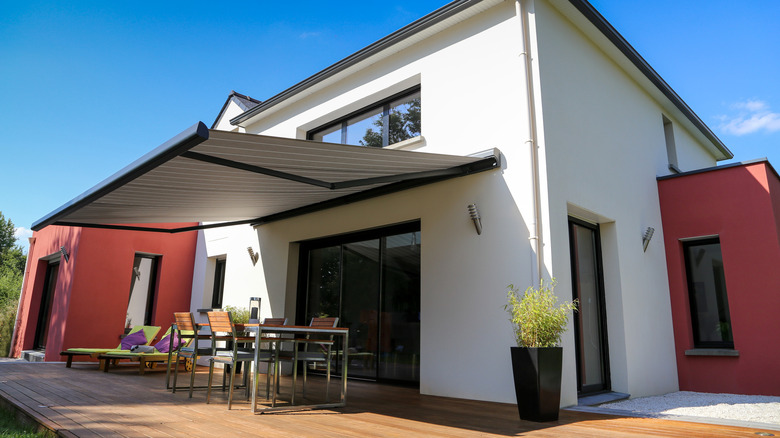 Jerome.Romme/Shutterstock
When the sweltering summer sun is at its peak, there's nothing like a quality awning for enjoying time outside your home while benefiting from some much-needed shade. However, installing an awning in the perfect location can have wide-ranging benefits beyond giving you a great place to relax. For instance, homeowners with a deck are probably aware of how much it costs to renovate or refurbish it. However, some people don't know just how harmful the sun's ultraviolet rays can be to this outdoor space. 
While it's always essential to maintain your deck to maximize its lifespan, a well-placed awning that covers it can extend its life by blocking UV rays and rain from harming it or any furniture you've set up there. According to MG Construction & Decks, an awning situated over your deck can also lead to significant energy savings by keeping temperatures down in areas of your home that benefit from it. If you've recently upgraded your deck with large french doors that let in a ton of sunshine, you should consider maximizing the shade it receives since it'll benefit the space and your home's energy efficiency.
Upgrade your front porch with an awning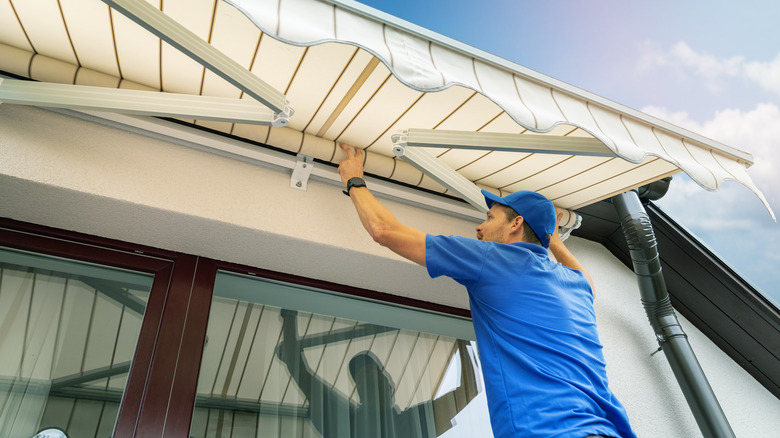 ronstik/Shutterstock
For homeowners with a front porch, there's nothing like relaxing with your favorite beverage while enjoying the beautiful weather. However, if your porch gets plenty of direct sunshine, it can be hard to concentrate on your favorite book without squinting to see the words. According to Deavita, erecting an awning over your front porch can do much more than providing shade. A high-quality porch awning can increase your home's value while adding a healthy dose of curb appeal.
Just as your favorite scarf can help transform a toned-down outfit, a tasteful porch awning can make your home stand out when it's situated next to similar homes in an average suburban setting. Also, porch awnings come in various sizes, materials, and styles, so finding the perfect option for your porch shouldn't be difficult. Factor in how a porch awning can limit solar heat in your home by a significant margin (per Deavita), and you can see why so many homeowners choose to upgrade their porch with fiberglass or canvas awning.
Maximize enjoyment of your patio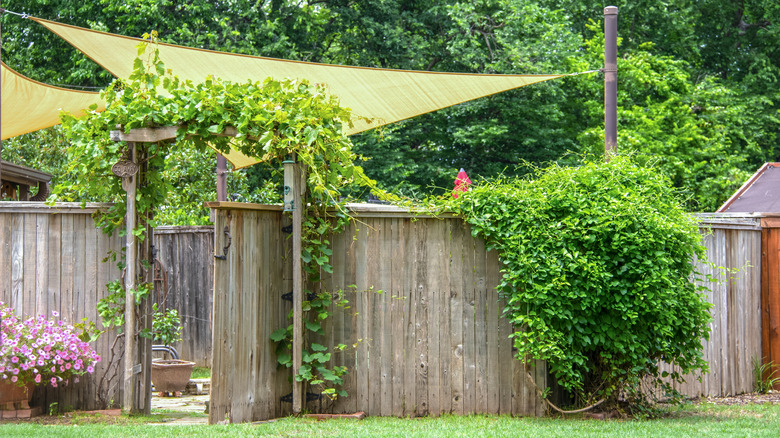 Vineyard Perspective/Shutterstock
There are plenty of reasons to upgrade your patio with a quality awning. For one thing, an awning over your patio can offer ample protection to your expensive outdoor furniture, per Carroll Architectural Shade. It can even significantly extend its lifespan by blocking rain and UV rays. Many homeowners also have grills, BBQ smokers, or outdoor kitchens on their patio, which will benefit from a bit of protection. Additionally, the amount of shade that a large patio awning can provide will lower the area's temperature, meaning you can entertain guests outside your home, even on hot summer days.
Some homeowners treat their patio as just another room and spend countless hours outside on it. However, if there are other homes nearby, a privacy awning can be a great way to maximize your use of your patio while staying away from the prying eyes of nosy neighbors. According to RetractableAwnings, an awning can also be used with a patio pergola for plenty of shade and privacy.