Jennifer Todryk Of No Demo Reno Shares Simple Home Upgrades Anyone Can Make
There's no denying that home renovations and upgrades can completely transform a space. HGTV lovers are likely accustomed to seeing lackluster houses shift to dream homes, all thanks to the enhancements the experts bring in their team to help execute. However, while it often looks easy and achievable due to the magic of television, in reality, those upgrades often require either a serious amount of time and sweat equity or tons of money if you're outsourcing — or, in some situations, both.
Luckily, there are many ways to level up your home without tearing down walls or taking on massive projects you may not have the skills to accomplish. Jennifer Todryk, social media influencer and star of HGTV's "No Demo Reno," spills the beans to Hey Pumpkin on a few simple upgrades that most homeowners can make. No complicated, expensive tools or crazy detailed plans are required.
Her first suggestion is one that any décor enthusiast on a budget will be familiar with — paint. A fresh coat of paint is one of the easiest and most cost-effective ways to transform a space. And, don't restrict yourself to only splashing a new hue on the walls. Hunker asked several interior designers how they'd refresh an area with a single bucket of paint. They recommended painting the trim or moldings in a room a contrasting hue, painting the door interior for a fun pop of color, or even painting pieces like built-in shelving.
Two areas where swaps make a huge impact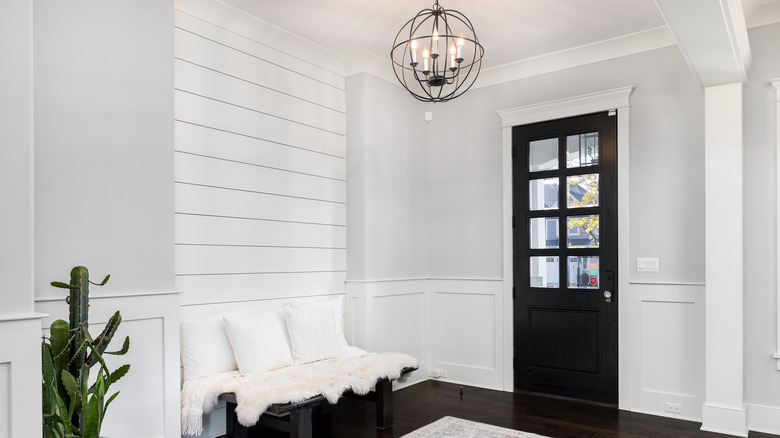 Hendrickson Photography/Shutterstock
If you're going around your home and switching out every fixture, that can quickly get expensive and exhausting. Jennifer Todryk identified two types of fixtures for Hey Pumpkin that give you the most bang for your buck. It may not seem like swapping out one small element in a room would make a huge difference, but it does.
The first is the light fixtures in a space. No matter how chic your furniture is or how many coats of paint you've tossed on the walls, old light fixtures will often make a space seem dated. Simply swapping out a fixture with an alternative that's more aligned with your desired aesthetic will give the room an entirely new look. You can do it yourself or with the help of just one electrician, not an entire squad of renovators. As the YDesign Group explains, the light fixtures in a room can add personality, modernize your space, and even help switch up your color palette.
Faucets are the second type of fixture to swap out and are located in some of the critical areas of your home — the kitchen and bathrooms. While changing the tap may not seem like you've been granted an entirely new bathroom or kitchen, it's an easy way to make an aesthetic impact. If you're a bit more advanced, you could even consider swapping out related fixtures such as sinks or shower heads to freshen up those important spaces in your residence.
Key spaces to focus on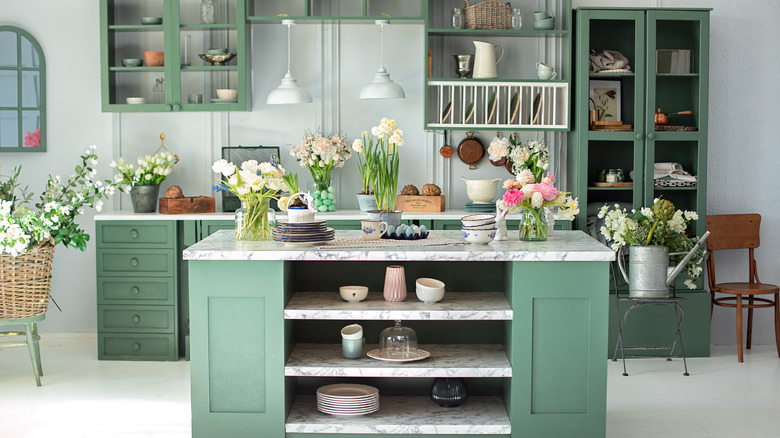 stock_studio/Shutterstock
Not only is the kitchen one of the most critical spaces in the home for many people, but also the best place to make upgrades, even if you're working with a limited budget and don't want any intensive renovations. According to Remax, kitchen renovations have the best return on investment of all upgrades, although it depends on your choices and the amount of money you spend.
The kitchen cabinets are one of the most prominent features in the space, which means it can be a drag if you're dealing with a dated style — however, any changes will make a huge impact. As Jennifer Todryk told Hey Pumpkin, painting your cabinets and swapping the hardware makes a significant difference. It's a project that requires a bit more sweat equity, but it's a cost-effective way to transform those cabinets completely. Or, if you have a bit more wiggle room in your budget, she suggests adding new cabinet doors and drawer fronts to refresh the cupboards while leaving the bases and many other elements intact.
Another key space Todryk suggests focusing on is any unused space in your home — for example, the area under a flight of stairs. These upgrades may take a bit more skill and creativity but will also give you added functionality and style without sacrificing any square footage.